Opening day for Carle at the Fields convenience store: Feb. 13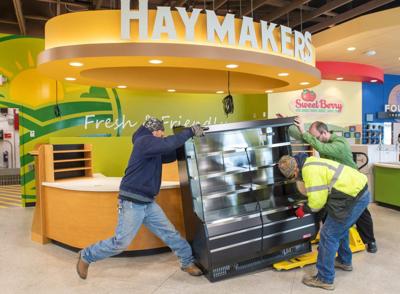 Will Golden Corral ever come to be? What about Trader Joe's? Submit your questions for Tom's Mailbag simply by clicking here
CHAMPAIGN — Haymakers plans to open Feb. 13 at Carle at the Fields in southwest Champaign.
Niemann Foods employees were busy Monday preparing the convenience store for its opening at the northwest corner of Curtis Road and Fields South Drive, south of the Hampton Inn and the El Toro Mexican restaurant.
In addition to a gas station and car wash, the convenience store will sell sushi, frozen yogurt, salads, heat-and-eat meals from Harvest Market, which Niemann Foods also owns.
This will be the second Haymakers, joining the one that opened in 2015 next to Harvest Market in the Carriage Center on South Neil Street.