Road construction questions? Submit them here
CHAMPAIGN — Melvin Voss stood in his front yard assessing the cars whizzing past his house on Prospect Avenue.
"That one's going 35," he said approvingly, but then frowned at a couple of speedsters. "See? That one is probably 45."
Voss and his neighbors on a busy stretch of Prospect north of Springfield Avenue were startled to learn of a new state plan to improve and possibly widen the street from Springfield up to Interstate 74.
They worry that widening the road would not only eat up their yards but also increase traffic — and the number of speeders — through a heavily residential area of central Champaign.
"The wider they make it, the faster they're going to drive," Voss said.
The $18.5 million project was announced by Gov. J.B. Pritzker during a visit to Champaign last week, along with a list of others funded by the state's new Rebuild Illinois infrastructure plan.
"My jaw kind of dropped to the floor, frankly, when I read it in the paper," said Chris Prom, who lives at the corner of Prospect and Clark Street.
It came as a surprise to the city of Champaign as well, said senior planner Rob Kowalski, as the project hadn't been on the books.
"It just kind of came out of the blue," City Engineer Dave Clark said.
Prospect is designated as U.S. 150 between Bloomington Road and Springfield Avenue, so the Illinois Department of Transportation has jurisdiction, Kowalski said.
City officials weren't initially sure what the project would entail or exactly where Prospect might be widened.
Currently, it's a five-lane road — two northbound and two southbound, with a middle turn lane — in the commercial stretch from Bloomington Road south to Beardsley Avenue, just south of Bradley Avenue.
From there until almost Springfield, however, it's a four-lane road, and a tight squeeze at that. The lanes are only 9 or 9.5 feet wide, Clark said, compared to federal design guidelines of 11 to 12 feet for arterial streets. Prospect widens again at Springfield to accommodate a left-turn lane.
IDOT officials did not immediately provide answers to News-Gazette Media questions.
In an email Tuesday to a homeowner on Prospect, Clark said IDOT "did not have many details to share" but offered some updated information.
The project is designed to address "side-swipes" between vehicles, the email said.
"Some widening may be needed, likely at intersections; other land acquisition may be necessary," as well as utility relocations, it said.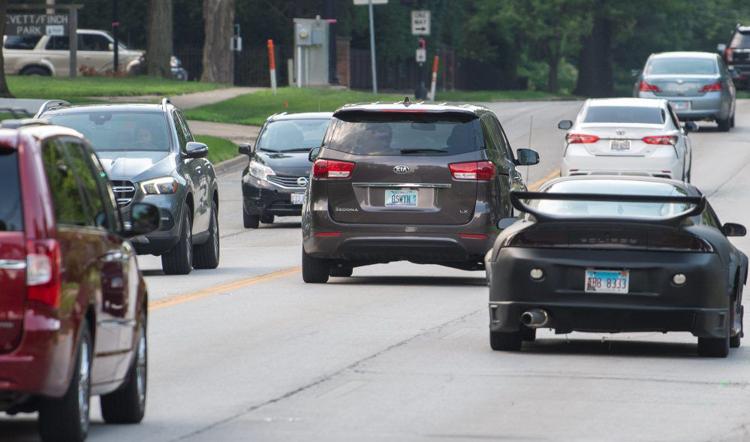 The agency also said it would explore the idea of a three-lane road with bike lanes.
Preliminary engineering would start in 2020, with any construction to follow in 2025. The city would likely contribute funds for sidewalks, lighting and other elements, Clark said.
Clark's email said IDOT is aware of the mixed commercial-residential nature of that corridor and the "sensitive stakeholder concerns." At some point, IDOT will conduct public meetings with stakeholders that the city will publicize, it said.
"IDOT doesn't want to build a project nobody wants or doesn't support," the email said. "They are expecting to work closely with the City and key stakeholders along the corridor to design/build a successful project."
The state did some patching of the road a couple of years ago, as the pavement has "been falling apart," Clark said Monday. But areas that weren't redone show signs of deterioration, he said.
"Everybody in town knows that the lanes are tight," Kowalski added.
But that doesn't necessarily mean the state will try to add a fifth lane throughout that corridor, city officials said.
It could mean "scratching out a little more space to give a little more breathing room on the existing lanes, which obviously would be far less intrusive," Kowalski said. "There's many homes that are very close to the right of way."
The proposal is reminiscent of a controversial, unsuccessful effort to widen Springfield Avenue and Green Street through the center of town back in 1988. Under intense pressure from homeowners and others who tied yellow ribbons on trees along both streets, the city council narrowly voted against recommending the project to IDOT.
Voss and Prom concede that Prospect is narrow and isn't in the best shape.
But they worry widening it will only increase speeding, which Voss said isn't policed nearly enough now. He said he's considered standing outside with a hair dryer pointed at cars like a radar gun to deter speeders.
The 35-mph speed limit is "routinely ignored," Prom said. "We have people blowing down that hill coming from the north that are easily over 50 mph."
Imposing federal roadway standards in a residential neighborhood with homes built 80 to 100 years ago "just doesn't make a just of sense," said Prom, whose house dates back to at least 1910.
His front steps sit about 20 feet from the road, he said, and some homes are even closer.
Just across the street sits Trevett-Finch Park, which the Champaign Park District recently improved to help protect the popular Osage orange tree, Prom said.
There's a lot of bicycle and pedestrian traffic, too, and widening Prospect even a few feet could eat up much of the parkway and leave sidewalks next to traffic, he said.
Voss and his wife, Nancy, who are both retired, have lived in their 1948 brick bungalow for more than 30 years. They love being in the middle of town and a walkable neighborhood. But over the years, they've had to adjust as traffic grew exponentially.
"What really changed everything is when North Prospect got built," Nancy Voss said.
They've installed triple-pane windows to keep out traffic noise and put a turnaround by their garage so they don't have to back out onto the street. But it's still dicey during the morning and evening commuter rush.
"Most of the time, you're taking your life in your hands," Nancy Voss said.
A few years back, the couple ended up with a collection of hubcaps that flew off cars hitting a particularly deep pothole.
Melvin Voss would like to see the street turned into three lanes, with a middle turn lane.
Failing that, he hopes any widening would take equal amounts of land from both sides of the street and improve crumbling curbs.
Besides stepped-up enforcement of the speed limit, Voss also thinks semis and other heavy trucks headed for I-74 should be re-routed onto a less residential route.
Kowalski said the state has a history of working collaboratively with the city on road projects "to make sure the improvements fit the community," citing recent work on the Bradley Avenue and Windsor Road bridges over I-57.
Clark said the city values the residential nature of the area, and IDOT has a "context sensitive" process it has to follow.
Prom said he was encouraged by the reasonable timeline and process outlined in Clark's email, though "the devil is in the details."
Champaign City Council member Greg Stock, whose district includes the targeted area, said he isn't opposed to widening Prospect as it's congested and gets "pretty tight there, especially when you get buses."
"My only concern is if they're going to widen the street, it's got to come from somebody's yard," said Stock, who lives further south at Prospect and William Street, where the road is a little wider. He's hopeful it won't change the overall nature of the neighborhood, but it depends on how much the road is widened.