Teacher of the Week: Jennie Damler, Social Worker, St. Joseph School District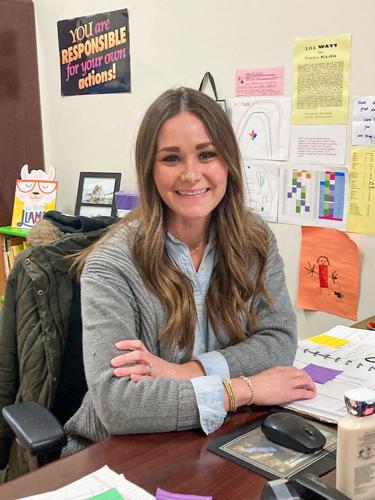 Nominate a teacher by emailing Anthony Zilis at azilis@news-gazette.com.
***
Jennie Damler ventured into the field of social work to feed her desire to help others, and this year, that help is needed as much as ever.
As schools navigate the pandemic, the St. Joseph School District has seen an increased demand for her services. In her first year with the district's elementary and middle school after 11 years at Champaign's Bottenfield Elementary, she's risen to the challenge.
"We have seen an increase in students having difficulty regulating their emotions this year," St. Joseph Elementary School Principal Michelle Wagner said. "She has been pushing into the social emotional learning classes to help teach strategies to all of our students for when they are experiencing overwhelming feelings.
"She also is meeting with small groups of students to work on specific skills — like how to make friends, how to calm themselves or how to express and identify their feelings in a positive way. Jennie also helps when students are in crisis situations during the school day.
"She has been an invaluable resource this year to both teachers and students in our buildings, and she does it all with a positive attitude. I am so thankful for her."
Here's more from our Teacher of the Week:
I find my work important because … the social emotional well-being of students is so important in order for them to be successful academically. Students need to feel safe, supportive and connected so that they can learn.
If students are struggling socially, emotionally and/or behaviorally at school, I am there to help develop and strengthen those skills so that they can be successful all-around at school.
I became a school social worker because … I have always loved helping people, especially children. My mom actually suggested the field of social work to me. In college, I wasn't sure what field I should go into but knew I wanted to work with children.
My mom mentioned looking into school social work because I loved working with children and loved being in the school setting. In college I was a tutor for the America Reads program and would go to different elementary schools to help students with reading and math. After I graduated with my bachelor's in social work, I got a job working with at-risk youth in Bloomington-Normal. These students were at risk of failing out of school, and I was the "go between" between home and school.
I would meet with their teachers weekly to get an update on their grades, missing assignments, their behavior, etc. This gave me experience working within the school setting, and I found that I really liked it. I then went on and got my master's degree in school social work from the University of Illinois.
My favorite part of my job is … the relationships I have made with the students I get to work with. Seeing students light up when they see me or when they have a countdown to when they get to see me next warms my heart and makes me smile. I also love that every day is different, and I never know what the day will bring. It keeps things interesting, and my days just fly by.
My most fulfilling moment on the job is … seeing the students I work with make progress socially, emotionally and/or behaviorally.
It makes me so happy and reminds me that I am making a difference.
I'm also passionate about … my family. I love spending time and making memories with them.
My favorite teacher and subject to study in school was … Jeanette Roberts, Illinois State University. She was one of my social work professors in undergrad. She always encouraged me and made me feel confident in my skills as a social worker, even when I doubted myself.
I've adjusted during this strange time by … making sure I take time for myself. The pandemic has taken a toll on everyone, and mental health is just as important as physical health.
If I weren't a social worker, I would … maybe do something in retail but honestly can't see myself doing anything but school social work.
— Anthony Zilis