Picking up where we left off last Sunday, we asked 10 leaders in a variety of fields: If you could ask the presidential hopefuls any question at this week's second Democratic debates, what would it be?
---
On cruelty to animals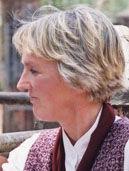 INGRID NEWKIRK
President and co-founder, People for the Ethical Treatment of Animals (PETA)
"We shake our heads that in some other countries, dogs are killed for fur and flesh, as if their fear and pain and lives were of no consequence. Yet here, we do the same to billions of cows and chickens.
"In doing so, our Department of Agriculture sacrifices human health, pouring cheese into our schools at the taxpayers' expense, so as to prop up the meat and dairy industries, industries that are risking our future by putting methane into the air to destroy the planet.
"We use millions of dogs and monkeys at a cost of billions of dollars a year to test our products and our theories, although over 90 percent of the results of tests on other species prove worthless when applied to the human animal and far more promising research methods exist in this technological age.
"We allow intelligent marine mammals like dolphins to be kept in concrete cells in amusement parks, depriving them of all that is natural to them; we allow fur farms in which wild animals go insane from circling in small cages; and we have yet to outlaw the steel trap that crushes animals' limbs for nothing more than a strip on a coat collar.
"Please tell us what will you do, if elected, to acknowledge Chief Seattle's words that 'we are all connected' — we humans and the other animals, some of whom share 98 percent of our DNA."
---
On the teacher shortage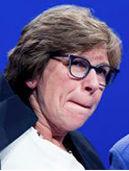 RANDI WEINGARTEN
President, American Federation of Teachers
"Teachers and others who work in public schools are leaving the profession at the highest rate on record. All 50 states started the last school year with teacher shortages.
"Teaching has become so devalued that, for the first time in 50 years, a majority of parents say they don't want their children to become teachers.
"The challenge is not just attracting people to teaching; the U.S. must do a much better job of keeping teachers in the profession.
"This crisis has two major roots: deep disinvestment from public education and the deprofessionalization of teaching. America must confront both.
"My question: What will your administration do at the federal level to address this crisis?"
---
On debate decorum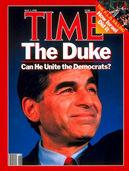 MICHAEL DUKAKIS
Democrats' 1988 nominee for president lost to George H.W. Bush
"Can you stop criticizing each other and focus on your positive vision for the future?
"Our most important goal is defeating one of the worst presidents in American history, not finding fault with each other."
---
On prison reform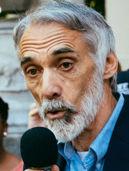 MARC MAUER
Exec. director, The Sentencing Project
"How is it that the United States has come to be the world leader in incarceration, and what would you do to move toward reducing our prison population by 50 percent?
"There are now seven times as many people behind bars in the U.S. as in 1970, and research has shown that this is largely due to changes in policy, not crime rates.
"The 'get tough' movement has produced lengthy prison terms that produce diminishing returns for public safety, along with punitive consequences of a criminal record that impose lifetime obstacles toward gainful employment, housing and other services."
---
On tariffs and China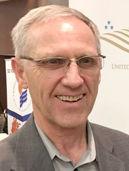 ROGER JOHNSON
President, National Farmers Union
"This is a really big, important question: If you are elected president, how would you propose to repair our trade relationships, deal with China and fix the World Trade Organization?"
---
On immigration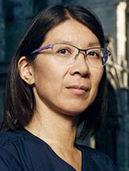 JOANNE LIU
International president, Doctors Without Borders
"Taking into account a declining fertility rate of 1.8 in the U.S. and increased enacted criminalization of people fleeing for their lives and for better lives, how will you ensure, in country or at borders, fathers, mothers and children on the move are protected, treated with dignity and remain united through their journey?
"The facts are clear: People on the move are portrayed as invaders, stripped from dignity and protection over and over again by the media and politicians, and we have an aging population in the U.S., which will be in dire need of a young workforce in the future.
"Hence, having decent and human migration/refugee policies could lead to a win-win situation for all — people on the move with a future and a strengthened global workforce.
"And because there will never be a wall tall enough to stop parents to dream for a future for their children, this is universal."
---
On the stakes in 2020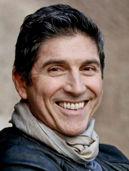 JAMES LECESNE
Oscar-winning filmmaker co-founded The Trevor Project, world's largest suicide prevention organization for LGBTQ youth
"Politicians tend to think of young people as an unreliable demographic when it comes to voting. But in the 2018 midterm elections, an estimated 31 percent of voters aged 18 to 29 cast ballots, shattering turnout rates from the past quarter century.
"Young people are keenly aware that their future, and the future of the entire planet, depends on who becomes our next elected president.
"Social issues like gun control, women's reproductive rights, LGBT rights, immigration, police brutality, climate change and racial equity are affecting young people personally, and they are beginning to understand that they have to take action.
"What can you say to young people to inspire more of them to show up at the polls in November, and what will you do as president to protect their right to life, liberty and the pursuit of happiness in the 21st century?"
---
On gun violence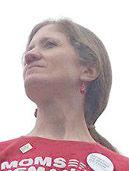 LAUREN QUINN
Urbana-based volunteer co-leader, Moms Demand Action in Illinois
"Americans are 25 times more likely to be murdered with a gun than citizens of any other developed country, and at least 100 Americans are shot and killed every day.
"These numbers are very real to citizens of Champaign-Urbana, where we have experienced dozens of shootings and multiple fatalities — including a 14-year-old middle schooler — so far in 2019.
"While legal reforms are not the only solution to our uniquely American gun violence problem, they are proven to lower firearm homicide, suicide and trafficking rates. Illinois already legally requires background checks on all gun sales, but we are surrounded by states without that requirement. It is easy for gun traffickers to cross state lines, purchase dozens of guns and return to Illinois, where they are sold on the streets.
"A federal law requiring background checks on all gun sales would slow that system down and save lives. I want a president who will work with Congress to enact a strong federal background check law in her first 100 days, followed by support for programs that lift up the disenfranchised and traumatized in our communities, addressing the root causes of gun violence."
---
On leadership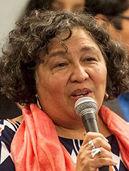 SYLVIA PUENTE
1980 UI economics grad and executive director of Chicago-based Latino Policy Forum
"What has been your greatest leadership challenge and what did you learn from it?
"I ask this question because the candidates are asking to be the leader of our nation, and I'd like to know what kind of challenges they have experienced.
"This first part tells us something about how much of a charmed life they have or have not had.
"Importantly, 'what did they learn from it' speaks to their ability for reflection and insight."
---
On homelessness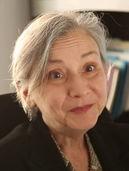 MARIA FOSCARINIS
Executive director, National Law Center on Homelessness & Poverty
"Do you believe housing is a human right? What are your plans to end homelessness and create affordable housing in America?
"Homelessness is a national crisis. According to the federal government — which admits this is a serious undercount — on a single night in 2018, over 553,000 people slept in emergency shelters, transitional housing or unsheltered in public places. Almost 1.4 million schoolchildren were homeless during the 2016-17 school year.
"A severe and growing shortage of affordable housing is driving this crisis. In 2017, the U.S. had a shortage of 7.4 million affordable rental homes for extremely-low income renter households, only 37 affordable units for every 100 households in need. The gap is growing: In 2017 and 2018, close to 90 percent of new apartment construction was luxury units.
"Many communities are responding by criminalizing homelessness. But it's cruel, ineffective and costly to try to 'solve' homelessness through the criminal justice system — and courts have said it is unconstitutional to arrest and jail people for being on the street when they have nowhere else to go."