With women dominating the world sports stage lately — from the World Cup pitch to center court at Wimbledon — we asked female sports figures with inspiring stories of their own: Who'd you idolize when you were growing up?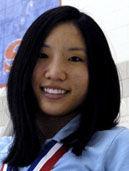 ATHENA LIAO
News-Gazette's 2007 All-Area Swimmer of Year, 2011-12 All-Ivy League at Yale, 2017 Urbana High Hall of Fame inductee, now working toward MBA at UCLA
"In my early years, this was probably more influenced by my parents, who really liked Mark Spitz. Before Michael Phelps, he was the GOAT.
"When I was little, we always did 'Secret Psychs' closer to the end of the season, and I remember specifically one time, my mom was super creative and helped me type out a fancy acceptance letter to the swim-version of Hogwarts School of Witchcraft and Wizardry, and we signed the letter from the Head Master, Mark Spitz, with a fake signature. It was super fun.
"As I grew up, I would say my role model was Amanda Beard. In high school, my best stroke was breaststroke, like her, so that seemed like a natural choice.
"But, at this point, I think it's important to differentiate between a role model and an idol — around this time was when Michael Phelps took the limelight, so I definitely think I idolized him. Like most young female swimmers, I thought being able to meet him would be the coolest thing ever, because he was so famous, and actually one time I was at a swim meet, and he was there, so I went over to ask for an autograph.
"It was a very awkward, not-friendly interaction. After that, I was totally over him and his idol status was nixed.
"But I never stopped respecting Amanda Beard, because I actually wanted to be like her. I still have a poster of her hanging up in my room back home in Urbana."
---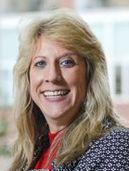 JEAN DRISCOLL
1993 UI grad and eight-time Boston Marathon wheelchair champ, now executive director of development for N.C. State's College of Design
"When I was young, my family didn't watch sports, and because I was always the last kid picked on a team during recess or physical education, I was often frustrated.
"One day in fifth grade, however, I was in a reading class, and we were instructed to pick a book off the shelf in the back of the room and read it. For some reason, I was drawn to a book about Billie Jean King.
"It may have been the athletic photo on the cover. She was mid-swing, and her hair was flying in the wind. It was an exciting story about how she beat a man in tennis who said it could never be done.
"Lots of people said it could never be done, but she believed differently and worked hard to prepare for the match.
"Of course, I'm well-acquainted with the Battle of the Sexes and Bobby Riggs now, but it was news to me as a 10-year-old. I haven't thought about this in several decades — probably since fifth grade — and it just gave me butterflies to recall it.
"Little did I know I would meet Billie several times in my life and she would do the video introduction when I was inducted into the U.S. Olympic Hall of Fame. She's an incredible person and I still admire her."
---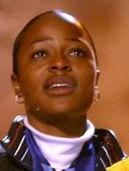 VONETTA FLOWERS
First African American woman to win a gold medal in the Winter Olympics (bobsledding, 2002)
"There were not many visible African-American women role models in the early '90s, but when I saw Jackie Joyner-Kersee, I felt like she represented me. The little girl inside of me wanted to know what it felt like to be so dominant, so in control as a strong black woman, so proud to be a champion.
"Unfortunately, success in my community (Birmingham, Ala.) was defined by not going to jail, not getting pregnant and not flunking out of high school.
"JJK's success in the Summer Olympics was the driving force that ultimately led me to competing in the Winter Olympics. I saw someone who was brown like me, talked like me, walked like me and fought like me. I needed a dream, she gave me hope, and my life was changed."
---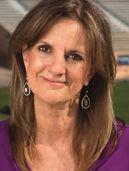 PAOLA DIEFENBACH
1982 UI grad and past president of Association for Women in Sports Media, serves on College Football Playoff selection committee
"Sadly, when I was growing up, so few female athletes and sports journalists were celebrated. For a woman to land on the cover of Sports Illustrated, she had to appear in a next-to-nothing bikini.
"And many of the female sports broadcasters were former beauty queens — Jane Kennedy, Phyllis George — who were talented but didn't follow the traditional paths.
"So I had pictures of Bert Jones and Vince Ferragamo on my wall — until I watched the 'Superstars' and saw Anne Henning.
"The show, which pitted athletes from all sports against each other in a variety of competition, gave me an up-close view of what a great athlete speedskater Henning was. It was empowering to see female athletes compete against each other and celebrated on a high-profile stage.
"I think it almost took female athletes competing against men to get their attention: Annika Sorenstam played in the PGA's Colonial, or Ann Meyers Drysdale being drafted by the Pacers, both moving moments for me as well.
"Until I saw Henning, I never felt the world delivered a profound respect for female athletes, not in the way the four Shoemaker boys who lived across the street from me in Park Forest, Illinois, treated me as an equal in all our daily sporting competitions."
---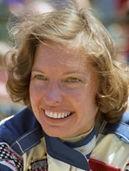 JANET GUTHRIE
First woman to qualify for and compete in the Indy 500 and Daytona 500, both in 1977
"When I was a kid, I wanted to be a pilot, and the only woman pilot I knew about was Amelia Earhart.
"The 1950s weren't a great time period for women role models."
---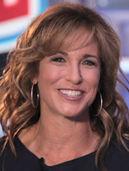 SUZY KOLBER
ESPN veteran replaced Chris Berman as anchor of network's 'Monday Night Countdown' NFL show
"I grew up in Philly, playing tennis, softball and hoops and idolizing Larry Bowa, Mike Schmidt and Doug Collins.
"I wore number 20 on the court and pushed my socks down like Doug did. I was most proud of my defense and tried to play the game 'away from the ball,' like Doug.
"Just because they were men that I was emulating, I don't think I ever considered that I couldn't do that, too. I was one of the first girls in the country to try out for pee wee football, at age 10, in 1974. I loved the undefeated Miami Dolphins and Bob Griese.
"Same for my career. It never dawned on me that I couldn't cover sports for a living. I never felt out of place, even amongst the men.
"I always viewed myself as an equal. Even then."
---
EMILY JAENSON
2005 UI grad and Class AAA Reno Aces GM, highest-ranking woman in minor-league baseball
"I consumed as much as I could about Mia Hamm through the newspaper, Sports Illustrated articles and soccer books at the library. It would have been a lot easier today with Instagram.
"I played soccer growing up, and she was the first female athlete I can remember that resonated with me.
"She played my sport at a level where she was one of the best in the world and was consistently, for a period of time, covered by mainstream media.
"I'd still get a thrill to get an opportunity to meet her today."
---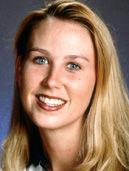 CRISTY CHAPMAN UHRIG
Volleyball star awarded 1999 Dike Eddleman Award for being UI's female athlete of the year
"Growing up on a small farm in southern Illinois, we didn't get many stations on our antenna except the normal ABC, NBC and CBS — if the weather was good — but WGN was always faithful.
"So Ryne Sandberg was who I looked forward to seeing every day.
"The sense of community was very strong in Newton, where I grew up. It was in the middle of nowhere and with having one high school for the whole county, sporting events were the main source of entertainment for everyone. I couldn't wait to play in that 'big' high school gym where all the other high school girls played.
"It wasn't until my sophomore year in high school that I even realized the capacity of college sports for women. I met (former Illini star) Sue Nucci at a volleyball event and had an instant connection because she was a middle (blocker), and we wore the same number, 15. I didn't have huge dreams of playing anywhere, but I knew it was an option.
"Sue Nucci, I can never repay you for giving this smalltown girl the life I have now."
---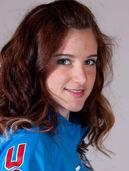 KATHERINE (REUTTER) ADAMEK
Two-time Olympic medal-winning speedskater, part of Centennial's inaugural Hall of Fame class
"The athlete who inspired me growing up was Julie Brandt-Glass, a world champion inline speedskater and a class act around the rink.
"I had a poster of her wearing her world champ medals while standing in a power pose that inspired me every day.
"She was the first female athlete I had seen who embodied strength, beauty and confidence."
---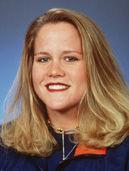 ASHLEY BERGGREN
1997 Big Ten women's basketball player of year, now living in London, will be back here in September to be inducted into UI Hall of Fame
"This is really sad to write, but unlike today, there weren't as many female athletes who were highlighted in the media when I was growing up.
"The only thing I can remember is dreaming about being one of the 10 Kodak All-Americans. Somewhere along the way, I received a VHS tape highlighting the 1993 team, and I watched it a hundred times.
"It was the first time I had high aspirations and truly wanted to be great — those women were my inspiration."