The Great Outdoors, Aug. 11, 2019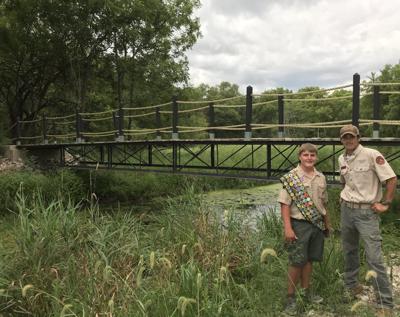 Trail bridge better than ever
If you're planning to hike the Old Barn Trail — also the beginning of the River Ridge Backpack Trail — at Forest Glen Preserve east of Westville, thank soon-to-be Eagle Scout Kenny Clarkston of Westville and naturalist Nick Jeurissen for the beautiful footbridge that now spans the marshy area along Willow Creek that leads into Willow Pond.
At 10 a.m. Saturday, the public is invited to a ribbon-cutting and dedication of the structure.
Two years ago, a 14-year-old Clarkston was looking for an Eagle Scout project, and his former third-grade teacher, Lisa Witsman, inspired him to consider building a new bridge on the Old Barn Trail where an old bridge had been damaged and eventually removed due to flooding. Hikers, including large groups of Outdoor School students, had to detour onto a nearby gravel road on their Old Barn Trail excursions.
Clarkston accepted the challenge after meeting with Jeurissen, and in late 2017, he started asking local businesses, organizations and individuals in the area for donations. His grandmother, Karen Martin, who's his Boy Scout troop leader, helped by taking him around town.
Clarkston raised $4,000 in less than a month.
"Kenny is pretty well known in the area," said Martin, adding that it's because of his volunteering and fundraising for other community projects.
When he heard about the money raised, Jeurissen said he knew then that this kid was up to the task. A local business owner, Joey Thomas, donated two 65-foot steel bridge trusses for the project and delivered them to the site. Working side-by-side with Jeurissen, Clarkston designed the bridge and built it from the ground up, beginning with pouring and setting the concrete footers on both banks that hold the steel trusses, which they scraped and painted, and built approaches on each side of the bridge. Eventually, they began laying the wood planks, then installed the posts that hold the rope rails. Much of their work was done last year, and they finished up final details this spring. Clarkston did most of the work with Jeurissen's guidance, but the now-16-year-old, who will be a junior at Westville High School, also coordinated volunteer hours of his fellow Scouts in Troop No. 324 in Westville, as well as other friends and even family members in volunteering labor for the project.
"Luckily and thankfully, they volunteered to come out and help. … I learned a lot along the way," Clarkston said, referring to construction aspects of the project.
He said he's very happy with the bridge.
"It's great and very fun to walk across," he said.
Jeurissen said it looks beautiful, and with the steel trusses — which are well above flood level now — the bridge will last a long time.
"Kenny's a rare breed, he really is… He thinks big," said Jeurissen, who's now coordinating with some other local Scouts on Eagle Scout projects within the preserve. "A number of them are working on projects this summer. Kenny has set a standard that intimidates some kids."
Jeurissen said beavers have built a dam to the north of the new bridge, creating a larger marshy area where he's been seeing a lot of wildlife, including two mating pairs of wood ducks, a mink and lots of deer.
He's also receiving a lot of compliments on the bridge from people visiting the preserve, especially long-time trail hikers who don't have to use the gravel road to detour any longer. Jeurissen said it's also been great taking the Outdoor School kids across the bridge, which also gives them a better spot to observe the marshy area.
Illini Bass Club
Local bass club fishermen tackled Lake Charleston on July 28 with 24 anglers competing from 12 boats. One angler, Josh Mayberry, joined the group while he was home for two weeks from an overseas deployment with the U.S. Army, said club member Mike Schull Jr. The group caught a total of 18 bass weighing 48 pounds.
In first place was Tom Hedenberg with three fish weighing 7 pounds, and Vern Mayberry tied Hedenberg's big bass of the year with the only fish he caught, a 5.54-pound bass.
In second place was Tim Oxner with two fish weighing 7.12 pounds and tagging along in his boat was Dave Clark with his single fish, weighing 2.82 pounds. And in third place was club president Donald J. Wolfe, who reeled in his team's two fish, weighing 4.81 pounds. His partner, Brett Key, was the team's net man.
Next stop on the tournament circuit is Paris Twin Lakes next Sunday. This will be a different type of format, Schull said, and a first for the club with everyone fishing alone, weighing in after the tournament, and then they will draw for partners.
Turkey-hunting deadline
Hunters may apply through Aug. 19 for the second lottery for this year's Illinois fall wild-turkey shotgun season permits. Season dates are Oct. 19-27. For more information, go to dnr.illinois.gov.