The Great Outdoors, Aug. 18, 2019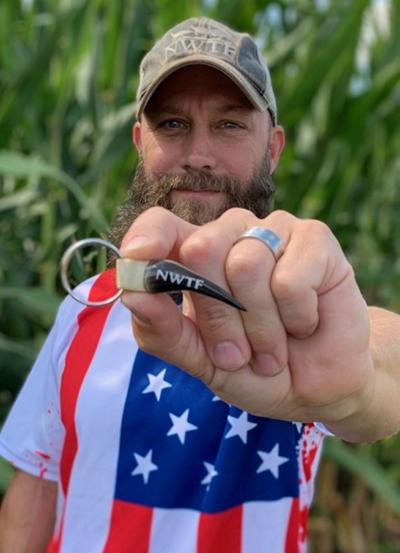 Branca spurs go wild
It's been more than two years ago that avid hunter and part-time taxidermist Scotty Branca of Tuscola made a replica turkey spur for a friend. He posted his custom piece on social media.
"And it just went wild, people asking about it, asking if I sell them," said Branca, whose first replica spur helped decorate the leather lid straps of turkey box calls made by a friend.
A spur is the long talon on the back of a turkey's leg.
Branca began by making a mold of a real turkey spur, then used that mold to make a replica from resin that he then took through multiple steps of sanding, air brushing, clear coating and more work to get the finished product that has now "spurred" a side business.
He's been selling his replica turkey spurs as keychains, necklaces, rearview-mirror hangings and more on a website, BrancaBoysSpurs.com. A friend carves feathers from deer antlers, so Branca uses those in his necklaces and other creations.
"People have just been gobbling them up, and it's helped him sell feathers," he said of his friend. "It's just exploded. It's crazy."
Branca's side business is now taking another big step as he will be providing his custom-made turkey spurs for National Wild Turkey Federation banquets all across the country. He's already been doing that for the Canadian Wild Turkey Federation.
His agreement is with NWTF, and how many he ends up supplying will depend on how many are ordered by each NWTF regional director, who helps coordinate multiple banquets in their respective region.
"It's gone from making them in my shop to the national stage," said Branca, who's been the Douglas County NWTF chapter president for 15 years. "It's kind of cool."
Branca works full-time, hunts as much as he can with his son, Hunter, grandson, Haydyn, and dad, John, and dabbles in taxidermy, but this unexpected side business has grown so much that Branca said he no longer has time for the taxidermy work. And that doesn't bother him, because he's very excited, he said, about this new opportunity with NWTF, and he would be happy to see this business continue growing.
"I'm going to concentrate on spurs for a while. It's very time consuming but gratifying," he said of the spurs that take him about an hour to make 10. To customize his spurs for the NWTF, he puts the logo letters on them, and something he was already doing for other customers, like outdoor companies that order key chain spurs with their logo.
He started off with 10 molds and now has 100.
Like hunting or anything else, he said, you learn more as you go, and his process is more efficient now and his quality has improved. He said he's even had his 68-year-old retired dad in his shop helping him.
"But this is what I wanted, so we'll see what happens. It's been like a little dream come true for me," Branca said.
Hunting deadlines approach
Firearm turkey hunters have just one more day to apply for the second round of fall season permits. Hunters can apply through Monday for the second lottery for this year's Illinois fall wild turkey shotgun season permits. The season is Oct. 19-27. To apply, go to the Illinois Department of Natural Resources website at dnr.illinois.gov.
Other hunting deadlines and seasons are approaching as well.
Archery deer permits: Resident combination and antlerless-only archery deer permits and non-resident archery deer combination permits are now available over-the-counter from DNR Direct license and permit vendors. You can find a listing of vendors by county or city on the IDNR website. The Illinois archery deer season is Oct. 1 through Jan. 19.
Upland game permits: Hunters may apply through Aug. 31 for the Illinois 2019 free upland game hunt permit program. Applications must be made online at the IDNR website. Successful applicants will receive a confirmation by mail.
Online dove permits: Online applications are being accepted for Illinois free dove hunting permits. Hunters may apply on a first-come, first-served basis through Aug. 25 for any permits that remain. Go to the IDNR website.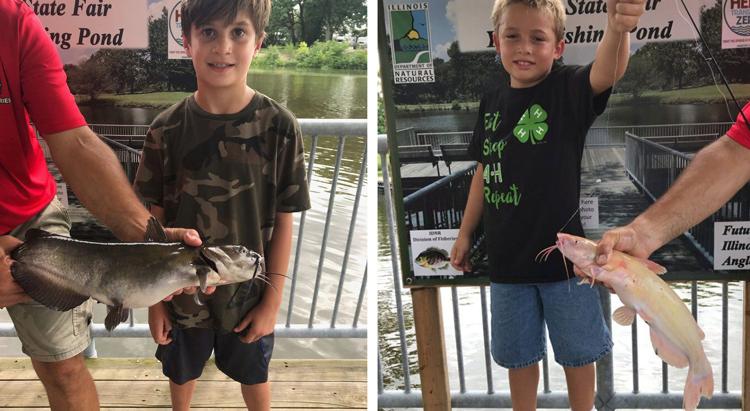 Little anglers, big fish
A couple of local youngsters reeled in some big catfish at the Conservation World pond at the Illinois State Fair in Springfield, which wraps up today. Young anglers caught hundreds of hybrid blue gill, a few large-mouth bass, in addition to these two catfish during the event. Gage Gedaminski from Champaign County caught a nice channel catfish, and Andrew Todd from Foosland caught an albino channel catfish.