The Great Outdoors, Aug. 25, 2019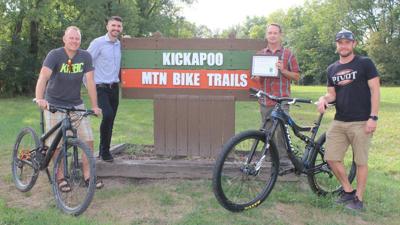 KMBC's outstanding volunteers
Earlier this month, the Illinois Department of Natural Resources recognized the 2019 Outstanding Volunteers of the Year, which included a local group, the Kickapoo Mountain Bike Club for their efforts on a number of trail improvement and enhancement projects at Kickapoo State Recreation Area near Oakwood, racking up about 1,000 hours of volunteer service just in 2019.
IDNR officials said the club members help maintain 14 miles of mountain bike trails at the site, fixing eroded sections of trail, removing trees that have succumbed to emerald ash borer and building up areas of the trail where needed. This year, the club designed and built a new section of trail about 3 miles long with club members funding equipment rentals and materials purchased for the trail section and trail bridges. The project turned a previously underutilized area of state property, according to IDNR, into "a first-class mountain bike trail," adding that the volunteer club members also maintain "an informative" webpage with details on the Kickapoo trail system that include elevations and a photo tour.
Officers of the club, including Steve Fox, Troy Savalick, Anthony Maro and trail improvement coordinator Shawn Conklin, could not attend the IDNR Outstanding Volunteers of the Year awards ceremony on Aug. 10 at the Illinois State Fair, because they were actually volunteering, running a previously scheduled mountain biking event at the Kickapoo park trail system. But their family members attended and accepted the plaque and recognition in their absence.
Fox said the group was very appreciative of the award, which they didn't realize the state gave out each year. He said they were probably nominated by Kickapoo park staff, with whom they have a good working relationship as they continue to maintain and improve the trails. For more information about the club, go to their web page, kickapoomountainbike.org or find them on Facebook.
Bass race tightens
The Illini Bass Club switched things up a bit last weekend in Paris with each angler fishing alone, then weighing in their bass and drawing for partners at the end rather than prior to tournament day.
"Besides making everyone stay after to see who they got drawn up with, it was fun to see the anticipation," said club member Mike Schull Jr.
So taking first in this new format were Chad Hennis, whose four fish weighing 11.07 pounds were paired with Vern Mayberry's three fishing weighing 5.84 pounds for a tally of 16.91 pounds.
In second, the four fish caught by Jim Thomas, weighing 10.55 pounds, were paired with Tom Hedenberg's two fish weighing 5.99 pounds for a 16.53 pound total.
And in third were Rick Depratt and Bruce Brown, whose combined catches weighed 14 pounds.
The 4.87-pound big bass of the day was reeled in by Schull Jr.
Schull reported that the Angler of the Year points race tightened up after the Paris tournament with one outing left at East Fork Lake in Olney.
Here are the top five points leaders heading into the last tournament: Hedenberg with 357 points, Schull Jr. with 354.5, Mayberry with 354, Thomas with 347 and Depratt with 339.