The Great Outdoors, Oct. 6, 2019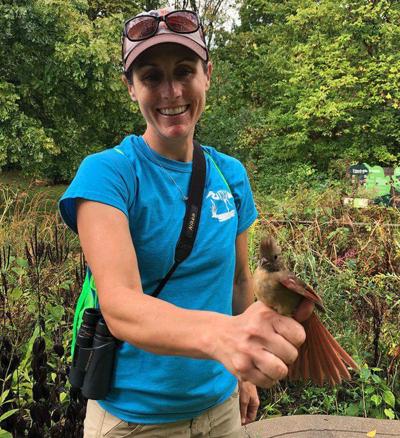 BioBlitz sequel a success
The recent sequel to the 2005 BioBlitz — a 24-hour biological survey when 800 people identified more 1,200 species in Busey Woods in Urbana — was a great success on Sept. 27-28. Hosted by the Urbana Park District, the second BioBlitz had 71 local scientists participate in the survey that so far has resulted in 655 different species identified with 1,347 total observations (meaning if three people saw the same groundhog, he counts as one on the species list), said Nicole Hilberg with the Anita Purves Nature Center. She said many samples are still being identified, so they expect the number of species to increase over the next month or so. Many scientists needed to take specimens to their labs for deeper analysis, she explained.
"We are very pleased with how well the event went and heard great feedback from the approximately 350 total participants that included staff, volunteers, scientists, students, and the general public," Hilberg said.
Outdoor adventure fest
All school-age boys and girls in the area are invited Oct. 27 to Camp Robert Drake in Vermilion County to discover new outdoor activities, learn new skills and absorb scenic views during the fall season. The Smilin' Pumpkin Outdoor Sports Fest, which is sponsored by the Boy Scouts of America, offers youths the opportunity to camp, play games and do outdoor challenges from 1-4 p.m. Oct. 27 on the Prairielands Council's camp property along the Salt Fork River. It's located at 9994 Camp Drake Road, Fairmount.
This event is a chance for families to experience Cub Scouting before making the commitment to join the year-round program. Come out to enjoy the nature trails along the Salt Fork River with the beautiful fall colors of the woods and a wide variety of action stations, including shooting sports, bicycling, water bottle rockets, pedal car racing, fishing, basketball and soccer challenges. A fun part of the action will include giant launchers aimed at enormous pumpkin targets. Also, three separate BB gun shooting ranges will be open and three different archery ranges, and a special biking trail with vehicles for young and old provided on the southwest side of camp.
Organizers said this will be an afternoon of outdoor fun for current and potential Cub Scouts, who are encouraged to bring a friend to discover the opportunities in Scouting and receive a pinewood derby car. Scouting is a family program allowing kids to connect with the outdoors in many ways, from wilderness hikes to backyard gardens. With the motto, "Be Prepared," scouts are taught first aid skills, water rescues and emergency communication techniques to help keep people safe.
Boys and girls in grades kindergarten through fifth grade are eligible to join Cub Scouting at any time at a variety of locations around Vermilion County. You can register on the day of the activity at the Camp Drake Dining Hall, adjacent to the main parking area. For more information, go to campdrake.com or contact the Raymond Lee Scout Service Center at 800-464-7291, ext. 6447.
Birds, binoculars and beverages
Although last week's event got rained out, remember that Sunday morning bird walks are happening each week — 7:15 to 9:45 a.m. — through the end of this month during fall bird migration season, starting at the Anite Purves Nature Center, 1505 N. Broadway Ave., U. Either before or after the bird walks, you can pop in at the Anita Purves Nature Center for binoculars, beverages or both. You can sip coffee, grab some light snacks and visit with other nature lovers while observing birds from the Wildlife Observation Room.
Youth deer permits
The resident and non-resident Illinois youth firearm deer hunting permits are now available over the counter from DNR Direct license and permit vendors as this year's youth deer hunting season kicks off this Columbus Day weekend, Saturday through Monday. You can go to the Illinois Department of Natural Resources website to find more information about the youth season or to find a list of direct license and permit vendors in your area.