The Great Outdoors, Sept. 29, 2019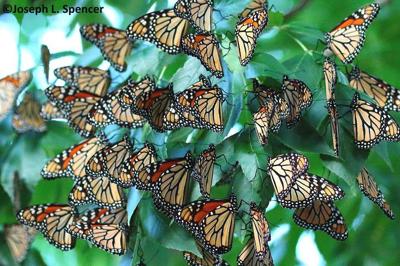 Monarch flash mob
Last year, Joe Spencer wanted to increase the number of monarchs he might see in his yard in Thomasboro, so the entomologist at the Illinois Natural History Survey planted five or six liatris blazing star plants — great nectar plants that bloom in late summer — complementing the goldenrod he already had in his yard that boasts a number of prairie gardens.
Earlier this month, he returned home from, ironically, a weeklong butterfly holiday in Panama, where he saw "a great abundance" of various types of butterflies in the rainforest.
But in the days after his return, it was in his own yard in northern Champaign County that he saw the largest number of butterflies he's ever seen at one time — all monarchs.
Hundreds, he discovered, were roosting in his trees. He first noticed the night of Sept. 18 when he saw some butterflies fluttering in the corner of his yard then spotted a branch that had 20 butterflies. Then he looked up. He counted about 350 monarchs in that tree.
The next night he went out in the dark and counted about 205. A couple nights later, he counted again – 425. So, he took "a bunch of pictures."
"It was really spectacular," he said.
An insect behaviorist, Spencer said he had fun observing the monarch mob that was clearly filling up on nectar from plants in his yard, roosting in the trees at night and fluctuating in numbers as some were coming in and others taking off for the next leg of their migration journey. He noticed that when one monarch would fly, nearby others roosting in the trees would flash their wings. A monarch flash mob, he joked.
"Like go away, or come and join us," said Spencer, who admitted purposely disturbing them a couple times, so he could capture pictures of them in flight.
"I love it when they fly around," he said. "I've never gone down to Mexico to see the butterflies in these reserves, but I think I got just about as close to that experience as I could get."
While taking pictures, he noticed a Monarch Watch tag on one of the butterflies, which he reported online to the nonprofit education, conservation and research program at the University of Kansas that focuses on the monarch butterfly, its habitat and its fall migration. Since 1992, citizen scientists have been helping track migrating butterflies through a tagging program. The peak monarch migration window for this area is roughly Sept. 3-26.
"My neighbors probably think I'm insane," Spencer joked, describing how he was walking around his yard at 11 p.m., creating flashes of light as he took pictures. "But they've got to be used to this, too. As an entomologist, I have had weird things in my yard before."
In his boxelder trees, he once hung 46 fabric bags as part of a silk moth study and occasionally used a ladder to move them around. To his surprise, none of his neighbors questioned the sight, except a visiting relative of one neighbor. He was a beekeeper, a fellow entomologist type, which made sense, Spencer joked.
He said someone mentioned how appropriate that hundreds of monarchs chose his Thomasboro yard for a fall migration stopover.
"It is really fortuitous, because I probably am the best person to appreciate this where I am, and I am a guy with a camera who knows how to take pictures of these," said Spencer, whose monarch mob has now dwindled to 30. "But that's still twice as many as I've ever had."
He's hoping this is a sign that monarch migration population numbers in Mexico and California will be up this year. Monarchs west of the Rocky Mountains migrate to groves of trees along the California coast while those east of the Rockies fly south to forests high in the mountains of Mexico.
"I've never seen this many, and it's so many more than I've seen in the past," Spencer said. "This must have been a pretty good year for producing monarch butterflies."
Sangamon River cleanup
Over two Saturdays this month, about 60 volunteers helped pull literal tons of garbage from the Sangamon River.
Coordinated by the Upper Sangamon River Conservancy, more than 40 volunteers, along with help from the Champaign County Forest Preserve District, collected 2 tons of garbage and 21 tires from the river the first cleanup day; on the second day, 18 volunteers pulled another ton of garbage out of the waterway, along with seven more tires.