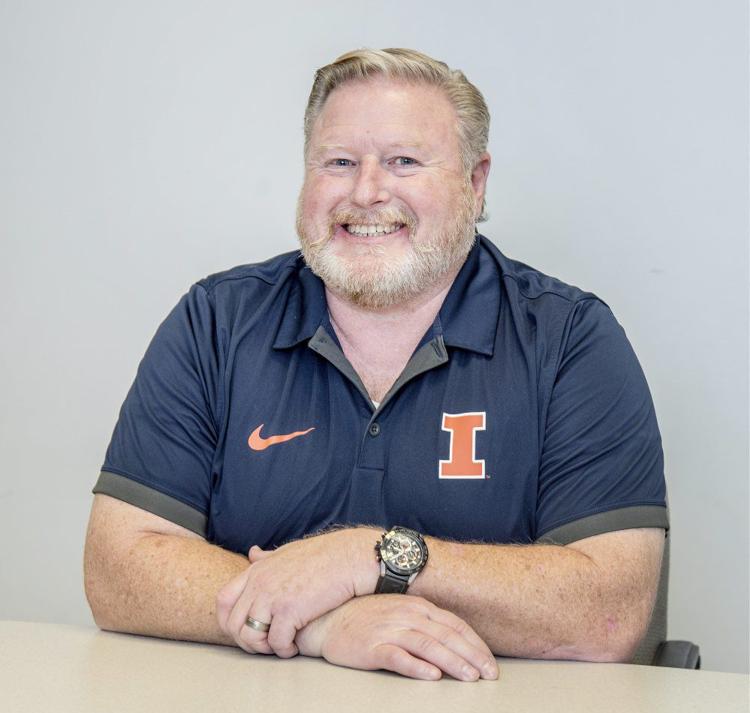 CHAMPAIGN — In a career that has included the Marines, the Champaign Fire Department and a newer job with the University of Illinois, Chris Hanson has seen it all — even a Ronald Reagan moment.
The Galva native, 55, served in Operation Desert Storm, as a "chaser" going after AWOL military personnel, and inspector-instructor duty in the late 1980s.
He enlisted in 1981, and said he'd always wanted to be in the military — and there weren't a lot of job opportunities in his small western Illinois farm town.
Sent to boot camp in San Diego, he watched jets take off every night.
Then he settled in as a chaser, after one week's training.
"I picked up one deserter who'd been on the lam. He deserted from Vietnam," Hanson said. "We would pick them up from local police department, handcuff them and bring them back."
In Desert Storm, he was a machine-gunner with a home base in the port of Ras al Ghar in Saudi Arabia.
"It was boring 95 percent of the time, 5 percent scary," he said.
The fear factor, in a time before IEDs, was the Soviet-made Scud missile, which could carry biological, radioactive or chemical loads.
"The first night of the war, there were a lot of Scuds. When we had to put on your chemical suits, you knew: This is real," he said.
But "it became ordinary," he added.
In 1998 Pres. Ronald Reagan was visiting a stadium next to Hanson's installation to campaign for Republican congressional candidates.
His unit assisted the Secret Service with their security. Reagan waved at him.
"Reagan was supposed to be inconspicuous," Hanson added.
He met astronaut and Sen. John Glenn a few years before that.
In 1992, Hanson left the Marines. He started to work as a metal fabricator.
Closer to his Marine training was dangerous public service. Champaign Fire Department's 2012 Firefighter of the Year, Hanson served 19 years on a crew, retiring on 2016.
Now he's the director of the Hazardous Materials Training Program in Urbana since the former director left in 2017, a third career.
He's married with three kids.
Is he proud of his service?
"There was lots of rough times — and a lot of great experiences," Hanson said.
He's still amazed at how much of the world he saw on six-month shipboard deployments, among them: Thailand; Japan; Okinawa, a Japanese prefecture; Singapore; Australia; Korea; the Philippines; Hong Kong; and Diego Garcia, a militarized atoll in the central Indian Ocean.