Opinion: Tom Kacich
Tom Kacich | From presidential race on down the ballot, Champaign County continues leftward lean
Have a question for Tom? Just click here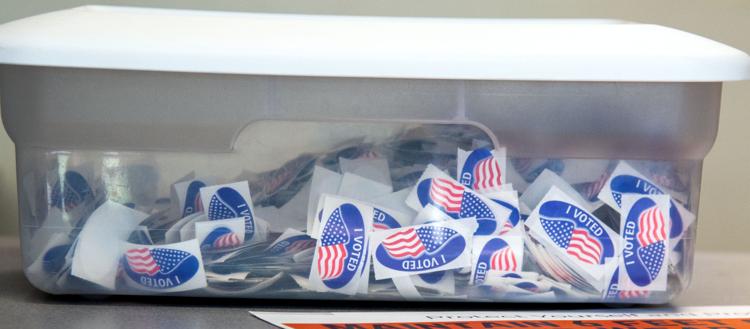 Once again Champaign-Urbana stands almost alone as an island of blue in a sea of red counties.
Unofficial returns show that the two cities went overwhelmingly for Democrat Joe Biden for president. He won every one of the 62 precincts Champaign and Urbana, 23 of them with more than 80 percent of the vote.
But most of the rest of the precincts in Champaign County went for President Trump, although not by as great a margin.
As of Friday Biden had 59.3 percent of the county's vote to 37.4 percent for Trump. Biden's numbers in the county are nearly 5 percentage points greater than Hillary Clinton's four years ago; Trump's are a percentage point better. 
But almost every other county in the area was solid red, from Piatt County's 63.7 percent for Trump to Iroquois County's 77.6 percent for the president.
New this year was that McLean County, home of Bloomington-Normal and Illinois State University, moved into the blue column, giving Biden 50.5 percent to 46.6 percent for Trump. Like Champaign County there was an urban-rural split. Biden was favored in Bloomington, 55 percent to 41 percent. 
Now for a deeper dive into some of the local election numbers:
— Republicans' best precinct in the county was Stanton, the rural area north of St. Joseph and west of Royal. There Trump got 84.3 percent of the vote and other GOP candidates did even better. Coroner Duane Northrup — the only Republican to win countywide — got 89.2 percent. The proposal to implement a graduated income tax in Illinois failed with 91.7 percent voting no and a small property tax increase for the Champaign County Forest Preserve District lost by 28 percentage points.
— Democrats' best showing was City of Champaign 1, the predominantly Black precinct in north Champaign where Biden got 92.8 percent (Clinton had scored 93.4 four years earlier). Most other Democrats did as well or better except for U.S. Sen. Dick Durbin who got 85.7 percent. Independent candidate Willie Wilson, a Black Chicagoan, took 9.2 percent in the precinct although just 1.5 percent countywide. The graduated income tax was approved in CC1, 79 percent to 21 percent. But as in Stanton Township the tax hike for the forest preserve district lost by 10 percentage points.
— Vote totals in the eight precincts populated mainly by University of Illinois students were well below the 2016 totals: 5,050 votes this year; 8,823 votes four years ago. Students voted overwhelmingly for Biden by about 86 percent to 13 percent.
— Trump got the same percentage, 60, in the five Mahomet precincts that he got four years ago. His percentage increased, though, in the three St. Joseph precincts from 67 four years ago to 70 this year. Rantoul isn't the Republican stronghold it was a generation ago. Trump won the six precincts in the village with just 52.4 percent of the vote.
— You might recall that there was a strong push early on for people to vote by mail rather than in person. But although more than 25,000 in Champaign County voted by mail the vast majority voted in person, either early at the Brookens Center or other locations (41,830) or on Election Day (26,156).
The vote by mail and Election Day electorate in Champaign County were as different as night and day. Biden is winning the vote by mail group by about 4-to-1, 20,454 to 4,143. But Trump won the Election Day bloc, 14,850 to 9,984. Vote by mail counting will continue in Illinois until Nov. 17.
— State Rep. Carol Ammons, D-Urbana, got 78.5 percent of the vote in her first contested race since 2014. That year she got 61.4 percent over Republican Kristin Williamson. This time her opponent was the underfunded, nearly invisible Brad Bielert, a Libertarian from Champaign.
— Champaign County's conversion from deep red 40 years ago to deep blue is complete. In the late 1970s and early '80s there was generally one countywide Democratic elected official. Today there is one countywide Republican official, Coroner Duane Northrup, who won reelection with about 51 percent of the vote. Two incumbent Republicans got caught in the local blue wave. Circuit Clerk Katie Blakeman lost to Democrat Susan McGrath by about 120 votes and Recorder of Deeds Mark Shelden fell to Mike Ingram by more than 2,500 votes.
— Republicans were heartened by U.S. Rep. Rodney Davis' big win in the 13th Congressional District. He swamped Democrat Betsy Londrigan by about 10 percentage points, well above his 1 percent win two years ago. Although Londrigan won Champaign County with 67 percent, McLean County with about 57 percent and Sangamon County with about 55 percent, Davis demolished Londrigan in the 11 other counties in the district. In Davis' home county, Christian, he got 75.9 percent to Londrigan's 24 percent. Davis' campaign tied Londrigan to Illinois House Speaker Michael Madigan, who is despised in most parts of downstate Illinois. It's a strategy that also helped unseat Illinois Supreme Court Justice Thomas Kilbride and to defeat the graduated income tax proposal.
— Finally, Champaign County established a record for voter turnout. The latest count said that 93,598 people  voted — up from the previous record of 92,842 four years ago. There are still 2,855 ballots outstanding. according to the State Board of Elections. As of now more than 77 percent of the registered voters in the county voted this fall. As recently as the 1996 presidential election turnout was only 68,090.