Tom's #Mailbag, Aug. 9, 2019
Ask our veteran reporter questions by clicking here
Lots of groundbreaking in this week's Mailbag on everything from mastodon remains found during a construction project 50 years ago to road work to a university construction project to updated natural gas lines in Champaign to a new business.
Also, Sholem pool staffing problems, an apparent cicada shortage this year, racing in rural Camargo and the methods that local hospitals use to sterilize equipment.
Park district hiring woes
"This summer it seems as if Sholem Aquatic Center has a problem with staffing. Almost daily they post 'slides closed' or 'baby pool closed.' They blame staff illness and the fact staff are all students. Are there no adult lifeguards in Champaign? Does the park district hold anyone responsible and fire them for absence? Also, why on Earth are they open strictly Memorial Day to Labor Day and only until 7 p.m.? Adults like to swim, and sometimes after 7. The sun is out til 8:30!"
Champaign Park District Executive Director Joe DeLuce said this summer "has been the most difficult in hiring enough summer staff across all positions" in his 22 years with the park district.
"We appreciate this person's question and feedback," DeLuce said. "This summer has been particularly challenging with getting the needed number of staff and lifeguards, and it started with the application process — we simply did not have as many interested job seekers as we needed.
"Nearly all of our applicants are students that have fairly restricted schedules this time of year or even leave town to return to school. We occasionally get adult applicants, but it is rare.
"We fully endorse anyone interested to apply next spring! We are very proud of the staff we have, many of which have worked extra hours weekly to help keep amenities open for our patrons. Safety rules above all, so if we do not have the required number of staff on site, we cannot open a feature. We will continue to advertise hiring in the spring to bring in a larger applicant pool."
With regard to pool hours, DeLuce said: they "were adjusted to 7 p.m. a couple years ago because very few took advantage of the 7-8 p.m. availability. We determined that cutting the hours to 7 p.m. all summer would be an effective way to maximize tax dollars and manage staff availability. We do offer some special events throughout the summer that keep the pool open later and we also hold evening programs during that 7 p.m.-8 p.m. hour. We have swim lessons, walk the river, and water aerobics during that time. We have discussed holding those 8 p.m.-9.p.m., but that pushes all rentals, in-services, or other after hour events back to 9 p.m.-11 p.m. That means staff wouldn't leave until almost midnight on a regular basis."
I also asked Tim Bartlett at the Urbana Park District if they've had similar staffing problems this year.
"Yes, we both have had challenges in getting and maintaining staffing at our two pools," said the Urbana district's executive director. "We think it is likely a combination of hiring primarily young people with more fluid schedules and work ethics, more businesses paying higher rates (people leaving us mid-summer to go to Target), and the heavy responsibility of 'life saving' versus an easier job.
"We have not had to close features yet but may have to yet this season given the loss of employees and/or any more staff leaving. We have offered a 'bonus' in the past — for staff that could meet a certain number of hours. It's another way to consider creating an incentive versus paying someone overtime. We hope our condition improves in the near future."
Urbana mastodon
"In (a recent) History column it mentions that the 8,000-year-old bones of a mastodon were unearthed east of Urbana in the Lincolnwood subdivision. What's 'the rest of the story?' What happened to the bones?"
The mastodon remains were found in Urbana's Lincolnwood subdivision, northeast of Thomas Paine Elementary School, in January 1969.
A report at the Illinois State Geological Survey, apparently done at that time by paleontologist/geologist/sedimentologist Charles Collinson, said that the discovery was made by two men operating a "ditching machine" at the site.
They "cut through the remains of an extinct Ice Age elephant-like mastodon and kicked up fragments of bone and three gigantic teeth," the report said.
"Collinson visited the site immediately and collected approximately 10 pounds of fragmental bone," the report said.
It was tentatively estimated to be about 11,000 years old.
"Examination of the mastodon site by survey pleistocene geologists and the x-ray analysis of clay in which the remains were found indicate that the animal was buried in a pond situated on top of the Urbana Moraine after the glacial ice sheet had withdrawn some distance to the north," the report said. "The elephant-like creature may have been killed near the edge of the pond and its remains slumped toward the deeper parts of the water or it may have fallen in and drowned. Disarticulation of the bones indicate that the former is most likely."
"The American mastodon was a primitive relative of the more modern woolly mammoth and lived during and prior to the Pleistocene Epoch or Ice Age. The species may have been exterminated by men within the last several thousand years. The beasts were mainly browsers that lived in the timbered areas where they fed on the branches of shrubs and trees. Their large cheek teeth are distinctive and are easily identified. Parts of all the teeth from the left jaw of the specimen were found."
The Urbana specimens are believed to have been collected by the men who were operating the ditching machine. Dr. Collinson passed away in 2011.
A map on the web site of the Illinois State Museum (http://exhibits.museum.state.il.us/exhibits/larson/mammut.html) shows that there are several sites in East Central Illinois where mastodon remains have been found.
Medical equipment sterilized?
"Ethylene oxide pollution from medical device sterilizing plants has been in the news. A plant in Willowbrook was shut down when the released chemical was tied to higher than normal cancer rates in that community. The plant's reopening is now the subject of protests and controversy. My question is about where Carle Hospital and Clinic, and OSF get their medical instruments sterilized and if this chemical is involved."
Carle spokeswoman Laura Mabry said, "Carle doesn't use that sterilization method. We sterilize everything in-house with plasma or steam."
And OSF spokeswoman Libby Allison said, "At OSF HealthCare we sterilize medical devices on site and do not use Ethylene Oxide."
Camargo's racing past
"Did Camargo ever have a race track (autos, not horses)? I was told as such, and it existed many decades ago. I'm curious if this is true, and the location."
Yes, there was motorcycle racing at a track north of Camargo from about 1976 to 1980, said Darren Cooper of Cooper Motors in Tuscola. His father, P.L. Cooper, owned the facility.
"It was between (Illinois) 130 and the (Embarras) River," Cooper said. "There were actually three tracks. A motocross track, a half-mile oval and an oval short track."
One man who raced at the track as a youth was Guy Webb of Camargo who for 12 years operated the All Stars Circuit of Champions and sold it to NASCAR driver Tony Stewart in 2015.
"I actually raced motorcycles there when I was a little kid and my dad was friends with P.L." Webb said. "That was as close to any motor sports that we had here from the 70s on."
New restaurant
"Just wondering what they're doing on North Walnut between Washington and Columbia streets in Champaign. It's the building where the old Butternut Bread used to run out of."
That building is part of the original Sullivan Chevrolet dealership that once was at Walnut and Washington streets.
There is a building permit application under review by the city of Champaign for "a tenant fit out for Wood n Hog" barbecue, said Randy Smith, building safety supervisor for the city of Champaign.
"There has already been some exterior work permitted and completed at this address," he said.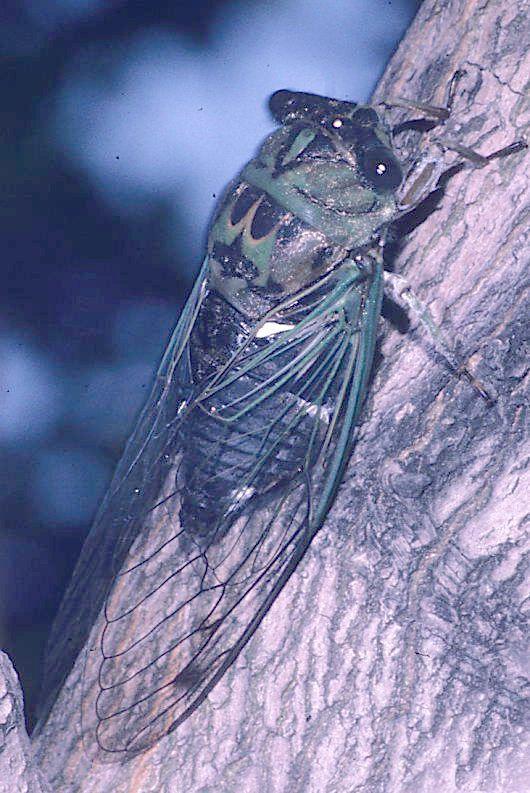 Fewer cicadas?
"I live in Southwood in Champaign, and usually at this time of year the evening air is filled with the sounds of cicadas. Although I've seen a few of their husks and have heard one or two, they seem to be largely absent this year. Is it just my neighborhood? What could cause them not to make an appearance?"
Dr. Phil Nixon, retired extension entomologist at the University of Illinois Department of Crop Sciences, said this might just be one of those years when there are few or no cicada species emerging.
"Annual or dog day cicada adults are present each year during the dog days of summer in July and August. There are about 150 species whose life cycles range from one to nine years with two to five years being the most common. So 'annual' refers to the appearance of the adults, not life cycle length," he said. "In a particular area, there will typically be three or four common species of annual cicadas, each with a life cycle of 2, 3, 4, or 5 years. This results in at least two or three of these species emerging as adults in any given year.
"Mathematically, there will an occasional year when only one or none of these common species emerges as adults. This is likely occurring this year as I have noticed fewer cicadas singing in several areas locally as well."
Here's how it works:
"The immatures, called nymphs, generally feed on sap in the roots of trees and shrubs during most of the life cycle. When mature, the nymphs burrow out of the soil and climb the trunks of trees and shrubs during the night. The emerging adult splits the back of the exoskeleton and extracts itself, leaving behind the exuvium commonly referred to as a shell or husk.
"Adults live for a few weeks and feed on tree sap. Males sing to attract females to them for mating. Eggs are inserted into twigs, and the hatching nymphs drop to the ground, burrowing until they find a root to feed on for the next few years."
Online property tax info
"This is regarding the new Champaign County property tax system. The new system's web page (https://champaignil.devnetwedge.com/) is missing lots of historic information that was previously available, such as Sales History. Will these data eventually be available in the new system? What prompted the move to the new system and how much did it cost? The transition seems rocky. Our automatic deduction for the first installment was 15 days later than this year's July 1 due date because of the new system issues."
Champaign County Treasure Laurel Prussing acknowledged that there have been problems but noted that the county board voted last year to adopt a new property tax system, replacing a computer system that dated to the 1970s.
"I am not aware of any such computerized system change that has gone smoothly, in the Western hemisphere, at least. (Anyone in any other part of the world that claims flawless transitions is probably afraid to say what actually happened.) The system that Champaign County adopted, DEVNET, is used by most Illinois counties," she said. "Everyone I have spoken with from other counties says it was a rocky transition, but ultimately a better system."More historic data will be added. Right now I look up older information on our old system."
She said the county board also is allowing townships in Champaign County to participate in DEVNET. So far the county has paid DEVNET $75,525.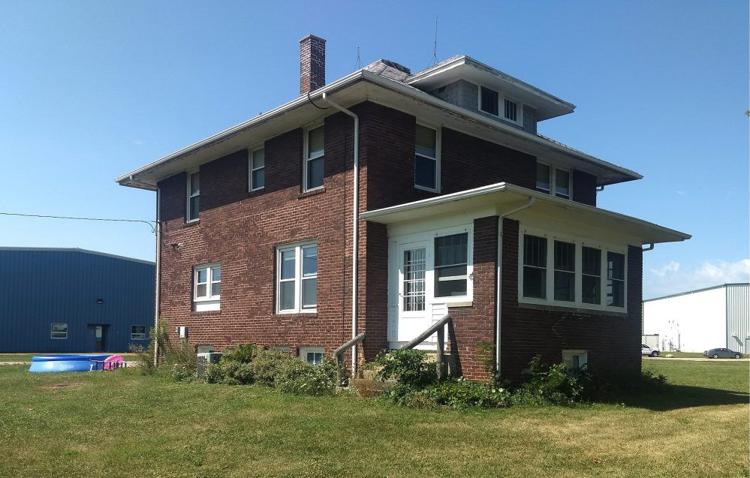 Brick house
"There is a brick house on the Willard airport property near Flightstar/Parkland's Flight School. Is that used for rest for pilots or is that a private residence?"
It's a private residence.
New feed mill
"What is the University building on South Race Street between Curtis Road and West Old Church Street? This week the work has progressed to the stage of sitting of foundation forms. There is a huge crawler crane and large piles of mounded earth at the location in addition to many other large pieces of earth moving equipment. I think the project is the new feed mill for the University but my Grandson thinks a space rocket is being erected. What is it?"
That's the Illinois Feed Technology Center, a $20 million facility that will replace the 1920s-era feed mill at the corner of St. Mary's Road and 4th Street.
The new feed center will significantly expand the UI's capabilities in animal nutrition space, which is critical for developing new diets that utilize novel ingredients, improve production efficiency in livestock and poultry, and enhance the health and wellbeing of animals, including dogs and cats," Rodney Johnson, head of the Department of Animal Sciences at UI, said in a press release.
The facility will be capable of delivering 8,000 tons of specialized small-batch research diets per year, along with numerous interdependent capabilities integrated to provide full system services. These include production and storage of grain and forages; storage of specialized diet ingredients; precise diet formulations; milling; ingredient processing; and pre-mixing, mixing, pelleting, extruding, crumbling, bagging, and delivery of animal diets for research.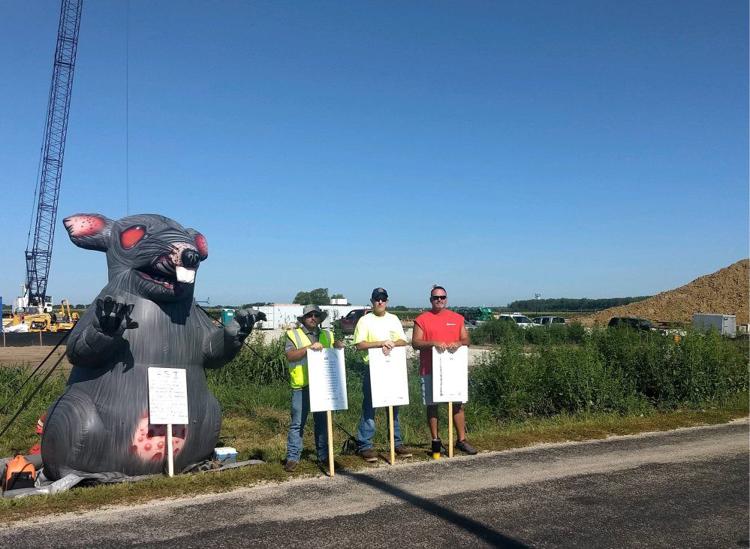 Labor issues at feed mill
"Why are there protesters standing along South Race Street where the new feed mill is being built by the UI?"
"Our biggest complaint is that they're not using local labor. You can take a look at the parking lot and the license plates come from a multitude of states and not one from Illinois," said Mike Wombles, business agent for Operating Engineers Local 841. "We want local jobs for local people. That's our complaint."
Union officials met Thursday with the general contractor on the project, ASI Industrial of Billings, Mont.
"They (ASI) did agree to take a look at a PLA, a project-labor agreement, but they basically told us they need to keep this crew working so they'd be ready to go to Louisiana with their next project. So they don't really care about local workers here."
A project-labor agreement, according to the state of Illinois, is a comprehensive pre-hire collective bargaining agreement negotiated between a project's owner (the University of Illinois in this case) and an appropriate labor organization (a construction trades council) which sets out the basic terms and work conditions for the project.
Here's what UI spokeswoman Robin Kaler said:
"This is a university project that is being developed as a public-private partnership. The construction phase is being conducted by a private developer who was awarded the project through an open, competitive bidding process that followed all state regulations. As part of this bid, the developer is required to adhere to all applicable state, federal and university standards, including paying the current prevailing wage. There have been some protesters present near the site. The protesters are allowed to picket as long as they do not impede the construction process or interfere with traffic or pedestrian access. The University of Illinois Police Department has met with both the construction company and the protestors so that everyone understood the conditions to ensure a safe environment."
Batestown Road
"Early this year there was a statement made in The News-Gazette about repairing a section of Batestown Road by the old Diamond Grade School. It is in desperate need of repair. Is it still in the plans to be repaired?"
"We are currently in the design phase," said Vermilion County Engineer Adrian Greenwell. "We hope to have the plans ready for construction next year."
Devonshire work
"There's a whole lot of utility work happening in the Devonshire subdivision. What exactly is being done and why?"
Ameren Illinois is updating gas lines in the area, said spokeswoman Marcelyn Love.
"For the last several years, Ameren Illinois has been upgrading the natural gas infrastructure in and around Champaign. This is the final phase of the project along Prospect Avenue, which will increase the reliability of the natural gas system, further enhance public safety and increase system capacity to accommodate for future growth," she said. "We anticipate the start of two projects next year, along Kirby between Mattis and Duncan and in south Urbana."
Ogden construction
"Looks like something's being built on the southwest corner of the Ogden exit on I-74, is it another truck stop?"
That work is actually within the Illinois Department of Transportation right of way, although it isn't construction, said IDOT Region 3 engineer Kensil Garnett.
"The grading taking place is to facilitate an upgrade to the drainage for both the interstate and the village. There have been sizeable pipes 'jacked' under the interstate that are integral to this upgrade," he said.
Interstate bridge painting
"Back at the beginning of summer, I-74 east between Prairieview Road and I-57 was down to one lane, so the overpasses could be painted. They finished that half of the painting before 4th of July, but they haven't yet started on the westbound sides of the overpasses. Could you find out what the timeline is for when the work will start on and westbound traffic will be reduced to one lane?"
and
"At the beginning of summer, there were two bridges having work completed on I-74 east toward Champaign, but they never finished the westbound side. Are there plans to complete the other half?"
and
"Is the contractor for IDOT ever going to come back and paint the westbound side of the Duncan and Lindsey Road overpasses over I-74? They finished the eastbound just before July 4th but have never returned to do the other side."
It will probably resume in September, said Garnett.
"Due to the expectation of heavy traffic and congestion at the Duncan Road and Lindsay Road bridge locations in the westbound direction, a contract change has been initiated for this work to be completed at night," he said. "In order to complete this change, the contractor has to secure the use of a specialized containment truck that was not immediately available. The contractor is currently painting another structure on this contract, the bridge carrying Staley Road over I-72, while that piece of equipment is unavailable.
"The expectation is that the completion of the structure on I-72 and the availability of the containment truck will coincide around Labor Day, in which time the I-74 work will resume. Once the work resumes, the allowable work hours will be 8 p.m. to 7 a.m., in which one lane will be closed in the westbound direction only. The work should take approximately 25 nights to complete."
Bad roads
"Why are the roads so bad in Champaign-Urbana? Who are the contacts at the cities in charge of roads?"
Have you ever driven on the roads in Indiana?
In both Champaign and Urbana there are public works directors who are responsible for the roads. In Champaign it is Dennis Schmidt. In Urbana City Administrator and interim public works director Carol Mitten is the contact.