Tom's #Mailbag, Aug. 16, 2019
Ask our veteran reporter a question by clicking here
Almost a record Mailbag this week. Nearly two dozen items including the history of Champaign-Urbana merger votes, how Urbana and Champaign County were named, how a Mailbag question prompted a change at the Illinois secretary of state's office, an upcoming traffic mess in Campustown, how the Unity school district paid for athletic field upgrades and why the Copper Slough is as dry as a skeleton in the desert.
Also, the 60 mph speed limit on I-74 through Champaign-Urbana, a bike trail through Champaign-Urbana, concerns about a property along the Sangamon River outside of Mahomet, stalled work in Danville and clearing up confusion about Destihl.
Champaign-Urbana merger
"There has recently been much discussion of consolidating units of government to save public money. The discussions I've noticed seem to focus on consolidating township units. Has there ever been more than just casual talk of the elephant in the room — consolidating Champaign and Urbana city governments? There is enormous duplication of administrative staff here: mayors, city councils, police and fire administration, public works staff, park districts, library directors, legal staff, financial staff, building safety staff, neighborhood services ... need I go on? In fact, just looking at police departments, why are three completely separate police departments (Champaign, Urbana, and the UI) necessary? In fact, wasn't the former UI Fire Department 'folded into' the Urbana Fire Department as a cost-saving measure?"
There were referenda to merge the two cities twice — in 1953 and 1980 — and both were soundly defeated, and in both cities. There has been very little discussion of merger since that 1980 effort.
The last was in 1992 when Roy Van Buskirk, then the chairman of the Champaign County Chamber of Commerce, promoted the idea. He was joined by Champaign's mayor at the time, Dan McCollum. But Urbana Mayor Jeff Markland opposed it and the merger idea withered.
There's no mention of merger in the mission statement or strategies of the county chamber of commerce.
Neither city council has discussed merger or any kind of government consolidation. It was the councils that prompted the 1980 vote with the creation in 1976 of a 22-member Champaign-Urbana Study Commission on Intergovernmental Cooperation, headed by the late and much-respected Sam Gove, University of Illinois professor and head of the UI's Institute of Government and Public Affairs.
He argued that the effort was faithful to the relatively new Illinois Constitution — then just 10 years old — that in Article VII, Section 10 directed the state government to "encourage intergovernmental cooperation and use its technical and financial resources to assist intergovernmental activities."
In 1980 it lost in Champaign, 60 percent to 40 percent. In Urbana it failed 69 percent to 31 percent.
Under the 1980 plan the merger only would have affected the city governments, not the school or park districts. It would have resulted in creation of a Borough of Champaign and a Borough of Urbana, each part of a merged government known as "Champaign-Urbana." After each of the existing city governments had retired their debt the boroughs would have faded from existence.
In 1953 the merger question lost in Champaign, 70 percent to 30 percent. In Urbana it failed 73 percent to 23 percent.
And yes, the University of Illinois Fire Department was folded into the Urbana Fire Department several years ago.
Real ID requirements
"Regarding your Mailbag item on 8/2/19 about Real ID. You shared the requirements from the Secretary of State web site correctly, but the Champaign office has at least one additional requirement for bank statements and possibly others.
"My wife went several weeks ago to the Champaign DMV with each of the items on the check list including a bank statement to prove currently local address. She was sent away because the bank statement, which had our address and was from May 2019 and from maybe the most well known local bank, did not have enough activity for them to accept it. Fortunately I was able to print our power bill as a substitute and get it to her.
"Since we had used the Secretary of State's check list this was very frustrating for both of us. I tried to find a way to contact the management of the Champaign office, but could only find one local number that had a menu system which didn't include an option to do so. I called the Secretary of State's office and they confirmed that any bank statement would meet their expectations, but they also said they were aware some local offices 'used their own standards' for items like bank statements. This seems like a problem for anyone who wants to go do business at the DMV. Why don't they have to follow the state guidelines and why isn't there an easy way to give feedback to specific local offices?"
Your grievance has prompted a change in policy at the secretary of state's office, said Henry Haupt, a spokesman for Illinois Secretary of State Jesse White.
"We apologize for the inconvenience the customer experienced at the Champaign facility. It is our goal to ensure we provide the highest level of customer service possible," he said. "After further discussion within our office, we are implementing a policy that will accept bank statements without recent activity. Because the U.S. Department of Homeland Security (DHS) requires two documents to prove residency, REAL ID applicants that present a bank statement, with or without recent activity, will still be required to provide an additional document such as a utility bill or a mortgage."
Here's a link to the secretary of state's acceptable documents of identification for Real ID ...
https://realid.ilsos.gov/publications/pdf_publications/ex83.pdf
MCORE and campus traffic this fall
"What's the progress of the MCORE project on Wright Street in central campus? It's currently completely closed to MTD buses. I imagine traffic on campus will be an utter nightmare if all bus traffic continues with the summer reroutes but the fall student population. The MCORE website currently says that this work will run from May-September."
Traffic probably will be the nightmare you describe, at least until mid-September.
Here's how the MTD plans to address the traffic issues on campus, courtesy of MTD planning manager Jay Rank:
"As part of the MCORE project, Wright Street is scheduled to be closed in both directions between Armory and Green Street until September 15th. This means that the reroutes we've had this summer will continue into the beginning of the semester."Generally speaking, Wright Street is one of two major north-south thoroughfares for the system on campus. Most of the routes that use Wright Street are currently rerouted to use Goodwin Avenue (the other major north-south thoroughfare).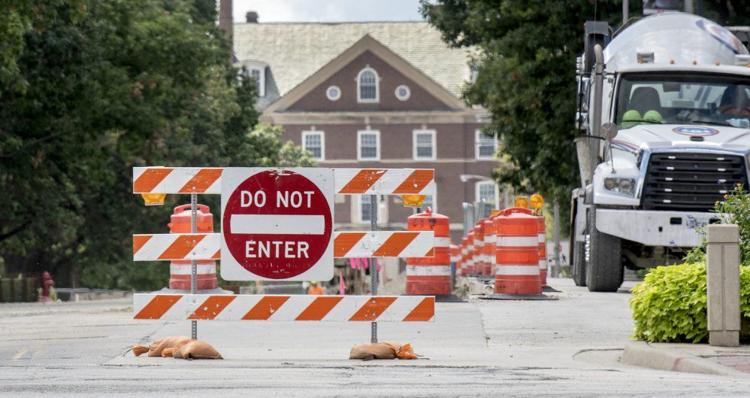 "After September 15th, Wright Street will be open between Armory and Green Street northbound only, like it was during the spring semester. At that point, the reroutes will revert back to what they were then, where generally buses traveling south through campus will still use Goodwin Avenue but buses traveling north through campus will be back to regular route and use Wright Street.
"Please be patient because there will be delays and dates may shift, but we will do what we can to maintain service. The real-time departure estimates are a good resource because these planned reroutes are entered into our planning system and the buses are tracked accurately."
Rank urged MTD users to check the reroutes at https://mtd.org/maps-and-schedules/reroutes/ for updates to this and any other reroute.
Downtown Destihl
"I recently had lunch at Destihl in downtown Champaign. I asked a staff member when the restaurant would be closing downtown to move to southwest Champaign, but to my surprise they said that Destihl was going to keep the downtown location and that the southwest Champaign location will be a new location rather than a replacement. Is this the case? It runs counter to everything I've heard. And either way, approximately when might the new location open?"
No, there will be just one Destihl open at a time.
Justin Kelley, the general manager at Destihl, apologized "for any confusion that my staff may have caused."
He said that in June 2020 "we will be moving to a new facility out at the Carle at the Fields location. The downtown location will remain open until that move occurs. Once we have moved, the downtown Destihl location will be closed."
Unity athletic fields
"How were the recent sports-related renovations paid for at Tolono Unity High School? Was it replacement or reserve funds? Private donations? If there were benefactors, who were they?"
Ninety percent of the cost was paid with revenue from Champaign County's 1-cent sales tax (which was enacted by voters in 2009) and 10 percent was paid out of district reserves when Unit 7 decided to turf the infields of baseball and softball, said Superintendent Andrew Larson.
The total price, he said, was $2.2 million for the upgrades to the playing surfaces for soccer, football, baseball infield and softball infield.
Dry slough
"Why is the Copper Slough that runs through Heritage Park in Champaign dry?"
Champaign Public Works spokesman Kris Koester said it's the result of at least two factors: The dry weather (officially Champaign has had 0.93 of an inch of rain in the last month and 3.66 inches since July 1 while normal rainfall in that period is about 6.7 inches) and a sinkhole that has developed.
He said there is field tile in the area that was part of the Fountainhead Drainage District that now belongs to the city of Champaign.
"It runs along the Copper Slough near Bradley Avenue. There is currently a sinkhole in the channel that is allowing water to drain into that field tile before it daylights near I-72. The sinkhole and tile will be repaired at some point in the next few weeks," he said.
Heritage Lake also is unusually low but that's because of the ongoing shoreline stabilization construction project, said Andrew Weiss, who is director of planning for the Champaign Park District.
"There is essentially a standpipe in Heritage Lake with a gate valve, and the lake has been drained into the Copper Slough to that point as long as the construction project is underway. Once construction is finished toward the end of 2019 the standpipe drain will be closed and Heritage Lake will return to the level we're accustomed to," he said.
60 mph speed limit
"When will IDOT recognize the need to post more '60 MPH' signs on I-74 between I-57 and University Avenue? Almost all traffic exceeds that 'limit' making it dangerous for those who obey the law. And will IDOT ever cut back the bushes/trees that obstruct a driver's view of highway signs? Specifically, the '70 MPH' sign just west of the Perkins Road overpass for the eastbound traffic. There is a bush in front of it that hides most of it until you are almost up to it."
IDOT Region 3 Engineer Kensil Garnett said the agency will be adding "60 mph Ahead" signs to the ramps carrying I-57 traffic onto eastbound I-74. There are "60 mph Speed Limit" signs on I-74 after each on ramp."In general, people know the speed limit — they just choose to ignore it," he said. "The placement of additional signs will not cause them to slow down. Unfortunately, the only thing that seems to slow people down is enforcement of the speed limits by law enforcement."
As for the obstructed sign on eastbound I-74, Garnett said, "We will remove the brush/trees blocking the '70 mph Speed Limit' sign west of Perkins Road. Currently that sign is covered for the ongoing construction project in the area."
Roadside mowing
"IDOT has professed concern about our endangered pollinators such as honeybees and Monarch butterflies. Yet, at least in this area, roadside forage is routinely mowed at the time the roadside plants are in bloom and most beneficial to pollinating insects. Presently the only features left standing along I-74 seem to be the 'Prairie Preservation-Do Not Mow' signs. Who sets the mowing schedules, and does IDOT ever consult with entomologists when determining the schedules?"
Garnett said IDOT "is following the Illinois Monarch Project Mowing Guidelines for Pollinators. This policy was created by a multi sector group of professionals including biologists, entomologists, botanists, wildlife biologists, Illinois Department of Natural Resources, the University of Illinois and the US Fish and Wildlife Service. Our mid-summer mowing (July 1 - Aug. 15) is timed specifically to the monarch migration and to provide habitat at other times for multiple species."
Higher property taxes
"I just got my assessed evaluation on my house. I live in Ironwood in Champaign. My home assessment has decreased however my real estate taxes keep increasing. What is the reason in this?"
The problem answering this question, said City of Champaign Township Assessor Paul Faraci, is that part of Ironwood is in the city of Champaign and part is not.
Another factor that may have entered into your question is that many Champaign County residents recently got new property assessment notices that may affect next year's tax bill but not the one you're currently paying.
The best thing to do, Faraci said, would be to call your township assessor and ask for an explanation. Check your property tax bill and call your township assessor. In Ironwood it would be either Faraci (City of Champaign Township at 403-6130) or Jim Weisiger (Champaign Township at 359-2411).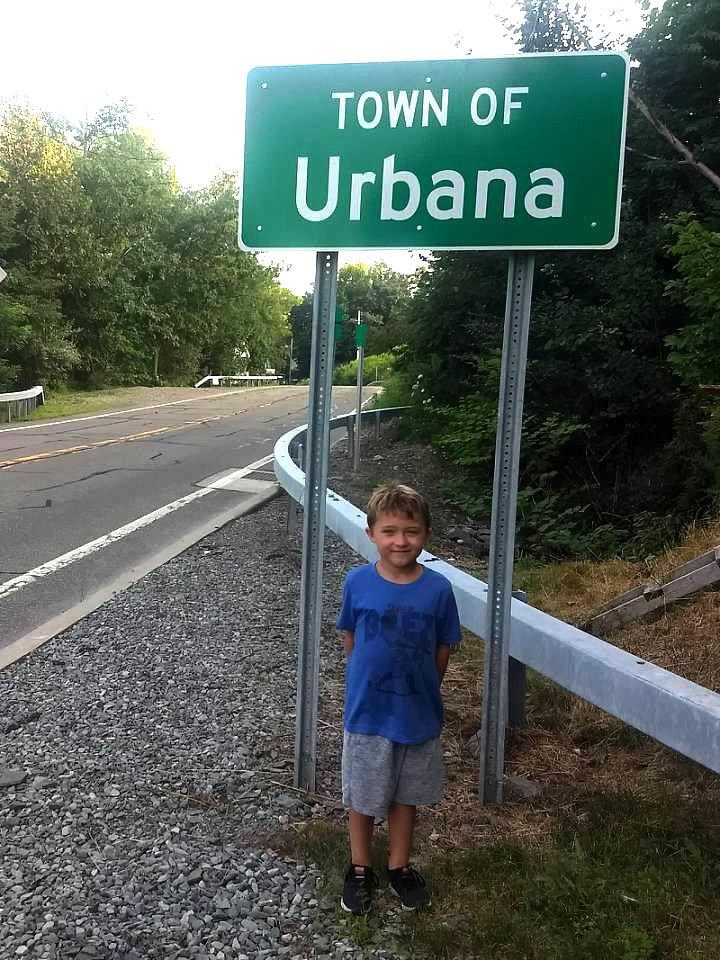 Urbana, Ohio
"There is an Urbana, Ohio, which is the county seat of Champaign County, Ohio. An online article said our city and county were named after the Ohio city and county. Could you provide more information on this?"
Legend has it that although most of the early settlers to the county were from Shelby County, Ky., the county and the county seat got their names from Urbana, Ohio and Champaign County, Ohio.
That's because the state senator who sponsored the legislation creating the county had come to Danville from Champaign County, Ohio.
"Champaign County was organized in 1833 from part of Vermilion County," says a brief county history on the Champaign County government website. "The County was named after Champaign County, Ohio, and the County Seat was named after Urbana, Ohio, which was the homeplace of State Senator John Vance, who sponsored the bill to create the County."
Champaign County, Ill. was established in February 1833. Champaign County, Ohio, was established in February 1805.
For what it's worth there's also an Urbana, N.Y., which was established in 1793, and an Urbanna, Va., which dates to the mid-1700s.
Single family house restrictions
"A lot of the single-story ranch homes in our neighborhood have been torn down and replaced with much larger and taller houses. Are there any height limits on single family homes in Champaign?"
Different parts of Champaign have different regulations for maximum height requirements, said senior city planner Jeff Marino, "but assuming your reader lives in a Single Family Residential Zoning District, Section 37-191 of the Code outlines the maximum height in Table IV-A, which for Single Family Homes is 35 feet."
He noted that the city code defines height as "the distance from the ground to the mid-point between the peak of the roof and the eaves on the side."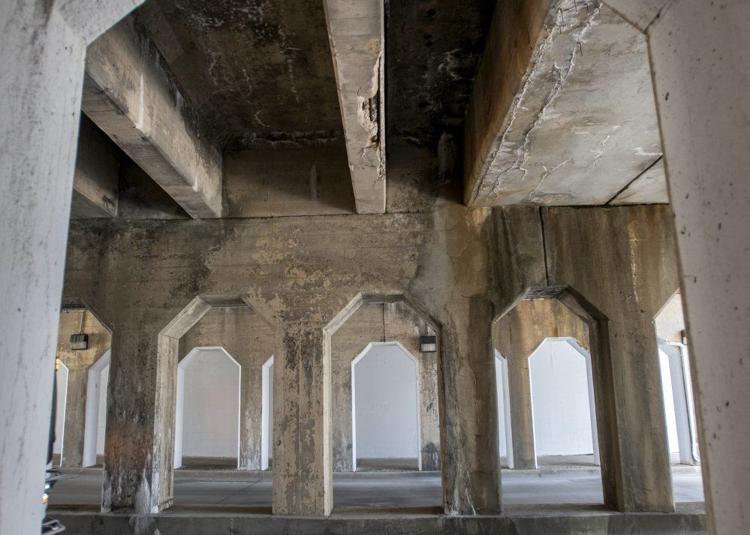 Rail safety
"Do the viaducts in Champaign have to get regularly inspected? I frequently walk under the one on Chester street located right next to the Illinois Terminal. Some of them in town do not look the safest to be walking under."
The viaducts are the property of the Canadian National Railroad, said Kris Koester, spokesman for the Champaign public works department.
If you have a concern about the safety of a bridge or viaduct, you can file a form with the railroad using this link ...
https://www.cn.ca/sitecore/content/repository/popups/forms/rail-bridge-safety-2?contactid=%7BBE432001-68B5-43A1-9732-394BCFB817B1%7D&utm_pp=/en/contact-us&sc_lang=en
Staley-Illinois 10 work
"What is going on with the road work at Route 10 and Staley Road? They dug a hole in the pavement several weeks ago. The hole has since been filled and concreted over. The barricades are still up and no left turn onto Staley from Route 10. The traffic there is already congested due to the Bradley overpass construction."
and
"There's a big construction project going on at the intersection of Springfield and Staley roads. I've never seen so many people and so much equipment working in such a small area for such a long time. Any idea what they are working on?
Ameren Illinois is performing routine inspection and maintenance on the natural gas transmission pipeline that runs along Route 10, to ensure it is operating at full capacity and will continue to do so safely for many years to come, said Ameren Illinois spokeswoman Marcelyn Love.
"Work is expected to be completed by the end of next week," she said. "Readers might be interested to know: The technology that is being used to inspect the pipe is called a 'pig.' It's a device that travels inside of the pipe and looks for irregularities without disrupting the flow of natural gas. It's called a pig because it can sometimes makes a squealing sound as it moves throughout the pipe."
School board restrictions
"Do you know if the Champaign school board can limit public comment at school board meetings? Are they breaking any law if they do this? (At a recent) meeting, they limited the number of people who could speak on the same topic during the public comment section to three. Is that legal?"
State law requires a school board to allow time for public comment during open meetings, said Kara Kienzler, associate executive director for communications and production services for the Illinois Association of School Boards.
The amount of time allowed for public comment and guidelines for individual participation during this time is to be set in board policy.
"The Constitution requires school boards to set reasonable content or viewpoint-neutral rules that address the content of a speech," Kienzler said. "A board may, when necessary and appropriate, shorten the time given for each person or lengthen the overall time set aside for a subject, in order to give the maximum number of people an opportunity to speak."
The Champaign school board in its policy manual states: "Communications from the staff, students, and visitors to the Board of Education shall be an agenda item in all meetings. No action shall be taken on items presented during 'Communications,' but an item may be established as an item on a future agenda if, in the opinion of the Board, such action is necessary.
"Persons who wish to participate in the 'communications' portion of the meeting must fill out a Public Participation at Board Meetings Form and submit it to the presiding officer or designee before the meeting begins. The speaker should identify his/her affiliation before making his/her presentation, and then state the remedy sought, if any.
"Citizens may address the Board on either agenda or nonagenda items during the Public Comment portion of the Board agenda. Delegations of more than three persons shall appoint one person to present their views before the Board. Each person shall clearly speak into the microphone at all times and identify himself/herself and shall address the Board as briefly as possible. Comments shall be limited to three (3) minutes."
Kienzler noted that in PAC 19-002 the Illinois Public Access Counselor ordered a board to refrain from applying unestablished and unrecorded rules to restrict public comment at future meetings. Here is the summary:
"Unestablished and Unrecorded Rules for Public Comment
"Public Access Opinion 19-002
"A school board (Board) violated Section 2.06(g) of OMA during its October 22, 2018 board meeting by enforcing an unestablished and unrecorded rule limiting the public comment portion of the meeting to 15 minutes. Petitioner asserted that over 100 parents and community members attended this particular board meeting, intending to comment on a recent hiring decision, but the Board announced that "in accordance with board rules they 'had used before,'" members of the public would be permitted to speak for three minutes each for a total of 15 minutes for all speakers. Due to this 15 minute cap, many attendees were unable to make public comment. Petitioner further noted that even though the Board's policy manual limited comments to three minutes per person, it did not mention a 15 minute cap.
"The Board did not dispute that it capped the public comment to 15 minutes, but it pointed to its Welcome Handout, which describes the Board's general order of business at board meetings and states "members of the public shall be permitted to make comments at each meeting subject to the following time limitations: 3 minutes per speaker, with a maximum of 15 minutes, per topic, per meeting."
When asked about the discrepancy between Board policy and the Board Welcome Handout, the Board explained that even though the 15 minute cap is not in Board policy, it has been the Board's practice for at least the last 10 years. The PAC found that "[n]othing in OMA suggests that past practices which have not been formally incorporated into a public body's rules are established and recorded by the public body within the meaning of [OMA] section 2.06(g), and may be enforced to limit public comment."
Though a public body has inherent authority to conduct its meetings in an efficient manner and need not allow public comment to continue indefinitely, the PAC held that there was no evidence that capping public comment to 15 minutes was necessary to maintain decorum or that extending the comment period would have unduly interfered with the orderly transaction of public business. As a result, the PAC ordered the Board to refrain from applying unestablished and unrecorded rules to restrict public comment at future meetings."
The opinion is binding only to the parties involved — not to the Champaign school board or any other local board — and may be appealed pursuant to State law.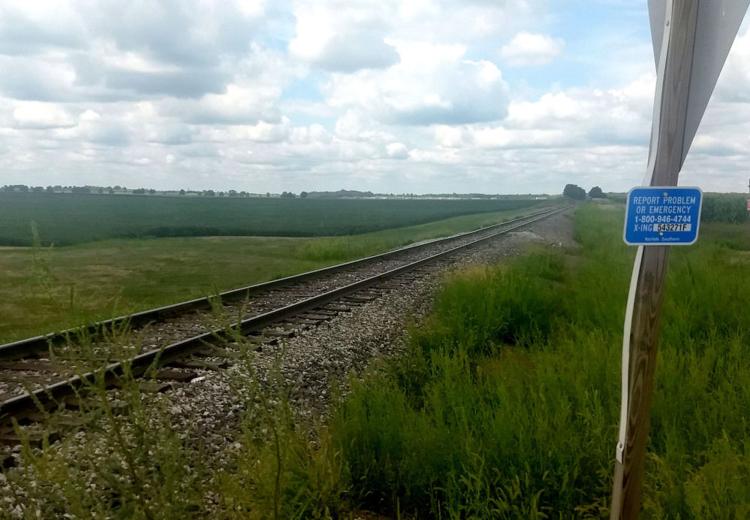 Another bike trail?
"What do we have to do to turn the rest of this abandoned rail line: http://www.abandonedrails.com/Danville_to_Farmer_City into a trail? It runs right through town and would be a great asset."
It's a patchwork of abandoned and active rail lines that is going to take money and time to turn into any kind of a long-distance recreation trail. Even the section that is under public control — the Kickapoo Rail Trail between Urbana and Kickapoo State Park — is short of money to complete.
The Norfolk Southern-owned rail line is still active, particularly around Champaign and Mahomet, which I would think would make it unlikely that it could be turned into a rail trail.
Part of the western segment from Mansfield to Bloomington was eyed by former McLean County Administrator Bill Wasson as a possible rail trail, according to Champaign County Forest Preserve Executive Director Mary Ellen Wuellner, but he retired and Wuellner said she doesn't know if that effort will resume.
Urbana Mayor Diane Marlin said the city's focus is extending the western terminus of the Kickapoo Rail Trail from around Illinois 130 (High Cross Road) through the city to the intersection of Lincoln and University avenues.
"We are working with the Regional Planning Commission, the Urbana Park District, and Champaign County Forest Preserve District to conduct a feasibility study for this section," she said. "This study is funded by a grant from the Illinois Department of Transportation ($100,000) with a $25,000 matching grant from Carle Foundation Hospital."
As for the segment in Vermilion County, for now the state's Department of Natural Resources' ownership ends at the Vermilion County Fairgrounds, Wuellner said.
"On that map, it looks like the black line extends further east. Unfortunately no agency has stepped up to claim an interest in negotiating for additional ownership into Danville. The city was working on it for awhile, but it's outside their jurisdiction so it would be up to (the Vermilion County Conservation District) or IDNR."
Sangamon River concerns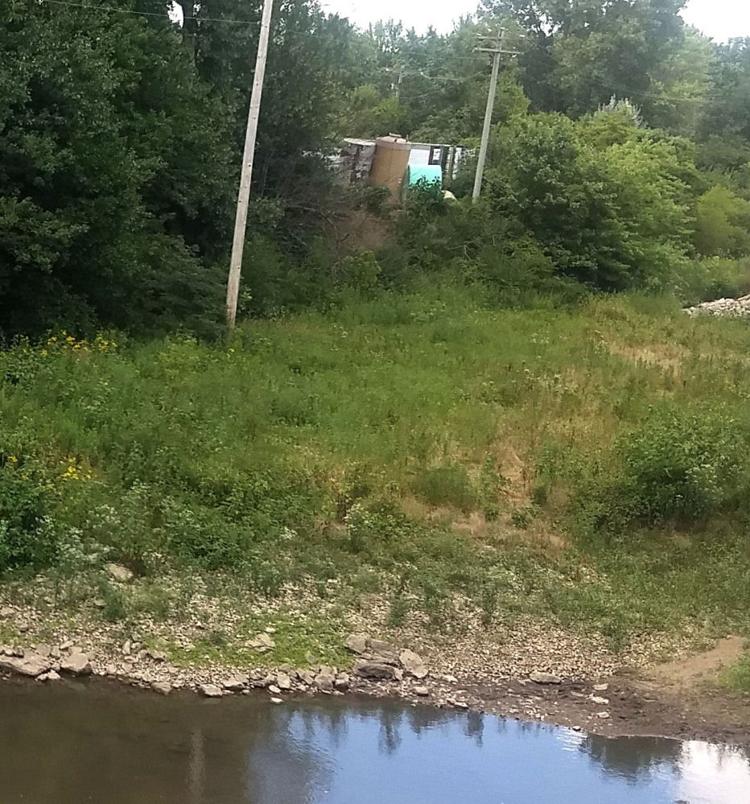 "I recently began walking in the River Bend Forest Preserve in Mahomet. Since then, I've noticed what appears to be some kind of 'dump' located on Sangamon River and South Division street in Mahomet. This dump runs closely along the riverbank that winds through the preserve including a low flood plain area.
"Do you have any information about what is stored at this dump? There are large barrels and vats that look ready to fall into the river, which could be an environmental mess depending on what is being stored there. Is there any EPA oversight? "
This was the subject of a similar Mailbag question about a year ago. The property is a facility of Miller Enterprises, a site work contractor based in rural Champaign County.
There is a long, complicated history between Miller Enterprises and Champaign County (the property along the Sangamon is located in unincorporated Champaign County) that included a 1993 lawsuit over the county zoning ordinance. In 1994 the court determined that the activities of Miller Enterprises on that property were lawfully nonconforming under the county zoning ordinance, said county Zoning Administrator John Hall.
"There was also a Floodplain Development Permit for modification of the floodplain on the property that was approved by Champaign County and the Illinois Department of Transportation Office of Water Resources in 1983," Hall said last year. "That floodplain development was not actually inspected for compliance until October 2016 when Champaign County staff and staff from the Illinois Department of Natural Resources Office of Water Resources determined that the property was compliant with all relevant floodplain regulations."
Hall said this week that there have been no inspections since 2016.
"I know that the non-floodplain portion of the property has been filled quite high and it is certainly possible that something could fall from the higher non-floodplain portion of the property onto the lower floodplain areas and as long as it is removed from the floodplain area, that is not a problem," he said.
He also said that he is not aware of any liquids stored in vats or tanks on the property.
Humidity this summer
"Weather question: This summer seems to be less humid than usual other than a week or so earlier in July. I'm wondering if it has anything to do with the crop situation with less/later crops caused by the wet spring. Or is it just what it is this year."
Brian Kerschner, assistant data manager with the state climatologist office at the Illinois State Water Survey, said it's all about the dew point.
"In order to get a general idea of this we can examine dew point temperatures for Champaign-Urbana. The higher the dew point, the greater the amount of moisture in the air. The dew point temperature will affect how 'comfortable' or 'uncomfortable' it will feel," he said. "A dew point temperature at or above 70 degrees will make most people feel 'very uncomfortable' and can be classified as oppressive.
"With this in mind, let's take a look at dew points at or above 70 degrees in both June and July since 2010 using hourly data from Willard Airport in Savoy."
Dew points in June were below average while those in July were at or slightly above the average.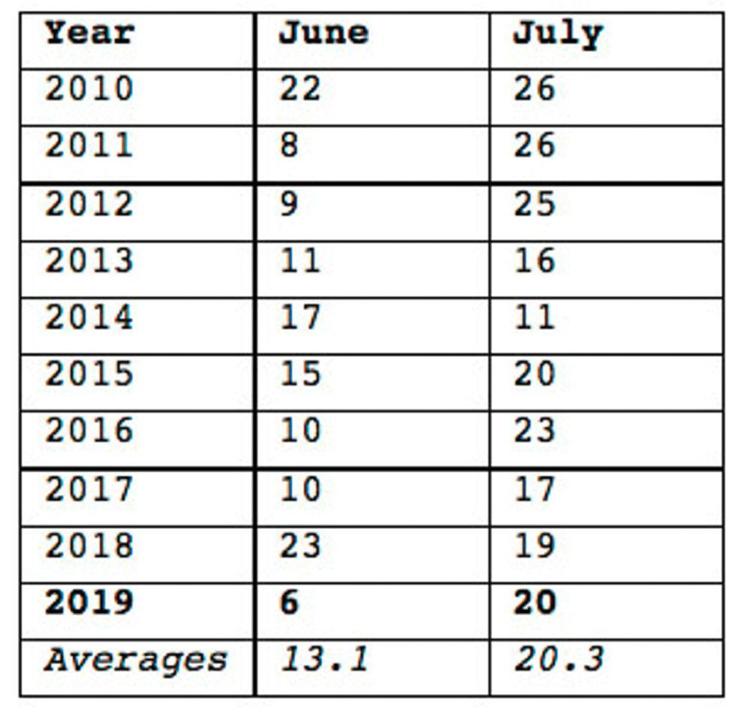 The table above shows the number of days in which a dew point at or above 70°F was reported for one hour or longer. Focusing on 2019, you can see that June was below the average, while July was right around average (10 year average).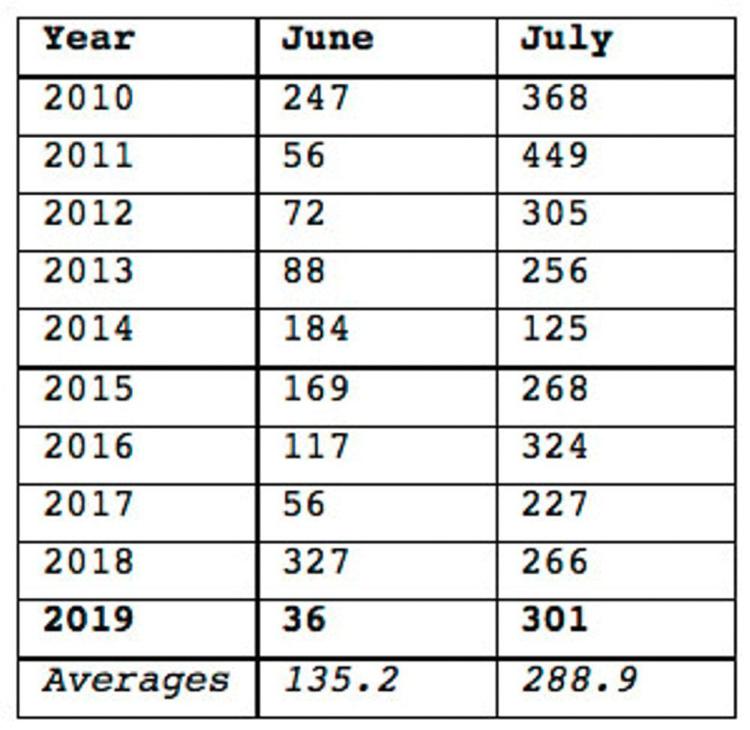 To be more precise we can look at the total number of hours (above) during each month in which a dew point at or above 70°F occurred. Again, June 2019 is well below average, while July is slightly above average (10 year average).
And crops can influence climate, Kerschner said.
"The warmer the air temperature, the more moisture it can hold," he said. "Climatologically speaking we already expect summers in Illinois to be hot and humid. In addition, evapotranspiration, the combined effects of evaporation and transpiration, can have a noticeable effect on dew point temperatures. Transpiration is the process by which plants, including row crops like corn, pull moisture out of the soil using their roots and release it into the atmosphere through their leaves.
"This extra moisture, commonly referred to as 'corn sweat,' can make the hottest days of summer feel even more muggy and uncomfortable. While atmospheric moisture content can be influenced by a multitude of factors, such as large scale weather and climate patterns, winds, and fronts, we also need to account for changes in dew point directly relating to evapotranspiration during the summer months."
Stalled work
"The city of Danville started work on the intersection of Voorhees and Jackson streets many months ago, but now seem to have abandoned it. There's heavy equipment still there, and land has been stripped down to soil for something, but lately no one is anywhere near the site. Can you see what the project is and why it is currently in limbo?"
Carl Carpenter, Danville's director of public works, said the project delay "is associated with utility lines and the utilities that control them. Once they address those issues the project may be completed."
Vacant lot in Champaign
"With all the work on the corner of Springfield/Mattis going on, is there a plan to build anything in the lot next to the Walgreens across the street?"
The city has received no plans for that property, said Randy Smith, Champaign's building safety supervisor. It is owned by Shapland Realty LLC.
Danville fence regulations
"I reside in Danville (Danville township). I would like to find out the privacy fencing regulations. I'm on the corner of a 'T' intersection and would like to put up a 6-foot privacy fence. I would like to build it correctly. Who would I contact to find such information?"
You should contact building inspector Stephen Chrisman in the community development department at 217-431-2340.
Store closing
"Did I miss the announcement or did Simply-Mac at Market Place Mall just abruptly close? I was in store early last week. Stopped by Sunday and the store front was covered. What happened?"
Stores frequently do not announce that they are closing. That's what happened in this case. As you note the storefront is covered over, the store's Facebook page says it is "permanently closed" and calls to its phone number always ring busy.