Tom's #Mailbag, Aug. 2, 2019
Have a question for our veteran reporter? Click here to ask it.
Like a bad golfer, the Mailbag is all over the place this week: the homeless in Champaign, historical homes in Champaign, restaurant news, roadwork news, Rodney Davis public forums, real ID, golf, the Cubs on TV, rural art, MTD service, a pothole-y parking lot, Champaign's vacant deputy chief position, tilework on University Avenue and whether Champaign property taxes are headed up again.
Kamala Harris home
"I just read a New Yorker profile of Kamala Harris and noticed a reference to her moving around as her family followed her dad to some faculty jobs in the Midwest. It looks like her father, economist Donald Harris, was an assistant prof at the University of Illinois in academic year 1966-67. Kamala would have been 2 then.
"Possible to find out where they lived during their year in Champaign-Urbana?"
Democratic presidential candidate Kamala Harris was born Oct. 20, 1964, in Oakland, Calif. After her father earned his doctorate in economics at the University of California-Berkeley in 1966, the family moved to Champaign for a year.
His "biosketch" on the University of Illinois Department of Economics website says: "He went on to Northwestern for one year, U of Wisconsin, 1968-1972, and Stanford, 1972-1998 when he retired to spend more time on developing public policies to promote growth and advance social equity."
According to local city directories the Harris family lived in 1966 at 315 Avondale in Champaign. Sometime later they were at 508 N. Prospect.
House beautiful
"Every day I drive past the beautiful home at 1016 W. University Ave. in Champaign. I'm curious as to its origins. What can you tell me about this unique home?"
All I knew was that it was built around 1929 by L.D. Lewis, who was the vice president and treasurer of the W. Lewis and Co. department store in downtown Champaign, and sold around 1940 to Jerome J. Sholem, who owned a series of shoe stores in East Central Illinois.
But The Preservation and Conservation Association of Champaign County has a full analysis of the house, done by University of Illinois student Judith L. Hoffman in 1992.
She noted that it was designed by local architect George Ramey, who also was supervising architect for the Virginia Theatre, as well as a number of other local structures — Champaign City Building, the Eastlawn (Cemetery) Burial Park Tower (since razed) and the building at 134 W. Church St. that originally was a grocery store.
"When considering the style of 1016 W. University, it is interesting to remember that the architect supervised the construction of the Virginia Theater, which exhibits Italian Renaissance and Spanish Mediterranean influences. Both influences are seen in 1016 W. University," she wrote. "The form of the main house is a rectangular tripartite plan with the porch added on the east.
"The exterior walls are structural tiles with a stucco finish on the outside and later on the inside. The exterior treatment is common in both Italian and Spanish influences. Likewise, the red half-round roof tiles protecting the low-pitched hip roof frame with a ridge represent both influences."Hoffman said that the revival of interest in Italian Renaissance home construction came in the late 1880s and 1890s.
"The perfection of masonry veneering techniques after World War I helped in duplicating the construction of stucco or masonry walls. The period from 1915 to the late 1930s became the era of the eclectic period houses in which Mediterranean influences can be found," she wrote. "This house dates to 1926 which is toward the end of the stylistic period. One look up and down the streets of its neighborhood, however, will confirm that the choice of its style was a bold statement for Champaign, Illinois. The house has had the good fortune to be maintained without major alterations to this day, so we may enjoy the artistic handling of these Mediterranean influences."
As an aside, Hoffman reported that the third owner of the house — William Leach, who bought it in 1985 — "acquired the gate and fence posts from Illinois Field where the Beckman Institute now stands. The current whereabouts of the fence is not known, but the gate posts are installed on either side of the back driveway and at the front sidewalk."
A story in the Daily Illini said that a building permit for the home, valued at $18,000, was issued in July 1924.
New deputy chief
"Now that Deputy Chief Troy Daniels of the CPD has retired, how soon is the city required to fill his position? Are public hearings required to be held? If not, how can citizens provide feedback to the city about candidates for the position?"
Public hearings are not held for the appointment of deputy police chiefs or deputy school superintendents or deputy city managers.
"We appreciate the question," said Champaign Police spokesman Tom Yelich. "Generally speaking, the city of Champaign is not required by policy to have the (deputy chief) vacancy filled under any specific timeline. Efforts, although, are typically made to have a successor in place as soon as feasibly possible.
"As for the next part of your question, public hearings are not required for a deputy chief position. However, community feedback is important to us and comments on topics related to this or anything else are always welcomed and appreciated. They can be shared to police@champaignil.gov and it will be routed to the appropriate individual. More information on the selection and appointment process is outlined in the City Code under Sec. 2-320.1. — Appointments-Chief of Police and Deputy Police Chiefs. Thanks."
Hickory River update
"Could you get a progress update on Hickory River opening at Carle at the Fields? Looking forward to it opening!"
"We currently are in the design phase, and are updating our dining room look and several kitchen processes," said Hickory River owner Mike Madigan. "This will be the prototype Hickory River Smokehouse that we will be marketing franchises for in Illinois, Indiana, and Ohio soon. Like all of our stores, there will be dine-in seating and a drive-thru.
"This unit will have a full bar and outdoor seating for about 60 as well. We will be sharing a large parking lot with Destihl and a couple other businesses, so we are timing our opening date to be close to Destihl's — summer 2020. We are excited to bring this updated concept to the area."
More rural art
"Was curious on U.S. 136 between Rantoul and Gordyville there is a place with a lot of telephone poles stuck in the ground at an angle. I was wondering if this was something the homeowner did for a specific reason. Wasn't sure if it stood as a symbol for something."
"It's art," said Gale Stanberry, the owner of the 5-acre plot three miles west of Gifford. The poles, he said, were obtained at the former Chanute Air Force Base.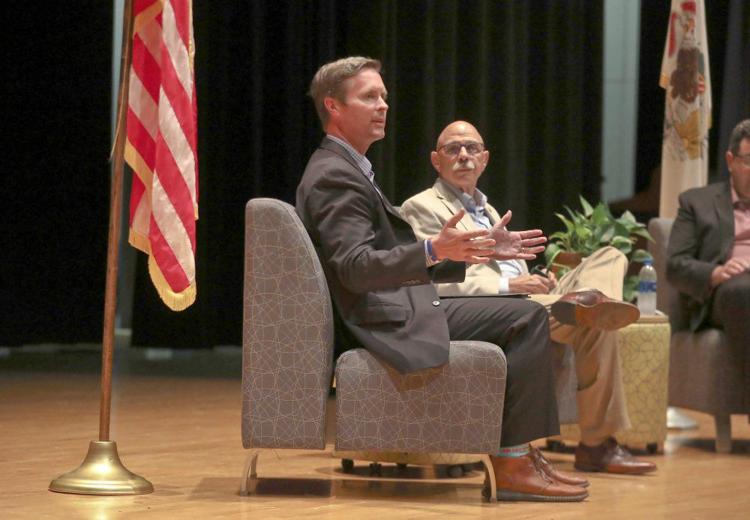 Rep. Davis meet in C-U?
"How many times as a sitting congressman has the esteemed Representative Davis held a meeting like tonight's in Decatur — or any sort of town hall — in Urbana-Champaign? And why hasn't he committed to an 'open government' meeting here? We are the biggest city in his district, are we not?"
Ashley Phelps, a spokesman for U.S. Rep. Rodney Davis, R-Taylorville, said there would be future "open government nights" but she said she had no details about where or when they would be held.
The House of Representatives is on its August "district work period" until Sept. 8.
Davis held an "open government" session Monday night in Decatur (Macon County), along with freshman state Rep. Dan Caulkins of Decatur, that sometimes broke down into heckling, cheering and jeering.
And no, Davis has not held any sort of town hall meetings in Champaign-Urbana.
Finally, Champaign County does have the greatest number of voters in Davis' 13th Congressional District. Here are the numbers, based on the average turnout during his four general elections (2012, 2014, 2016 and 2018):
Champaign: 52,341
Madison: 43,956
Macon: 41,902
Sangamon: 37,145
Macoupin: 18,921
McLean: 18,335
Christian: 13,635
Montgomery: 11,138
Jersey: 9,245
Piatt: 8,049
DeWitt: 6,571
Greene: 4,703
Calhoun: 2,284
Bond: 1,822
Cubs on WCIX
"How did Channel WCIX (Channel 49 in Champaign) land the rights to broadcast the Chicago Cubs baseball games? I really enjoy the Cubs and I am glad they are on a local station."
Your response from Gary Hackler, the vice president and general manager at WCIA and WCIX: "First of all, thanks for watching! We purchased the rights to broadcast 25 games from WLS-TV Chicago. Unfortunately, due to the new Cubs Baseball Network, this will be the last year for the Cubs on WCIX! Local viewers will now have to buy into the Cubs baseball network in order to receive Cubs games locally."
Cubs games beginning next year will be broadcast only on the Marquee Sports Network, a pay-TV service operated by the Cubs and Sinclair Broadcast Group. Marquee, according to a Chicago Tribune story, is asking Chicago-area cable TV providers to include the Cubs in their package at a cost estimated at between $4 and $9 a month.
"Years in the works, the new Cubs network will include 150 regular and about 30 spring training games, expanded pregame and postgame coverage, classic broadcasts from the archives and other programming," the Tribune reported.
MTD service request
"I am wondering if the MTD has any plans to develop a route going south on Neil Street from downtown Champaign. Line 2 does a wonderful job going north, but it's surprising that there are no lines going south, especially given the amount of new development and stores going up in the South Neil area. Line 1 goes to the Harvest Market plaza, but it takes easily 40 minutes going through campus when school is in session."
Here's your reply from Champaign-Urbana Mass Transit District Managing Director Karl Gnadt: "Thanks for the great question. The 1 Yellow does serve that area, but you're right — depending on where you are coming from, it can be a lengthy trip. But I have some good news (and some bad news) for you.
"The good news is two-fold. We actually have an internal meeting planned in about two weeks to discuss a possible new route that could include the area you're referencing. This is somewhat being driven by the Illinois Terminal expansion project, The Yards. In addition to that, we are currently conducting a complete route analysis that will examine our existing service structure and its appropriateness to the growth of the community.
"The bad news is that it is likely that any new service derived from these activities wouldn't be implemented for another two to three years."
Dewey-Fisher Road work
"What in the world is going on with North Mattis Avenue? Miles of road north of Olympian Drive is being covered with what looks like a loose, used asphalt product. This road was totally redone just 3 or 4 years ago when it was widened, and was in very good condition. With all of the roads in the area that need attention, why is so much being spent on a road that for all appearances is just fine?"
"We did a seal coat on that road using emulsified asphalt as the binder and wet bottom boiler slag as the aggregate. This is a preservation operation that seals the asphalt surface and increases the life of the road," said Champaign County Engineer Jeff Blue. "New asphalt roads start to oxidize very early in their life, which causes the road to become brittle, lose its flexibility and crack.
"This treatment helps prevent further oxidation of the roadway and increases the life of the asphalt surface. It also gives the road a black finish which helps with conspicuity of the stripes and helps us to clean it up quicker when we get snow and ice in the winter. It's an investment that pays big dividends over time."
Left turn lane on Kirby
"Has any thought ever been given to extending the turn lane heading east on Kirby Avenue at Neil Street? It seems every day I am stuck in the left lane unable to get into a nearly empty turn lane. It certainly looks like there's room to extend it. Heck, seems a left turn into the Walgreens parking lot wouldn't be a bad addition either."
Kris Koester, spokesman for the Champaign Public Works Department, said that extending the eastbound left turn lane at Kirby "would require either the relocation of the curbs or the removal/modification of the raised median. This type of improvement is something typically accomplished through a capital improvement project and would have to compete with other needs throughout the city.
"I would envision the city taking a look at this if/when improvements to the intersection of Kirby Avenue at State Street are budgeted, designed and constructed. Improvements at the State Street intersection would include turn lanes and new traffic signal equipment and will also require changes to the curbs and median in this section of Kirby Avenue."
Bradley Avenue work
"What is the big Bradley street project that keeps getting delayed? See it on the electric signs. Is it with the (Canadian National Railroad) tracks? Is the whole Avenue going to be closed? Or one lane like it is now? What's going to occur?"
Koester noted that there are four capital projects on Bradley Avenue this year:
— a new bridge over I-57
— pedestrian safety improvements from Prospect Avenue to McKinley Street
— resurfacing from State Street east to the Champaign-Urbana line
— Boneyard Creek Improvements Phase D (laying pipe under Bradley between Market Street and the Canadian National Railroad tracks)
"Specifically to answer your reader's question:
"The project in question is Phase D of the Boneyard Creek Improvements project. At this location, a new culvert carrying stormwater will be built under Bradley Avenue. The work is delayed at this location due to a utility needing to be relocated. In the meantime, this project continues to move forward and the contractor is currently working on the culvert replacement under Market Street near Bellfontaine."
Long wait for a light
"When at the stoplight on Devonshire Drive and Neil Street, the red light for cars turning left onto Neil from Devonshire seems to be longer than most red lights in town. Does the city determine the timing on that particular light, and if so, have they reviewed it since the development of Carriage Center and the additional traffic?"
The timing of that light is up to the state, Koester said.
"They program the signal at Devonshire. However, I will say that U.S. 45 is a state route and priority will be given to that route with Devonshire waiting until its window of opportunity to go. With cycle lengths around 120 seconds people can expect to wait up to two minutes for a green light on Devonshire," he said. "This is a similar experience to many of the side streets along Neil."
South U.S. 45 work?
"Is any work on Route 45 south of Windsor Road included in plans for use of the additional gasoline tax revenues?
It's in the works, said Kensil Garnett, the Region 3 engineer for the Illinois Department of Transportation.
"There is a project on U.S. 45 in the FY 2019-2024 Multiyear Program. We plan to do resurfacing and ADA improvements from Springfield Avenue in Champaign to Curtis Road in Savoy," he said. "The total length of this project is 3.06 miles and the program cost is $3,491,000. IDOT is still working on putting together its multiyear plan (FY 2020-FY 2025) after the passage of Rebuild Illinois (the capital improvements program approved by the Legislature this spring). We anticipate the plan being released in the coming weeks."
New surface for I-72 near Decatur?
"Interstate 72 eastbound and westbound between the Cisco and Argenta exits has to be one of the worst stretches of interstate in the state of Illinois. Any word on if/when it will be repaved?"
"There is no funding for resurfacing in the Department's current FY 2019-2024 Multiyear Program," Garnett said. "District 7 (based in Effingham) is aware of the conditions mentioned and is working toward a solution. The timing of this is uncertain at this time."
Vermilion County road
"Any plans to resurface the Catlin-Indianola road? It's such a rough ride."
I thought this was within the jurisdiction of Vermilion County but it's a state road.
"The Catlin-Indianola Road is not in the FY 2019-FY 2024 Multiyear Program. IDOT is still working on putting together its multiyear plan (FY 2020—FY 2025) after the passage of Rebuild Illinois. We anticipate the plan being released in the coming weeks," Garnett said. "Our Operations Maintenance forces will continue to monitor the condition of the road and keep it safe for the traveling public."
Real ID online?
"You can now renew your driver's license by mail or online if you get a 'good driver' letter. Can you sign up for the real ID online, or do you have to go to facility for that?"
A customer must visit a Driver Services facility to apply for a REAL ID due to the documents required by the U.S. Department of Homeland Security (DHS), said Secretary of State spokesman Henry Haupt.
"This is the case in all states. We encourage customers to visit our website at REALID.ilsos.gov and use the interactive documents checklist to help them gather the necessary documents.
"DHS requires proof of identity (example: certified copy of birth certificate), proof of social security number (example: social security card, W2, or pay stub with full social security number on it), two documents for proof of residency (example: bank statement, utility bill), and their current drivers license or identification."
School tax increase?
"I read recently that Champaign Unit 4 Schools is going to issue more bonds next year as approved by the prior referendum. My questions are (1) will our real estate school taxes rise again after that sale, and, if so, (2) by what additional approximate rate, and (3) will the increased rate show up on our taxes due in what year?"
The proposal, mentioned in a July 26 story that you referenced (https://www.news-gazette.com/news/champaign-school-district-considers-reselling-bonds-to-raise-revenues/article_ae716751-2685-5493-902d-32c886ff5f2b.html) is essentially a refinancing of bonds issued earlier. The bonds are backed by the countywide 1 percent sales tax on school construction, not by the recent property tax increase for school construction.
The change will be "tax neutral," said John Lyday, spokesman for Champaign schools.
Any refinancing will have to be approved by the school board. The soonest that could come, Lyday said, would be at the board's Aug. 12 meeting.
Tilework
"Can you find out what is the back story of the Knoxville Station tile work on the building east of First and University on the south side of the street?"
That building fronting on University Avenue once was the home of the Meadow Gold Dairy.
"I actually put the tiling on there myself," said Brian Knox, who has owned the building since 1987. "My story on that is that you know how you never own anything until you move out because you always own the Jones place or whatever it was? And I thought I didn't always want to be in the old Meadow Gold building. It was a multi-use building so I decided to call it Knoxville Station because the traction station was down the street (at 41 E. University Ave). And I thought it was pretty cool for it to be a station for a whole bunch of different things since it was apartments and businesses and other things. And Knoxville made sense to me.
"When I was tiling it I thought I'd make it an interesting design and I thought that I'd put my name in there so that I marked it as Knoxville rather than Meadow Gold."
Knox said he purchased the building only after it had been vacant for eight years.
"If I ever find another dairy again that doesn't want to be a diary it's not going to be my job to change it," he laughed. "I bought it and renovated it and tore out all sorts of stuff. I think I filled 26 20-yard Dumpsters, some 520 cubic yards of stuff. Twenty thousand pounds of steel and 2,000 pounds of stainless steel. I gutted the whole thing. That was a lot of work."
Fore!
"I am curious as to whether Urbana Country Club warns its members to avoid hitting golf balls onto I-74. There are a couple holes I drive by every day and I'll be honest, I'm a little nervous."
The country club management declined to comment but I can say that I've played there a few times and wasn't warned about hitting onto the interstate. But common sense would tell you to avoid that, as is the case as other area golf courses that border streets or residences.
Also it would take a tremendously wayward shot on No. 7 — the only hole where it would be an issue — to hit anywhere near the interstate. Even as lousy a golfer as I am would find that hard to do.
Bumpy parking lot
"Who is supposed to maintain the shopping center parking lot that contains the TJ Maxx? The potholes on the street near the Olive Garden and the USPS mailbox are huge."
The owner of the Marketview Center is Maquina Realty Corp. of Indianapolis.
Christensen trial costs
"With the Brendt Christensen trial and the lead up to it being around two years, I'm curious since your paper mentioned in one of the articles that Ms. Zhang's parents weren't wealthy, who pays or paid for them to arrive here and for them to stay here while the trial was going on? I'm assuming this is paid for by the taxpayers? I'm curious how much the entire trial cost, which I'm assuming is also paid for by taxpayers?"
Yes, since the parents of visiting scholar Yingying Zhang were considered both crime victims and witnesses, their expenses — including their flight from China and their lodging here — were paid for by the federal government. And yes, trials are funded by taxpayers. I hope you don't mind. The complete cost of the trial is still being calculated.
Missing mouthwash
"Where can someone find Lavoris Mouthwash at? Stores carried it years ago. But I have been unable to find it anywhere now. Someone told me that it cannot be sold in Illinois for some reason. If we go to Indiana, it's on the shelves there, but not here. Can you find out any information on this?"
Try the Dollar Tree store on North Prospect in Champaign.
Champaign's homeless situation
"Who has authority to take care of the viaduct at the end of East Main Street in Champaign? The people there have made it their home — recliners and all — don't seem to be getting moved. This is such a blight on the city and must be affecting business for The Black Dog if not others downtown."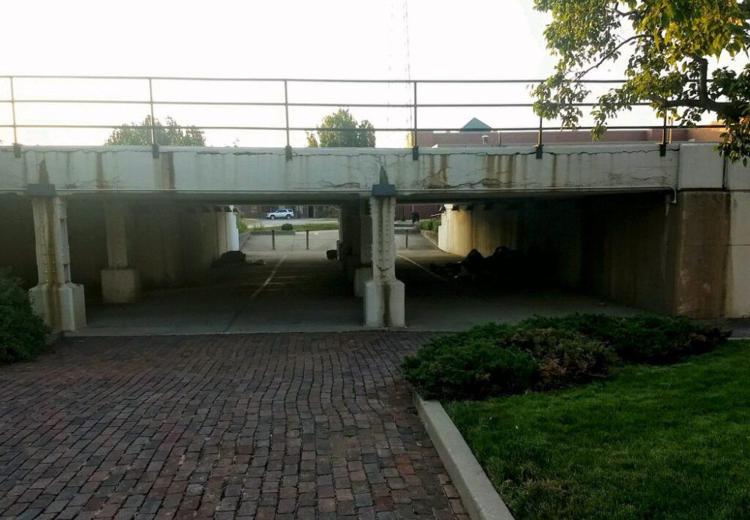 Kerri Wiman, Champaign's Neighborhood Services director, said the city "is working on public nuisance issues as well as health/safety concerns for the individuals who are currently sleeping outdoors" and that notices will be posted today at locations where homeless people gather and that "public nuisance abatement will begin on Monday, August 5."
Wiman said the city "does not have a policy on evicting or disturbing residents without an address but works with agencies, such as CU at Home, to ensure that our residents without an address can find resources that are more appropriate to their situation.
"A coordinated effort is under way and includes assistance from the Champaign-Urbana Public Health District and CU at Home. Street outreach workers have already begun engaging with the individuals that are currently staying in these locations to discuss more suitable options with them prior to the abatement efforts that will begin on Monday."