Tom's #Mailbag, Aug. 30, 2019
Ask our veteran reporter a question by clicking here
This week's Mailbag has more questions — 23 — than a group of first-graders on a field trip to the fire station.
Topics include dockless bikes, starting a business, Stinky Park, a vintage clock in downtown Champaign, the local recycling market, safety around a downed power line, Ducky's Formal Wear, the Dog Den, IHSA volleyball in C-U, MTD travel apps, street sweeping, municipal bands and more.
Also, a lot more information from readers about corn grown in Illinois for human consumption.
Downed power line
"I read The News-Gazette article (Aug. 28) about Unity grad Jordy Curtis and her near-death experience with a downed power line (https://www.news-gazette.com/news/unity-grad-s-brush-with-powerful-fate-inspires-new-branch/article_1afcbcb5-b50e-5202-9269-c0a5a2f75995.html). The article details how driver's education courses are being improved to instruct students on what to do in the event of a downed power line. The article, though, does not state what one should do. What should one do if he/she is in a car accident and there is a downed power line on or around the car? Should a person always remain in the car until help arrives? What if the vehicle is on fire? Is there a way to evacuate the vehicle and avoid being electrocuted?"
Jordy Curtis is featured in an Ameren Illinois video about vehicle safety around downed power lines.
Here's the link ... https://vimeopro.com/amerenillinois/drivered
Here's a link to an Ameren website that includes a fact sheet on vehicle safety ...
http://ameren.mediaroom.com/electricsafety
In brief, here's what to do in such a situation:
— "The safest place you can be when your vehicle unfortunately leaves the roadway and you would come in contact with a utility pole is to stay inside the vehicle and have all your passengers stay inside the vehicle and call 911," said Brian Bretsch of Ameren Illinois. "Even first responders will tell you to call 911 and wait for the power company to come and have a trained lineman tell you that it's been de-energized and you can leave your vehicle."
— Less than 2 percent of vehicles catch fire in such crashes, according to IDOT. If yours does, though, the video shows how to leave the vehicle, open the door, don't touch any portion of the exterior of the car, make yourself as small as possible and jump from the vehicle putting both feet together, Bretsch explained.
"We teach bunny-hopping for 40 to 45 feet away from the car. Others teach that if you keep them close together you can shuffle short, fast steps. Either way will work," he said.
— It's also important that Good Samaritans stay clear of cars involved in crashes with power lines, he said.
State of recycling
"Recently I have began hearing stories about the state of recycling in our country, that China is no longer exporting our raw recyclable material to use and American cities are not set up to process it in the same way for reuse. Some areas are quietly sending it to the landfill because they don't have anywhere else to send it.
"As a longtime resident of the area I know that value our community places on the environment and recycling our waste as much as possible. Our family often has more in the recycle bin each week than our trash can. Can you tell us how these supply changes are affecting the local market recycling processes?"
We had a similar question in February and at that time Courtney Kwong, Urbana'a recycling coordinator, said that China's action had not had a great impact on Champaign-Urbana.
That's still the case, she said this week.
"Thanks for asking this question. China instituted the 'National Sword' policy in 2018, which restricted the import of certain commodities (recyclables), such as plastics, due to the high levels of contaminants imported along with those recyclables," she said. "Currently the impact of this policy has been greater on coastal cities in the U.S. that had been exporting more commodities to China.
"In Urbana's U-Cycle program, we are still able to process all of the materials we accept in our program because most of our end markets are within the Midwest. However, market prices for commodities such as cardboard and plastics are very low. This is due to domestic markets being flooded with commodities, which in turn has dramatically decreased market prices.
"Fortunately, we are still moving all the recyclables the U-Cycle program accepts. We ask that residents continue their excellent recycling efforts. Recycling is incredibly important because we save natural resources, reduce pollution and create jobs.
"To decrease recycling contamination please check your local recycling guide such as Urbana's U-Cycle program at https://www.urbanaillinois.us/U-cycle. Consider other ways to reduce consumption of materials such as single-use plastics and other packaging materials.
"If recyclables are dirty (such as a peanut butter jar), please rinse out all residue so other materials, such as paper products, are not contaminated. With these efforts, we can continue to have a successful recycling program."
Starting a small business
"I want to know what's the process to starting a new small business in Champaign? I want to start my own one as a cleaning service company. I know probably need an insurance but what else should I need and should I go?"
Here's good news from Don Elmore, director and certified business development advisor at the Illinois Small Business Development Center at the Champaign County Economic Development Corporation: "The Illinois Small Business Development Center offers one-on-one, confidential business advising services at no cost.
"We also hold several classes and workshops every month, including these Starting Your Business in Illinois workshops in September:
"Thursday, September 12, 2019: 9-11 a.m. at Champaign County EDC, 1817 S. Neil Street, Suite 100, Champaign
"Tuesday, September 17, 2019: 3-5 p.m. at Champaign Public Library."
Elmore said that interested entrepreneurs can visit the small business development center at www.cusbdc.org and click on Become a Client to register for our services.
Guido's clock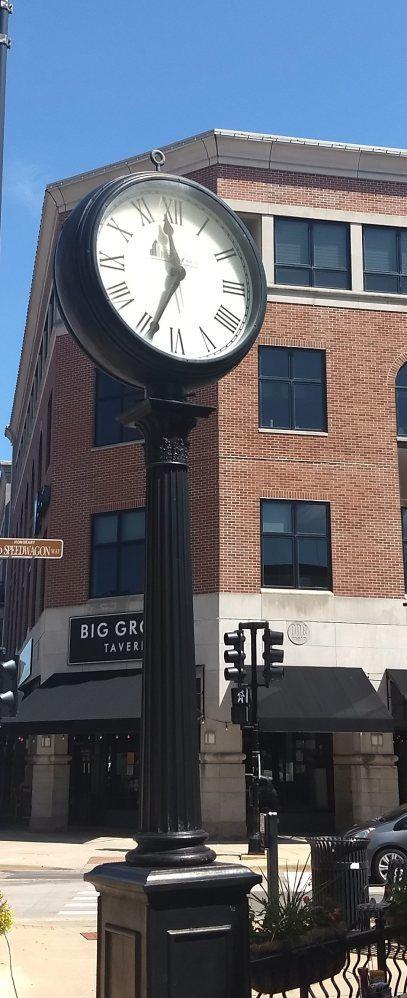 "The street clock in front of Guido's was made by the Brown Clock Company in the early 1900s. The website lists 60 of these clocks still in existence in different cities. It does not mention Champaign. Do you know what city Champaign acquired this clock from?"
T.J. Blakeman, a senior planner in the city of Champaign and president of the Champaign County History Museum, said the city of Champaign owns the clock at the corner of Neil Street and Main Street.
"It was donated in 1997 by Jim Greenfield of Spritz Jewelers. This clock was made by the Brown Street Clock Company of Monessen, Pa., for the Jos. C. Bowman's jewelry store at 110 North Neil Street. It appears the clock was delivered and installed in January 1916. Over time the clock was passed down to subsequent jewelers until finally, Spritz Jewelers acquired it in 1946.
"They ultimately moved the clock to its current location in 1974 when they moved up the street to 215 North Neil, and the Neil Street Pedestrian Mall was completed. This clock has witnessed a lot over the past 113 years. It has escaped many near disasters but still stands tall in the heart of downtown. I can assure your reader that this is an original Brown Street Clock and was never purchased from another city."
Blakeman said that downtown Champaign has had three street clocks in its history and the Brown Street Clock Company manufactured each of them.
"In my typical history-loving fashion, I have taken it upon myself to write up a complete history on all of these street clocks. I've posted it to my personal blog that I manage for fun and highlights the history of downtown Champaign. Perhaps your readers will enjoy the post," he said.
You can find it at https://www.champaignhistory.com/home/downtown-clocks
Centennial HS safety
"As a parent with a current Centennial student and the construction going on at Champaign Centennial High School. There is probably at least 1,400 students. And I know they have closed off entrance/exit doors on both the north and south sides of the high school. Is this safe in case of a fire or other emergency? I am not sure how many other doors there are and what the law requires."
"Centennial's egress plans were reviewed with representatives from the Regional Office of Education and Champaign Fire Department," said David Baruer, a spokesman for the Champaign school district. "Two alarms early in construction were a good test and proved to administrators that the egress worked successfully. Egress plans evolve as construction progresses and the safety of students is always the top priority."
Ducky's Formal Wear
"What's happening to Ducky's on University Avenue? Looks like they are closing it today."
The longtime formal wear shop at Second & University in Champaign is moving, although it's not sure where that will be.
"We've moved out of that location and are working on getting another one," said an employee who would identify himself only as James. "We had a spot that we thought we would be moving into but things didn't work out for us so we're still looking."
Customers should watch the shop's Facebook page for updates, he said.
AMBUCS Park
"What was the original name of the park we now know as the AMBUCS Park on University Avenue in Urbana?"
Originally known as Woodland Park, it was renamed for the Greater Champaign County AMBUCS service club in 2000, according to the Urbana Park District.
Informally it also was known as "Stinky Park," at least by those in the softball leagues that played there decades ago. Beyond the right field fence is an Urbana & Champaign Sanitary District wastewater treatment tank.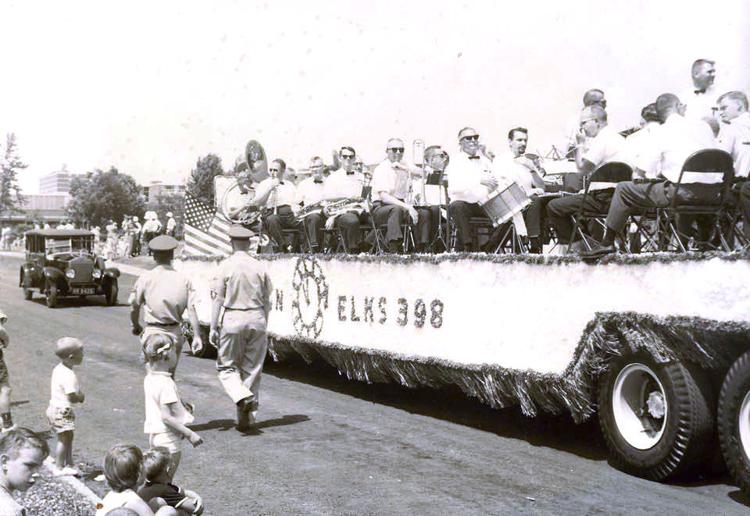 C-U municipal band?
"Have the cities of Champaign or Urbana ever had a municipal band (similar to Decatur or Danville)? If not, why?"
Joe Rank, a onetime member of the Marching Illini who lives in the Urbana house that once was the home of UI Director of Bands Mark Hindsley, is the authority for the answer to this question.
"Not to my knowledge," he said of the municpal band question. "Here's the why. Champaign and Urbana may have not had the need to form a 'municipal' band as there have been a number of other opportunities for local bandsmen to perform.
"The Champaign Elks Club sponsored a community band, partially funded by Local 196 of the American Federation of Musicians, that performed at Hessel Park, in the 4th of July Parades, and at Lake of the Woods in the 1950s and 1960s. The band was composed of local professional and amateur musicians. I don't know the year it folded, but I know its music library was transferred to Parkland College."
Rank included the accompanying 1964 photo of the band entering Memorial Stadium in the Independence Day parade.
"That's me in the sunglasses above the 12 o'clock Elks logo," he said.
"The late optometrist Mark Foutch formed a community band, the Mark Foutch Brass Band, also partially funded by the Champaign Park District and the musicians union, that regularly performed in Hessel Park from 1954-1977. The pavilion in Hessel Park was named the Mark Foutch Pavilion in his honor," Rank said. "The band went silent for a number of years and was resurrected by Mark Foutch and Jerry Loyet in the 1990s and continued performing until shortly after Foutch's death in 2002 when former Marching Illini director Gary Smith briefly took over.
"The Foutch Band was the original performing ensemble for the early Ice Cream & Independence concerts in the Virginia Theater. Members of the Foutch Band included UI music faculty, local music educators, and professional and amateur bandsmen."
Finally, he noted that Parkland College has two concert bands open to community members. The University of Illinois Summer Band, a 109-year campus tradition, is likewise open to community members.
IHSA volleyball in C-U?
"Recently Champaign made bid to get the IHSA basketball tournament back in Champaign. Any chance we would bid on IHSA volleyball as well since its contract is also expiring. With the popularity of volleyball on the rise as well as the Illini's success it seems like a great opportunity."
University of Illinois Associate Athletic Director Kent Brown said that the proposals for the IHSA boys' basketball tournament are due at the end of the calendar year and will be voted on at the IHSA board meeting during the 2020 state finals.
As for volleyball, he said, "At this time, we are not planning to enter a bid to host the state volleyball tournament."
Jayne DeLuce, president and CEO of Visit Champaign County, added: "We are always open to looking at new IHSA Championship opportunities to be hosted in our community and evaluate each bid opportunity based on venue availability, other major community events happening at that time, and available resources to make it a successful bid."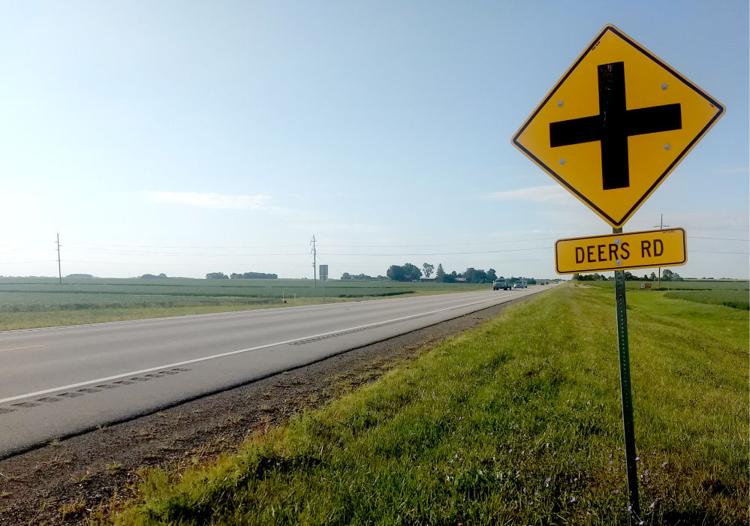 Deers Road
"On Illinois 130, why do the yellow highway advisory signs for Old Church Road show 'Deers Road' ahead? I've never heard of Deers Road, and all GPS systems I've used (Garmin/Google/Apple/in-car navigation) all say to turn onto Old Church Road. The green street signs at the intersection also identify it as 'Old Church' with no indication of 'Deers Road.' It's very confusing."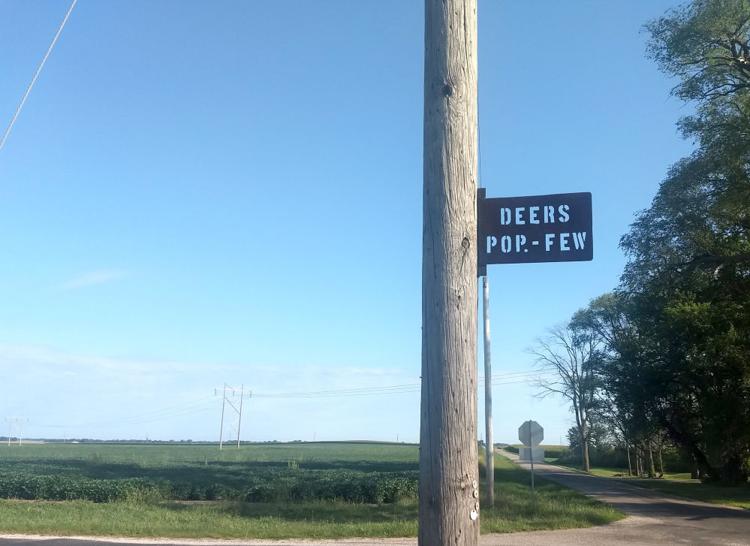 Kensil Garnett, Region 3 director for the Illinois Department of Transportation, said that the roadway in question has carried three names: Deers Road, Old Church Road and County Road 1200 North.
"The roadway was initially named Deers Road as it was the original road leading to the unincorporated community of Deers that is two miles east of the intersection with IL-130. We agree that multiple names can be confusing. It was decided that changing the signage at this point would likely lead to more confusion," he said.
I-57/Curtis interchange
"More and more traffic at the intersection of I-57 and Curtis due to Carle's (new campus) is a disaster waiting to happen. We need traffic lights for the ramps before a tragedy occurs."
Garnett said that District 5's signal committee (in Paris) "has discussed these locations and is aware of the recent developments. Traffic counts are continuing to be monitored to determine when or if the ramp intersections with Curtis Road will meet the warrants for the installation of traffic signals as set forth in the Manual on Uniform Traffic Control Devices."
McLean County highways
"I travel on two U.S. highways in McLean County: 1. U.S. 150 leaving Bloomington to Downs is a hilly, curvy two-lane highway without many turn lanes. The speed limit is 55, even passing by a school and rural subdivisions.
2. U.S. 51 leaving Bloomington toward Heyworth is a flat, four-lane divided highway with turn lanes. There the speed limit is 45, and it is mainly rural, with one subdivision.
"What gives — how are speed limits determined for two U.S. highways in same county?"
Garnett said that statutory speed limits are set by Section 11-601 of the Illinois Vehicle Code.
"The designated speed limit for conventional highways is 55 mph. Both roads in question are classified as conventional highways, but they do differ in some respects.
"The section of U.S. 51 just south of Bloomington is a four-lane divided highway with curb and gutter. Per IDOT's 'Policy of Establishing Posting Speed Limits,' it is recommended that curb and gutter sections have posted speed limits of 45 mph or less to mitigate the potential for vehicles striking the curb and becoming airborne.
"The section on U.S. 150 east of Bloomington is a two-lane rural road without curb and gutter. Crash history for this section of roadway falls in line with similar roadways of the same characteristics. From a safety and operational perspective, this section of road is functioning well. There is no justification for modifying the current 55 mph posted speed limit."
Kirby & Mayfair
"Are the stoplights on Kirby at Mayfair particularly sensitive compared to others in town? It seems like the very second a car approaches on Mayfair, the light changes on Kirby with no hesitation whatsoever. Compared to other secondary streets (like Knollwood or Devonshire at Neil, for example), the Mayfair lights switch almost instantly."
Kris Koester, spokesman for the Champaign Public Works Department, said that if there is no traffic on Kirby when motorists pull up on Mayfair the traffic light will switch to the side street and service it before switching back to the main street.
"During certain times of the day the signal will 'rest' or stay on Kirby just waiting for a side street call. However, it is also important to note that the intersection of Mayfair and Kirby is not part of a coordinated system of lights. The lights are mostly on for Kirby, so when a call from a side street activates, it will generally switch over to the side street," he said. "Knollwood and Devonshire are part of the Neil Street coordinated system of lights. Since Neil Street is IDOT U.S. 45, the priority is for moving as many cars through Neil Street as possible. The secondary is for side streets which will have to wait until the regular cycle moves through."
Timed stoplights
"How is it the city of Champaign doesn't have the northbound (Walnut Street) and southbound (Neil Street) lights properly timed throughout downtown yet? After stopping at Springfield Avenue, a driver going at the speed limit should never have to stop for a red light again until after Washington Street going northbound. Likewise, heading southbound, after Columbia Avenue, a driver shouldn't have to stop again until Springfield. One-way streets should be easy to time correctly (it's one of the few things the city of Springfield actually does right!!). State and Randolph streets should be the same way. Seems constant stop-and-go at lights every couple hundred feet apart would only lead to irritated drivers and more unsafe conditions for pedestrians."
Kris Koester with a rather complex response to your question:
"Timing, priority and traffic patterns vary by city — so this isn't as easy to explain, as we are comparing 'apples to oranges.' In Springfield, it appears as the one-ways are the top priority. This isn't to say one-ways are not priority in Champaign, but the question is further complicated in downtown due to two-way major east-west streets in proximity to the one-way couples.
"The two major priorities in this downtown area grid are east-west traffic along both University Avenue and Springfield Avenue; second priority is progression along the one-way streets, and lowest priority is progression along Main/Church. To move traffic through the closely spaced intersections along University at about 30 mph, a cycle length of about 80 to 90 seconds was used and there was coordinated signal timing throughout the corridor.
"After implementation, the progression north-south on Neil and Walnut between University and Main was reprogrammed in response to speeding complaints and concerns with pedestrian safety in downtown. This results in the second intersection (Main for northbound Walnut; University for southbound Neil) not turning green until traffic reaches it to eliminate any advantage to speeding. This decision was based on placing priority to pedestrian safety over convenience of through traffic.
"An additional complication is the signals along Springfield Avenue are IDOT's. IDOT determines the signal timings and a few years ago decided to go with longer cycle lengths of 110 seconds to move more traffic through Springfield. This is longer than what is reasonable for downtown given the proximity of the intersections and the level of pedestrian activity. This change resulted in losing coordination between University and Springfield."
Marijuana sales in Savoy
"Regarding the village of Savoy town meeting about selling marijuana, how, when and where was this publicized? I live in Savoy and read The News-Gazette every day. I did not know anything about this meeting and certainly would have attended if I had known."
It was listed on the agenda of the Savoy Planning Commission. Here is a link ...
http://www.savoy.illinois.gov/vertical/sites/%7BD0463038-CAC4-4485-B59A-9F55DCAB155B%7D/uploads/PLAN_COMMISSION_PACKET_OF_8-26-19.pdf
You'll get another chance in a couple of weeks, as News-Gazette writer Ben Zigterman reported: "The board of trustees will meet Sept. 11 to hear from the public again, the planning commission will meet again to make a recommendation to the board, and the board will eventually meet again to take a vote."
Bike parking
"I'm seeing many VeoRide bikes parked or set down on sidewalks all over town. This is an obstacle for people in wheelchairs or using any kind of assistive device, even for people taking a walk. Is this against the law?"
Yes.
Here's the appropriate Champaign ordinance regarding parking bicycles:
"Sec. 33-61. - Parking bicycles.
"No person shall park a bicycle upon a street other than upon the roadway against the curb or upon the sidewalk in a rack to support the bicycle or against a building or at the curb, in such manner as to afford the least obstruction to pedestrian traffic."
Here's the appropriate Urbana ordinance:
"Sec. 23-308. - Parking of dockless bikes.
"(a) The city engineer shall have the authority, from time to time, to designate those areas on Urbana's property where dockless bikes may be parked. The city engineer shall provide written notice to the lead agency and to each bike company that has applied for a license where dockless bikes may be parked on Urbana's property, or in the alternative where dockless bikes may not be parked.
"(b) Dockless bikes may not be parked on:
(1) Urbana's property unless such property has been designated as available for parking dockless bikes; and
(2) Private property without the private property owner's consent or that owner's tenant's consent.
(c) Urbana shall have the right and authority to remove or relocate, at the bike company's expense, any dockless bike that:
(1) Is improperly parked if the bike company fails to remove or relocate its dockless bike to a place designated for dockless bike parking as provided in section 23-306(d) of this article; or
(2) Is parked in a manner that threatens public life, health or safety without waiting for the applicable time period provided in section 23-306(d) of this article to expire."
VeoRide urges its customers to: "Always park responsibly. Be a good neighbor; park bikes and scooters in a safe place, out of the way of traffic. This ensures that everyone will have a chance to travel safely and that the shared fleet will be in its optimal condition for all VeoRiders."
If you see an improperly parked bike call the company at 1-800-VEO-2256.
If you are in Urbana during normal business hours and the bike isn't moved within three hours call the city at 328-8269 to file a complaint.
If you live in Champaign you can also submit requests or comments to the city's Planning and Development Department at bikeshare@champaignil.gov or 403-8800.
Champaign street sweeping
"Does the street sweeper sweep every street in Champaign or only select streets? If only select streets, how are these chosen?"
Champaign Public Works spokesman Kris Koester referenced a 2017 News-Gazette story that said that the city has three street sweepers and on any given day two or three will be rotating around the city.
"We generally sweep all streets by section on a rotating basis," he said, "with downtown and campus (swept) daily."
Here's a link to the 2017 story ...
https://www.news-gazette.com/news/local/transportation/just-askin-keeping-the-roads-clean/article_8969d4b0-1b95-5ab6-b838-f9eddd1760c9.html
MTD travel apps
"(The Champaign-Urbana) MTD is one of the best transit services I've experienced in a town of this size. However, it really bothers me that MTD does not provide real-time data in Google maps and Apple maps and the scheduled times are almost always wrong. Is there a particular reason why MTD does not want users to use real-time data in Google and Apple maps instead of the many third party apps? Do they make money while providing data to the third party apps? Do they have contracts? If yes, how do they justify consumer convenience over some small amount of money they earn?"
It's coming, but in a year or two, said Ryan Blackman, the MTD's software development manager.
"We would love to support GTFS-RT (General Transit Feed Specification-Real Time). We absolutely recognize the value and it is
something that we are pursuing. There are several technical and practical reasons that we do not yet," Blackman said.
"1. Google has not always accepted GTFS-RT feeds from small transit agencies. For the first several years after GTFS-RT's release, Google only accepted GTFS-RT feeds from a few large transit partners. This has changed, and it now seems to be open to any transit partner, but this is a relatively recent development. Prior to this change, there was minimal benefit for MTD to implement it.
"2. GTFS-RT wants data in a different format than what we have access to. MTD doesn't have direct access to departure estimates. They come from a third party Computer Aided Dispatching/Automatic Vehicle Location (CAD/AVL) system. This system provides interfaces for MTD to fetch departure data. Specifically, there is an interface that provides data in a stop-centric fashion and in a vehicle-centric fashion. In other words, we can get departure information for trips serving a specific stop or location information for a specific vehicle.
"On the other hand, GTFS-RT wants data in a trip-centric fashion. In other words, departure estimates for every stop that a specific trip makes for every trip in the system. There is no trip-centric interface for our CAD/AVL system. This leaves us unable to transform the data that we get from our CAD/AVL system without making a tremendous number of requests to the CAD/AVL system. Theoretically, it may be possible, but it would be far from a clean solution and we would have to evaluate if the CAD/AVL system could even handle the request load.
"3. MTD has not purchased a GTFS-RT interface from our CAD/AVL provider yet. Our CAD/AVL provider does offer a direct GTFS-RT interface, but it is a paid feature that we do not own. For the reasons laid out in point No. 2, we feel that this is the appropriate solution to pursue. For the reasons laid out in point No. 1, we have not pursued this until relatively recently. Without getting too far into the weeds, this is not something that we can just go out and buy. There is a long procurement process for something like this that can take over a year. There are a lot of factors at play, and it has to be balanced against other budgetary priorities.
"So, at this time, we cannot make any promises about when you will see MTD supporting GTFS-RT, but I think it is pretty safe to say that it is something that will happen, hopefully in the next year or two.
"And no, MTD does not make any money from providing our data to third party apps. In fact, we spend a fair amount of resources on providing our free, open Application Program Interface (API). We are big believers in open data and we pride ourselves on the robust app ecosystem that our API has enabled."
Gourmet Gossip
"I just found a copy of Marian Ingersoll's 'Gourmet Gossip' cookbook. She signed the book. There is no publication date in the cookbook. Do you know what year it was published? Marian was Home editor at The News-Gazette at the time and states she published several recipes in her column 'What's Ticking.'"
The book was written in 1959. Marian Ingersoll had started as home editor of The News-Gazette in 1955. A graduate of the University of Missouri in home economics, she was described in nearly every story as the wife of Floyd Ingersoll, manager of Illinois Seed Producers Association. After her career at The News-Gazette, in 1962 she was named program manager at a new radio station in Champaign, WLRW-FM. She also hosted a local television program. In 1972 she began writing for the old Champaign-Urbana Courier. Marian Ingersoll passed away in 2009.
More corn for human consumption
This is a follow-up from readers about a question last week about why so much Illinois corn is fed to animals.
"You had a question (last) week about Illinois corn and you talked about sweet corn vs. field corn. There is a third option. The former O'Malley Grain elevator in Mansfield contracted with local farmers to grow 'food grade' yellow and white corn which was then sold to processors such as Frito-Lay and used to make corn chips, tortilla chips, corn meal, etc."
and
"Some white corn for tortillas and corn chips is grown in Illinois (note large Frito-Lay grain storage facility east of Sidney). But as with sweet corn, this is a small fraction of total corn grown in the state.
and
"You might want to check with the Farm Bureau again and ask for figures on white food grade corn grown in Illinois for Frito-Lay. Several farmers in Champaign county grow corn for them."
and
"There are thousands of acres of Food Grade corn grown throughout central Illinois with milling facilities in Danville at Bunge, Paris at Cargill, Tate & Lyle in Decatur and Frito-Lay in Southern Champaign County. These folks process corn into meal and syrup for Miller and Busch beers as well as chips and cereals.
Dog Den
"I heard that Dog Den is being pushed out of its space on Walnut and Washington (in Champaign). What's going on? We love taking our lab there for day care. How can they push out a great business like the Dog Den? Very sad about this news."
"I'm not being forced out," said Dog Den owner Ken Reiterman. "The location is being improved and the rent will be too much for me to afford.
"My lease actually ended in May and Tom Harrington has been very helpful in assisting me to find another location."
No word yet on a new location.
Top Tier gas
"I read your blurb on Top Tier gas. Does anybody offer it in Champaign-Urbana? I have never seen the logo on any gas pump in C-U, leading me to believe it isn't offered here. When I have questioned various gas station managers in C-U, I get that deer in the headlights look. The Phillips 66 website says their gas is better than Top Tier, so that is usually where I go to fill up."
We got this response from the detergent gasoline maker in Midland, Mich.:
"Any gasoline sold under one of the brands or at any of the retailers listed on our website (https://www.toptiergas.com/licensed-brands/) meets the requirements of Top Tier Detergent Gasoline. Although most stations in the U.S. are now franchised (very few are owned by the major oil companies today), the brand owners franchising have requirements that must be met regarding the gasoline supplied under their brand. The brands/retailers listed on our website have signed agreements committing to supply gasoline meeting the Top Tier requirements at all stations and in all octane grades where gasoline is sold under their brand.
"Because the supply of gasoline is quite complicated today and most stations are owned by convenience stores or 'independents,' we have found it is not unusual that staff on site (even managers), are not familiar with the details of gasoline or what Top Tier is. We have been working with brands/retailers participating in the Top Tier program to display the logo at their site. We have made progress, but there are still those that do not have it displayed. Each of the brands/retailers are actively working on this and we hope that this is resolved in the near future so it is no longer a source of confusion for consumers.
"The Top Tier program actually discourages licensees from making performance comparisons based on the level of detergent used. The additive packages are approved at a 'minimum' treat rate, and up to 3 times the minimum can be used for Top Tier. However, the Top Tier sponsoring automakers evaluate performance at the minimum treat rate level and it is the minimum level that has been shown to be sufficient in minimizing deposits and maintaining engine performance. Certainly, using fuel supplied by any of the Top Tier participants is acceptable and supported by the automakers. More than that may not be providing much benefit (more is not always better). Consumers should feel very comfortable using any of the gasoline brands or retailers listed on our website."
Golden Corral
Finally, my friend Carol helpfully informed me that fans of the Golden Corral Restaurant soon won't have to go all the way to Indiana (65 miles in Terre Haute) or to Springfield (88 miles) to visit their favorite restaurant. A GC is scheduled to open in Effingham (76 miles) next year.
Here's the story ...
https://www.effinghamdailynews.com/news/local_news/golden-corral-coming-to-effingham-to-fill-ryan-s-buffet/article_a39e0652-c5e1-11e9-9c03-d7d1916dbf1f.html