Tom's #Mailbag, Jan. 10, 2020
Submit your question by clicking here
This week there are mailbag questions about when streetcars scooted right across the University of Illinois Quad (imagine how dangerous that would be today with inattentive students on their smartphones), the future of the University of Illinois golf courses and other fallout from the Stone Creek announcement, Tesla superchargers at Meijer, artwork at Lodgic, Airbnb regulations and millionaires in C-U.
Also, Champaign City Council member Tom Bruno's review of his marijuana gummies, speeding along Anthony Drive, the online voter registration process in Champaign County, the IHSA boys' basketball tournament, an update on the former Hardee's on South Neil, the former Urbana Charter Fitness and recycling cooking oil.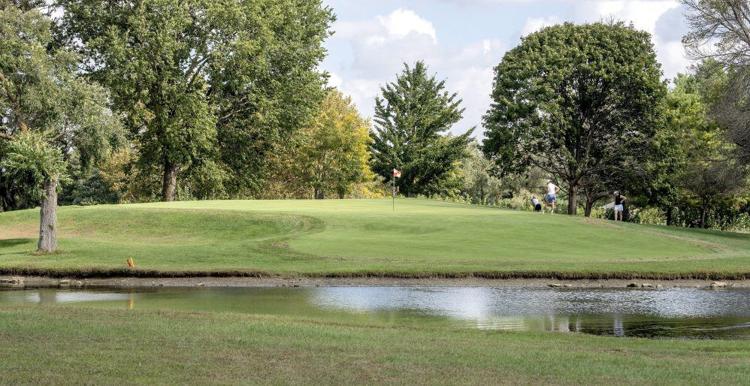 UI golf courses
"I keep hearing the U of I courses in Savoy will cut back to 18 holes. Any truth to that? Or does Stone Creek closing help them?"
Mike Wallner, the general manager at the University of Illinois golf courses (Orange and Blue courses), said there has been no talk of reducing the number of holes at Savoy.
"I don't know who that came from but I've not heard it," he said. "I'm sure it's not true."
I also checked with Kent Brown, associate athletic director at the UI Department of Intercollegiate Athletics, which owns the courses.
"There are no plans to close either of the courses at the University of Illinois Orange and Blue Courses in Savoy," said Brown.
And yes, the Stone Creek closing helps the UI courses and every other facility in the area. One of them may be getting the lucrative Monday night golf league that has been at Stone Creek for years and which my son and I joined last summer. There are other leagues and golfers as well that are now making alternative plans.
Stone Creek reservations
"My grandson has the (Stone Creek) restaurant rented and reserved for 10-10-2020 for his wedding. Quite a sum of money has been spent. What now?"
"Stone Creek has contacted all reservation holders on the circumstances," said Kate Klipp, spokeswoman for the Atkins Group. "The events will all be refunded, of course, and our staff is working with parties to help relocate to a new venue."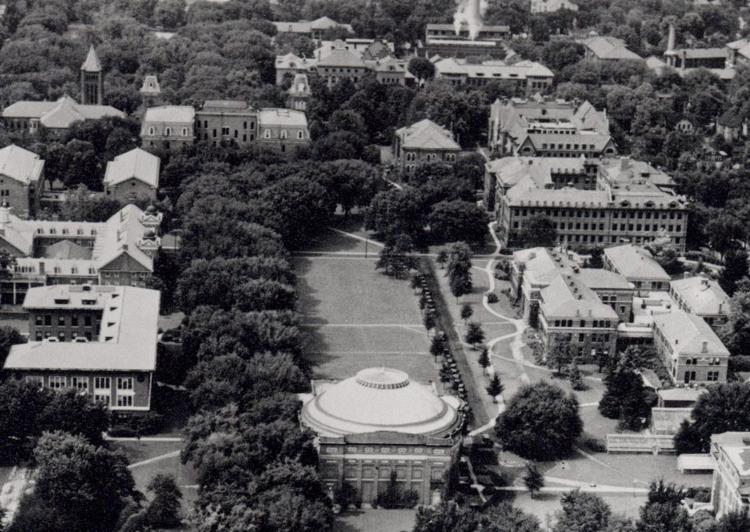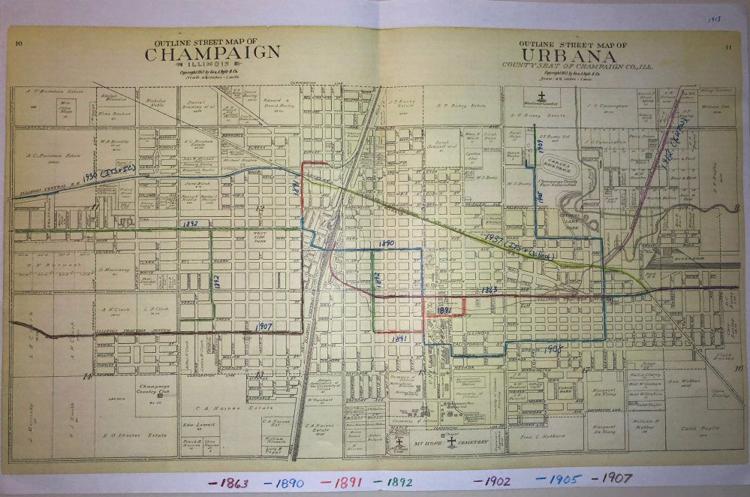 Streetcars on the Quad
"I recently came across this old map of the Champaign-Urbana streetcar system.
"The map's route seems to show that a portion of the track's path went right through the UIUC Quad. Is this true? Do any photos exist of the streetcars passing through the Quad?"
Yes, a streetcar line passed right through the Quad.
And no, there are no photos of a streetcar crossing the Quad.
But thanks to William Maher, University of Illinois archivist, we have an illustration from the 1926 Illio of the Oregon Street streetcar crossing the Quad.
The streetcar line crossed the west side of the Quad in between what are now known as the English Building and the Henry Administration Building. A bicycle path now occupies the space.
Here's some background from a 1909 story in the UI Alumni News:
"After two or three years of preliminary work with the trustees and the Legislature in order to secure the right of way across campus, the Illinois Traction System has now laid a third track on the University grounds. The line connects with the new Oregon Street line, runs north from Oregon Street to California along the edge of campus, turns to the west and crosses the campus between the Agriculture Building and the Chemical Laboratory, runs to the north of the Woman's Building and turns on to Wright Street, on which street it runs north to connect with the John Street line."
The story continued:
"The new line is of course a convenience for persons who wish to reach the auditorium. The streetcar company will do everything possible to minimize the amount of disfigurement it is to cause the campus, but at best trolley wires and poles and tracks are not an ornament to a greensward. Public feeling has been more or less pacified by the promise that the Green Street line would be removed when the new line was finished. It is now said that the Green Street line is also to be retained for use in an emergency."
The Oregon Street line, which ran from downtown Urbana to downtown Champaign, operated at least until 1929. I found an ad in the old Urbana Daily Courier notifying customers of a change in the Oregon Street line, saying that it would operate every 15 minutes beginning at 5:40 a.m. until 11:25 p.m.
Back to your question about photographs of streetcars passing through the Quad. I checked the Champaign County Historical Archives at the Urbana Free Library, the UI Archives and T.J. Blakeman, president of the board of the Champaign County Historical Museum. None had a photo.
But Blakeman offered this appeal: "Perhaps your readers can dive into grandma and grandpa's photo collection to see if they can find one. I would love to see it."Me too.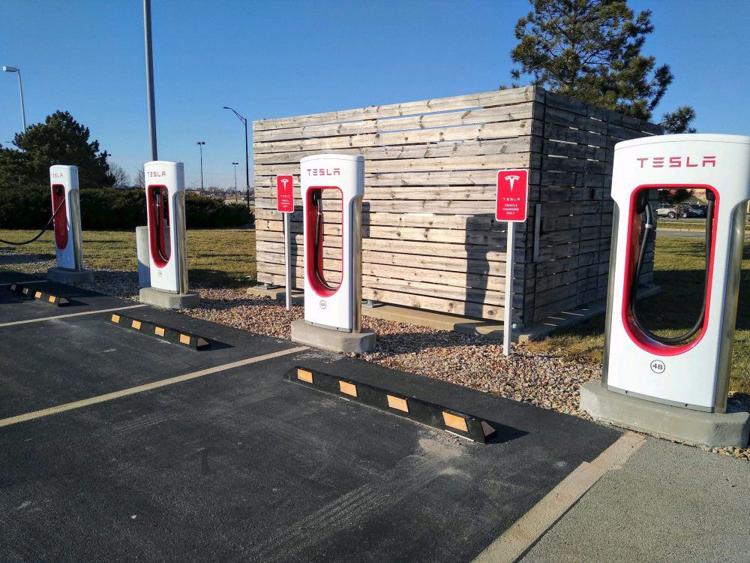 Meijer-Tesla arrangement
"There are eight or 10 Tesla charging stations at the Prospect (Avenue) Meijer store. How about one or two electric stations for us lowly Volt, Bolt and Leaf electric car owners? The only other public charging stations available to us are on the (University of Illinois) campus."
Yes, there are eight Tesla supercharger stations at the Champaign Meijer.
Joe Hirschmugl, a spokesman for Meijer, said that the superchargers are an initiative of Tesla in Meijer's six-state region.
"It's more their initiative than ours," he said. "It's really not our decision."
We've found this information from other sources: Meijer has been working with Tesla to install superchargers at some of its stores since 2013. They're located at stores that are close to interstate highways and expressways, thus explaining why they're at the Champaign and not the Urbana store.
Allowing the superchargers to be installed in Meijer parking lots is a win-win for the retail chain. Tesla pays for installation, maintenance and electricity costs. Meijer gets a virtually captive customer for 30 minutes to two hours — unless the Tesla owner wants to just sit in the car or head to a nearby fast food outlet.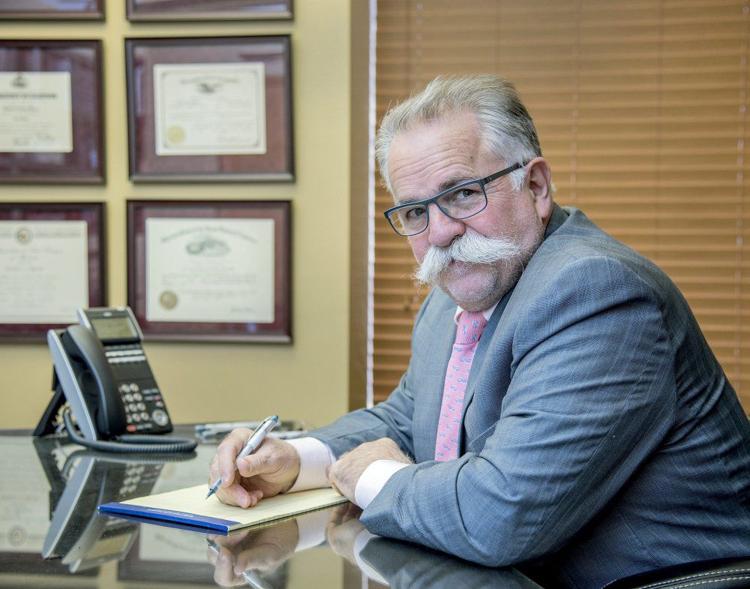 Tom Bruno's gummies
"On Jan. 2, the following was printed in The News-Gazette:
"'Local attorney and Champaign City Council member Tom Bruno was one of the earliest customers at Sunnyside. He bought some gummies, he said, and was planning to enjoy some of them later while he watched football."
"Inquiring readers and city constituents (like myself) are interested to know how Tom enjoyed those gummies. Can you ask him about his experience with newly legal recreational marijuana products?"
I checked with Council member Bruno and he said "the gummy was not only delicious, but I enjoyed my New Year's Day.
"I welcome the new cannabis industry to our town. It's always good for the government to reexamine restrictions we have placed on citizens and see if the restrictions can be relaxed. Like alcohol, there may be persons who have difficulty using cannabis in moderation. Also like alcohol, this alone does not justify a government-mandated blanket prohibition on the use of the substance on all citizens."
Airbnb regulations
"What regulations, if any, do Champaign and Urbana have regarding Airbnb's? Have they eroded the hotel tax base? Is there any concern about the impact on quality of life for year-round residents when multiple Airbnb's begin popping up on a given block (which is happening!)?"
Jeff Hamilton, communications manager for the city of Champaign, said that short-term rentals, which include listings on Airbnb, are subject to the city's 7 percent Hotel and Motel Privilege Tax.
"From a zoning perspective," he said, "short-term rentals are permitted in any zone that allows for residential dwellings. All short-term rentals must comply with all applicable zoning rules; building and property codes; and city ordinances."
In Urbana, said city administrator Carol Mitten, the city's zoning ordinance regulates the use of homes "for Airbnb and other similar online short-term rentals the same way as we regulate traditional bed and breakfasts. They must operate as either owner-occupied bed and breakfasts or as bed and breakfast inns.
"Owner-occupied bed and breakfasts may be located in residential zoning districts with the approval of a Conditional Use Permit or in
business districts as a matter of right. Bed and breakfast inns are permitted in business zoning districts."
She advised that if you would like to verify that a property is zoned properly for a bed and breakfast, call the planning division at 217-384-2440 with the property's street address.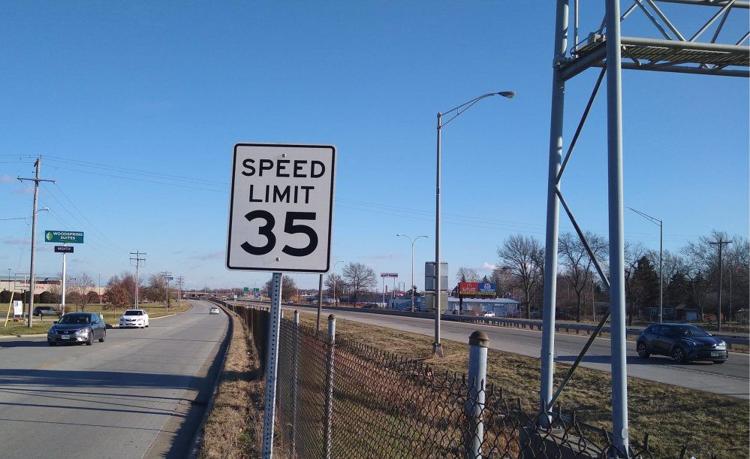 Anthony Drive speeders
"There is a stretch of Anthony Drive between Mattis and Prospect (avenues) with a posted 35 m.p.h. limit yet it's like the interstate most days. I'm guessing because the interstate directly to the south influences drivers to keep up. Do you know if this area can be patrolled more often? Is there a way to tell me how many tickets have been handed out in the last year?"
Tom Yelich, spokesman for the Champaign Police Department, said he appreciates the heads-up.
"Thank you for your question and for sharing your observation. Officers patrol the entire city throughout the day; however, when we do receive concerns of an area which is reportedly becoming hazardous, we will provide additional patrol to look into it," Yelich said. "This specific concern has been shared with our patrol division, who will investigate it further. Tickets have been issued in that area by Champaign Police
and we will continue to monitor traffic to help ensure everyone's safety."
Recycling cooking oil
"Is there any place in Urbana or Champaign that accepts used frying oil? How could we dispose the used frying oil?"
No, there is not a location on the community that accepts used frying oil.
But Susan Monte of the newly formed Champaign County Environmental Stewards offers this advice:
"You should NEVER pour grease or oil down the drain. It can clog sewer pipes and nobody wants that!
"Keep in mind, you can reuse most oils several times; deep frying oil can be filtered and reused three or four times (more depending on the quality and your comfort). Bacon fat can also be filtered and stored in your refrigerator.
"Alternatively, after allowing used oil to cool, you can put it in a non-breakable container with a resealable lid and throw it out with the trash.
More information regarding disposal options, click here and here.
For information regarding disposal options for 5-gallons of cooking oil, click here.
Urbana Charter Fitness
"I was a former member of the Charter Fitness center at Lincoln Square, Urbana. They closed in October with little warning to members. I was told by their staff that we would get a refund of prepaid fees for the days after they closed. I was to receive that in 30 days. I have not received a refund nor do I have contact information for Charter. Did this happen to others? How do I get my refund?"
Gym memberships from the Urbana Charter Fitness were transferred to Fitness Premier in Champaign.
"Please ... call at 217-531-2100 or stop by Fitness Premier at 2414 Galen Drive in Champaign," said a staff member at the Champaign gym. "They should have received a letter explaining the situation but it's possible didn't have an up to date address on file with Charter. We'll get him helped out."
Voter registration
"I went to the Champaign County Clerk's website to request a vote by mail ballot for the upcoming primary elections and was surprised to see that the process has changed since I last used it.
"The new method directs you to a form hosted by a company named AirTable. The form doesn't have any Champaign County Clerk branding to indicate that it's an official form, and once completed it doesn't redirect you back to the County Clerk's website. I did receive an on-screen notification from AirTable that my form had been submitted, but did not receive an email confirmation from the Clerk's office.
"This raised a couple of questions, especially since election security has been a hot topic:
"Was the previous version of the form hosted by the Champaign County Clerk's office, with the data stored on servers that they controlled? If so, why was the decision made to change to a cloud-based solution?
"What happens to the voter data that is being submitted to AirTable? Does the Clerk's office download it and then delete it from the cloud, or does AirTable store it indefinitely?"
Champaign County Clerk Aaron Ammons there is "nothing for people to be concerned about at all. We have utilized Airtable as an info management tool for our office since I took office.
"We are in fact using Airtable to manage the vote by mail application process for the General Primary Election. We are not using this as a way for people to register to vote. This simply keeps track of voters requesting an application to vote by mail."
Ammons explained that his office consulted with the State Board of Elections about the change."We appreciate the question/concern about a confirmation email and we will send a confirmation email to all voters who have requested a vote by mail application," he said. "The root of the reason for the change has to do with inheriting a website that can't be easily updated (good news and spoiler alert; we are rebuilding the site to address many of these issues and we have a rollout timeline of early summer).
"We also inherited databases and servers that only one person knew how to program and that person was a contract employee with the county. We did not see that as a sustainable or secure solution moving forward."
Ammons said it's likely that this is the only election where the county will be using this arrangement.
"We will have new election software, a new voter registration program, and website (in time for the fall election, he said). As far as data being stored, we are exporting the data from Airtable and moving that into the new voter registration program. "Once exported the data will be deleted from Airtable and no, it is not stored indefinitely in Airtable."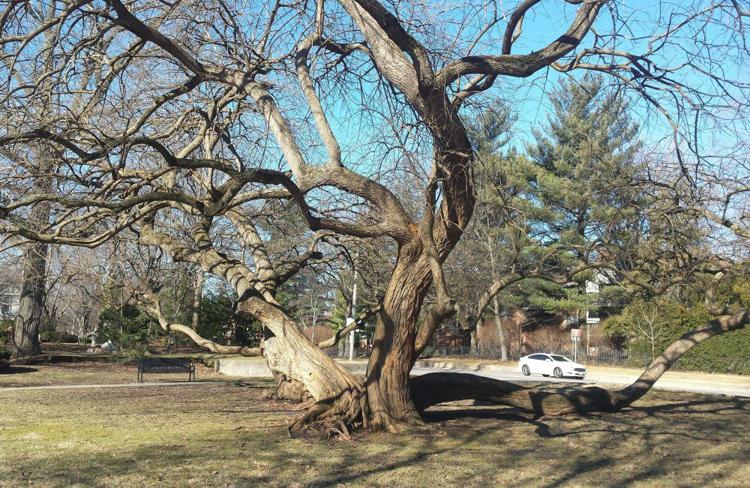 Trevett-Finch tree
"I recently took some out of state guests to take photos of the famous tree at Trevett-Finch Park in Champaign. The historical marker there says it's an apple tree. However, The News-Gazette article about the tree on Oct. 27, 2019, says it's an Osage orange tree. Can you please verify which it is — apple or orange?"
It's an Osage orange.
It turns out that there have been several mentions of that tree in the newspaper in recent years, including a 2016 mailbag question about it where Champaign Park District planner Andrew Weiss acknowledges that it is scientifically a Maclura pomifera. But it is more commonly known as it is an Osage orange or a "hedge apple." That's probably the source of confusion about the name.
Here's an April 2019 column by Ryan Pankau about the Osage orange.
And here's the Julie Wurth story from last October that you referenced.
The tree is believed to be about least 160 years old.
IHSA basketball tourney
"In 1996 (Champaign-Urbana) lost the contract for hosting IHSA boys basketball finals. What were the issues that caused the loss of this event at that time? Local communities have pledged funds to secure the upcoming bid to bring the tournament back to the now State Farm Center. What remedies have come into play to ensure the issues causing the loss of the tournament won't resurface if the IHSA boys tournament returns to Champaign-Urbana?"
This is going to be the subject of a story in Sunday's News-Gazette by the talented Anthony Zilis. In short, though, Champaign-Urbana became complacent about the event, said Jayne DeLuce, president and CEO of Visit Champaign County. That won't happen again, she said.
Plus it's a different event — all on one weekend — and would be in the renovated State Farm Center that is a much different and more vibrant environment than the Assembly Hall was, said DeLuce. Finally, hundreds more hotel and motel rooms have been added to the community's inventory since then for a total of more than 4,000. She said she didn't believe that hotel pricing was as much an issue as some believed it to be at the time. But she said that hotel and motel operators are firmly behind the effort to bring the tournament back to C-U.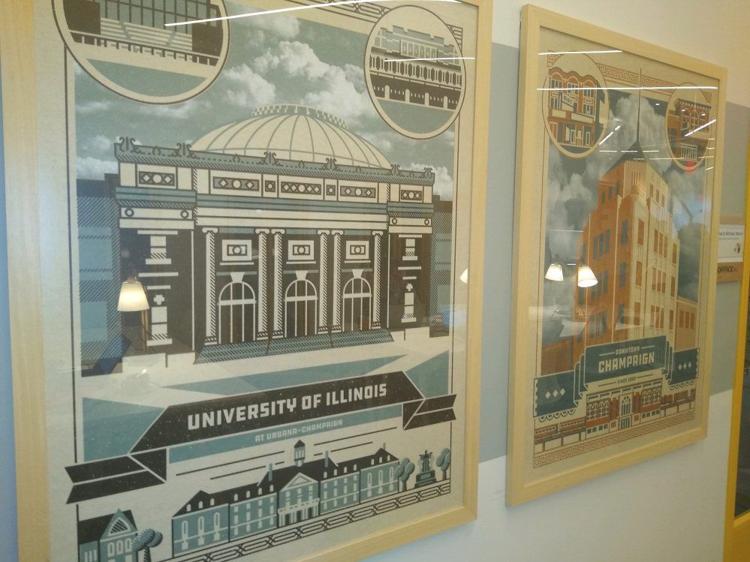 Lodgic art
"The prints located on the walls inside the workspace at Lodgic Everyday Community are amazing. Each print depicts a local aspect of Champaign-Urbana (parks, landmarks, buildings, etc.). Who created the prints? And are they available for purchase anywhere?"
There's a lot of art in the different areas of Lodgic but you'll have to contact the individual artists to see what is available for purchase, said Bridgette Brdecka, restaurant manager at the facility on South Neil Street.
The prints that you may have been referring to — of places such as Foellinger Auditorium, the Champaign City Building, the Champaign County Courthouse, Allerton Park and Hessel Park — are available for purchase as postcards for $5.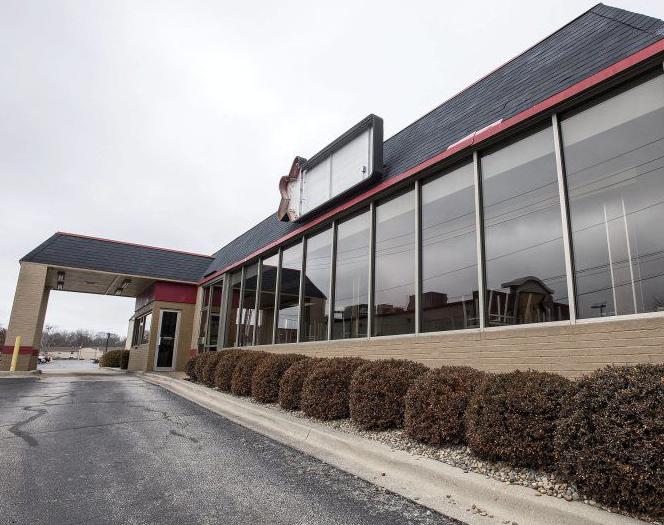 South Neil Hardee's update
Josh Markiewicz, vice president at Coldwell Banker Commercial Devonshire Realty, says that his firm now represents the new owners of the former Hardee's at 1703 S. Neil St., Champaign.
The property, he said, is available for sale, lease or build-to-suit. It does not have to remain a Hardee's.
"We can tear it down and rebuild something else, add to the building, etc.," he said.
Correction
Reader Joe Carey caught me in a math mistake (imagine that!) contained in the Dec. 20 mailbag. The question was about the wealth of Champaign-Urbana and how many people worth $1 million or more might live here.
"I think your math in deriving the number of area millionaires was a bit fuzzy," Carey wrote. "You used the 5.5 percent relating to household as a multiplier against total population. Probably results in a number about two and a half times too high. More like 3,000 local millionaires?"
Indeed, I mixed households and population and overestimated the number of local millionaires. I had estimated the number at 7,000. That's obviously too high.
Thanks, Joe.