Tom's #Mailbag, July 5, 2019
Get your questions into Tom by clicking here
This week's Mailbag is stuffed more than an East Coast airport during the Revolutionary War.
News about school district property in north Champaign, a Culver's under construction in Urbana, an antique gate at Champaign's McKinley Field, possible changes to Florida Avenue in Urbana, a new bank building in Champaign and the restoration of Lorado Taft's Black Hawk statue in Oregon, Ill.
Also, an art work missing from downtown Champaign, abandoned shopping carts, traffic through Paxton, construction work near I-57 and I-74, Top Tier gasoline, a new dental office in Champaign and that old tree along Illinois 130 in east Urbana.
---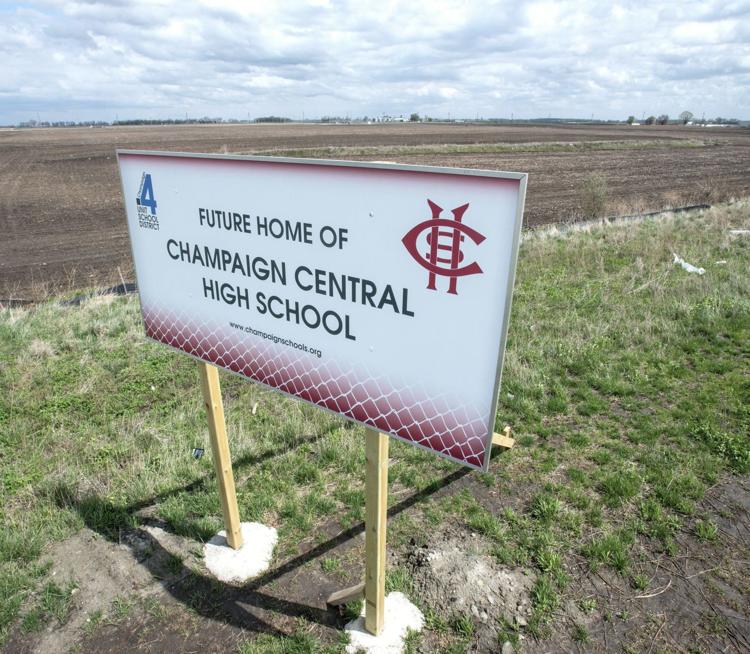 Champaign school district property
"Considering the added costs we're starting to see for the Unit 4 school construction and remodeling projects (not unexpected by most of us) is there a reason that Unit 4 is not selling the property on the north side of town to cover these costs? That seems to be 'dead' money, just sitting there while there is an obvious need for more funds and a very small chance of getting more money from the voting public."
Champaign school board president Amy Armstrong said the district is holding on to the property on Interstate Drive, purchased five years ago, for future use.
"The possibility of selling the property on the north side of town has been discussed publicly at recent meetings of the Board of Education and Referendum Oversight Committee," she said. "The site was purchased by the district several years ago when there was consideration of building a new Central High School facility. During the referendum planning process, the community expressed preference for renovating the existing school rather than building a new school on a different site.
"While the site is not needed now for high school space, enrollment in Unit 4 is growing overall and there will be a need for more middle school capacity in coming years. One option could be retaining part of the north side property and selling part of the site."
---
Fallout from credit card use
"Why wasn't Angela Ward fired from the (Champaign) school district for her absurd abuse of school district credit cards? The article from 5/5 stated that she had 259 fast-food purchases in roughly a year and Ms. Ward seems to blame the school district for not having a 'policy,' rather than take responsibility for her actions. I would assume there isn't a formal policy for a lot of things, but common sense and sound judgement generally stop people from doing things they shouldn't do. How can the school board or (Superintendent) Susan Zola justify keeping someone around in a senior leadership position who at the very minimum, has zero common sense, judgment or awareness of right and wrong?"
Armstrong said the "board of education declines to comment on specific personnel issues."
But Assistant Superintendent Ward's credit card use remains under review by state prosecutors, Illinois State Police Detective Mike Campbell told The News-Gazette earlier this week.
---
Potential businesses
The Mailbag regularly gets questions about businesses that readers want to see in Champaign-Urbana. Here are a few:
— Golden Corral: "Do you have any new updates on the Golden Corral coming to Champaign?"
— Church's Chicken: "Every other fast food restaurant is coming to C-U (Golden Corral, Chick Fil-A, Captain D's), I see that Church's Chicken is advertising a lot in our market, any chance they will return?"
— Fresh Thyme market: "Any news of Fresh Thyme still coming to Champaign?"
I have written or called all three of the above businesses and never got an answer about construction. Take from that what you want. But none of the businesses is working with the city of Champaign planning and development department on any individual project, according to city officials. Further, the building permit for the Golden Corral at 1202 W. Anthony Drive expires next week and the company hasn't begun work at the location nor has it asked for an extension.
---
Urbana Culver's
"The Culver's at the corner of Race and University is coming along quite nice. Has an opening day been determined?"
Opening day is scheduled for Aug. 5, said Troy Vodacek of Urbana, one of the owners of the area franchise.
---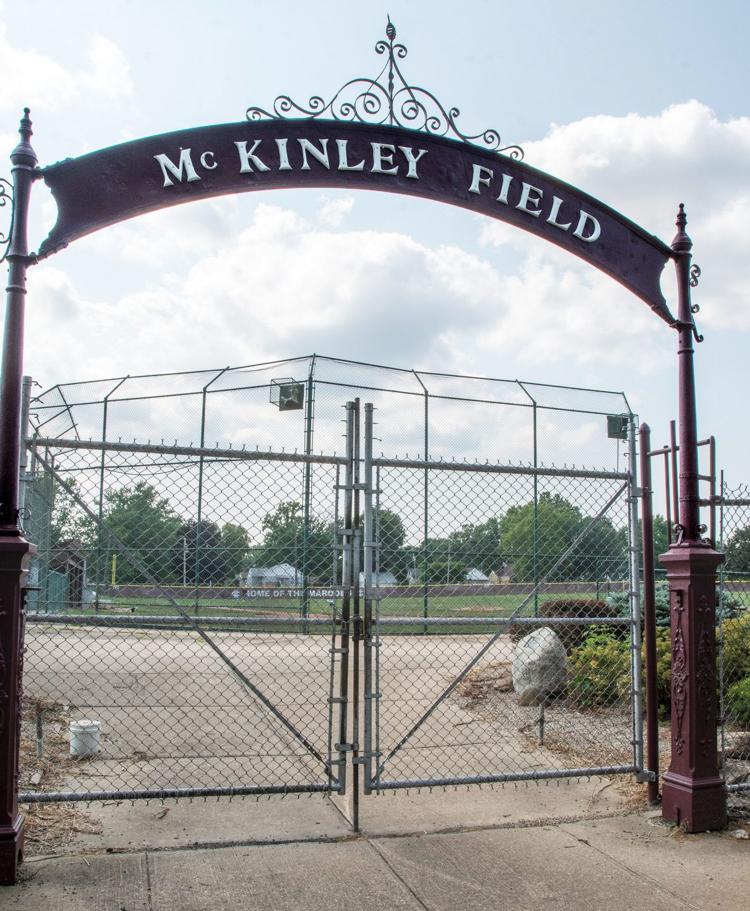 McKinley Field (Champaign) gate
"What happened to the historic gate at McKinley Field south of South Side School? It was well over 100 years old."
"The gate was carefully removed because of the renovation work currently underway at McKinley Field," said David Brauer, director of communication for the Champaign school district. "It was salvaged without damage and is securely stored.
"Because of its historical significance, the intention is to put the ornamental posts and arch that form the gateway back up at the new, main entrance north of the field to welcome visitors to McKinley Field."
As a side note there also is a McKinley Field in Urbana. Both were gifts from the wealthy William B. McKinley of Champaign, who owned the Illinois Traction Co. and was a U.S. senator from 1920 to 1926.
---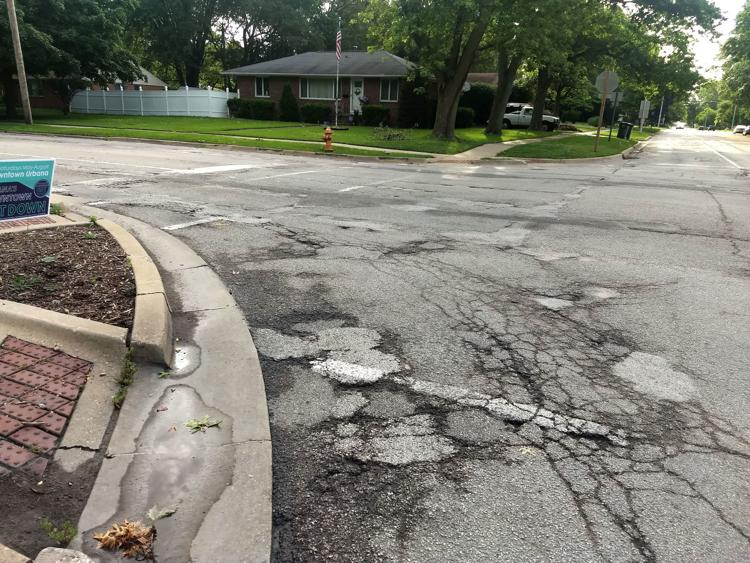 Florida Avenue roadwork
"When does the city of Urbana plan to repair the intersection of Florida and Vine? It really is a mess and getting worse every day."
and
"Wondering about the reasons behind putting stoplights at the intersection of Orchard and Florida and stop signs at Race and Florida. I realize that the east-west traffic will have to stop at the stop signs no matter where they are, however the north-south traffic pattern would move along a lot more smoothly with traffic lights at Race and Florida since that intersection is much busier. Maybe they can be moved?"
Both of these issues may be resolved in the future, according to Urbana City Administrator Carol Mitten.
She said city officials "are aware of the deteriorated condition of the pavement" and at the intersection and "have both a short-term plan and a longer-term solution.
"In the short term, we have just awarded a contract for asphalt patching, and the intersection of Florida and Vine is included in that scope. The intent is to repave the surface, which we hope will buy us a few years of additional acceptable use. This patching work will be completed by mid-August.
"In the long-term, we have a capital project planned to rebuild and/or rehabilitate Florida Avenue between Lincoln Avenue and Vine Street. This project has been placed in the queue by the Regional Plan Commission as a priority for Federal funding, but in order to qualify for the federal money, we must complete preliminary engineering work."
The Phase 1 work, she said, will include studying the intersection configurations at Lincoln Avenue, Race Street and Vine Street, as well as studying the overall operation of this segment of Florida Avenue.
"Enhanced safety is an important part of the preliminary analysis. The funding for the Phase 1 work is included in the recently approved Capital Improvement Plan (CIP) for the upcoming fiscal year," Mitten said. "Additional money is also included in the out-years of the CIP to match the federal funding for which we hope to qualify."
---
Heavy Paxton traffic
"You seem to have some pull with your IDOT guy. Could he address our problem here in Paxton with the too small 'no through trucks' signs at the east and west ends of Illinois 9 through Paxton? Too many semis lumber through on main street and some believe that the drivers can't figure out they should travel U.S. 45 instead."
Our IDOT friend, Kensil Garnett, (the "IDOT guy") helped to answer this question even though Ford County is outside his district.
"IDOT has route signage in place to bypass downtown Paxton by sending Illinois Route 9 traffic on U.S. Route 45, Railroad Street to Patton Street and then to Market Street south of downtown Paxton," he said. "The city of Paxton was previously given permission in 2017 to install the 'No Truck' signs on West Pells Street and Market Street to limit the truck traffic in downtown and for these vehicles to utilize U.S. 45/IL 9, Railroad Street to Patton Street, to bypass downtown. IDOT District 3 is currently working with the Chief of Police on additional signage to limit the trucks in downtown Paxton.
"The reason for the truck traffic issue is that certain mapping programs inadvertently show Illinois Route 9 going through downtown Paxton, and on certain wayfinding apps they are directing traffic through downtown as the desired route instead of keeping traffic on U.S. Route 45/Illinois Route 9 as desired."
---
MTD bus stops
"I'd like some clarification regarding (Champaign-Urbana Mass Transit District) buses and 4-way stop intersections. I've encountered twice now in as many weeks, an MTD bus stopped at a bus stop to pick up or drop off a passenger. The bus was stopped probably a good 15 feet from the solid white 'stop line.' As soon as the passenger was picked up/dropped off, the bus then proceeded straight through the intersection without indicating that it was rejoining traffic or stopping at the stop line."
MTD Managing Director Karl Gnadt responded: "MTD bus operators are required to obey all traffic laws — just like everyone else. And for the most part they do. Unfortunately, it is possible that now and again, a traffic infraction may occur. I appreciate the reminder and I will share this with our entire Operations Department."
---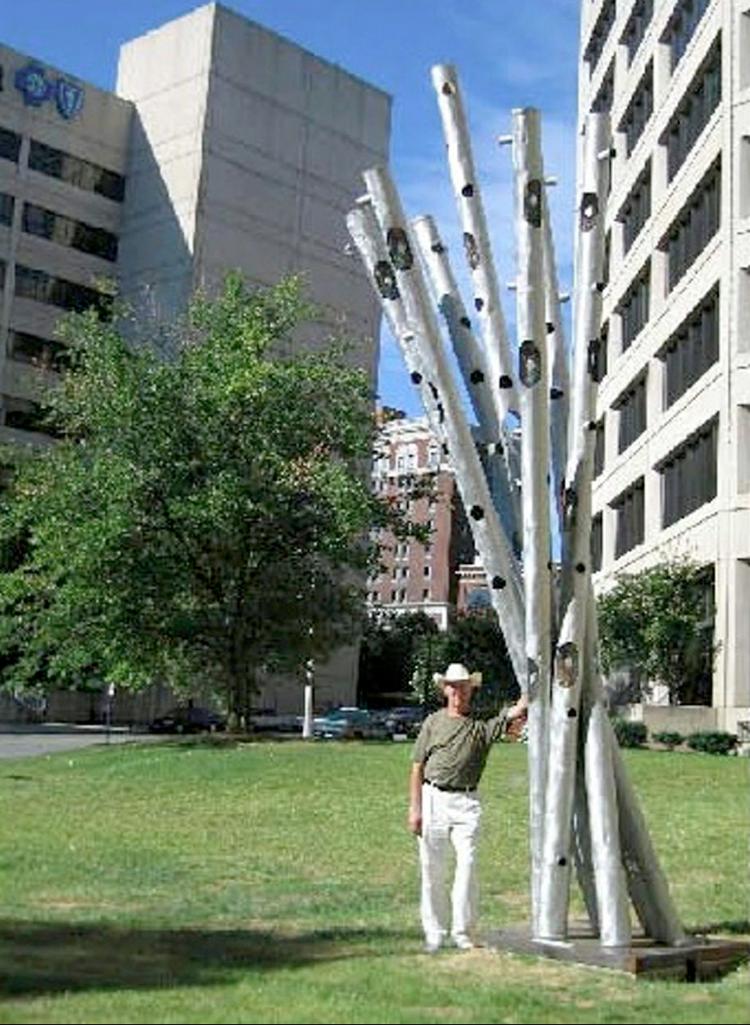 Missing artwork downtown
"What happened to the sculpture called 'Glory Pipes 2.0'? My kids are nuts about it and we've used it to teach various concepts over the past couple of years, but we noticed it was removed. We hoped it was just getting 'resparkled' but I'm afraid it's gone for good. Any insight?"
Glory Pipes 2.0, which at one time was located on East Main Street in downtown Champaign near the old train station, "was picked up end of March and brought back to southeast Arizona for an electronics upgrade, and will be looking for either a new temporary or permanent location sometime in the fall," artist Stephen Fairfield said.
"There was some interest in a private party purchase to keep it in Champaign, but this fell through," he said.
Fairfield also included this message: "Support your local Public Art League as they are regularly looking for more interactive art to bring to the Champaign-Urbana area."
---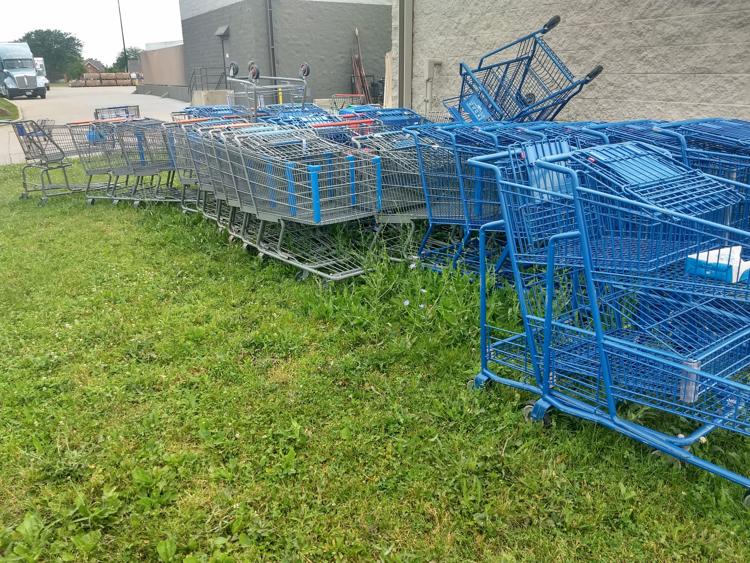 Shopping cart thefts
"Who is responsible for all the shopping carts left behind Rural King? They are right off the road between Sam's Club and Rural King. There are always about 40-50 shopping carts abandoned there."
The people responsible for those carts are the ones who removed them from private property. It is at least a Class A misdemeanor to do so in Illinois and it could be a felony.
The relevant statute is 720 ILCS 5/16-25, found here.
It's my hope the retail outlets who own the collection of shopping carts — Rural King, Meijer, Michaels, Dollar Tree, Sam's Club and Walmart — will be motivated by this photo to retrieve them.
---
New bank building
"The work being done to the north of the Chase Bank on Mattis and Springfield looks much bigger than an ATM that was reported in your paper. Is it possible Chase is moving a few feet to the north?"
Yes, there actually have been two separate permits issued for the property that once was Taffies Restaurant.
The first permit is for a freestanding drive-up ATM canopy.
The second is for a new 3,648-square-foot building described as JP Morgan Chase Bank.
---
Downtown Champaign construction

"I'm wondering about two properties in downtown Champaign that seem to have work going on. The building that used to belong to the housing authority is being worked on. Did the park district buy that to add to the Virginia Theater property?
"Also, I heard some construction noise at the former Bacaro when I went by today. Any clue as to what that is going to become?"
There is a building permit for the former housing authority building at 205 W Park Ave., a property owned by Shapland Realty LLC. The work is described as the addition of a new entry and restrooms.
There are no permits issued for the former Bacaro, 113 N Walnut St.
---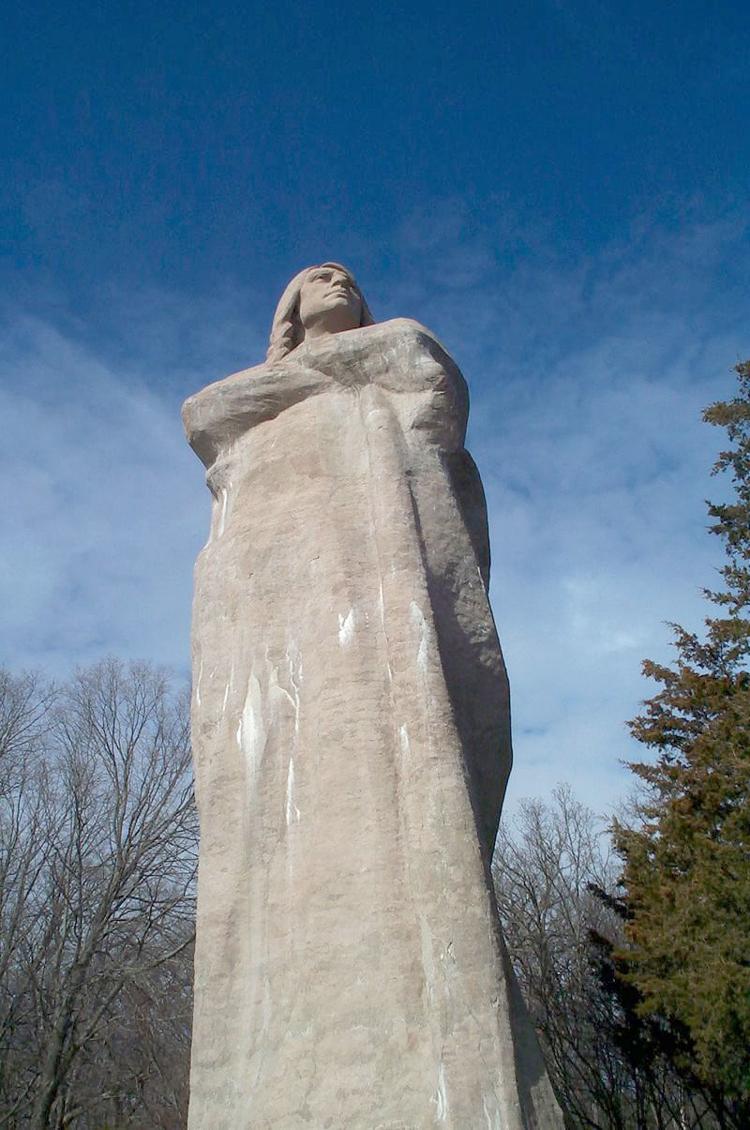 Black Hawk statue
"Would you update the repairs to the Chief Black Hawk statue at Lowden State Park near Oregon, Illinois? It is an awesome sight driving south from Rockford along the Rock River. (Same sculptor as Alma and Chief Paducah)."
The 48-foot-tall concrete Black Hawk statue, which was dedicated on July 1, 1911, and was the work of Illinois Industrial University (now University of Illinois) graduate Lorado Taft, is still under cover and awaiting restoration.
"We've had such a cold, wet spring and early summer that the conservators felt they could not unwrap him until they had warm nights and dry days," said Jan Stilson of Oregon (IL), who chairs the newly formed Black Hawk Art Restoration and Development Group. "The latest word we have is that they will begin preliminary testing of mixes and mock-ups the week of July 8.
"We aren't sure what that means. They will need to partially unwrap him to accomplish this. Once they start the final restoration they have said it should only take 35 days. We are looking forward to the completion and are planning a celebration in October."
Stilson's group helped raise $270,000 for the restoration of the Taft work that towers over the Rock River.
---
Sanitary district work
"I'm curious about the construction going on to the west of the Mattis Avenue/Anthony Drive intersection. Are they just upgrading drainage for the field or is it preparation for new development in the area?"
It's work done for the Urbana & Champaign Sanitary District before the big reconstruction of the I-57 and I-74 interchange begins this year.
"Ahead of the IDOT work that involves the interchange reconstruction, Urbana & Champaign Sanitary District is relocating some of their sanitary sewer lines. They are working in this quadrant as well as the southwest quadrant of the interchange, just off of Midwest Court," said Kris Koester, a spokesman for the Champaign Public Works Department.
---
Rape allegation
"I'm a digital reader and rarely see the paper in print form, so I have a layout question. I'm wondering if The News-Gazette ran E. Jean Carroll's rape allegation against Donald Trump on the front page, and if not, what page did the story run on? I'd also be curious to hear the reasoning behind placing it wherever it ended up running. I know that the larger newspapers were split on this; for example, the New York Times and Chicago Tribune did not run this story on the front page, while the Washington Post did."
According to News Editor Joel Leizer, The News-Gazette hasn't run the story of E. Jean Carroll's rape allegations against President Donald Trump in its print edition — though some Associated Press coverage of the subject has appeared on our website.
What's the reasoning?
"Space for national and world news inside the paper is limited, as we place our focus on local coverage; Carroll's allegations — which she makes in an upcoming book, 'What Do We Need Men For? A Modest Proposal' — have been well-covered by other national media; she hasn't attempted to take any legal action against the president and doesn't seem to intend to; and she hasn't been willing to talk to The Associated Press," Leizer said.
At this point, her allegations remain nothing more than 'she said, he said' allegations, he said.
"We're more than willing to cover the subject when we have something tangible to offer, just as we didn't shy away from covering the accusations against Trump made by Stormy Daniels, Karen McDougal andothers who presented evidence and filed legal claims," Leizer said.
Also as a digital subscriber you should know that you have access to the News-Gazette's e-edition, a facsimile of the print edition and will help answer questions like these: https://subscriptions.news-gazette.com/login
---
UI Undergrad Library's Question Board
"Long before Google and The 'Bag, there was the Question Board at the U of I's Undergraduate Library. People submitted questions — the more random, the better! — and the library's student workers tracked down answers, which were posted on a huge bulletin board. Does the QB still exist? (And if so, how 'bout sharing one or two of their more interesting Q&A's?)"
This week I went to the lower level of the Undergraduate Library and found that the Question Board no longer exists. An employee said that it was discontinued a couple of years ago.
---
Former Urbana gas station
"The Circle K on 1605 N. Cunningham Ave. (Urbana) has closed. The pumps are gone. And the windows are boarded up. What's going to happen with this site? Does anyone have any plans to build there?"
No plans have been submitted to the city of Urbana regarding any future project at the location, said John Schneider, Urbana's community development director.
The former Circle K you cited is a long stone's throw from an existing Circle K at 1809 N. Cunningham Ave.
---
Top Tier detergent gasoline
"With the Marathon station at Staley & Springfield turning into yet another Circle K, southwest Champaign is lacking a 'top tier' station. Can you find out if the new Haymakers at the Fields will carry 'top tier' gas?"
Top Tier is a detergent gasoline additive available at a number of fuel retailers, according to the manufacturer.
We asked Haymakers whether it would be using it.
"Top Tier is a brand name through branded stations. Our Haymakers fuel stations are non-branded, meaning that we are able to source from different fuel suppliers," said Dave Riney, regional director of operations for Convenience Stores, Niemann Foods, Inc. "However we have looked at Top Tier detergent specifications and feel confident in saying our fuel stacks up to all branded stations' version of Top Tier."
---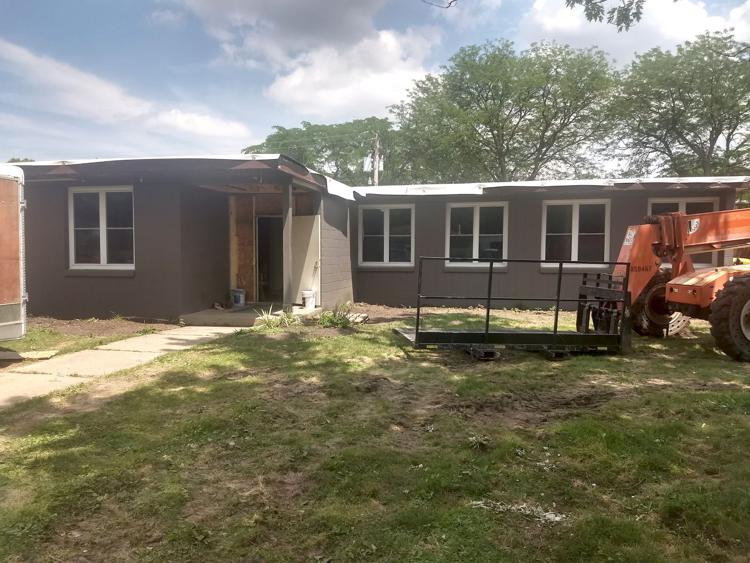 New dental office
"What is going on with the construction on the corner of Broadmoor and Galen in Champaign where there once was a day care and the Montessori School? Looks like they are trying to save the building, but for a business or residence."
The former location of a Kinder Cassel at 1112 Broadmoor Drive is being remodeled to become the dental office of Dr. Andrew White, now at 1701 S. Prospect Ave. White hopes to move into the new office later this year.
---
What area roads need fixing?
Vice President of News Jim Rossow asked readers to offer their thoughts on what roads should be fixed in the Rebuild Illinois program:
— "Sure wish they'd fix the exit ramps on I74 exit 185 joining University Avenue. I've driven on better Jeep roads!"
— "Routes 9 and 47. I've been on plowed fields that were smoother."
— "Springfield-Main in Urbana needs a whole streets design."
— "Vine and Lincoln through Urbana need to be redesigned to prioritize bike and pedestrian traffic rather than cars."
— "Lincoln from University south to Florida"
---
Road questions
"Every week I'm amazed at the number of road/intersection/sidewalk complaints — er, I mean questions. Do you ever get sick of answering a type of question and do you keep track of question categories?"
Road/intersection/sidewalk complaints are fine. Taxpayers are entitled to know how, why and where their money is being spent, or not spent. I am not fond of answering questions about fast-food outlets, and no, I do not keep track of question categories.
---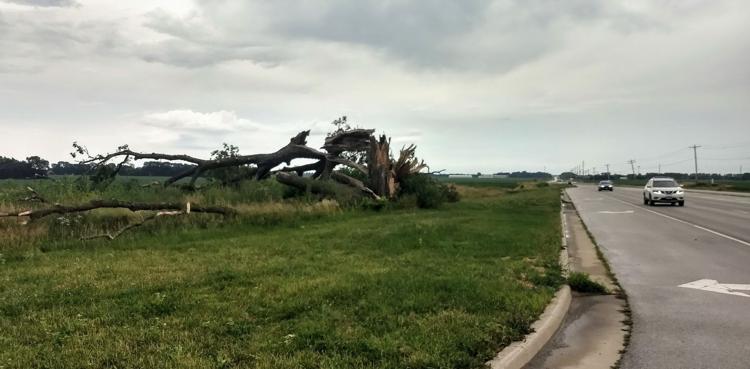 Followup on broken tree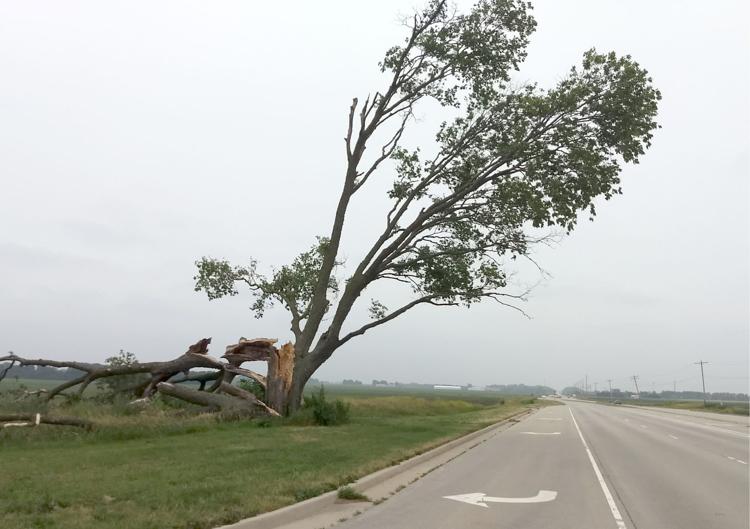 In the Mailbag two weeks ago, a reader inquired about a large, damaged tree on private property at High Cross Road and Washington Street in Urbana.
Even before the Illinois Department of Transportation could take any action regarding the rickety tree — part of it hung over Illinois 130 — the remainder of its trunk fell over in another summer storm last weekend.
Tom Kacich is a columnist and the author of Tom's Mailbag at The News-Gazette. His column appears Sundays. His email is tkacich@news-gazette.com, and you can follow him on Twitter (@tkacich).