Tom's #Mailbag, June 28, 2019
Submit your questions to the Mailbag by clicking here
Infrastructure Week resulted in nothing — so far — in Washington, D.C. But the mailbag is full of infrastructure questions and answers this week.
Items about rerouting U.S. routes 45 and 150 through Champaign-Urbana, the new football performance center, closed rest areas, the washboard surface of North Lincoln Avenue in Somer Township, blocked intersections, mowing the grass along rural roads, and how soon C-U will see flashing yellow arrows.
Also, the UI's summer enrollment, voter registration cards, the former county clerk, KFC returns to Savoy, weedy properties, Illini Nellie and a Costco update.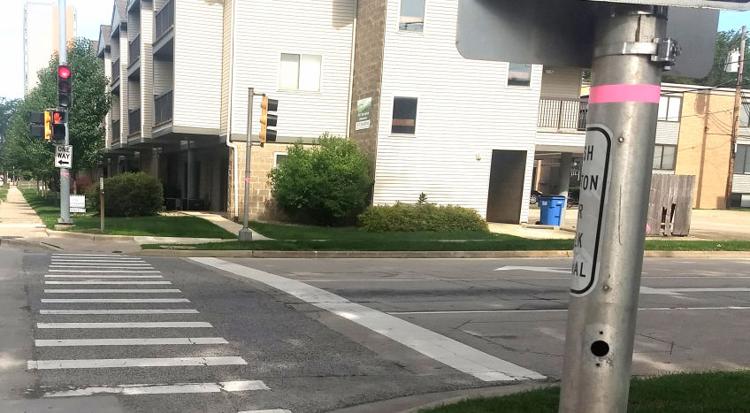 State road work
"On the state routes in Champaign-Urbana and surrounding areas, the stop lights have pink surveyors' tape on the poles, about 3 feet above the ground. What is this for? Is the flashing yellow light improvement finally going to be implemented in our area?"
Nope, not for flashing yellow arrow lights.
"Our construction personnel have placed the surveyor's tape on traffic signal poles throughout the district in preparation for the retro-reflective backplate safety improvement project that is getting ready to start," said Kensil Garnett, the Region 3 engineer for the Illinois Department of Transportation. "Unfortunately, the implementation of flashing yellow arrows will require traffic signal modernization projects with longer mast arms to comply with the Manual on Uniform Traffic Control Devices requirement of one signal head per lane.
"There is another Highway Safety Improvement Program project expected to let this fall for University Avenue in Urbana from Wright Street to Cunningham Avenue that will include upgraded signal systems with flashing yellow arrows on that corridor. Otherwise, flashing yellow arrows are planned to be implemented with future new installations and modernization projects at locations that allow for the permissive left turn movement."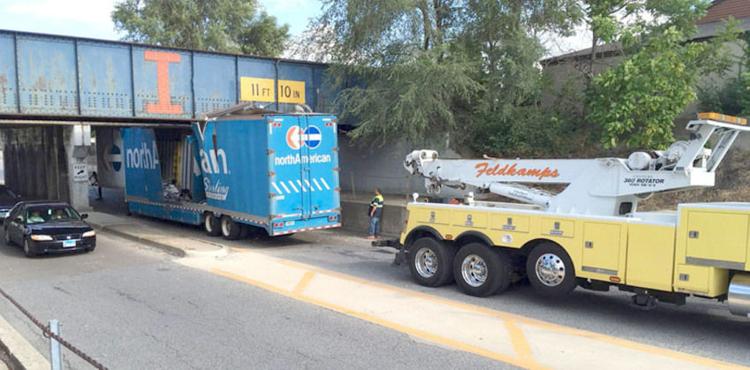 Rerouting highways through Champaign-Urbana
"Given how often big vehicles hit the Springfield Avenue railroad viaduct, and how much development there's been on East Springfield Avenue in Champaign over the years, has anyone considered rerouting U.S. 45 and U.S. 150 up to University Avenue between Neil Street and Wright Street instead of Springfield Avenue? University is much wider, the viaduct is higher (the standard 14 feet instead of just 11 feet), and both roads continue east on University anyway. Who makes those decisions?"
The re-routing would include more than University Avenue and Neil Street, said IDOT's Garnett.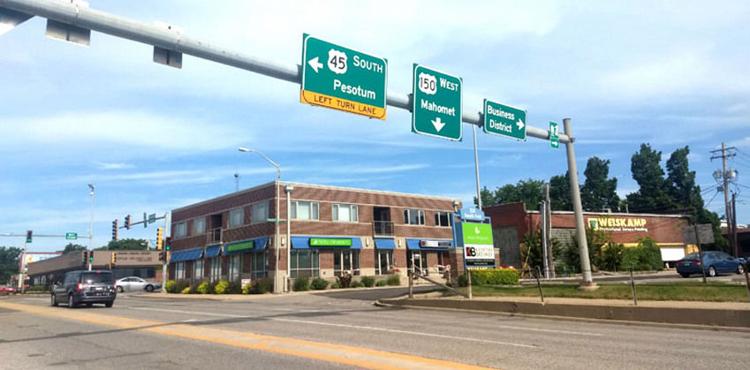 "It would also include Walnut Street. The intersections of University Avenue/Neil Street and University Avenue/Walnut Street are not designed to accommodate trucks and would therefore require significant intersection improvements. With the necessary pedestrian accommodations and buildings on the corners, those improvements would be very difficult. The block between Walnut Street and Neil Street is relatively short at this location and there likely would not be enough room to accommodate a westbound to southbound left turn lane."
The decision to re-route U.S. 150 would be a joint decision between the city of Champaign and IDOT. IDOT would have to agree to swap the jurisdiction of the roadways and then find a way to fund the improvements, Garnett said.
Voter registration cards
"Why did the county clerk mail out duplicate copies of voter registration cards at 35 cents apiece? I got two and my wife got two. That is $1.40 in postage that should have been 70 cents. We haven't moved or recently registered to vote and no election is imminent so why were these even sent? How much has all of this cost the county?"
County Clerk Aaron Ammons said, "We did not intentionally mail out duplicates. Sometimes this happens when we are handling tens of thousands of registration cards. Tom, if you take a look at 10 ILCS 5/4-30 you will see that every two years the county clerk is supposed to conduct a voter verification process to maintenance the voter rolls. That is the process we are currently conducting. Thanks for the question and as always, I welcome anyone who would like to do a tour of the office and see what we do on a daily basis."
Hulten lands on his feet
"What's Gordy Hulten up to these days?"
The former Champaign County clerk (2011-2018) last winter became vice president of external affairs for the Illinois Manufacturers' Association in Springfield. The Hulten family has moved to a suburb of Springfield.
Weeds
"Just east of 2406 E. University in Urbana, there is a section of sidewalk on the north side of U.S. 150 that is almost impassable due to the 2-foot high weeds and grass on either side of the sidewalk. Who is responsible for the maintenance of this area?"
and
"So if you're looking for other residential properties with excess vegetation, how about the duplex at the corner of Windsor and Lynn in Urbana — fronts on Windsor. Gets worse every year."
As for the first location that property is not in Urbana but is in unincorporated Champaign County. The county has no vegetation ordinance, said John Hall, director of the county planning and zoning department.
But since the sidewalk is in the U.S. 150 right of way, IDOT is responsible for its maintenance.
Now, for people who have concerns regarding properties in the city of Urbana, John Schneider, the city's community development director, said that complaints can be filed as follows:
— call Community Development Department main line at 217-384-2444 or
— access the City Citizenserve Portal, a link to which can be found on the city of Urbana main web page on the lower left under Online Services "Property/Tenant Complaints" or
— use this direct link to the City Citizenserve Portal.
Closed rest areas
"How many rest areas are closed in the state of Illinois. The rest area on I-57 near Chicago has been closed since you retired. What gives? Will they ever reopen?"
There are 3.5 rest areas of the 30 rest areas that are closed, said Kensil Garnett, the Region 3 engineer for the Illinois Department of Transportation.
"Prairieview on I-57, National Trail on I-70, Pride of the Prairie on I-72, and one side of the Mackinaw Dells rest area on I-74 are currently closed," he said. "Three rest areas are undergoing major reconstruction and updates to meet ADA requirements. The facility on I-70 is closed due to construction on the interstate and refurbishment. The facility on I-74 is closed due to construction on the interstate.
"The refurbishment of the Prairieview rest area on I-57 at Mile Marker 332 near Monee is completed. Near the scheduled time to reopen the water wells failed. This work required new contracts to complete the additional work. The contracts are in place now and the new wells should be installed within the next month. Once installed the facilities will be reopened after water testing is completed."
Garnett said other rest areas around the state may be closed intermittently for a few hours to a day for minor repairs, power outages, etc.
The Rest Area map online now provides information in the drop down window that provides a brief description of the closure and an estimated reopening date. Here's the link.
More Ameren gas work
"What's happening at the Champaign First Church of the Nazarene (2403 W. Kirby Ave, Champaign)? Building materials and construction vehicles have sitting in their lot for a while now."
It is being used as a staging area for replacing Ameren Illinois gas lines in the area, said Larry Happ, Champaign's building safety supervisor.
And today is Mr. Happ's retirement day from the city of Champaign. Happy retirement and thanks for your service, Larry.
Road repairs
"Any word on repairs of North Lincoln Avenue between Olympian Drive and Ford Harris Road and further north?"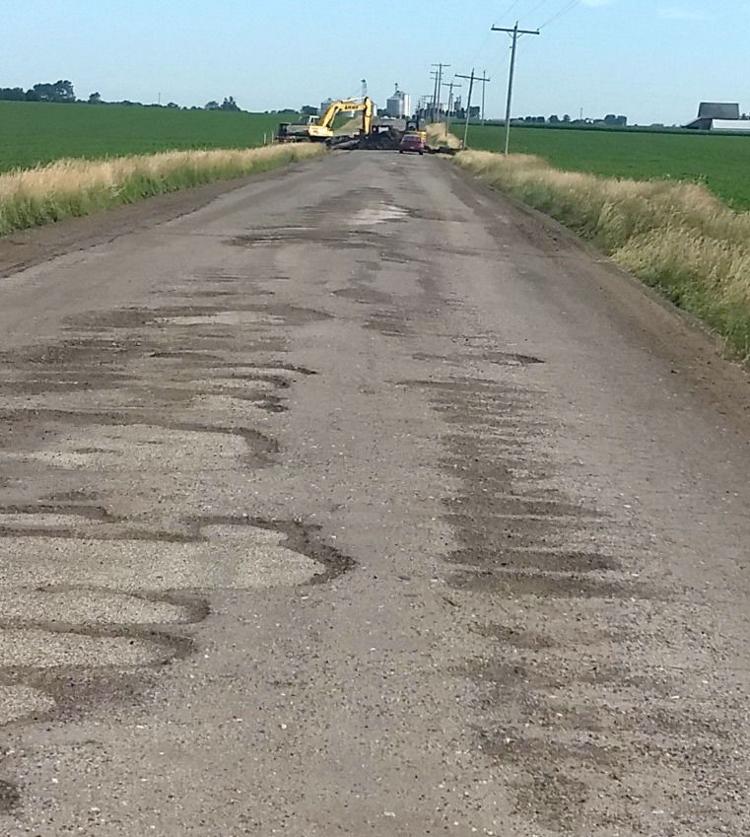 A long-awaited culvert that had to be installed before the roadwork could begin is being put in place, said Somer Township Highway Commissioner Rick Wolken. Once that work is finished work on the road surface can begin. Wolken said he hopes to have all the work done by mid-July.
"That's the hope. That's what I'm shooting for," he said. "I don't blame people for being mad about this. It's been an awfully long, drawn-out affair."
County roadwork
"What construction is happening on County Road 900 N? This road runs from Philo to U.S. 45. This past Monday an electric sign was put up that road would be closed starting 7/1. This morning the signs were changed to say 'Bridge Closed.' So what is happening with this construction and how long will it last?"
Both signs were correct. The office of Champaign County Engineer Jeff Blue says that County Road 18 (900 N) will be closed between First Street (1200 E) and 1350 E beginning July 1 for reconstruction of the bridge over the Embarras River.
The bridge construction is scheduled to be complete by Nov. 1. There will be no marked detour. Motorists will have to find alternate routes during the closure.
Blocked intersections
"At major intersections, cars frequently get into the intersection even if traffic ahead is not moving, thus blocking the path when the light turns. Other municipalities have painted the intersection with white stripes and various large letters stating "DO NOT BLOCK INTERSECTION" or something equivalent. Maybe the city can paint congested intersections, especially at North Prospect and West Marketview Drive, in front of Red Lobster."
Good idea.
"This situation does occur at a few intersections in town, when people are either in too big of a hurry, or simply caught off guard by the traffic backing up ahead of them," said Kris Koester, spokesman for the Champaign public works department. "The intersection of Prospect Avenue and Marketview Drive that the reader mentioned is a great example. IDOT's Prospect Avenue bridge replacement has increased instances of blocked intersections in this area."
Anticipating this would happen, Koester said, the city recently installed "Do Not Block Intersection" signs on Prospect Avenue at Bloomington Road, Marketview Drive, and near the entrance to Lowes.
"There has not been enough time to determine if the signs have affected driver's actions. However, the signs will likely remain in place after the bridge project is complete," he said. "The signs are probably a more effective way to get a driver's attention than pavement markings, which would likely be obscured by the stopped traffic. While people can report 'problem areas' to Public Works, these signs will be reserved for the areas where there is a history of traffic consistently backing up through the intersection."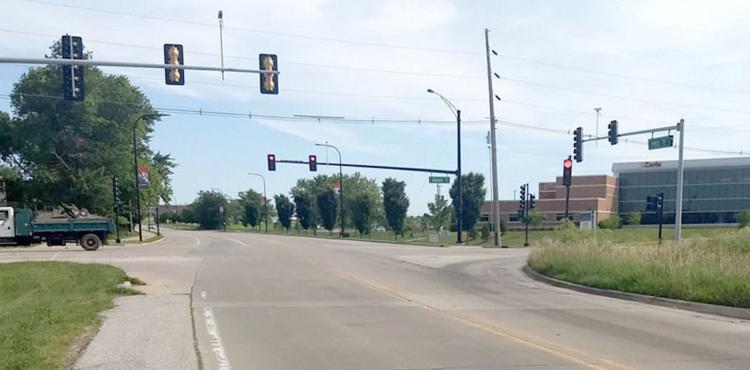 Windsor and First intersection
"Is there a logical reason why turn lanes were not part of the design on Windsor Road at the First Street intersection? It seems there is plenty of room to widen the road at the intersection and it would be a tremendous improvement for traffic flow."
City records show the Windsor-First configuration took place before the intersection was within the Champaign city limits, Koester said.
"At the time Windsor Road east of Neil Street was constructed, it would have been under the jurisdiction of Champaign County. When this intersection was constructed (1988-1990), everything east of Neil Street was rural — the UIUC research farm facilities were north of Windsor and everything else was farm field," Koester said. "At that time, turn lanes were likely not warranted.
"As use of Windsor and South First increased over time there were several crashes in the early 1990s at the intersection. The pattern indicated turns were a factor so at that time the recommendation was to split phase the intersection to alleviate the safety issues, which is the current model in place.
"In late 2009, the University of Illinois Research Park secured funding from the America Recovery and Reinvestment Act to improve the north leg of this intersection, which the city of Champaign managed construction for. At that time, additional funding was not available to make improvements to Windsor Road.
"The improvements to the intersection over time have helped it continue operating safely. With more recent developments at Research Park, south campus in general, and the development in Savoy along South First Street, the intersection experiences much higher delays than it used to. An indication that it is not operating as efficiently as it could.
"Operationally, the intersection is at a point where it does need to be upgraded to include turn lanes on Windsor, however it is not currently programmed into funding for the city's 10-year Capital Improvements Plan. An additional piece to the complex project, is that the south leg is not in the city of Champaign, rather Champaign Township. Therefore, any improvements would need to include a cost share from the Township. Furthermore, the widening of the road would require right of way acquisition or the granting of a permanent easement from the University of Illinois."
Concerned about aesthetics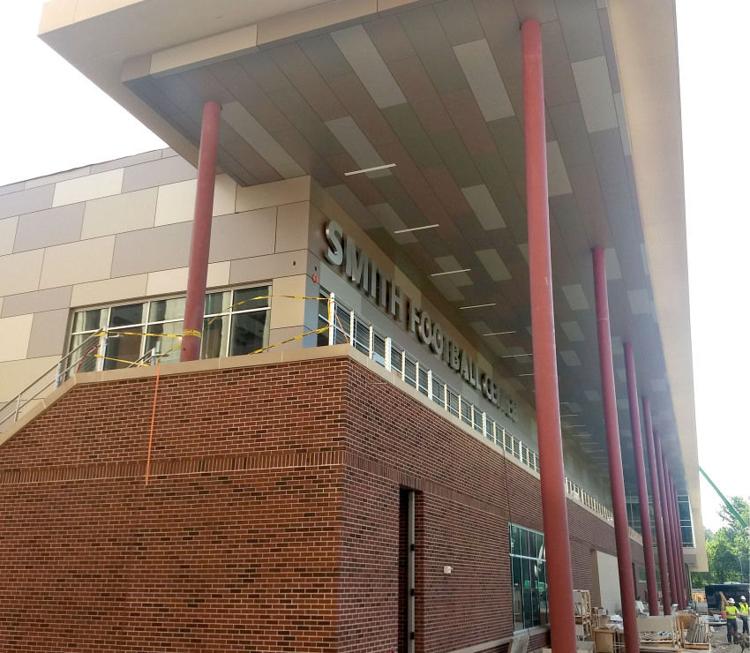 "The new Football Performance Center (northeast of Memorial Stadium) has several long, red poles lining the south side of the facility. I tend to be a bit particular on the aesthetics of buildings, but this seems like an obvious eyesore to me. I'm sure it has something to do with support for the roof, but I have to believe they could have been integrated better. In the renderings, the poles look a bit thicker, and are a white/silver color, which is only slightly better. It's a very cool building ... but what's going on with those poles?"
Hold on, says University of Illinois Associate Athletic Director Kent Brown.
"Your reader seems to think the project is completed. The columns as seen will be enclosed and finished before the building is completed," Brown said. "Lots of finishing touches remain on what will be a beautiful building and addition to the athletic campus."
Summer enrollment
"It sure seems like there are more students on (the University of Illinois) campus this summer, And there seem to be a lot more Asian students as well."
Yes, there are more students on campus this summer, UI records show. Ten-day enrollment statistics show there are 15,048 students enrolled in at least one on-campus, credit-bearing class this summer. That's up from 13,563 last summer, 11,223 five years ago and 9,448 10 years ago.
The number of international students on campus in the summer hasn't changed much in the last five years — 3,524 this summer versus 3,204 five years ago. It's up substantially from the number 10 years ago, 2,062.
"Field work" along rural roads
"I've noticed that when farmers aren't working in the fields, tractors are frequently seen mowing the grass between fields and country roads. Is there a legal requirement for farmers to maintain this area of grass or do they do it out of the goodness of their own hearts? I'm assuming the former as diesel fuel sure isn't getting any cheaper."
We asked Brad Uken, the manager of the Champaign County Farm Bureau.
"I'm an not aware of any legal requirement for farmers to mow their roadside ditches; however, many do," he said. "The reasons farmers mow vary from aesthetics to intersection safety. Other farmers or land owners may choose not to mow their roadsides regularly as to provide a wildlife habitat.
"While travelling rural roads, regardless if the roadside is mowed or not, it's important for drivers to stop at all rural intersections and check for oncoming traffic. Grass and tall corn can create blind intersections and safety is key."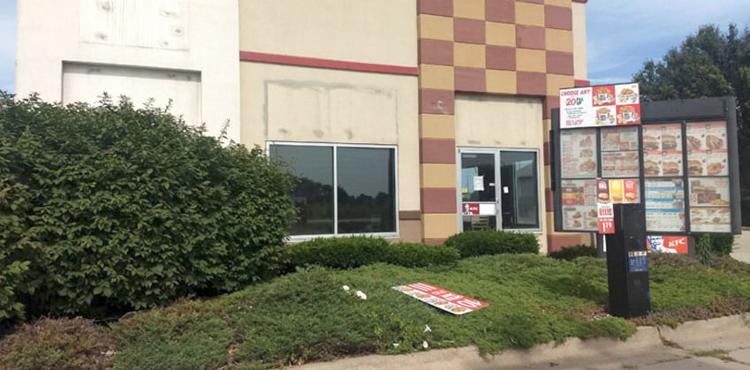 Savoy KFC
"Hey Tom, what's going on in Savoy with the KFC/A&W building? Lots of activity going on there right now."
Savoy Mayor Joan Dykstra said a new KFC — no A&W — will be going into the space.
"Construction started 5/31/19, they had some delays so I am not sure when they will be open but would assume by the end of the summer," she said.
More food
"Will there be a restaurant in the Carle at the Fields area that will provide full service, sit-down breakfast, especially on weekends? How about another Starbucks in the same vicinity? The cafeteria at Carle Administrative Building at Fields only serves breakfast Monday through Friday."
"As of right now, we don't have any breakfast concepts or Starbucks that have signed leases with us yet at our Carle at the Fields retail locations. However, we do have some additional tenants that we expect to be announcing soon," said Chris Saunders of Green Street Realty, a developer at the southwest Champaign project.
Follow-ups
— We had a question last week about progress on the Costco store in Champaign. There was nothing at that time but on Wednesday Costco filed a building permit application with the city for a "wholesale warehouse with tire center. Food service, hearing center, optical and main sales — grocery and dry goods" at 2000 N. Neil St. at the site of the former Bergner's Department store that is to be demolished this summer.
The permit application from Costco Wholesale Corp. of Issaquah, Wash., is under review.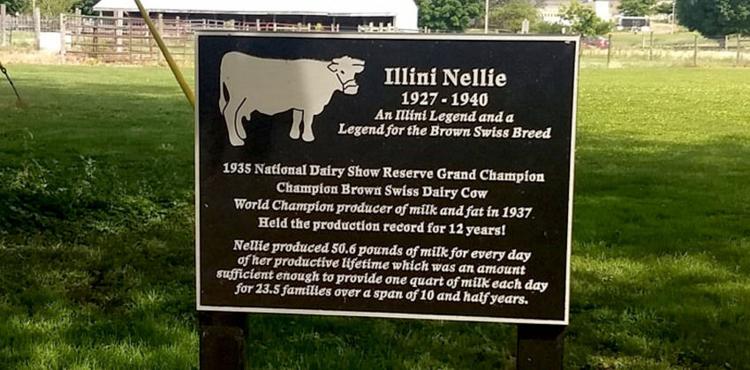 — In August 2017 a reader suggested that Illini Nellie, a University of Illinois dairy cow that set world records for milk production in the 1930s, deserved a new plaque at her burial site on South Lincoln Avenue.
"A couple of years ago one of your readers asked about Illini Nellie, a famous Brown Swiss dairy cow buried at the University of Illinois Dairy Research and Teaching farm on Lincoln Ave. That person had requested a new sign identifying the site," wrote Professor Emeritus Doug Parrett of the UI Department of Animal Science. "We have put up a new sign at the site on the north edge of the dairy farm.
Also a couple of websites that cover the Illini Nellie story are here and here.