Tom's #Mailbag, Sept. 20, 2019
Ask our veteran reporter a question by clicking here
Good news: There's everything from Buffalo Bill's Wild West Show in Champaign to lost satellite radio signals in this week's Mailbag.
Bad news: There will be no Mailbag next week.
Earth house
"I've always wondered on the history of a house built into a hill just west of Champaign and south of Mahomet. It is located on County Road 1900 N, west of County Road 525 E. I've driven by it thousands of times. I've even seen a car pulling in. Would love to learn more of this local oddity."
The home was built in the early 1990s by Daniel and Carolyn McGaughey. One of the current residents, Alice Dougherty, said that Mrs. McGaughey recently was back in the area to spread the ashes of her late husband over parts of Champaign County.
"She was a very sharp woman, really on the ball," Daugherty said. "She talked about how she built it here because it was right next to her grandparents' house over there, which was built in the 1880s or 1890s.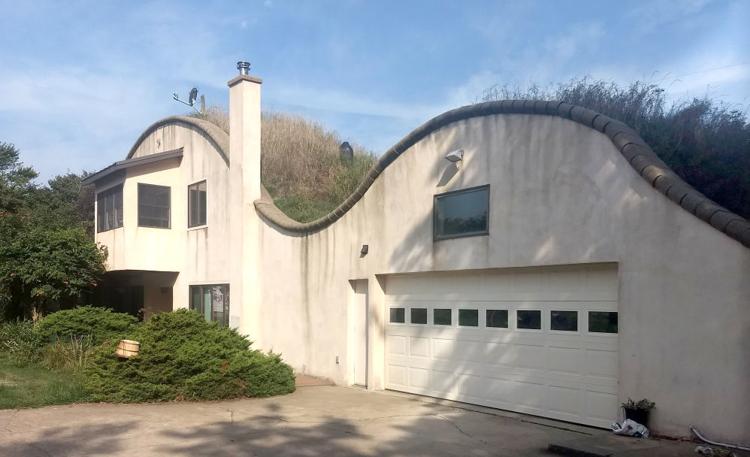 "She said she wanted a home that looked like the Southwest because she liked the Southwest way of doing things. They had been to Arizona and loved the look."
In fact that is where the McGaugheys went after leaving Champaign County.
A 1993 story in The News-Gazette said that the "earth house" had a two-car garage, three bedrooms, two baths and was covered with several tons of dirt from behind the house where there is now a pond. There's about 18 inches of dirt atop the home at its peak.
"The thing that is so beneficial about these homes is that they're airtight," Carolyn McGaughey said at the time. "It stays at 62 degrees with no heat in it at all on the coldest day. So if you're comfortable at 70 or 72 degrees, you're looking at getting only 10 degrees of heat.
"Though we do have electric heaters under each window, the heat has only been on once since we've lived here. So Illinois Power (the old utility company that preceded Ameren Illinois) has not really benefited from us a great deal."
Satellite radio signal lost
"I want to know why the Sirius/XM signal is lost in certain locations in Champaign-Urbana, especially around the U of I campus. I don't think it can be the height of the buildings because I've never had a problem while driving in Chicago."
The reason is terrestrial repeaters, which are pieces of equipment that are designed to fills "holes" in satellite reception.
Downtown Chicago has several of the repeaters (other metro areas like St. Louis do as well) but Champaign-Urbana has none.
The repeaters rebroadcast the signal so that if you are within their range you can still receive uninterrupted satellite radio as you pass by tall buildings and even tunnels.
Unusual project
"What is the fenced in development at the northwest corner of Fifth and Washington streets in Champaign? The barbed wire fence and generator stand out as very unusual in the residential neighborhood."
Apparently there have been a lot of questions from neighborhood residents about the piece of equipment. A sign posted on the fence around it says that it is a "repeater station for underground fiber optic telephone, cable television and internet cables that travel from Urbana to Champaign.
"It has absolutely nothing to do with cellular telephones, 5G, radio waves, radiation, chemicals, groundwater or towers of any kind."
The message continues that the generator will run for 15 minutes, twice a month, as well as in the event of a power outage.
"This will ensure that 911 telephone calls can be completed through the phone lines even in the event of a power outage," it said. "Thank you for allowing the workers to work without distraction."
Buffalo Bill
"During a trip to Denver, we visited the Buffalo Bill museum. There we learned that Buffalo Bill's Wild West Show visited Champaign three times during its 30 year run in the late 1800s and early 1900s. Any idea where his show would have taken place and if any photographs exist? The show also visited several other central Illinois cities such as Decatur and Danville."
On Aug. 4, 1909, Buffalo Bill's Wild West and Pawnee Bill's Far East Show played at what was called Clark's Pasture on Prospect, an area outside the city limits. There were two shows, at 2 p.m. and 8 p.m., and admission was 50 cents although grandstand chairs were a dollar.
Advertisements said it was the 27th year of Col. William F. Cody's show.
Champaign dog park
"How does the dog park in Champaign keep the grounds so clean? I know everyone makes an effort to pick up their dog poo, but it always seems so clean. We wondered if they had some magic formula or machine that helped keep it so poo-free?"
Dan Olson, the park district's director of operations, said it "starts with pet owners that take the initiative to clean up after their pets. We have members that are very good about keeping the areas clean and follow the Champaign Bark District rules.
"The other big help is that we have waste bags available on site to be used. This is not a small cost to the district, but it helps quite a bit. We don't have a formula or machine that helps us keep the area clean."
Improper crosswalk
"At the County Market at 4th and Stoughton, Champaign, I've noticed that the crosswalk lines between the parking lot on the north side of Stoughton and the store were recently repainted yellow. Everything I found in the MUTCD (specifically Section 3B.18) says crosswalk lines should be white. Do the yellow lines constitute a 'proper' crosswalk?"
The crosswalk is the responsibility of the city of Champaign to maintain, said Champaign Public Works spokesman Kris Koester.
"It is likely that a private contractor was secured by County Market to repaint their parking lot and perhaps repainted this as well," he said. "City staff will make contact with the store management and get the crosswalk brought into appropriate marking status."
Quick "go" light
"What can we do to get the light at Bradley and Garden Lane to stay on more than 5 seconds? If you're third car back you may not get through. Also, can the city put up a right turn permitted on red as a lot of people will not turn right on red because they have seen the no turn on red on Bradley turning onto State Street"
The minimum time this light will stay green is in fact five seconds, Koester said.
"In coordination with detection, if additional cars are moving through, it can stay lit for up to 10 seconds. This requires vehicles to be passing as soon as the light turns green and continually cross the detection sensors," he said. "The city of Champaign does not install 'Right Turn on Red Permitted' signs. The lack of signage prohibiting the right turn means is it permitted.
"However, some drivers may not be comfortable turning right onto Bloomington Road, due to the retaining wall that is on the east side of the intersection partially blocking a full view of oncoming traffic and individual driver's comfort level with vehicle spacing in order to turn in front of moving traffic."
Northwest Champaign traffic
"A couple of months ago I wrote to discuss the traffic on Boardwalk Drive particularly the intersection of Boardwalk Drive and Interstate Drive. With the addition of the warehouses that now hold Amazon and Rogards, the traffic is getting worse. I believe the city said that perhaps it needs another traffic evaluation. But now there is another warehouse being built and we are being told that Amazon is expanding into that one. The Amazon trucks in the morning park along the streets and are parked in private businesses parking lots to do what we assume are safety checks on their vehicles. Now you have construction traffic and I dread the days the concrete trucks start rolling in. Any update on if the city is reevaluating the traffic patterns? Does Amazon have a local office that perhaps could come up with a better solution to their employees doing vehicle checks in their own lots and not stopped along side of the road or in someone else's parking lot without permission?"
"We are aware an evaluation needs completed," Koester said, "but one is not scheduled for the near future. Private businesses should reach out to those they feel should not be utilizing their parking lots to discuss a resolution."
Walnut & Washington
"There have been at least two major accidents at the corner of Walnut and Washington — one car overturned and another hitting a building — in the past couple of months. During the day, there is regular honking and road rage as people from the south fly around the corner west onto Washington whether they have the right away or not. Backing out of parking spots along Washington is daunting. Is the city concerned about this intersection? Is there anything that can be done to make it a safer area?"
Koester: "This intersection is marked with appropriate signage and markings. On the west side of Walnut, 200 feet south of the intersection, there is a 'Left Lane Must Turn Left' sign, with a similar one closer to the intersection. In addition, there are three arrows on the pavement that show that the left lane is a turn lane only. As well as two 'End One Way' signs at the east and west side of the intersection. Finally, there is a stop bar and a yellow center line on southbound Walnut, north of Washington.
"Public Works staff will look to see if there are enhancements that might improve proper use of the intersections; possibilities include refreshing the existing pavement markings and adding conspicuous arrows on the pavement on southbound Walnut, just north of Washington."Motorists are reminded to follow traffic control devices to avoid potential conflicts with other vehicles, bicycles, and pedestrians."
Golden Corral
"Any updates you would like to share on when or if Golden Corral is going to be built?"
No.
Here's my advice: call Golden Corral corporate at 800-284-5673 and let them know of your interest.