Tom's #Mailbag, Feb. 28, 2020
Want to give Tom's Mailbag a try? Just click here
Another baseball-related question this week. Plus, special parking for expectant mothers, Michael Bloomberg's TV commercial spending, confusion over convicted Chicago Democrats, Mayor Feinen and President Trump, preparing for COVID-19 and the whole story about the NOAA weather radio station for Champaign-Urbana.
Also, an unusual apartment complex in west Champaign, changes at the Champaign dog park, remnants of Camp Rantoul, a temporary stairway at the former PNC bank in downtown Champaign, the state Rep. Carol Ammons investigation and whether there's a market for a hotel in Mahomet.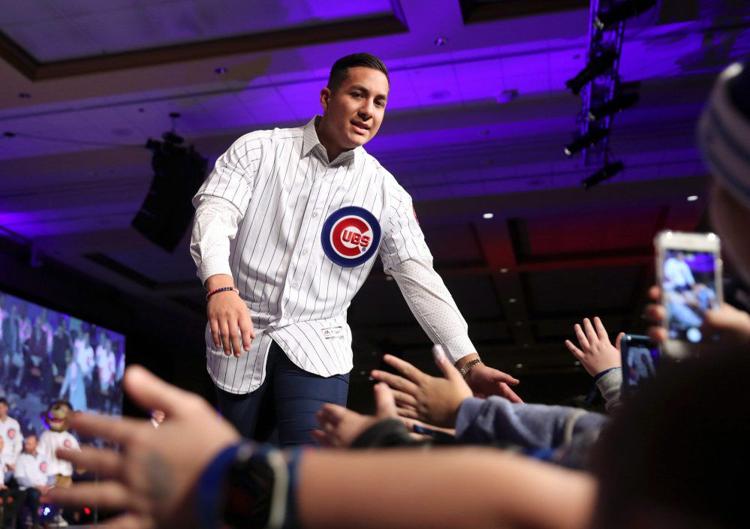 Cubs on TV
"How are negotiations for Chicago Cubs TV broadcasts in the Champaign-Urbana area going? Will we be able to watch Cubs on Comcast cable?"
There will be places in C-U where you'll be able to watch the Cubs game on TV, but maybe not on Comcast.
"We're in discussions with Marquee, so I don't have an answer right now. There's still time before opening day," said Jack Segal, a spokesman for Comcast.
Opening Day of the Cubs' season is March 26.
Marquee is the Cubs new virtually exclusive television carrier (except for some games on ESPN and Fox), a partnership between the team and Sinclair Broadcasting. AT&T U Verse (channel 740), DirecTV (channel 664), hulu Live TV, Mediacomm (channel 51), and i3 Broadband (channel 95) have agreed to carry Marquee.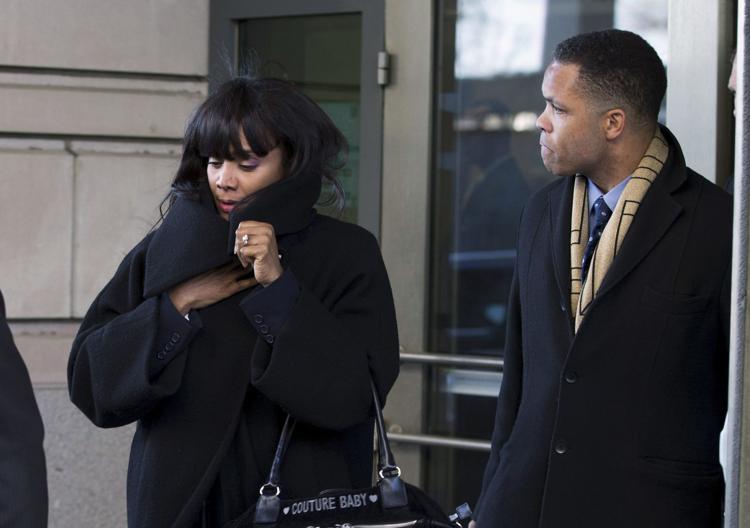 Criminal couple
"I thought that at the time Rod Blagojevich was convicted that his wife, Patti, was included in the conviction. The courts were lenient at the time and permitted them to serve consecutively in order to protect the children from the loss of both parents. Now that Rod has completed his term, isn't it time for Patti to start her term? Please correct my thinking if I have it wrong."
Nope, you have confused your Chicago Democrats gone astray.
The couple that was convicted and served staggered terms was former U.S. Rep. Jesse Jackson Jr. and his ex-wife, Sandi. They were convicted in 2013 of charges related to filing false tax returns. Jesse Jackson Jr. served about 22 months of a 30-month sentence. Weeks after his release, Sandi Jackson reported to a prison in West Virginia where she served a one-year term.
The Jacksons had used contributions to his campaign account to purchase personal items, including furs and vacations.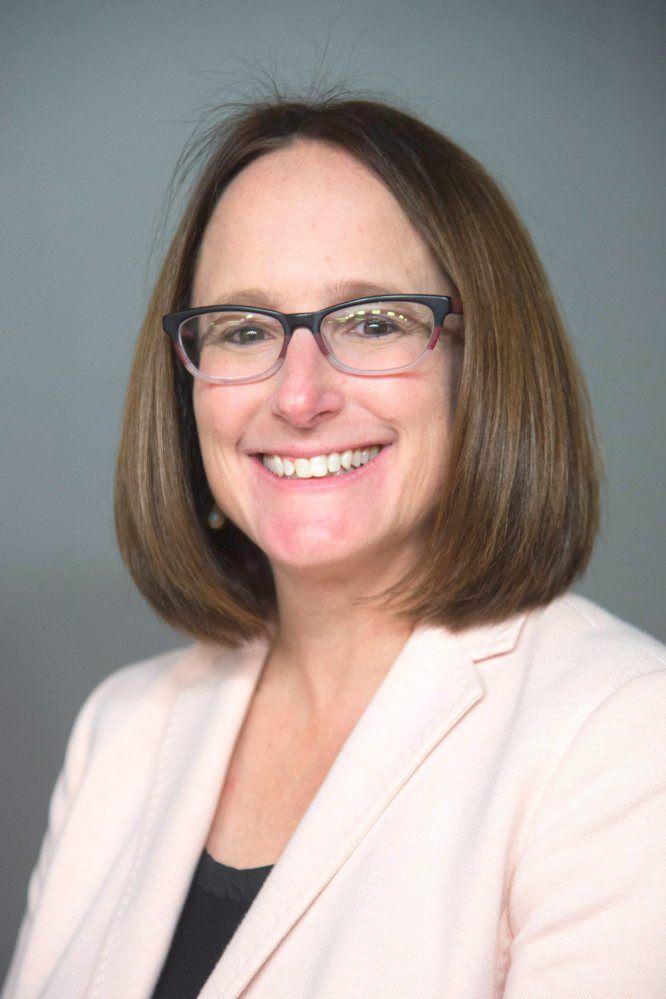 Feinen and Trump
"While the office she now holds isn't considered 'partisan,' Champaign's mayor ran as a Republican in other races, I was surprised to find out recently. I'm curious: Is she a supporter of President Trump?"
"No," was the extent of the mayor's answer.
You are correct that she was elected to the Champaign County Board as a Republican from 1992 to 2006, and ran for the Illinois House as a GOP candidate in 2004, losing to former state Rep. Naomi Jakobsson.
Feinen is not alone among Champaign residents in not supporting Trump. He got 27 percent of the vote in the city in 2016.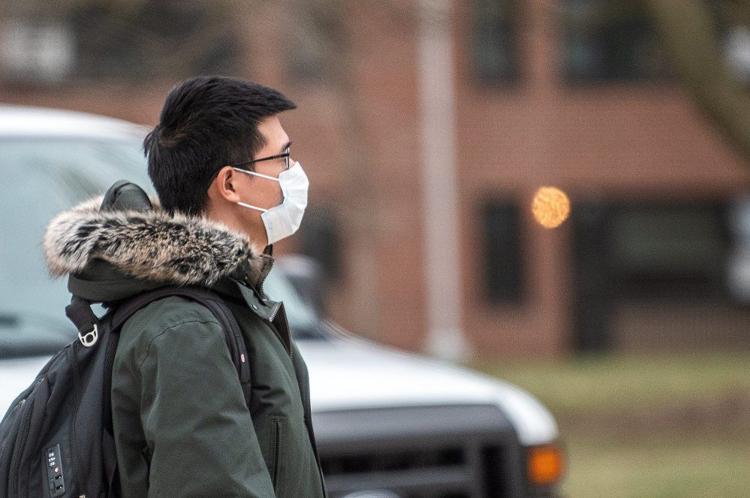 Stay healthy
"Do C-U residents need to do anything to prepare for COVID-19?"
Julie Pryde, administrator of the Champaign-Urbana Public Health District, notes that her agency has all of its information on the COVID-19 Coronavirus at one convenient spot (click here).
In a recent Facebook post she said that there are no cases in Champaign County.
But that could change."This is what everyone needs to start doing now, before there is sustained spread of COVID-19 in the U.S. The Chinese government, with their unprecdented efforts at containment bought the rest of the world some time to prepare," she said. "This is written for flu — but it works for COVID-19 too" (click here) ...
— Stock at least two weeks worth of food, water, medication and over the counter medications
— Get a flu shot now and in the fall to prevent our health care system from being overwhelmed with COVID-19 arrives.
— Wash your hands thoroughly (at least 20 seconds — the amount of time it takes you to sing the "ABC" song)
— Stay home when you are sick
— Avoid touching your eyes, nose or mouth with unwashed hands
— Cough and sneeze into your sleeve or use a tissue, throw it away and then wash your hands.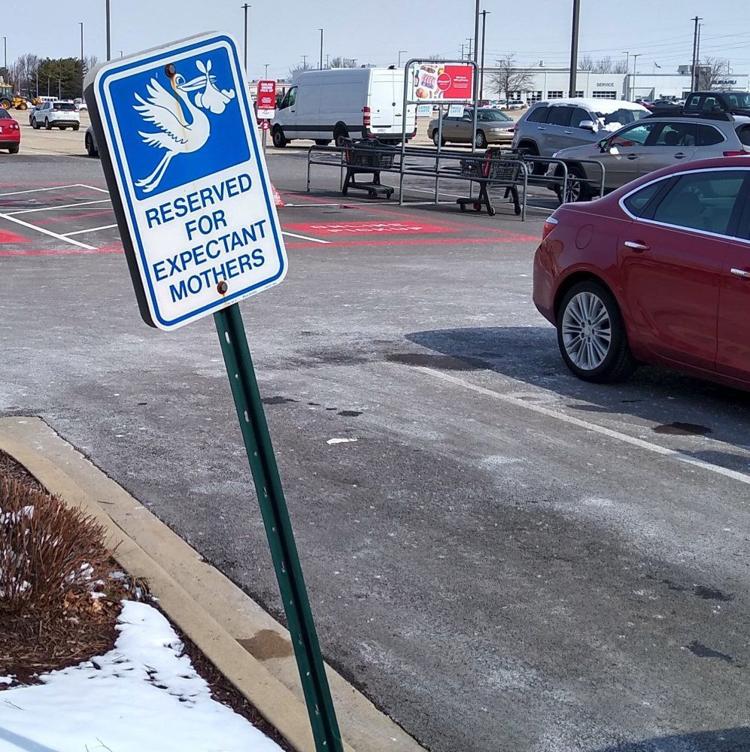 Special parking for expectant moms
"Nice to see reserved parking signs for expectant mothers and veterans at Schnucks in Savoy. Is this common? It should be."
You might be interested to know that a group of suburban lawmakers is sponsoring HB 4778 in the Illinois House that would allow the Illinois secretary of state's office to issue "a disabilities motor decal or device" to an expectant mother during her third trimester.
The expectant motorist would be "entitled to enjoy all the privileges that would be afforded a person with disabilities licensed vehicle."
The decal or device would be valid for no more than 90 days. It would be issued "only upon a showing by adequate documentation that the expectant mother has entered her third trimester."
Here's a link to the legislation.
Bloomberg on TV
"How much is Michael Bloomberg spending to saturate the airwaves with his TV commercials?"
The media tracking firm Advertising Analytics projects that Bloomberg will spend $528 million on advertising nationally — almost all of it broadcast and cable TV — through next Tuesday's Super Tuesday voting.
Locally, during the Feb. 22 to March 3 period, Bloomberg's campaign has booked $197,216 in advertising purchases in the Champaign-Decatur-Springfield TV market. WAND, WCIA and WICS each got 30 percent of the spending, and WRSP got 10 percent, or $19,721.
At WAND the $$59,165 got him 206 separate commercials.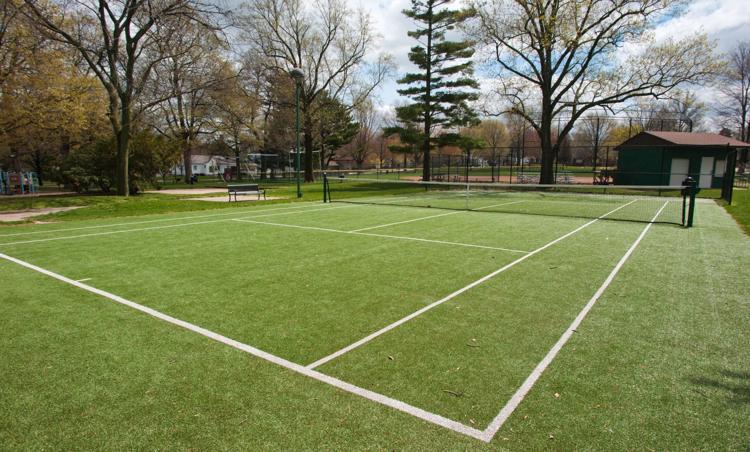 Tennis courts
"I walk by Eisner Park every night and am left to wonder about the tennis court there and it's strange surface. Can you research the origin and tell me why it was designed that way?"
Bret Johnson, the maintenance and grounds supervisor for the Champaign Park District, said that in October 1989, residents in the Eisner Park neighborhood sent a petition to park district officials asking for the tennis court be "reconstructed." In July 1990 park district staff asked for bids for contractors to resurface the court and specified using artificial turf.
"It's unclear as to why artificial turf was decided on at that time. My guess would be that it was a lot less expensive than a complete reconstruction of the base material. In August of 2008 the surface was replaced to what you see today, which is Nova Pro Court XP Synthetic Turf," Johnson said.
Mahomet lodging
"The Holiday Inn in Rantoul has always struck me as a great idea — a clean, modern hotel directly off I-57 and in close proximity to Champaign-Urbana. I'm curious why there haven't been any similar development projects off I-74 in the Mahomet area? It seems like a hotel could do really well there, especially with all the great restaurants and Lake of the Woods."
"We certainly think Mahomet would be a great location for a new hotel development. We have had interest in the past for a hotel development, but there are a lot of market conditions that factor into the decision making process for developers," said Mahomet Village Administrator Patrick Brown. "We have even had developers conduct market studies in the past. A hotel developer does not want to build a hotel that sits mostly empty most of the time. There has to be demand generators such as events and attractions, more than just interstate traffic, that will help fill up the hotel.
"Champaign has become very saturated with new hotels over the last 10 years which does not help our efforts."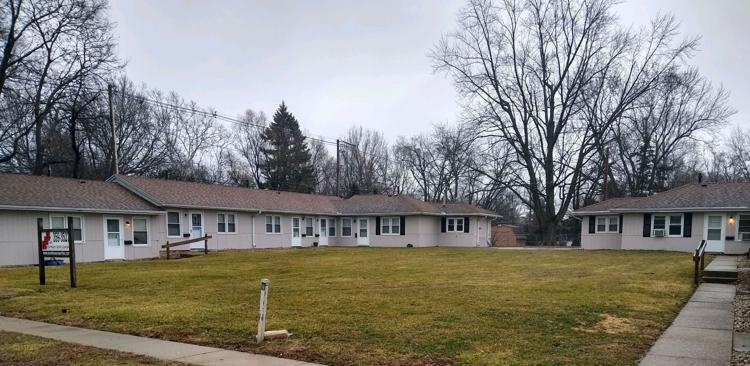 Intriguing Champaign structure
"I have always wondered about a one-story in '2 halves' rental structure on the south side of the 1500 block of West Healey — what it's history might be. It looks very much like it could have been a motel, possibly as far back as the 1950s. It's a little odd for a motel location but it's only one-half block south of Springfield which was then (and still is) Route 10, so it would have been close to heavy traffic flow coming and going from Champaign back in the day."
No, it's always been an apartment complex. At the time it was built that was as far west as Healey Street went.
A May 1950 story in The News-Gazette said that the 12-unit Wildwood Apartments complex was completed on May 1, 1950, and almost immediately sold by Albert Stern and Howard Hitchens to S. Robert Shaver of Champaign.
Phyllis Williams, a board member of the local Preservation and Conservation Association, noted that the complex probably was built as a result of the acute shortage of housing in Champaign-Urbana after World War II when so many veterans moved here to attend the University of Illinois on the GI Bill.
Originally, the News-Gazette story said, the apartment exteriors were of varnished redwood.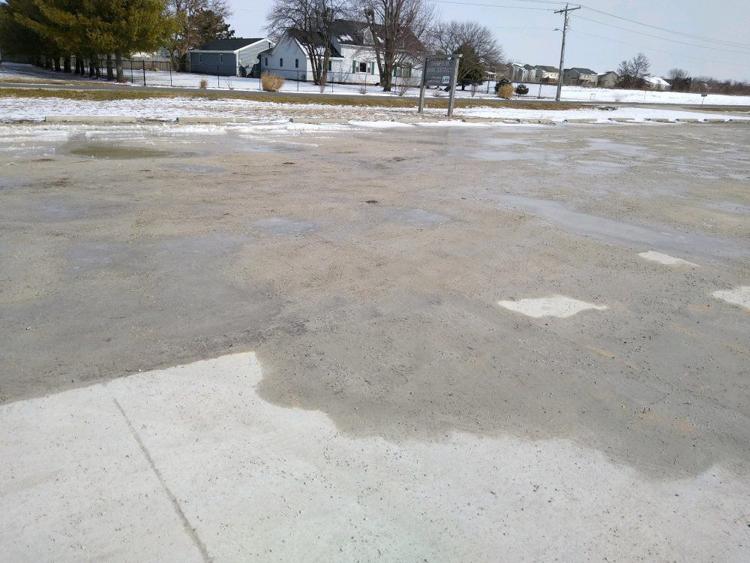 Champaign dog park
"Why doesn't the (Champaign) park district do something about the parking lot at the Bark Park off of Windsor Road? They also installed a system for use of a key card to enter park now. There was no announcement or notifications of this change. So it's $41 to register plus $10 for the key card and yet they can't at the minimum use a higher grade gravel to avoid so many holes or blacktop it?"
"Staff have been working on future options and plans for the parking lot," said Joe DeLuce, executive director of the Champaign Park District. "As soon as the weather breaks, a new 30-foot concrete approach will be poured, giving a solid surface for entering and exiting the park. Though no decisions have been made at this time, estimates have been received for an improved surface of the entire lot. These estimates will be used in the continuing conversations and planning of future projects for the Bark Park.
"Operations staff did spend some time at the end of (last) week, spreading some additional rock to fill in potholes. Once the snow is done falling for the year, we'll grade again."
DeLuce said that many patrons of the dog park asked the park district to install a controlled access gate system.
"Staff worked really hard to notify the members about the changes to the access and the increased cost. Since the controlled access was installed the park district has sold over 365 dog park memberships in just over one month," he said.
Carol Ammons case
"Is there an update on the (state Rep.) Carol Ammons misunderstanding over a purse from Carle's thrift store? Could that be considered theft from a retail store?"
My hard-working colleague, Mary Schenk, has been regularly checking with the state appellate prosecutors office and has been told the case is still being reviewed. The incident in question occurred Jan. 7 at the Carle Auxiliary Resale Boutique, 810 W. University Ave., U, when Ammons allegedly left the shop without paying for the $80 purse. The appellate prosecutors office is handling the case because of obvious conflicts of interest with the Champaign County state's attorney's office, one of which being that Ammons' husband is the county clerk and the state's attorney is his attorney on county matters.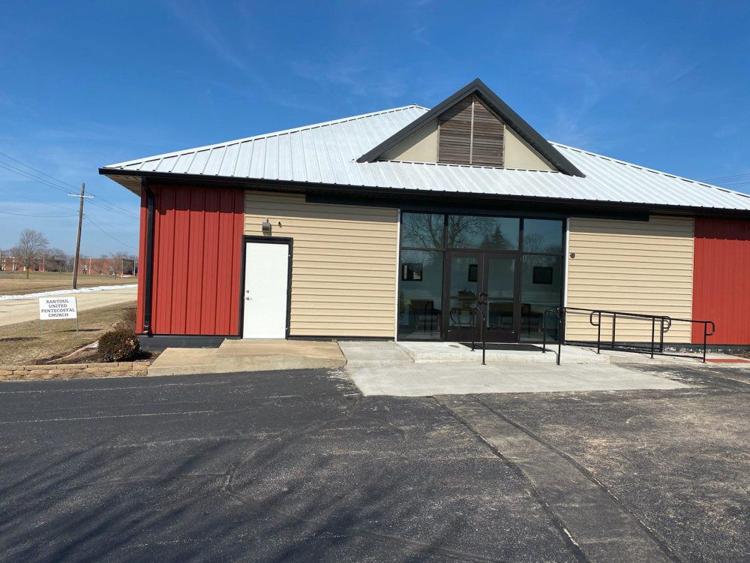 Rantoul landmarks
"What are the locker rooms built for Campus Rantoul used for since the Illini left town? Also, are the field lights built back then still used today?"
The field lights that were there when the Illinois football team held preseason workouts on the old Chanute Air Force Base are still there, according to Luke Humphrey, director of the Rantoul Recreation Department.
The former locker room facility at 1221 Enterprise Drive was sold and has been remodeled into a church. The Rantoul United Pentecostal Church will hold an open house at its new worship space from 2 to 4 p.m. Sunday.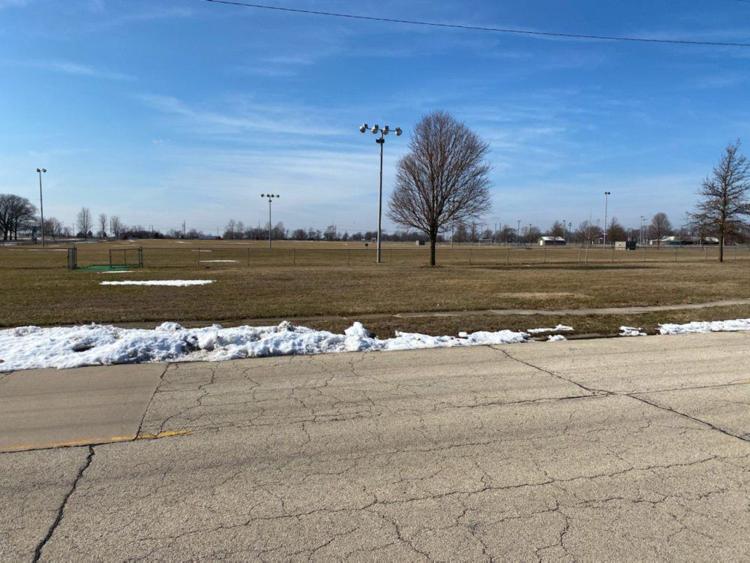 Weather radio missing
"I've seen that the WXJ-76 is offline because of damage and the need for a new tower and the (National Weather Service) is soliciting suggestions for a suitable tower on their information page. Are the broadcast towers used by WILL available for this? It seems like it would be a good fit for a public service to be provided through cooperation with a land grant university."
"I reached out to the NWS to see if there were any possibilities of assisting them," said Rick Finnie, associate director of technology for WILL. "The NWS is looking for a tower situation that would duplicate their current coverage and we are not able to satisfy their tower requirements."
The National Weather Service at Lincoln web site says the "outage is due to a damaged coaxial cable, which connects the radio transmitter to the antenna. In addition, a new tower location must be secured to prevent future damage to cabling, which could result in additional future long-term outages. The station will remain offline as the National Weather Service works to relocate the weather radio transmitter to a new tower.
"We have started the process of identifying possible new tower locations for the transmitter. If you have a tower location suggestion, preferably within Champaign County, please contact NWS Lincoln Warning Coordination Meteorologist (WCM) Chris Miller at chris.miller@noaa.gov.
"Once a new tower site is identified and a lease agreement is in place, we will install the transmitter and antenna, and begin system testing to ensure the associated signal is performing at an optimal level. While the entire process could take up to six months, we are working to get the NOAA Weather Radio broadcast online as soon as possible."
And now the rest of the story from Mike Haile, general manager at WDWS/WHMS/WKIO.
The weather service used a tower on the South Neil Street site for its local broadcast.
"For decades NOAA/NWS used a team out of Syracuse, N.Y., to do all their installations and repair of weather service transmitters. They would routinely make three or four stops a year by our site to check on everything. A great relationship with this team. Always with great communication and always worked with us on scheduling.
"A couple of years ago they cut ties with this team out of New York and put each regional district in charge of installations and maintenance.  In our case that would be out of Kansas City.
"A year ago January during the high winds a section of the weather
transmitter coax came loose. The copper from that coax became exposed and when it touched the tower it created a problem for DWS on full power. So quickly we got our tower crew up to patch up the coax and fix the broken standoffs that keep the coax from touching the live tower.  Unfortunately our fix while helping NOAA/NWS did not let us return to full power on a day in day out basis.
"So when severe weather season began I made the decision we'd limp through this situation until tornado season passed.
"We finally got an understanding with the NOAA contracts division that they had to be off the tower ahead of the 2020 severe weather season.  We found them a new site that the Lincoln office loved. Unfortunately the government played hardball on the contract terms with Sharad Tak, my former boss who owned WKIO from 1984 thru 2000. He still owns the tower site on Neil across from WCIA.
"Last Thursday they cut the coax at the base of the tower to give us the opportunity to return to full power."
Front page change
"My family has been wondering (and thinking this would have already hit the mailbag by now!) why the banner at the top of the front page of the News-Gazette no longer lines up with the rest of the print. There is now a large blank space on the top right side of the page in every paper. Conspiracies abound!"
That blank space is there to provide a uniform space every day for address labels for subscribers who receive the paper by mail. Thirty-five percent of News-Gazette subscribers get the paper by mail, said circulation director Bob Cicone.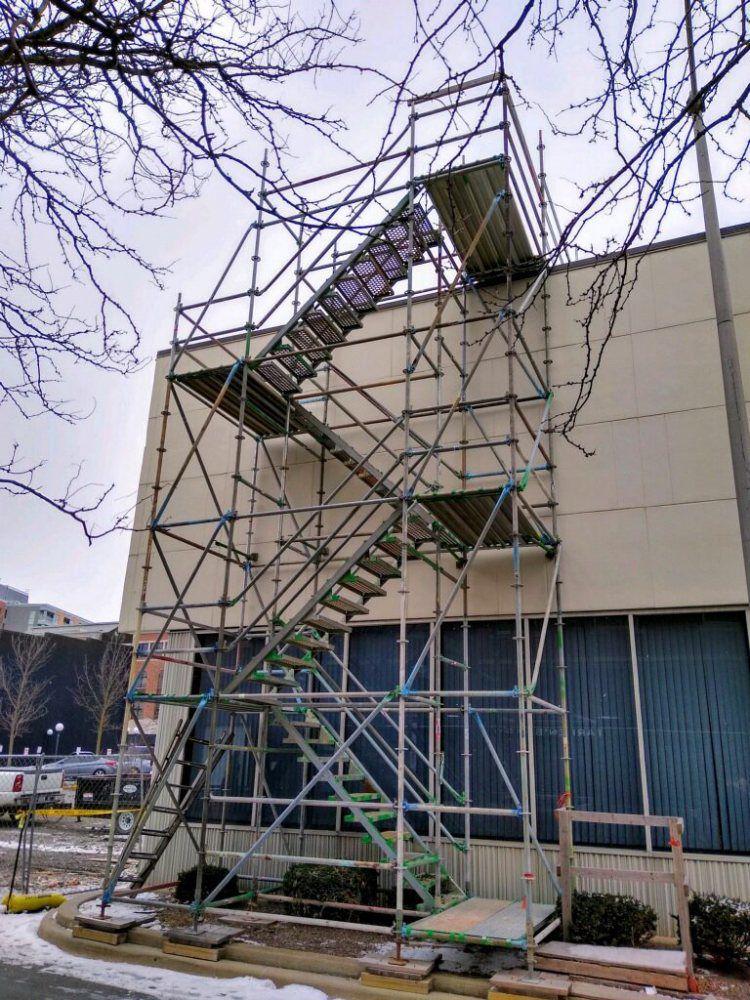 Temporary fire escape
"I work in downtown Champaign behind the building that used to be PNC. Multiple times I have seen people, usually students, using what I believe to be the fire exit up to get to the roof of that building. My question is, shouldn't there some sort of fire code that forbids this, or at least it seems like the owner should be doing something to stop this so that people don't get hurt."
The temporary stairs serve as the secondary means of emergency escape during the demolition of the former bank drive-through and subsequent alteration, said Randy Smith, building safety supervisor for the city of Champaign.
"This secondary means of escape follows a similar path to what existed, except before it continued across the former drive-thru. Building Safety is working with the current owner to help create a way to deter people from using those stairs for any reason other than an emergency while still keeping them available if needed," he said. "As always, if someone has an immediate concern about a building in Champaign, please call the Champaign Fire Department at 217-403-7200 or in an emergency, 9-1-1."
Two plates for everyone in Illinois
"I thought Illinois law states it is a requirement for vehicles to display a front and rear license plate? I see many cars (Corvettes, classic cars, and others) only displaying a front plate. Is this legal? Are drivers ticketed for this?"
Illinois Secretary of State spokesman Henry Haput said, "The law states that registration plates issued for a motor vehicle other than a motorcycle, autocycle, trailer, semitrailer, truck-tractor, apportioned bus, or apportioned truck shall be attached thereto, one in the front and one in the rear."
License plate frames
"What is the law regarding license plate frames? Seems like a lot of cars have frames that obscure the name of the state or other information on the plate Is an obscured plate a reason for a probable cause by law enforcement?"
State law says that "A person may not modify the original manufacturer's mounting location of the rear registration plate or digital registration plate on any vehicle so as to conceal the registration or to knowingly cause it to be obstructed in an effort to hinder a peace officer from obtaining the registration for the enforcement of a violation of this Code, Section 27.1 of the Toll Highway Act concerning toll evasion, or any municipal ordinance. Modifications prohibited by this subsection (j) include but are not limited to the use of an electronic device. A violation of this subsection (j) is a Class A misdemeanor."
VCR units
"The directory for the Beckman Institute (click here) lists an entry for a 'VCR Units' research group. Does Beckman have an active research unit studying outdated video technology or does VCR stand for something else in this case?"
"'VCR units' in the Beckman directory is an administrative distinction indicating reporting lines in the Office of the Vice Chancellor for Research and Innovation (which was known as the 'VCR' until late 2019, when Susan Martinis became Vice Chancellor for Research and Innovation)," said Meg Dickinson, director of communications at Beckman. "The Cancer Center at Illinois is its own institute on the Illinois campus, just as Beckman is. Both report to the VCRI.
However, the Cancer Center is located within the Beckman Institute, and people who work in the Cancer Center are included in the Beckman directory so visitors to the building are able to find them.
"The Beckman Institute has served as an incubator for the center, which bioengineering Professor Rohit Bhargava founded as the Cancer Community at Illinois. It became a full-fledged institute reporting to the then-VCR in 2018."
Dogs available?
"There were some dogs pulled from two houses by animal control last week in Champaign on a warrant. What's the story and are they adoptable?"
The dogs, taken from a home at 1208 N. Walnut St., Champaign, are part of an ongoing animal cruelty case and will be held until the conclusion of the court case against the owners, said Stephanie Joos, director of animal control fort Champaign County.
"We cannot comment on the status of the dogs until the conclusion of the case," she said.