Top of the Morning, April 13, 2021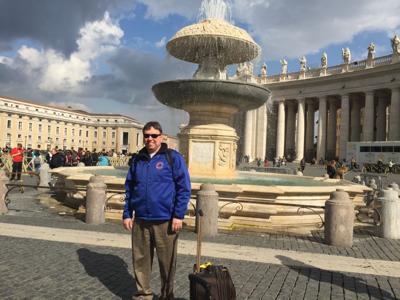 On a family trip to Rome in March 2016, Urbana's Chris Freidhof attended a Wednesday General Audience at the Vatican, those in the crowd holding up beloved objects for Pope Francis to bless.
Freidhof hoisted the W flag he had with him.
"My wife (Denise) thought I was nuts but supported me as always," he said. "I got the last laugh."
Some seven months later, the Cubs won it all for the first time in many moons.
"I can't take all the credit," Freidhof said. "The players and the coaches had a lot to do with it, too."
That story — among others — helped the 59-year-old win Marquee Sports Network's Cubs Fan of the Week contest. During Friday's pregame show before the Cubs host the Braves (1:20 p.m. start), Freidhof will be featured in a two-minute segment.
Freidhof's longtime love for the North Siders is easy to spot, from his dog named Blue to a Cubs-themed Lionel train set in his all-baseball basement (it includes Old Style and Budweiser beer tankers and a caboose that reads 'Wait 'Til Next Year'). When his daughter, Cora, turned 21, the family celebration — of course – was at Wrigley Field, where her name was displayed on the scoreboard. At local parades, he regularly marched with the Champaign-Urbana Baseball Stalwarts (CUBS).
In 2016, he even wrote a poem to be sung to Frank Sinatra's hit "Love," that goes in part:
C – Chicago Cubs will win today
U – Unselfish is the way they play
B – For bases stolen, those home runs are golden
S – Safe at the plate.
Hey, hey these Cubs are really great
The Cubs phoned Freidhof with the good news last weekend. The only problem?
"I won't be able to watch it live" because of a previous commitment, Freidhof said. "I'd love to have a watch party, but that's OK. This is still fun."