Top of the Morning, July 15, 2021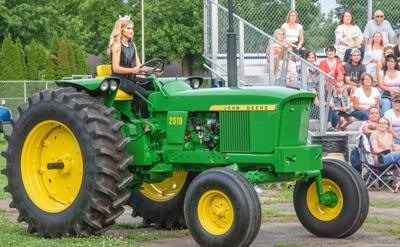 Join our 11,289 followers on Instagram by clicking here
The story behind the photo
The reigning Miss Moultrie-Douglas County made a grand — and fitting — entrance to the pageant portion of the county fair in Arthur.
Makenna Green arrived not on a red carpet but a green tractor: a John Deere from her family's six-generation farm nearby. That she was in high heels made little difference.
"I've done it a couple times before, so I'm an old pro at it," the 2019 ALAH grad said. "I was just trying not to run over any of the judges."
Green will be a junior at Kansas State where she is studying agronomy with a minor in global food systems. Among her many college activities: livestock judging.
"Makenna is the true definition of a county fair queen," Moultrie-Douglas County Fair President Sarah Reedy said. "She farms alongside her family and wanted to promote agriculture by driving an implement that represents her and our industry."
Moultrie-Douglas County Fair 2021
The Moultrie-Douglas County Fair in Arthur on Tuesday, July 13, 2021. This is the fair's 90th year.