Top of the Morning, Sept. 3, 2019 (w/video)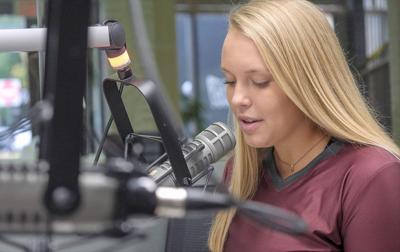 For more than a decade, we've invited high school student-athletes to our photo studios for preseason portraits that run in print and online.This fall, we asked some of the 300-plus kids to try their hand — and voice – at recording radio spots, which we'll roll out later this week on WDWS 1400-AM.
More than 70 boys and girls worked alongside N-G Media engineer Ed Bond to produce 10-second promotions for local programming, from "Penny For Your Thoughts" to "ServPro Prep Football Confidential." They sounded terrific.
"It was fun to work with the high schoolers," Bond said. "Each student gets their name, school and sport on the air. Almost everyone wanted to give it a try."
Also new:
— On Twitter, we'll soon unveil GIFs produced during our Faces of the Fall photo shoot. Again, the kids were both cooperative and imaginative in their approach.
— At news-gazette.com, we'll post a video of how the Faces of the Fall experience played out, from the selfie station to the green screen.
Here's what was trending at our website, which in a seven-day period ending Sunday saw 1,145,121 pageviews:
TOP STORIES
1. Vermilion coroner IDs inmate who was fatally shot after stabbing deputy at courthouse
2. Mahomet-Seymour school board member resigns from PTO over credit-card payments for fundraiser
3. Savoy man dies in head-on collision west of Ogden
TOP SPORTS STORIES
1. High school football scoreboard: Aug. 30-31, 2019
2. Underwood reorganizes coaching staff
3. Tate | Transfers thrive in spotlight of win over Akron
TOP PHOTO GALLERIES
1. Prep Volleyball: M-S vs. Central
2. Prep Football: SJ-O vs. STM
3. Prep Soccer: Judah vs. St. Thomas More
TOP VIDEOS
1. Illinois football unveils new performance center
2. Illini confident after season-opening win