ROSEMONT — The players are all for it. So of course the coaches are, too.
But don't get outgoing Big Ten Commissioner Jim Delany started on the idea that college athletes ought to be able to profit off their own name, image and likeness without repercussion from the NCAA.
"We're not the minor leagues. We're involved in an enterprise that touches 100,000 players, and maybe there's 1 percent or 2 percent that may have commercial value," Delany said at Big Ten basketball media day Wednesday, two days after California Gov. Gavin Newsom made national news for signing into law the Fair Pay to Play Act.
"I would prefer that they have the choice to move that into the professional ranks because I really don't see much difference myself between name, image and likeness payments by a corporate sponsor or pay for play," Delany added. "It's a belief system I have. I know that people differ on it. I think the law of unintended consequences and the law of slippery slope apply here."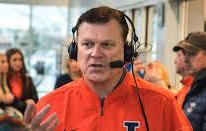 The California legislation — which sparked similar bills to be introduced in other states, including Illinois — was the hot topic Wednesday at the Hilton Rosemont, where players and coaches from all 14 Big Ten teams met the press.
While first-year Michigan coach and former Fab Five star Juwan Howard took a pass on that line of questioning — saying he needed to study the topic further before giving an opinion — others didn't hold back.
Illinois coach Brad Underwood said he supported some method of athletes profiting on their own name, image and likeness.
He views it as a natural next step, given other changes enacted in recent years — like the NCAA in 2014 passing legislation that allowed student-athletes to receive unlimited meals and snacks.
"As a former player, I wasn't very good, so nobody wanted mine, but it would have been nice to have that opportunity," Underwood joked. "I like the progression that we've made in the last few years with simple things like food, cost of attendance. If this is the next step to keep that moving, then I do hope it becomes all 50 states."
Underwood: A new day
Underwood pointed to the so-called cost-of-attendance legislation as a measure many worried would do great harm to college sports when it took effect in August 2015. It increased the value of an athletic scholarship by several thousand dollars, to cover the federally determined actual cost of attendance, with the difference going to the student-athletes.
"I just don't think you can stay status quo," Underwood said. "I think status quo gets you left behind. I think everybody was worried and overreacted to cost of attendance. That's been a really positive thing.
"The NCAA's made some really positive decisions. It's easy to slam them for certain things. Yet I remember the day when, goodness, you couldn't feed your team. You couldn't give them a bagel with cream cheese on it."
Indiana coach Archie Miller, a former point guard at N.C. State, expressed a similar opinion. During his playing days — 1998 to 2002 — he didn't really understand who was profiting off the team and both his and his teammates' image.
"I think the big thing is that in today's day and age, if you're not evolving, if you're not forward thinking, you're standing in cement, so to speak," Miller said. "The days of what was once always the way to do things and good in 2020 maybe isn't the way to do it. And I think that there's a lot of bright people in a lot of rooms that are going to get together and make the best decisions possible, hopefully.
"And number one is to take care of the student-athletes the best way possible, protect the game, protect the universities and to continue on with an unbelievable product."
Dosunmu: Time to talk
The bill passed in California won't go into effect until Jan. 1, 2023. The athletes in attendance Wednesday at Big Ten Media Day will be long gone by then.
That didn't change their opinion, however.
"It's all about building your brand, building your image and building your name," said Michigan State point guard and preseason Big Ten Player of the Year Cassius Winston. "If you can do that and get paid for it, why not?
"Either way, you've still got to build your brand in a positive way. You've still got to build your name in a positive way."
Illinois sophomore guard Ayo Dosunmu also believes athletes should be able to make money off their own name, image and likeness. The loudest voices on the matter right now aren't the players, though, and Dosunmu said that has to change.
"More players do need to speak out, and more players do need to voice their opinion because that's the only way you can be heard in this world," Dosunmu said. "A closed mouth does not get fed.
"At the end of the day, I feel like the more and more the topic is talked about, it's just a matter of time before they pass the law, and it becomes normal."