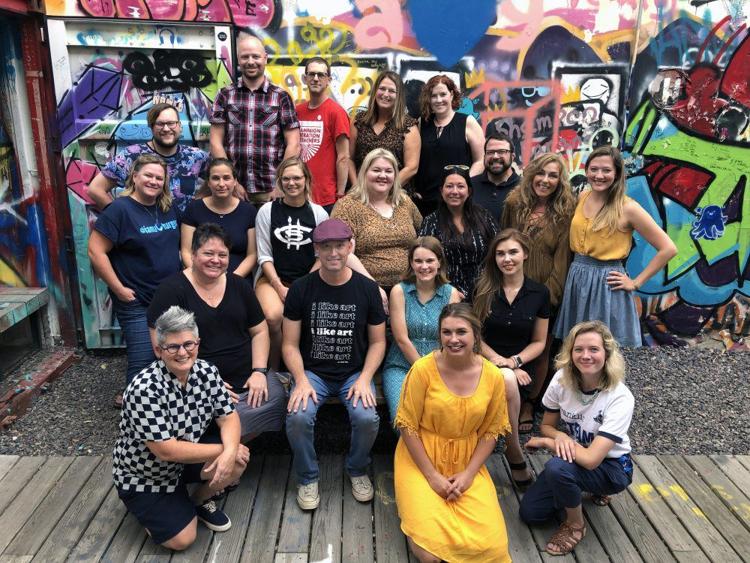 CHAMPAIGN — Unit 4's 21-teacher art staff will be presented in November with the highest honor the Illinois Art Education Association bestows upon school districts.
The department has been named the 2019 Art Education Program of the Year by the IAEA, which honors just one district, along with seven individual awards, at its annual conference, to be held on Nov. 22 in St. Charles.
The selection committee cited the program's growth — from seven teachers serving 14 schools 20 years ago to the current 21, who have a collective 213 years of service in Unit 4 and have helped high school art enrollment quadruple in the last decade, serving a quarter of all students.
Unit 4 teachers "balance being practicing artists and excellent art educators. This both inspires authentic art experiences and offers students a glimpse into the professional art world," judges wrote. "One thing that makes them stand out is their willingness to work together and collaborate K-12 to align the curriculum, providing equitable experiences to all students."
Further, they "pushed to design their own professional development specific to their content area and collaborated with community institutions to ensure professional growth. Most of these professional developments were peer-led, spotlighting the unique talents of Unit 4's art educators."
Unit 4 teachers honored include: Lucy Christianson, Elizabeth Chong, Carol-Lynn Comparetto, Josh Doniek, Ravyn Drone, Melissa Farley, Scott Fernsberg, Stacey Gross, Melissa Hahn, Holly Hummel, Amy Johnson, Jill Kjorlein, Amy Lozar, Michael McLoughlin, John Odum, Emily Pawlicki, Shannon Percoco, Priscilla Putman, Enrika Stulpinaite-Maldonado, Grant Thomas and Lolita Zwettler.