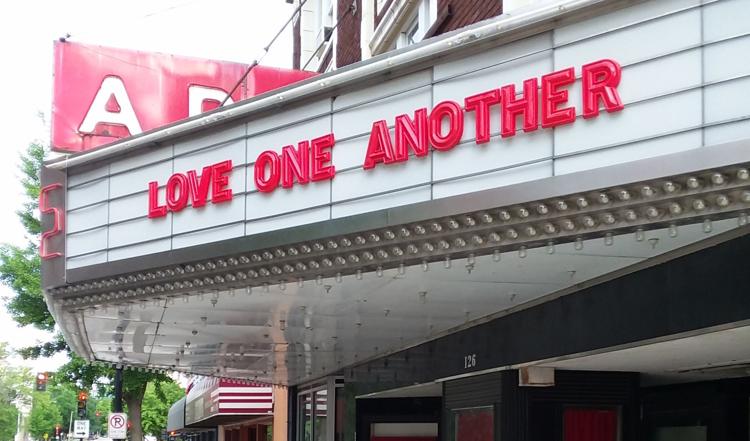 Follow today's protest in Urbana on Facebook Live and on Snapchat
Watch the video of Sunday's clash at Market Place Mall here
***
While Champaign-Urbana dealt with a spate of looting Sunday, Danville had very few incidents.
"Our police department did a very special job, so overall we're doing great," said Pastor Thomas Miller of New Life Church of Faith.
"Everything was fine," said Ed Butler, local NAACP president.
A peaceful protest started at 2 p.m. Sunday at the CVS Pharmacy and wound its ways to Danville's police department. It lasted an hour.
"Everything went very smooth," Danville alderman R.J. Davis said.
Butler estimated the crowd at about 300.
Danville Mayor Rickey Williams Jr. and police chief Chris Yates were among the speakers.
"They were received with open arms," Butler said. "When the chief spoke, everybody listened. That's what I like about my community."
Butler and others were happy the event happened without incident.
"It made me feel good," Butler said. "I was praying and hoping we wouldn't have any issues.
"We supported the movement and we're all upset about what happened to George Floyd. It's just showing solidarity about the whole situation."
No demonstrations were planned on Monday in Danville.
"I believe everything will continue to be peaceful here," said Miller, who has been involved with the church for 36 years.
Miller said we are living in unprecedented times.
"Absolutely, with the pandemic and then now murder in Minneapolis," he said. "We've never seen anything like this."
Butler plans a press release from the NAACP later in the week and will have a community meeting with local leaders.
- Bob Asmussen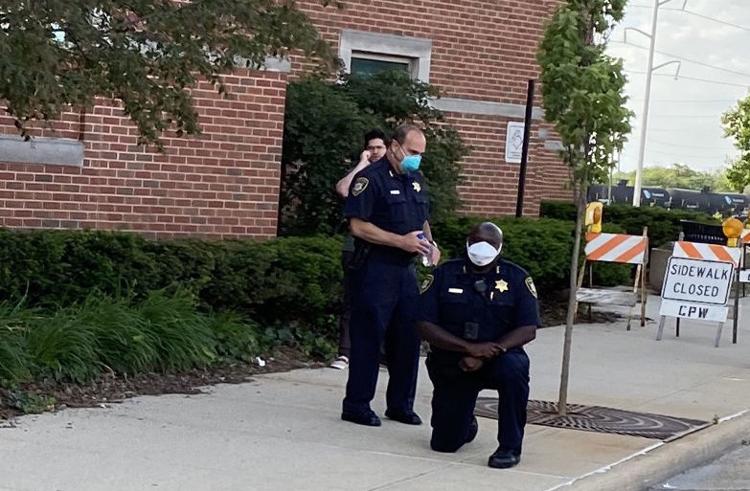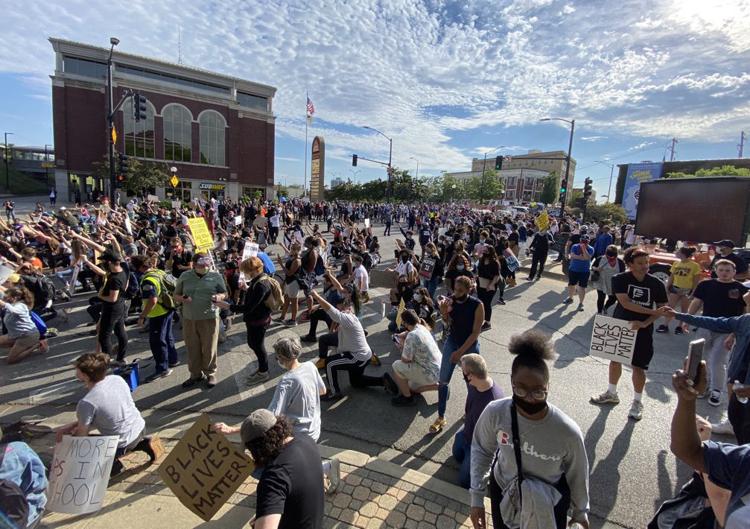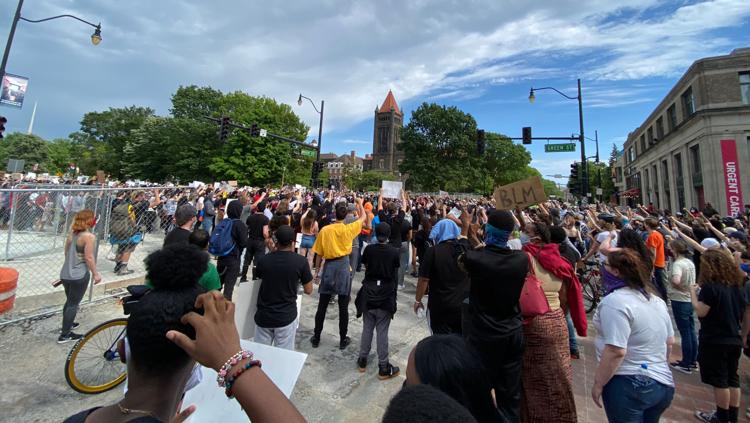 After marching in downtown Urbana, protesters moved on to campus and congregated at Wright and Green.
Hundreds of protesters then marched west on Green Street through the heart of the University of Illinois, chanting "Black Lives Matter."
The crowd moved toward downtown Champaign and the City Building, the march remaining peaceful while blocking traffic at usually bustling intersections.
Later, at the Champaign Police Department at the corner University and First, Chief Anthony Cobb joined the protesters, at one point taking a knee as speeches were made.
By 5:40 p.m., organizers urged the crowd to disperse.
***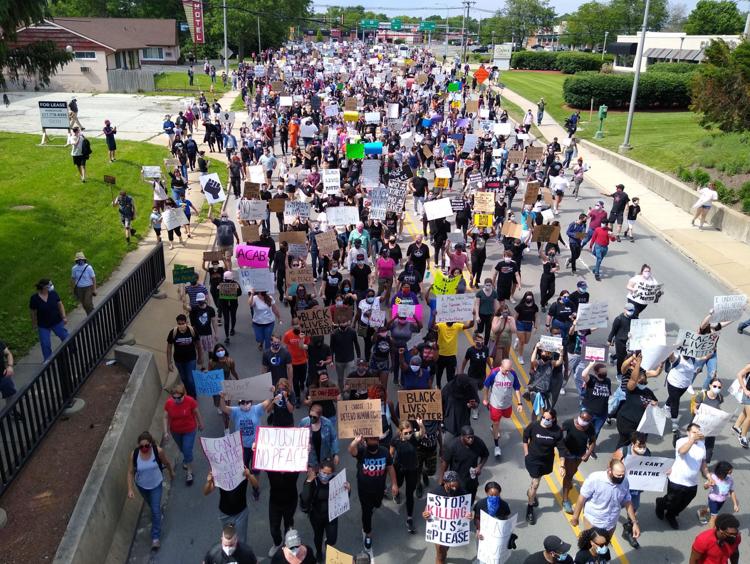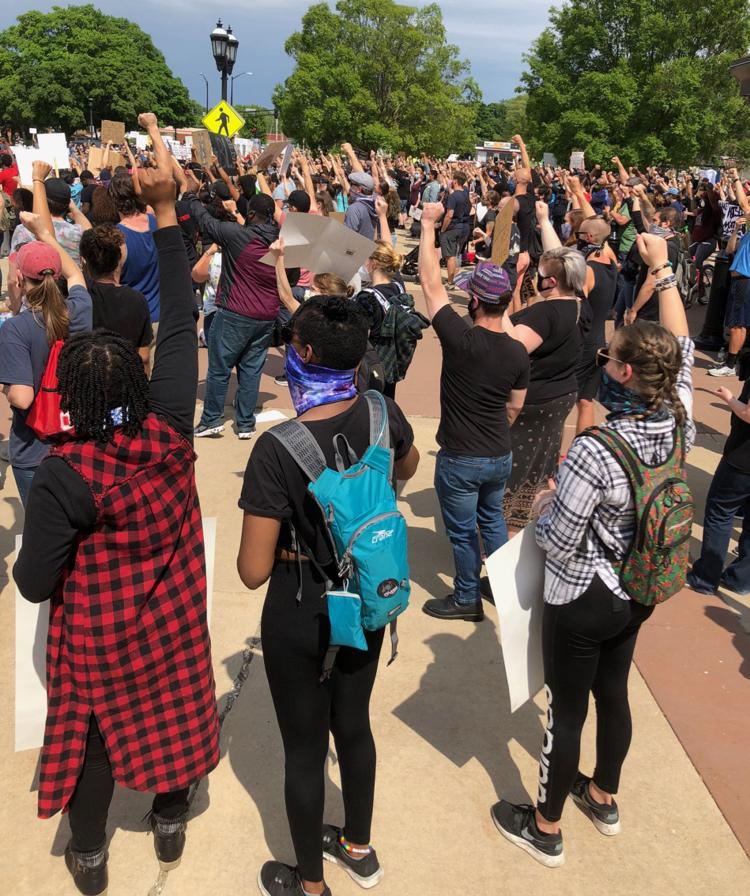 ***
Hundreds of protesters congregated outside the Champaign County Courthouse at 3 p.m. Monday.
Chanting "No justice, no peace" and "I can't breathe," the gathering began marching through the streets of downtown Urbana.
The protest moved its way to the busy intersection of University Avenue and Cunningham Avenue - better known at Five Points - where marchers took a knee, blocking traffic.
After marching south, the group took a knee at the corner Main and Vine before heading to the Urbana City Building.
There, shortly before 4 p.m., those gathering began to disperse.
***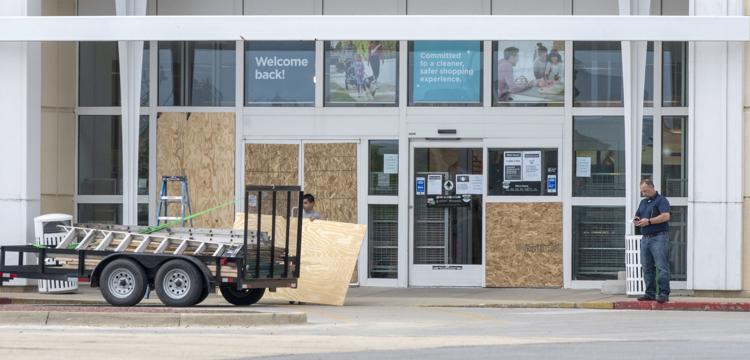 Champaign police continue to investigate the origin of Sunday's rioting at Market Place Mall, apparently sparked by a Facebook post inviting people to "riot" at the shopping center at 3 p.m.
"We are actively trying to determine if any criminal intent was behind the individuals who spearheaded this organized riot," police spokesman Tom Yelich said Monday.
He reported the department made 27 arrests Sunday and early Monday stemming from the unrest and looting at the mall, on North Prospect Avenue and other locations.
Yelich said the department still does not have a comprehensive list of businesses that suffered damage or loss. Officers were working with businesses Monday to identify which were victims of crime and collect video evidence.
"Several police officers received minor injuries as a result of people throwing bottles, kicking, and assaulting them. None were hospitalized," Yelich said.
Four of the Champaign police department's squad cars received damage, such as spray-painting and have been taken out of commission for the time being.
- Mary Schenk
***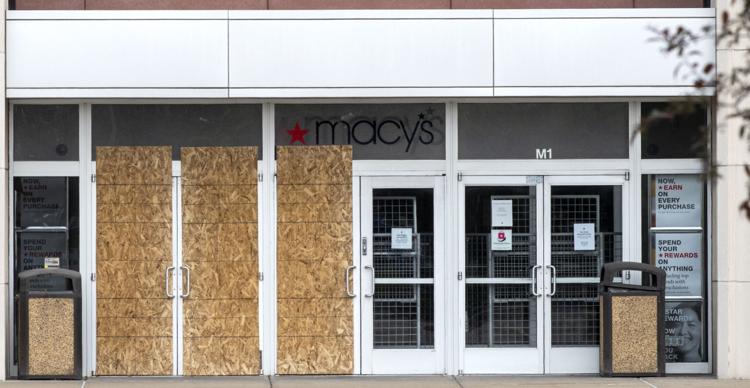 Entrances to Market Place Mall remained barricaded Monday, and mall entrances remained locked in the aftermath of Sunday's looting.
Dick's Sporting Goods and Field and Stream were open, and accessible from Marketview Drive and an access road.
When the mall will reopen was "to be determined at this point," said Market Place General Manager Dennis Robertson.
That decision would likely be made Tuesday morning, he said.
"We are monitoring the environment and will make a decision about tomorrow, later on, he said Monday.
No damage estimates were available for businesses where windows were smashed and looters gained entrance, he said.
Robertson said no groups had permission to stage a protest on the mall property Sunday.
"We are here for the purpose of shopping," he said.
The incidents Sunday made it two challenges retailers will now need to overcome after many closed in late March on state orders, according to Robertson.
"Some had reopened after the COVID period and some had not," he said.
- Deb Pressey
***
Christie Clinic said it will close its downtown Champaign location at Neil Street and University Avenue at 2 p.m. Monday for the rest of the day, "in an abundance of caution for team members and patients."
The early closing also affects Christie Clinic's radiation oncology department at that location and the clinic's customer service line.
All other Christie Clinic locations were
Busey Bank also closed all its Champaign and Urbana locations at noon Monday.
remaining open for their normal hours.
- Deb Pressey
***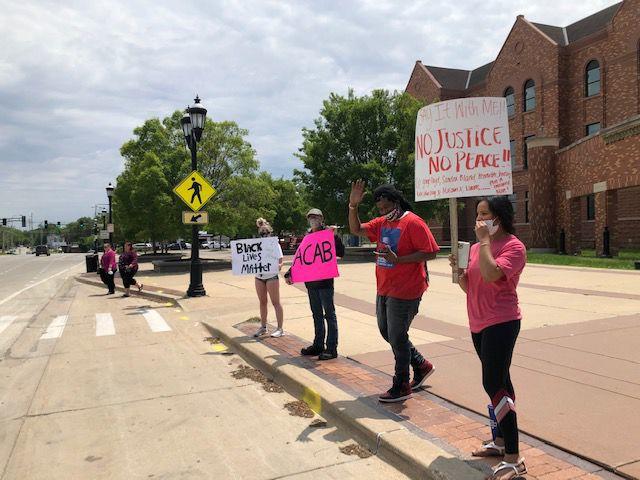 Champaign Police said that "violent acts towards our community members and businesses will not be allowed" ahead of Monday's 3 p.m. protest at Champaign County Courthouse.
"We are aware of planned, peaceful protests for today, and we will support and help facilitate safe gatherings so your voice may be heard," Champaign Police tweeted. "But violent acts towards our community members and businesses will not be allowed. If you notice any concerning activity, please contact us.
"We are committed to protecting peaceful demonstrations and lawful protests. That is how we foster community dialogue and meaningful progress. Yesterday's events accomplish little - if anything - and our entire Department remains mobilized for your safety."
A peaceful protest for George Floyd, organized in part by the Champaign County Coalition, is scheduled to start at 3 p.m.
A release announcing the event, on behalf of Tracy Parsons, says "since his May 25th death, we have seen peaceful protests and unrest throughout the nation and right here at home. These demonstrations are not only about the George Floyd tragedy, but about too many acts of violence committed against Black Americans that have gone without appropriate resolution. These demonstrations are also about addressing systemic racism and historic injustice. The Community Coalition recognizes that to bring about peace, these complex issues must be addressed directly. The Community Coalition has made improving police community relations and addressing race relations main priorities. We believe we have made progress in addressing these issues, but much work remains to be done."
***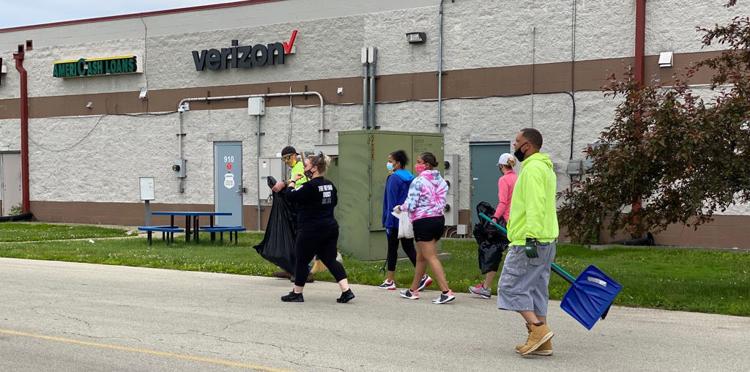 Jon Blake, the general manager of O'Charley's on Town Center Boulevard, said "it was a scary situation" Sunday when Binny's next door was broken into.
But when he saw volunteers gather Monday morning with garbage bags to clean up yesterday's mess, he said, "it enlightened me."
"Lunch is on me," he decided.
O'Charley's was to give away 60 free lunches to the volunteers, who were walking up and down Prospect Avenue cleaning near Meijer and Best Buy.
"Come together as a community, and we will come out stronger together," Blake said.
***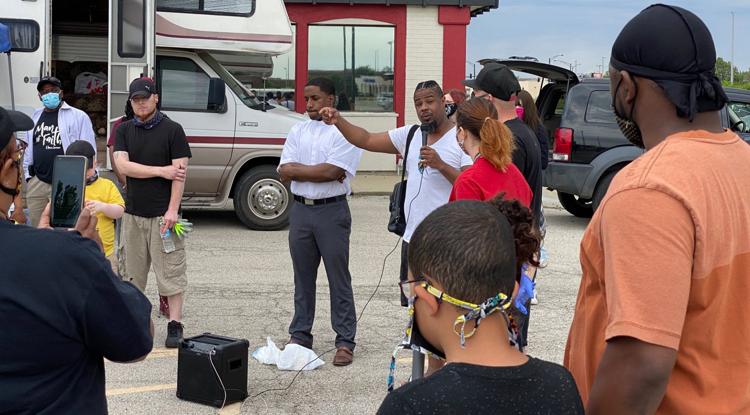 A group of close to 100 community members descended upon Market Place Mall in north Champaign to help clean up following Sunday's unrest.
Windows and doors were smashed at several stores on Sunday afternoon.
Kevin Cobb took to social media to help organize the cleanup, which drew several religious leaders.
"We're going to rebuild what was destroyed," Pastor Damieon Shaw told a gathering in the parking lot outside Za's.
The group also planned to clean up outside Target and other damaged businesses on North Prospect Avenue.
— Ben Zigterman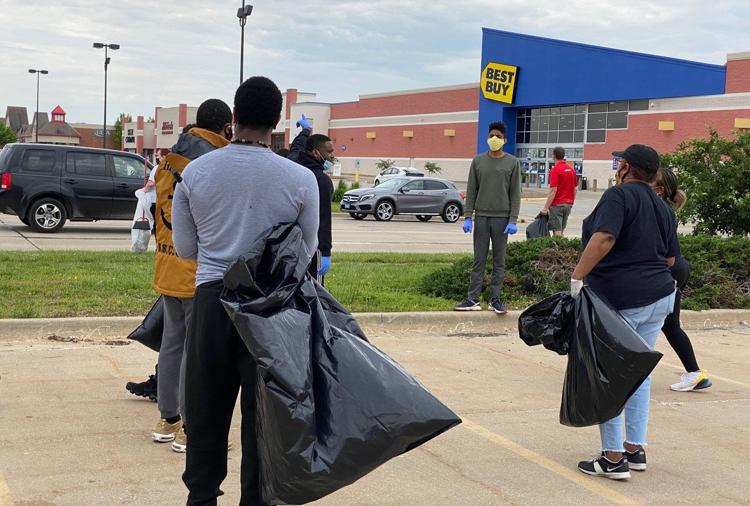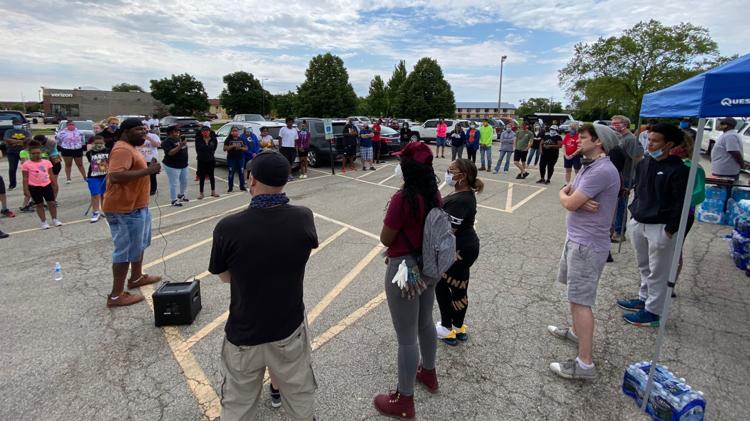 ***
The Champaign County Courthouse will close at noon today by order of Sheriff Dustin Heuerman out of an abundance of caution ahead of a planned afternoon protest.
Sunday's civil unrest led to a heavy overnight presence of police and correctional officers at the Urbana courthouse, where business resumed Monday morning.
Monday was to be the first full day of return-to-court activity since mid-March, when the coronavirus pandemic led to its closure.
The Federal courthouse in Urbana also is closed.
— Mary Schenk
***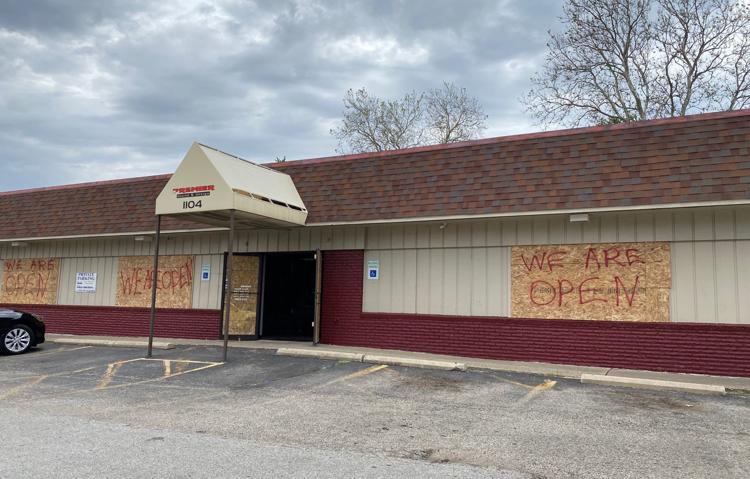 The morning after riots and protests in Champaign-Urbana, Rev. Willie Comer continued to preach calm.
"There were multiple types of people so we had to kind of assess," the pastor of Champaign's Berean Covenant Church, told Brian Barnhart on WDWS on Monday morning. "There were those who were hurt because they had gone through some things with police. They were hurt and they were crying and they were yelling. And then there were those who were angry, who were just tired of this on a regular basis. And then there were those were really trying to figure out why."
Comer appeared on "Penny For Your Thoughts."
Comer was at Market Place Mall on Sunday, trying to help disperse the angry crowd.
"There was something different," Comer said. "There was this kind of getting into the space of where the police were. That to me was dangerous and that basically could have escalated to something that was uncontrollable. At that point I know it had to be the Holy Spirit. I had no desire to get in between the police and the protesters, but something had to be one. I just tried to calm some of the protesters down who were really, really upset."
Comer wants the focus to remain on the death of George Floyd in Minneapolis.
"One of the things I am trying to get out to our young people is that we don't want to steal the message of George Floyd," Comer said.
— Bob Asmussen
***
After a weekend of unrest, the owner of the Art Theater property in downtown Champaign, David Kraft, changed its marquee to read "Love One Another."
So begins Monday as city officials address the aftermath of the looting and chaos that resulted in dozens of arrests, both Champaign and Urbana announcing Sunday night curfews and the University of Illinois delaying plans to bring back employees to campus.
Champaign County State's Attorney Julia Rietz said all those arrested Sunday will remain in jail until Tuesday to give police time to complete reports and her prosecutors time to review them.
"We have 48 hours," she said of the normal process for charging in-custody arrestees. "There's too much going on today."
Records from the Champaign County sheriff show that between 6:15 p.m. Sunday and Monday morning, 27 people had been booked into the jail. Among them are 17 men ranging in age from 18 to 35 - mostly from Champaign and Urbana and others from Chicago, Terre Haute, Ind., Marshall and Oklahoma City - and 10 women ranging in age from 18 to 35 and hailing from Champaign, Rantoul and Urbana.