Free, state-provided cloth masks for every student and staff member. Regular symptom checks. No more than 50 to a room at any one time.
Those are among the guidelines for the return of in-person learning at all P-12 schools across Illinois announced by Gov. J.B. Pritzker Tuesday afternoon in Chicago.
While acknowledging that there's no one-size-fits-all approach for every school district statewide, state officials said that five guidelines must be followed by both public and non-public schools serving pre-K through 12th grade in Illinois.
"Nothing compares to face-to-face interactions between students and their teachers," said State Superintendent of Education Carmen Ayala. "The dedication of Illinoisans to social distancing over the past several months has allowed us to plan to bring students back to classrooms this fall while keeping health and safety our number one priority.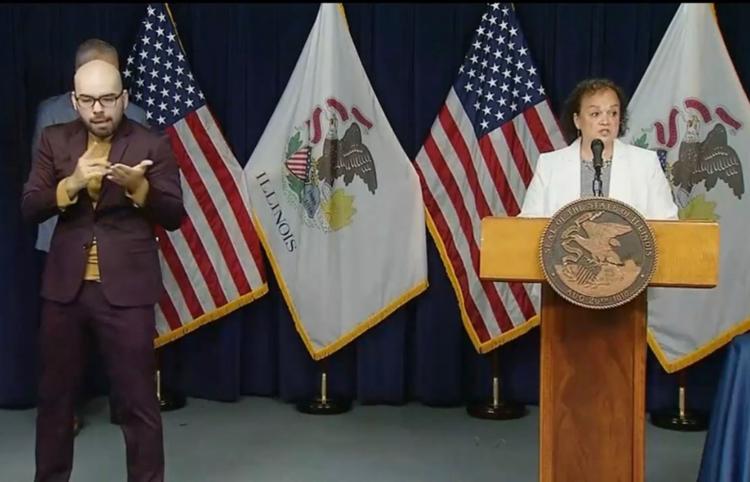 "This fall will not be 'business as usual' in more ways than one. Our students will return to us transformed and hungry for knowledge that contextualizes current events. I urge schools to use summer to readjust curricula to honor these historic times and to continue to be diligent in following safety protocols."
The five mandatory guidelines:
1. Requiring the use of appropriate personal protective equipment, including face coverings.
The Illinois Emergency Management Agency will provide public K-12 districts in Illinois with 2.5 million cloth face masks, Pritzker said.
2. Prohibiting more than 50 individuals from gathering in one space.
3. Requiring social distancing be observed, as much as possible.
4. Requiring that schools conduct symptom screenings and temperature checks or requiring that individuals self-certify that they are free of symptoms before entering school buildings.
5. Requiring an increase in schoolwide cleaning and disinfection.
"Classroom learning provides necessary opportunities for our students to learn, socialize and grow," Pritzker said. "The benefits of in-person instruction can't be overstated.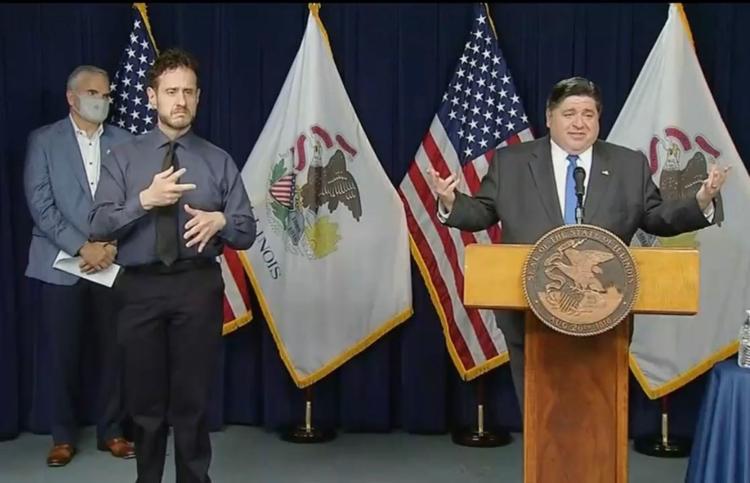 "In close consultation with IDPH, infectious disease experts at the University of Illinois at Chicago and other public health professionals, the guidance focuses on keeping students, teachers and families healthy and safe. It recognizes that Illinois is a diverse state, and school districts and institutions of higher education across Illinois will face unique challenges in how they'll operate within their communities."
In a 60-page report provided by the Illinois State Board of Education and Department of Public Health, return-to-school aspects such as grading, special education and training were addressed:
PREPARING FOR WHEN A STUDENT OR STAFF MEMBER BECOMES SICK
— The report states: "School districts need to be prepared and able to respond effectively when there is a case within the school community, whether it be a student or staff member participating in allowable activities. Schools and districts should communicate with families and staff that any individual who tests positive for COVID-19 or who shows any signs or symptoms of illness should stay home. Families and staff should also report possible cases to the school where the individual attends school or works to initiate contact tracing.
"Currently known symptoms of COVID-19 are fever, cough, shortness of breath or difficulty breathing, chills, fatigue, muscle and body aches, headache, sore throat, new loss of taste or smell, congestion or runny nose, nausea, vomiting, or diarrhea.
"Attendance personnel should request specific symptom reporting when absences are reported along with COVID-19 diagnoses and COVID-19 exposure. Information should be documented and shared with the health staff or other appropriate personnel and the local health department.
"In accordance with state and federal guidance, school community members who are sick should not return to school until they have met criteria to return. Schools may wish to consider a symptom checklist for families and staff to use to determine if they are well enough to attend that day. CDC and IDPH guidelines for students who were suspected of having COVID-19, whether they were tested or not, state that 72 hours must elapse from resolution of fever without fever- reducing medication and 10 days must pass after symptoms first appeared. It is recommended that medically fragile and immunocompromised students consult their medical provider prior to attending school.
"Students or staff returning from illness related to COVID-19 should call to check in with the school nurse or building administrator (if a nurse is unavailable) following quarantine.
"Any individual within the school environment who shows symptoms should be immediately separated from the rest of the school population. Individuals who are sick should be sent home. If emergency services are necessary, call 911. When interacting with students or staff who may be sick, school nurses and personnel should follow CDC guidance on standard and transmission- based precautions.
"Schools hosting allowable activities should designate a safe area to quarantine any individuals who are experiencing COVID-19-like symptoms and may be awaiting pickup/evaluation. Students should never be left alone and must always be supervised while maintaining necessary precautions.
"Close off any areas of the school used by a sick person and do not use these areas until after proper cleaning and disinfection procedures have been completed. Open windows to increase air circulation in the area. It is advised by the CDC to wait at least 24 hours before cleaning and disinfecting; if 24 hours are not possible, wait as long as is possible. Clean and disinfect all areas, such as offices, bathrooms, common areas, shared electronic equipment, etc., used by the person who is sick. Vacuum the space, if needed, with a high-efficiency particulate air (HEPA) filter, if available. Do not vacuum a room or space that has people in it. Wait until the room or space is empty to vacuum, such as at night, and temporarily turn off room fans and the central HVAC system that services the room or space, so that particles that escape from vacuuming will not circulate throughout the facility. The area can be opened for use once it has been appropriately disinfected. Ensure cleaning products are stored and used a safe distance away from children and staff.
"Individuals who did not have close contact with the person who is sick can return to work immediately after disinfection. Those who had contact with someone who tested positive for COVID-19 or is suspected of having COVID-19 infection should isolate at home and monitor for symptoms for 14 days. Close contact means the individual was within 6 feet of the individual with symptoms for more than 15 minutes. Additional cleaning and disinfection is not necessary if more than seven days have elapsed since the person who is sick visited or used the school. Continue routine cleaning and disinfection. This includes everyday practices that schools normally use to maintain a healthy environment."
FACE COVERINGS
— The report states: "All individuals in school buildings, including all public and nonpublic schools that serve students in prekindergarten through grade 12, must wear face coverings at all times unless they are younger than 2 years of age; have trouble breathing; or are unconscious, incapacitated, or otherwise unable to remove the cover without assistance.
"Face coverings must be worn at all times in school buildings even when social distancing is maintained. Face coverings do not need to be worn outside if social distance is maintained. It is recommended that schools require physicians notes for students and staff who are not able to wear a face covering due to trouble breathing. It is recommended that schools and districts update policies to require the wearing a face covering while on school grounds and handle violations in the same manner as other policy violations.
"Teachers may use face shields in lieu of masks. Face shields may be useful in situations where it is important for students to see how a teacher pronounces words (e.g., English Learners, early childhood, foreign language, etc.)."
BACK-TO-SCHOOL EVENTS

— The report states: "Typical introductory events, such as visit days and orientations designed to allow students and parents to tour building facilities and meet teachers, may not have occurred at the end of the 2019-20 school year as they have historically. While parent programs, such as back-to-school nights, open houses, and parent-teacher conferences, etc. may occur during Phase 4 in accordance with IDPH guidelines, schools are strongly encouraged to hold these events virtually.
"Schools may consider implementing virtual tours and meet-the-teacher sessions in areas where families and teachers have internet access and devices. Schools may consider providing welcome-to-school packets, including teachers' pictures and bios; class information; and school maps in areas where families and teachers do not have the necessary technology."
GRADING
— The report states: "ISBE's original recommendations for grading during remote learning considered the sudden, drastic, and unexpected impact of the COVID-19 pandemic on all districts and the necessity of beginning the suspension of in-person instruction with non-instructional Act of God Days.
"Students and districts needed every available flexibility regarding grading in order to navigate these uncharted waters without deepening existing inequities and without knowing when in- person instruction might resume. The recommendation that grading "do no harm" to students sought to accommodate the vastly different physical, mental, economic, technological, and social-emotional experiences of Illinois' 2 million students, most of whom were engaging in remote school day learning for the first time.
"Schools and districts should re-evaluate and modify traditional grading policies, as necessary, as we plan for a return to in-person or blended remote instruction. This may mean a return to traditional grades for completion of assignments, assessments, and other classroom instructional strategies. ISBE strongly recommends that any return to traditional grading policies ensures that students have all the necessary tools, technology, and teacher supports at school and at home to complete all assignments, take assessments, and complete projects in a timely manner. This may mean ensuring that all students have devices and connectivity opportunities at their homes before resuming traditional grading practices.
"Per the School Code, grading policies are the exclusive responsibilities of local districts. ISBE does not require any specific grading practice, policy, or philosophy, but we suggest that you may want to include any successful strategies or modifications implemented during remote learning as part of the planning and transition to in-person instruction and/or blended remote learning."
STUDENT ATTENDANCE

— The report states: "Daily attendance and engagement of students should be expected whether students are participating in classes in-person or remotely. Districts, schools, and teachers should make daily contact with all students and families, especially those who are not in attendance or not engaging in classes, whether in-person or remotely. Districts must discontinue practices or rewards that encourage perfect attendance or would discourage individuals from staying at home when they are ill."
STAFF ATTENDANCE

— The report states: "Schools should endeavor to support staff attendance by providing sufficient planning and collaboration time and supports, communicating frequently, and engaging staff in planning processes and decision-making.
"School districts should prepare to mitigate the effects of potential increases in teacher absenteeism with the following considerations: 1) hiring additional subs (e.g., cadre subs, nurse subs, permanent subs, long-term subs), 2) providing professional development to improve blended learning or online learning or both, and 3) implementing team teaching or co-teaching models. Again, school districts should prepare for a rise in absenteeism and a corresponding increase in necessary spending.
"Consider exploring community partnerships to ensure educators who are also parents have access to affordable child care, especially for Blended Remote Learning Day schedules."
PROFESSIONAL LEARNING AND STAFFING
— The report states: "Schools should thoroughly and thoughtfully consider what the transition from the home environment (flexible schedules, increased screen time, extended time with parents/caregivers) to the school environment (in-school schedule, decreased screen time, increased interaction with school staff and peers) means for all learners. Schools and districts are encouraged to use professional development days to prepare evidence-based instructional methods and materials, to plan to attend to students' social-emotional and mental health needs, and for training on new health and safety protocols. Optional summer learning opportunities may be considered for educators to hone their remote learning craft and discuss best instructional strategies for a blended learning environment.
Districts should consider, but not be limited to, the following with regard to professional learning:
• Providing staff training recognizing and affirming the unique socio-economic, cultural, religious, ethnic, racial, sexual orientation, gender identity/expression, and language diversity of the population within each district.
• Developing student and staff mental health and counseling plans and training on offering social-emotional supports, including bullying prevention.
• Identifying the successes and barriers for students, staff, and the community during remote learning, including enhancements to prepare for a blended learning environment or in preparation for intermittent/rolling school closures.
• Reviewing student progress during remote learning, identifying gaps, and planning for the appropriate continuation of learning transitioning to our "new normal" for the 2020- 21 school year.
• Preparing local assessments to determine current skill level, including, but not limited to: formative assessments; alignment conversations and planning with prior teachers; discussions with parents/guardians/caregivers about student progress and additional supports needed at home; modifying and adjusting of curriculum and instruction; communicating learning expectations to parents in a blended learning model; and modifying or taking into consideration extending time for all students with a specific equity lens on identified gaps and appropriate interventions to close the gaps.
INSTRUCTIONAL BEST PRACTICES FOR MAINTAINING SOCIAL DISTANCING
— The report states: "Educators are at the center of teaching and learning. We want to acknowledge we are experiencing an unprecedented event in our lifetimes and that more supports for educators are needed in order to meet the unique challenges schools face today. The next part of ISBE's transition guidance will go deeper into specific opportunities to support one another so that we can deal with the reality of social distancing in our classrooms.
"To help students comply with social distancing as much as possible, consider revising activities that combine classes or grade levels or require travel to other buildings. Consider synchronously broadcasting in-class instruction to multiple rooms to allow students to spread out. Implement a home-room stay, meaning the teachers rotate instead of the students. Consider moving class activities outdoors if weather and safety considerations permit.
"Using manipulatives and models can be critical in helping students internalize concepts that are abstract, such as the concepts students encounter in math and science classrooms. The use of digital manipulatives is encouraged, when possible. Schools must ensure to the greatest extend possible that students have access to their own set of non-digital manipulatives or that shared sets are sanitized between uses.
"Students and teachers rely on facial cues from each other. Consider using face shields or signs with different facial expressions or colors to help convey emotion, social norms, and feelings.
"Maximizing face-to-face time in classrooms is essential. When possible, content area teachers at the same grade level should work together to explore ways to integrate information from different content areas in multidisciplinary learning experiences. For example, science and social studies teachers can review the Common Core Language Arts Standards for Grades 6-12 Literacy in History/Social Studies, Science, and Technical Subjects and meaningfully incorporate language arts instruction into their courses, in addition to covering their content area standards."
SOCIAL DISTANCING IN EARLY CHILDHOOD EDUCATION
— The report states: "Attention to our youngest learners is especially important when considering social events that prepare and orient this group of learners to the routines, schedules, and patterns of their school environment that may not be possible as usual. Young students may struggle more than other students with understanding and complying with social distancing and wearing face coverings.
"Students should remain in small groups with the same students and remain 6 feet apart as much as possible. Having instruction outside may help with social distancing requirements. Arrange developmentally appropriate activities for smaller group activities.
"Teachers should rearrange furniture and play spaces to meet social distancing requirements, when possible. Find creative ways to allow students to create their own space using yarn, masking tape, or other materials.
"Teachers should implement strategies to model and reinforce social and physical distancing and movement.
Suggestions include:
• Use carpet squares, mats, trays, or other visuals for spacing.
• Model social distancing when interacting with children, families, and staff.
• Create and develop a scripted story/role play around social distancing, as well as handwashing, proper etiquette for sneezes, coughs, etc.
• Give frequent verbal reminders to children.
• Hang pictures within the school building to give constant reminders.
• Send home a tip sheet to parents and caregivers so they can also learn about social distancing.
• Offer more opportunities for individual play and solo activities, such as fine motor activities (e.g., drawing, coloring, cutting, puzzles, and other manipulatives).
• Plan activities that do not require close physical contact between multiple children. Keep groups separate for special activities, such as art, music, and exercising.
• Stagger indoor and outdoor play and adjust schedules to reduce the number of children in the same area.
Teach, model, and reinforce healthy hygiene habits and social skills. Suggestions include:
• Explain to students why it's not healthy to share drinks or food.
• Practice frequent hand hygiene by teaching a child-friendly song or counting to 20.
• Teach students to use tissue to wipe their nose and to cough inside their elbow.
• Model and practice hand hygiene before and after eating, coughing, sneezing, playing outside, and using the restroom.
• Create a classroom environment that promotes positive teacher and student relationships that support student social-emotional well-being and self-esteem. Suggestions include:
• Promote empathy through conversations about other people's feelings and perspectives. Talk about responsibilities.
• Build a coping toolbox that includes body- and mind-calming strategies.
• Read children's books to help support the children when they may be feeling anxious or sad (e.g., "Grumpy Monkey," which explains that it's OK to be sad or have unexplained feelings).
SPECIAL EDUCATION CONSIDERATIONS

— The report states: "Districts remain responsible for ensuring that special education students receive a free appropriate public education. They are required to address the individual needs of students eligible for special education services. Blended Remote Learning Plans must address the unique needs of students eligible for special education services. Conversations at the district level should include the type of training that should be provided to the classroom teacher and, when applicable, the paraprofessional; the planning time that should be provided; and collaboration for Blended Remote Learning Days. It is important to utilize paraprofessionals in the general education classroom during the transition from remote learning.
"Districts must adhere to timelines for annual IEP meetings and required evaluations. There continues to be limited flexibility from complying with federal and state laws. All Individuals with Disabilities Education Act and Section 504 timelines remain in effect. IEP teams should meet to determine whether any amendments to students IEPs are necessary to address students' current levels of performance.
"IEP teams must make individualized determinations regarding placement and where special education students receive services. Students must receive education in their least restrictive environment, according to federal and state laws. Staff, therapists, and paraprofessionals may be able to work in person with students if appropriate safety measures are in place."
ENGLISH LEARNER CONSIDERATIONS
— The report states: "Language development is an interactive and socially driven process. Any support that can be provided to English Learners to facilitate interactive dialogue with native English-speaking peers or adults, especially on academic topics, is essential. It is also essential that our students in a bilingual program dialogue with peers and adults on academic topics in their home languages, as well as English, to ensure that their development does not stall. Language use and expectations must be targeted and authentic and activities must be meaningful to ensure students achieve linguistic and academic growth, whether English or native language instruction is online, in- person, or a hybrid.
"In-person instruction should be prioritized for English Learners. We recommend that in addition to more traditional native language materials, consideration should be given to utilizing native language television, radio, and social media to help students continue their native language learning. Other scaffolds for English or native language instruction may include an extension of time for assignments, videos with captioning or embedded interpreting, accessible or translated reading materials, or other technological solutions. Authentic, targeted lessons utilizing technology that encourages verbal interaction will help students better prepare for online ACCESS testing. Additionally, we encourage educators to strategically utilize resources for English Learners identified on ISBE's Continuing Education #KeepLearning page.
"Language learners often require instruction on how to properly pronounce phonemes, syllables, and words. This is typically done through direct observation of the teacher's mouth or tongue position. Such demonstrations will be impeded by traditional face coverings. We recommend using face coverings with clear windows or face shields during instruction or pre-recording these demonstrations.
"When developing instruction for English Learners, educators must continue to continue to apply the Illinois English Language Development Standards and utilize the WIDA Can-Do Descriptors for listening, speaking, reading, and writing. Keeping these two documents in mind and differentiating instruction based on each student's English proficiency level will help ensure that lessons are scaffolded appropriately for students. Additionally, early learning educators have language acquisition tools to drive supports of young language learners. The Early Learning Development Standards are central in providing guidance with an emphasis of parental involvement, which is so important to a young child's language development. More resources for educators of young English Learners, including online learning modules for educators, can be found through WIDA Early Years.
"Keep in mind that multilingual students and families may have difficulty navigating online platforms and resources that require an understanding of English. When possible, schools and districts should provide language support to help students and families to access the resources used for remote instruction. Schools, districts, and educators are encouraged to harness the strengths of their parent organizations to build supports and scaffolds for families. Such supports and scaffolds could include "Virtual Parent Universities" or "Parent PD" to help parents and other family members understand how best to support their bilingual students' language development and learning at home. We encourage stakeholders to collaborate creatively to continue to meet the needs of English Learners."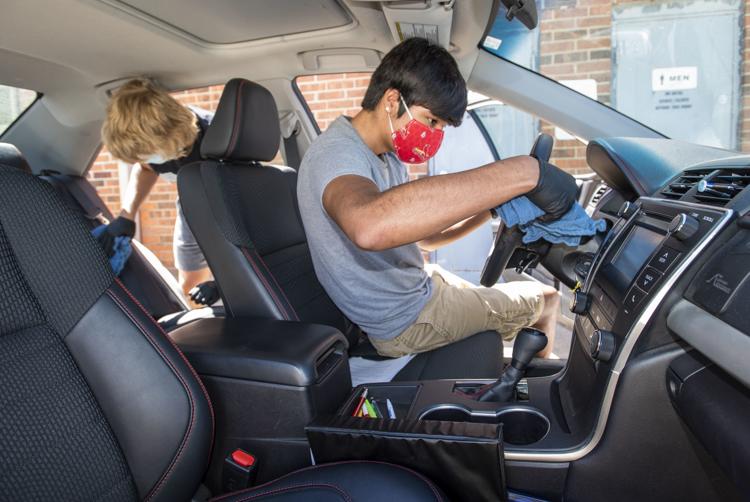 DRIVER'S ED: BEHIND-THE-WHEEL INSTRUCTION
— The report states: "In order to provide behind-the-wheel training to students in driver's education in compliance with all Secretary of State and IDPH safety requirements, the following procedures must be followed:
• Allow only two students and one instructor per vehicle.
• Face coverings must be worn, unless medically contraindicated.
• Prohibit eating and drinking in the vehicle.
• Open the windows whenever possible.
• Do not make any stops during the training that are not applicable to driver's education to reduce the amount of time in the vehicle.
• Complete hand hygiene with soap and water or hand sanitizer, as appropriate, before and after driving and, at the minimum, upon completion. Hand sanitizer should be placed in each vehicle.
• Clean and disinfect the steering wheel, door handles, seatbelt fastener, controls/dials that the driver would come in contact with, keys, etc. in between each behind-the-wheel session.
• Conduct regular routine cleaning and disinfecting of the seats.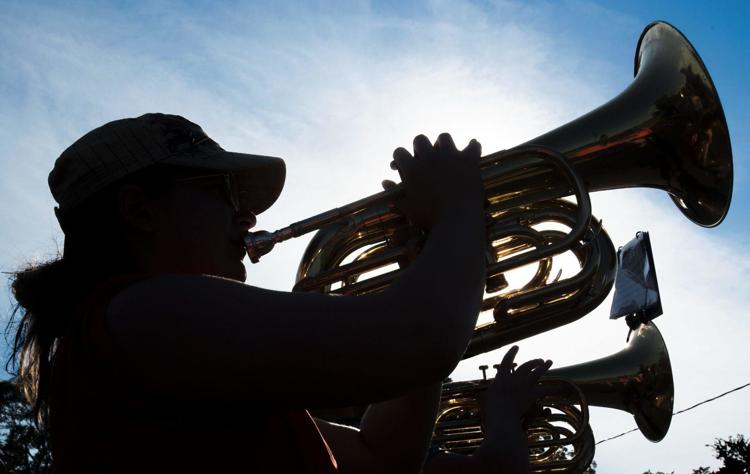 MUSIC-RELATED COURSES
— The report states: "There is documented evidence of substantial spreading of the coronavirus during musical events caused by the possibility of droplet and fomite (objects or materials likely to carry infections) transmission. Indoor rehearsals are discouraged. Consider moving music and band-related courses outside. It is recommended that music and band classes be organized into smaller classes, minimizing the number of students for sectional or group rehearsal to provide for social distancing. Where possible, use separate partitions in open spaces; utilize markings on classroom floor/wall/practice field.
"Students should wear face coverings while singing and avoid touching, choreography, and singing/playing in circles. Students should sanitize hands prior to handling instruments. Instruments should not be shared at any time. Sanitize hands after using instruments. It is permissible for band members to remove their masks during the time they are playing, but only if necessary. Students should provide their own equipment for class; sharing of equipment between students should be prohibited. Long-term rentals are permitted; however, instruments should be properly cleaned and sanitized between rentals. Students should disinfect musical instruments between classes, if possible. Instruments should be cleaned using approved disinfectant and recommended cleaning guidelines (National Federation of State High School Associations, National Association of Music Merchants, National Association for Music Education instrument cleaning). Special care shall be taken with instrument mouthpieces; it is recommended that reed players use plastic instead of cane reeds.
"Conductors should face students from more than 10 feet away from the first row of singers/band members. Where possible, conductors are encouraged to wear glasses/goggles or install a plexiglass shield.
"Consider blended/flipped classrooms, as well as individualized self-management programs, to reduce the risk of exposure and allow for personal choice/director choice with recording or practice performance.
"Provide virtual learning opportunities or record class rehearsals and share recordings with students who are unable to attend school in-person."
TRAFFIC FLOW, HALLWAYS AND LOCKERS
— The report states: "Face coverings must be worn at all times. Consider the following hallway procedures to adhere to social distancing requirements and IDPH limitations on gathering sizes, when possible:
• Limit number of persons within hallways at any given time to the greatest extent possible.
• Limit required movement of students between classes. Consider having staff rotate through classes rather than requiring movement/mixing of student groups.
• Provide hallway supervision using hall and bathroom monitors to ensure a limited number of persons enter bathrooms at one time.
• Hallways could have marked one-way paths and certain staircases could be designated one-way only, as possible.
• Place floor markings to delineate 6-foot distance between students in locations where they line up.
• Remove furniture or other items that may encourage congregating in certain areas.
• Limit number of riders in elevators to one or two students with an additional adult (when student needs continuous support or supervision).
• Suspend the use of lockers, if possible. Sharing lockers should be prohibited. If lockers must be used, consider staggering locker assignments and create schedules to stagger locker access to allow for 6-foot distancing between students. For example, students could be assigned to every other or every third locker depending on their width.
RESTROOMS
— The report states: "Districts should consider means to maintain social distancing in restroom areas. Schools may wish to consider scheduling restroom breaks and escorting individual classrooms to the restroom area to monitor social distancing, as appropriate.
"Districts may wish to add physical barriers, such as plastic flexible screens, between bathroom sinks and urinals. Appropriate sanitation of restrooms should be completed as scheduled. Post signs encouraging hand hygiene procedures in the bathrooms, hallways, classrooms, and other areas, as appropriate.
"Encourage students to properly wash hands following restroom use, as age appropriate. Ensure availability of supplies, such as soap and paper towels."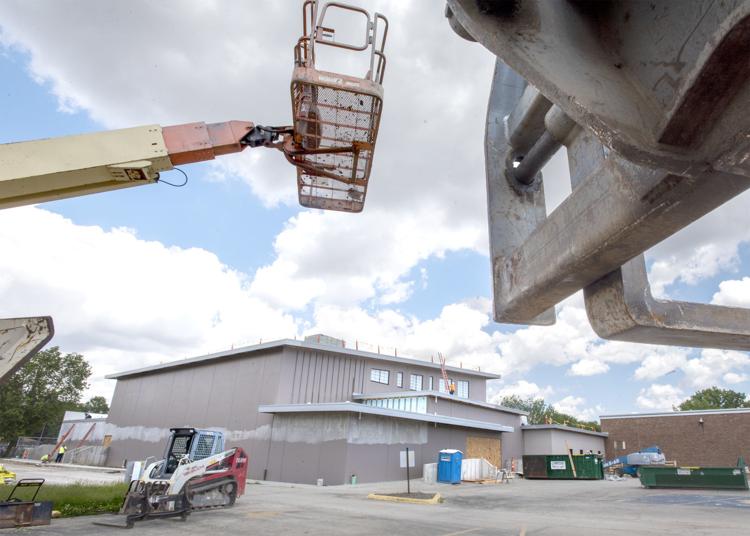 PHYSICAL EDUCATION, GYMS, POOLS AND LOCKER ROOMS
— The report states: "Physical activity can support students' overall health and well-being and help reduce stress and anxiety. Face coverings must be worn. No more than 10 individuals may be in one space at any one time during Phase 3. No more than 50 individuals may be in one space at any one time during Phase 4. Activities must allow for 6-foot distance between students as much as possible. Games and sport activities that require close guarding and any potential physical contact with another player must be avoided in order to comply with IDPH requirements. Whenever feasible and weather permitting, educators should select outdoor physical education activities that allow natural social distancing.
"If physical education must be taught inside, consider using separate partitions in open spaces, utilizing markings on the gymnasium floor/wall/field to maintain distance between participants. Hand shaking, high fives, or other physical contact is prohibited. It is recommended that educators have access to technology to broadcast instruction to maximize social distancing (e.g., megaphone or microphone).
"Schools and districts with pools must follow IDPH guidance on swimming facilities. Districts should consider eliminating the need for use of locker rooms, as well as allowing students to participate in activities without changing clothing. Shoe changes can be done in the classroom prior to arrival in PE. Lockers that are used should not be shared, and showers should not be required for activities.
"The use of shared equipment is not recommended. Any shared equipment must be cleaned between each student use and disinfected at the end of each class. Fitness center equipment, such as treadmills, ellipticals, stationary bicycles, weights, etc., should be cleaned and sanitized before and after each class. Focus on frequently touched surfaces, such as keypads, hand weights, handles, etc. Maintaining 6-foot distance between participants may include using only every other treadmill/bicycle or installing dividers between each machine or equipment piece.
"Students and staff should perform hand hygiene at the start and end of each class period or when hands are visibly dirty. Students should also perform hand hygiene after the use of each piece of equipment."
CAFETERIAS AND FOOD SERVICE
— The report states: "Schools should consider the number of students and adults in the cafeteria during each breakfast and lunch period and ensure that it does not exceed that maximum gathering size per the Restore Illinois plan (no more than 10 individuals during Phase 3 and no more than 50 individuals during Phase 4, if possible).
"Alternate scheduling or add meal service times to adhere to capacity limits. Stagger the release of classrooms to the cafeteria to help ensure social distancing while students wait in line. If possible, consider delivering meals to classrooms or having students eat outdoors while ensuring social distancing is implemented. If students eat in the classroom, consider how an allergy-free area will be provided, as needed. Additionally, the room should be disinfected after eating prior to resuming classroom activities.
"Meals should be individually plated. Buffets, salad bars, and the sharing of food and utensils should be prohibited. Ensure that students are served all items, including items such as milk and fresh fruits, rather than having students help themselves. Consider using disposable food service items (e.g., utensils, dishes). Ensure regular precautions are taken regarding food allergies and dietary needs. If disposable items are not available, ensure that all non-disposable food service items are handled with gloves and washed with dish soap and hot water or in a dishwasher.
"Areas where students consume meals should be thoroughly cleaned and disinfected between groups and after meals. Food service personnel must use appropriate PPE, including gloves and face coverings, while preparing and distributing food. Frequent hand hygiene should be required. Individuals should wash their hands after removing their gloves or after directly handling food service items that have been used.
"Hand hygiene must be performed prior to and after eating a meal or consuming any food items. Face coverings must be removed during eating, so it is important to ensure 6-foot distance between individuals as much as possible. Considerations also should be given to food consumed during times other than mealtimes, such as by preschool students.
"Communicate clear mealtime expectations with students and staff."
STUDENT TRANSPORTATION
— The report states: "Schools and districts should create procedures to assure compliance with all applicable expectations under state and federal guidelines. All individuals on a bus must wear a face covering, no more than 50 individuals should be on a bus at one time, and social distancing must be maintained to the greatest extent possible. Students must undergo symptom and temperature checks, which may include self-certification, before boarding a bus. These procedures may need to be updated regularly. Students and families should be aware of procedures and expectations regarding transportation.
"Drivers and monitors must wear approved and appropriate PPE and perform regular hand hygiene. See Appendix F for information regarding PPE. Drivers and monitors must undergo symptom and temperature checks or self-certify and verify that they are free of symptoms before the start of each workday. Drivers and monitors who have a temperature greater than 100.4 degrees Fahrenheit/38 degrees Celsius or symptoms of COVID-19 may not work. Drivers and monitors who become ill during their route should contact their supervisor immediately.
"All individuals on a bus must wear a face covering. Student transportation should apply the most feasible social distancing guidelines. The CDC recommends that entities should "create distance between children on school buses ...when possible." No more than 10 individuals may be on a vehicle at any one time during Phase 3. No more than 50 individuals may be on a vehicle at any one time during Phase 4. All physical changes to school transportation vehicles must meet Illinois Department of Transportation (IDOT) and Secretary of State rules and regulations.
"Districts are encouraged to provide visual guides to ensure that students comply with expectations set forth by the IDPH (e.g., floor decals, colored tape, or signs to indicate where students should not sit or stand may be used to assist in compliance).
"Seating charts are also recommended. Seating arrangements with respect to social distancing can be adjusted for students who live in a household with other students. Schools and districts are encouraged to monitor students at school loading and unloading zones. IEP or 504 teams should meet to determine individual transportation needs for students who require special accommodations.
"Considerations should be given to the provision of appropriate supplies to prevent the spread of COVID-19 (e.g., hand sanitizers, gloves, face coverings, tissues, and trash receptacles).
"All required IDOT inspections should occur. In addition, sanitization should be completed daily or between use on all vehicles used for student transportation. Individuals should disinfect vehicles using only products that meet the EPA criteria and manufacturers' guidelines."