Urbana neighbors honored by Crime Stoppers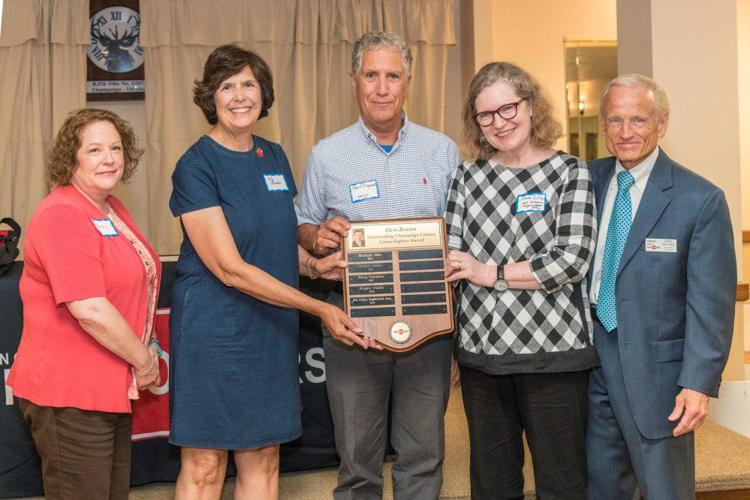 URBANA — Long before email and text-messaging and social media, a group of neighbors in west Urbana banded together for causes from zoning issues to finding lost dogs.
On Thursday, the West Urbana Neighborhood Association was recognized for its crime-prevention efforts with the Dave Benton Crime Fighter of the Year award from Crime Stoppers of Champaign County.
"I believe that those of us who live in west Urbana are safer because of the feeling of community created by the West Urbana Neighborhood Association, and especially by the connection through the WUNA List Serve," said Kay Grabow.
A 36-year resident of Vermont Avenue, the retired school teacher nominated her group for the award, named for the late WCIA–TV newscaster and Crime Stoppers board member who died of cancer in 2015.
WUNA encompasses an area of Urbana bounded by Lincoln Avenue on the west, Florida Avenue on the south, Vine Street on the east and Main Street on the north. It's one of several such groups scattered throughout the city.
Steering committee member Trent Shepard said there are about 650 members on its email list.
"Not a day goes by that there's not some topic up for discussion," said Shepard, who along with Grabow and co-treasurer Anne Silvis accepted the award at the Crime Stoppers annual meeting in Savoy on Thursday.
"I might not know all my neighbors by name but I do have a connection and if you have a connection, you might go more out of your way to help them," said Grabow.
WUNA dates to the mid-1970s, according to Esther Patt, a member and a west Urbana resident for more than 40 years. Its birth came well in advance of email, which simplified communication.
Patt recalled the group getting involved in limiting the height of new buildings, houses being converted into apartments and the over-occupancy of single-family homes.
Over the years, the organization has enjoyed varying levels of liveliness but the list serve has featured all kinds of topics from pets to flowers to parking to noise to politics.
Long-time Race Street resident Jeff Unger said he appreciates the electronic exchanges about the occasional car break-in or even more serious crime.
"It is good to know about if the Walgreens had an armed robbery. If I had rhododendrons, I would be interested in that as well," he said.
Grabow called their west Urbana neighborhood "very walkable" and said the dog walkers are usually the best at spotting potential irregularities. It's nice, she said, that the group is being honored for something positive.
"Even the simple offering of plants to share creates connections among residents who otherwise might not ever know each other. Knowing our neighbors at some level and caring for their well-being are great positive ways to fight crime," Grabow said.