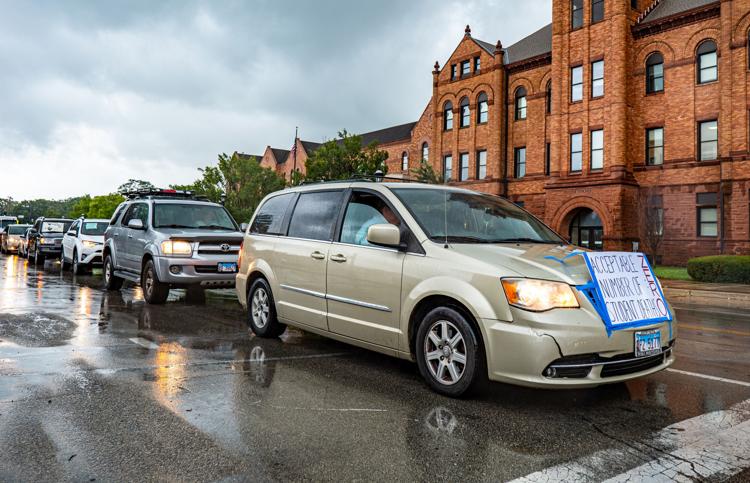 URBANA — Nora Miller has spent her summer thinking of unconventional games and activities that might be able to help her teach pre-schoolers how to interact while maintaining social distance.
They might even sing songs, Miller said, but she isn't even sure if that's allowed.
But no matter what, the Urbana teacher knows there won't be a way to keep a group of 3- and 4-year-olds completely safe and 6 feet apart this fall.
"That's going to be a really big challenge, and it's putting us all at risk," Miller said Monday. "Because I can create lots of cool activities that are far away from each other, and we're still putting all of our children and all of our staff members at risk, because we won't be able to ensure that they're wearing masks. … So knowing that information, it's clear to me that we're all at risk — all of the children, all of the families, all of the grandparents who are taking care of children."
Miller was one of dozens of teachers and parents to parade in their cars through downtown Urbana on Monday as part of demonstrations nationwide. Many of those teachers and parents affixed signs to their car windows imploring the Urbana school district to move to fully remote learning.
The district's current plan is a hybrid of in-person and remote learning in which all students will go to school two days a week.
"We really appreciate the time and effort our administrators and our colleagues have put into building a transition plan," Urbana Education Association President Alicia Trezise said. "I think what they've done is remarkable, trying to make the impossible possible.
"But we just felt that the voice needed to be heard to say, 'Slow down. There's nothing worse than the worst-case scenario of somebody testing positive after we have this beautiful plan in place, and now we're back to remote.'"
The union is asking for the district to wait until the county has no new cases of COVID-19 over a 14-day period.
While Champaign's Unit 4 district hasn't released its finalized plan for the start of the 2020-21 school year amidst the pandemic, Urbana unveiled its hybrid plan earlier this month.
The issue with starting out in-person, former union President Brian Lake said, is that an outbreak and a switch to remote learning would once again throw teachers into an unfamiliar situation.
"We would like to see our district pour a lot more into doing remote better than we did on the fly in the spring until we can get cases down," Lake said. "It's complicated for teachers who want to be back with our kids.
"We miss them and we want to be back in that face-to-face setting, but we are also in charge of keeping them safe, and this is the way we think we can do better in keeping them safe."
For Trezise, it isn't even a question what the district should do.
"We're trying to make the impossible possible in the safest way we can," she said. "And remote learning feels to me like the number one, no-brainer safest-way to start."