For 24/7 coverage, follow us on Twitter, Snapchat, Instagram and Facebook.
Tom's Mailbag: Submit your question here
Champaign County Health District: COVID-19 information
State map: COVID-19 cases by county
Have a story to tell? Email news@news-gazette.com.
****
Champaign-Urbana Public Health District Administrator Julie Pryde announce today that Champaign County has four new COVID-19 cases, bringing the total to eight.
The four include two men in their 70s, a man in his 50s and a woman in her 80s, Pryde told The News-Gazette.
No further details were divulged about their condition.
****
TAX DEADLINE DELAYED
In an effort to help the state economy during the COVID-19, Gov. J.B. Pritzker announced at his afternoon briefing that Illinois will delay the state tax-filing deadline from April 15 to July 15.
****
FIRST CASE IN DOUGLAS COUNTY
The Illinois Department of Public Health this afternoon announced 330 new cases statewide, the biggest single-day jump since COVID-19 arrived in Illinois.
For the first time, Douglas County reported a positive test. There are now 1,865 cases in 35 counties.
IDPH also announced three additional deaths, bringing the total to 19: a Kane County man in his 90s, a Cook County man in his 60s and a Will County woman in her 50s.
Also, the IDPH announced, two correctional officers and one man incarcerated at Stateville Correctional Center have tested positive, as has a contractual worker at Sheridan Correctional Center.
The two Stateville correctional officers are recovering at home and the individual who is incarcerated is isolated and recovering in the hospital.
Those who have been identified as being potentially exposed are being quarantined and the facility is on a 14-day lockdown, state officials added.
****
COURSE OPEN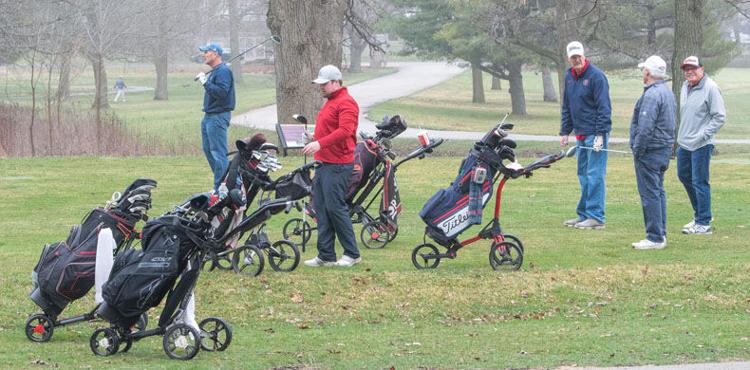 Mahomet's Lake of the Woods is open for golf — with a few twists.
There are no carts to ride, no tee times to book, no flags to pull from greens and no rakes to smooth out the bunkers.
And the clubhouse is closed, so golfers need to call ahead (217-586-2183) to check in and pay online or over the phone.
Once they arrive on site, golfers are asked to dial the pro shop and give their first and last name.
"We'll look out the window and kind of give them a wave as they go to the first tee," Lake of the Woods pro David Sebestik told Brian Barnhart on this morning's edition of "A Penny for Your Thoughts" on WDWS 1400-AM.
For the time being, Lake of the Woods will have slightly reduced hours, with the course opening at 8 a.m. and closing around 6 p.m.
Golf courses aren't mentioned specifically on the long list of "essential" businesses in Gov. J.B. Pritzker's stay-at-home order, which led to discussions Tuesday between the Illinois PGA and governor's office.
After initially being told they couldn't operate during the COVID-19 pandemic, state golf courses were given the all-clear, so long as they adhered to social-distancing requirements and put in place the aforementioned restrictions.
****
HOW TO REPORT BUSINESS VIOLATORS
If you know of a business or organization not considered "essential" that's violating Gov. J.B. Pritzker's statewide stay-at-home order, you can call the Champaign-Urbana Public Health District hotline at 217-239-7877 or send an email to coronavirus@c-uphd.org.
If the business/organization is found in violation by the health district, officials said today, the district will "encourage" it to " voluntarily comply with" the governor's executive order.
If the business/organization doesn't comply, the health district will issue the organization a cease-and-desist order, as it did in at least one case this week.
Then, the health district "and local law enforcement will verify compliance," officials said. "If the business or organization is still not in compliance, the violation will be referred to the State's Attorney's office for consideration of prosecution."
Pritzker's order exempts dozens of industries, from laundromats to hardware stores. It also requires businesses and organizations to use social distancing requirements.
"In Champaign County, businesses and organizations are encouraged to cooperate and voluntarily comply with the terms of the order, in the interests of their employees, customers and the community as a whole," read a joint statement today issued by the health district, the Champaign County Sheriff's Office and the Champaign County Emergency Management Agency.
****
PIATT COUNTY: 8 NEGATIVE TESTS; 2 STILL OUT
Just in from Steve Hoffman, editor of Community Media Group's Piatt County Journal-Republican:
The DeWitt-Piatt Bi-County Health Department reports that 23 people have been tested for COVID-19 in the two counties. Eighteen came back negative for coronavirus, and five are still pending.
In Piatt County; 10 people have been tested. Eight were negative and two are pending.
****
DOUGLAS COUNTY COURTHOUSE OFF-LIMITS
Starting Monday, the Douglas County Courthouse in Tuscola will be closed to the general public through April 10, our Mary Schenk reports.
Certain cases will be dealt with by court employees on an emergency basis such as orders of protection, arraignments, juvenile, marriages.
County board members, lawyers, judges, attorneys or anyone who has an appointment with someone in the courthouse that has given court security 24 hours notice may be admitted.
It's best to call ahead to be sure your presence is required.
****
BALLOONS OVER VERMILION CALLED OFF
Tim Ditman of WDWS 1400-AM reports that the coronavirus has grounded the hot air balloons this summer in Vermilion County.
In one of the furthest-out cancellations due to the pandemic, organizers of Balloons over Vermilion have scuttled this year's event, which was scheduled for July 10-11 at Vermilion Regional Airport in Danville.
Event co-chair Pat O'Shaughnessy said no one knows when life will get back to normal. So organizers can't plan the way they need to.
O'Shaughnessy said sponsors who have paid can get a refund or apply their contribution to the 2021 event.
He said last year's event drew more than 25,000 people to Danville from all across the country.
O'Shaughnessy said officials couldn't postpone the event because there are no other dates that line up with the balloon pilots' schedules.
****
ALL QUIET AT RANTOUL PD
From Dave Hinton, editor of Community Media Group's Rantoul Press:
Rantoul police have seen their calls and arrests drop substantially in the approximately two weeks since the threat of COVID-19 became more pronounced in this country.
"We have, to this point, seen a reduction in calls for service," said Police Chief Tony Brown, who estimated incidents were down about 50 percent.
The reason: "Just because people are staying inside," he said.
Despite people spending longer periods together indoors when cabin fever and monotony can mount, Rantoul police, to date, have not seen an increase in domestic incidents.
"I don't think we've seen that at all," Brown said.
This new world has meant a change in procedures for law enforcement. Brown said Rantoul police have adjusted to how they are responding to calls for service.
"Any high-priority (calls), we'll continue to handle if someone's being threatened or in danger; or if there is a crime in progress, we'll still respond as normal," Brown said. "If we have lesser-priority calls ... we'll try to handle most of those over the phone to limit exposure."
****
CANCELLATIONS: WILLARD EVENT, COMMUNITY BLOOD WALK-INS
Added to lengthy list of local COVID-19 cancellations:
— Willard Airport's TSA precheck registration period, scheduled for April 6-10. "Once it is safe," officials said, "we will reschedule the event."
— Walk-in blood donations at Community Blood Services of Illinois. You must now book an appointment to get in.
— The next Urbana Traffic Commission meeting, scheduled for April 1, 2020.
****
MORNING BRIEFING
— A Champaign County woman in her 80s is among 250 new, and 1,535 total, COVID-19 cases in Illinois, officials announced Tuesday.
No further details were divulged about the condition of the woman, the fourth person to test positive in Champaign County.
Officials had said, when announcing Champaign County's three prior cases, that the people were in isolation and recovering.
— The state death toll rose by four Tuesday, to 16 — all were in Chicagoland and ranged in age from their 50s to 90s.
— Thirty-two of Illinois' 102 counties now have confirmed cases, with Grundy County added to the list Tuesday.