Bob Asmussen Their name is mud — and that's OK
Asmussen | 25 years later, time is right to celebrate Mudgate
Want to purchase today's print edition? Here's a map of single-copy locations.
Sign up for our daily newsletter here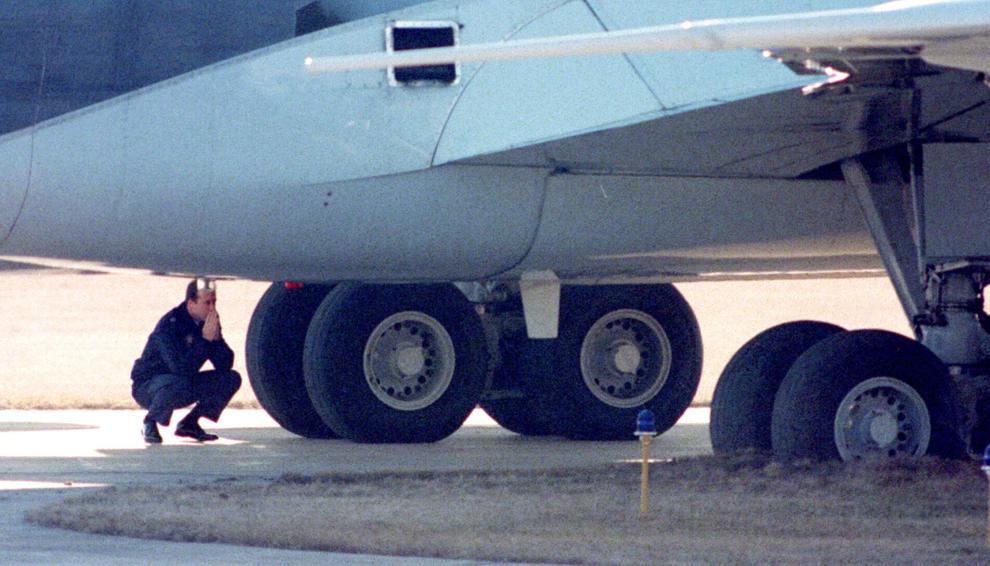 We all like it when Champaign-Urbana and the University of Illinois make national headlines: Another Nobel Prize winner is named, or a graduate who became an astronaut is part of a groundbreaking mission, or a sports team plays for a championship.
But they aren't always positive, feel-good moments.
Like Jan. 28, 1998 — 25 years ago this Saturday — when Air Force One got stuck in the mud at Willard Airport.
President Bill Clinton and Vice President Al Gore had given speeches on campus. Clinton's departure was delayed because the too-soft soil gave in to the weight of the Boeing 707.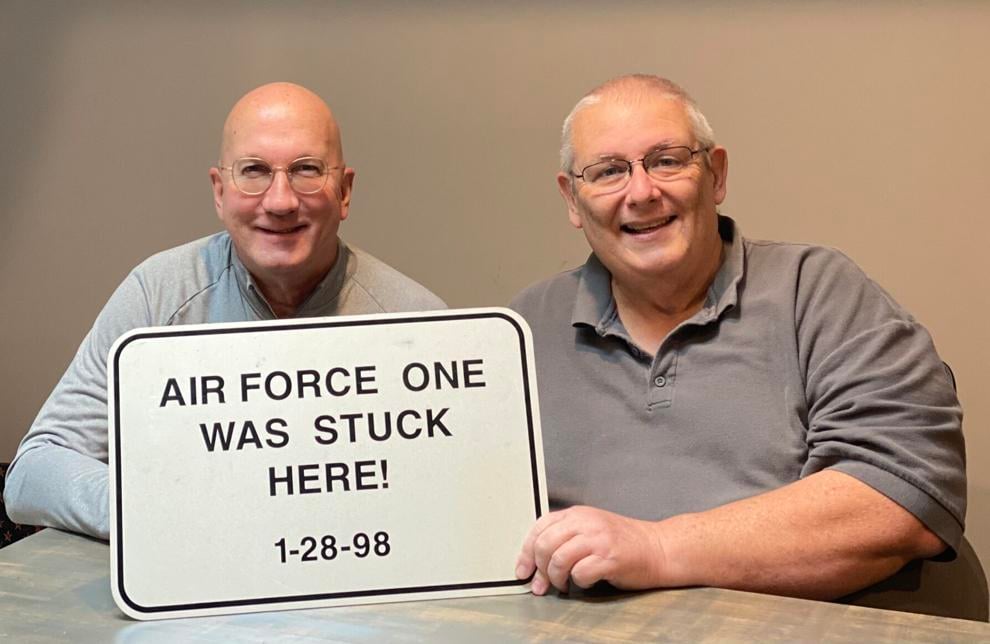 Mike Kobel and Jon Rector know where they were that day: right in the middle of it. Suddenly, routine turned into "Oh, my."
Both Champaign natives, Central grad Kobel and Centennial alum Rector played important roles in "Mudgate" — in a helpful way.
At the time, Kobel was a crash-rescue specialist at the airport fire station. Rector was serving as the airport's marketing director.
Kobel and Rector will commemorate the 25th anniversary of Mudgate with a get-together from noon to 1:30 p.m. Saturday at Monical's Pizza in Tolono. It will serve as a reunion for many of the principals.
"We've been meaning to do a reunion every year," Rector said. Kobel "and I have stayed in touch. Here we are 25 years later, and we're finally getting it done."
There will be stories and memorabilia from that day.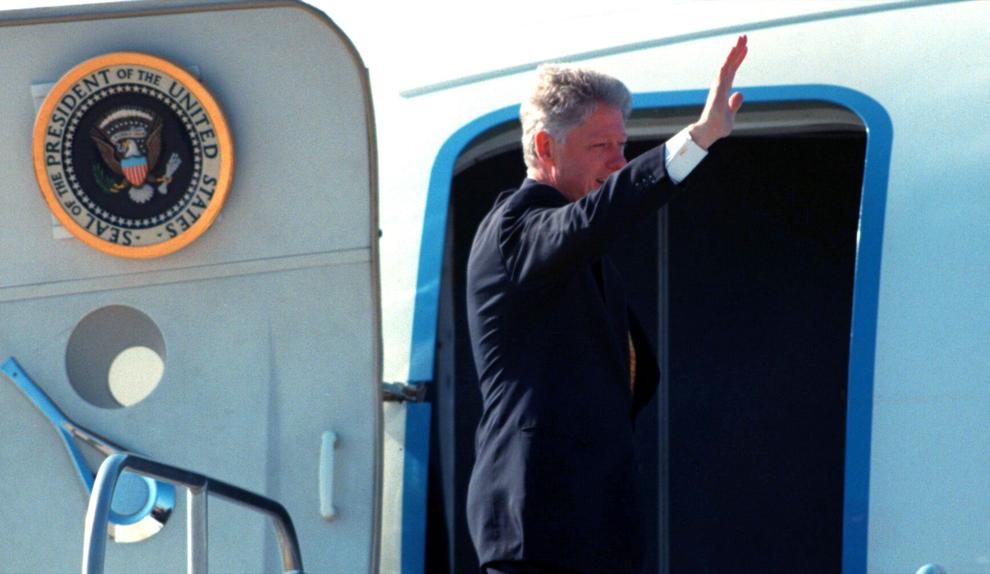 Immediate reaction
Back in the day, some UI administrators were reportedly embarrassed by the incident. They felt it reflected poorly on the campus and the community.
Hindsight being our friend, I'd say they were wrong. And they should have lightened up.
So the late-night talk show hosts made a few jokes about the community. No big deal. They soon moved on to the next topic of the day.
Rector saw it in a different light, too.
"I tell people 'Professionally, it was the best day of my life,'" Rector said. "At the end of the day, I'm feeding information to the national media.
"I'm an old-school marketing guy. It's still PR. As long as it's not horrible, it's still good PR."
It became international news. Rector later received a copy of the story about the incident that appeared in the Times of London.
Also, it was pretty cool to have Dan Rather talking about the community on the "CBS Evening News."
The incident came just days after news broke of Clinton's relationship with Monica Lewinsky. There was plenty going on to keep the press busy.
From time to time, Rector still hears about Mudgate. He and Kobel will talk about it Thursday morning on WDWS' "Penny for Your Thoughts."
"I think it's fun to talk about," Rector said. "I'm sorry campus didn't love it. I think it was a cool day."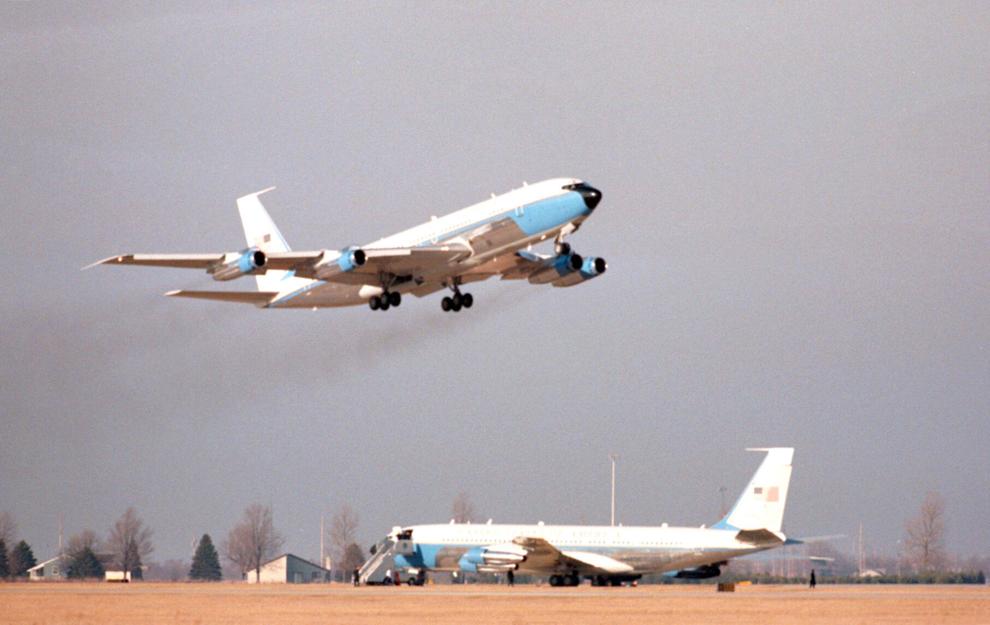 The lead-up
Neither Kobel nor Rector got to meet the president or vice president. Their dealings were more with the advance team that visits before a big trip.
The day before arrival, Kobel was part of a briefing about the aircraft conducted by the Secret Service. If something went wrong, they were told where everyone would be located. Fortunately, there was no such emergency.
Two sets of motorcade vehicles were flown in to Willard and housed in one of the hangars. Kobel chatted with one of the Secret Service agents, who allowed him to sit in the back of one of the presidential limousines.
"He showed me a few of the obvious things, the run-flat tires," Kobel said. "The glass in the windows was super thick.The doors were plated."
It wasn't the first time a member of Kobel's family had a brush with the presidential limo. During Lyndon Johnson's presidency, he stopped at Rantoul's Chanute Air Force Base. Kobel's now-90-year-old dad, Ed, had his picture taken by the Rantoul Press outside the limo. He was identified as a Secret Service agent. Oops.
"Security wasn't what it is today," Kobel said.
Rector took members of the advance team to the Illinois-Michigan men's basketball game the Sunday before the presidential visit, which was a Thursday.
While the politicians gave their speeches, Rector was allowed a 10-minute tour of Air Force One.
"That was a thrill," Rector said.
The film "Air Force One," starring Harrison Ford, had recently been released. The movie is best known for the line "Get off my plane." Rector got to see how the real deal compared to the one in the movie.
Looking back
It was a long day for the airport staff. Rector arrived at 4:30 a.m. For Kobel's crew, it was "all hands on deck."
Crash rescue assisted the Secret Service, which was driving the runways and inspecting nearby fields.
"Making sure everything was hunky dory," Kobel said.
After the speeches, Gore boarded his plane, call sign Air Force Two, and left without incident.
Next up was Clinton's plane. The pilot went off track just enough to have all four wheels go into the soil.
The plane, with tail number SAM (Special Air Missions) 27000, wasn't leaving Willard any time soon.
Kobel describes himself as a "nerd" when it comes to the Air Force One planes.
"I do a lot of studying on them," he said.
When Air Force One is traveling, there is always a backup plane nearby. There is a plan for everything.
That plan kicked in immediately when Clinton's plane got stuck at Willard.
A second plane was summoned from Grissom Air Force Base near Kokomo, Ind. It arrived not long after the other plane got stuck.
The decision had been made to leave the stuck plane at Willard and get Clinton whisked away in a hurry. All the paperwork from the first plane was bagged up and placed in a sealed room at the the airport fire station.
As the backup plane arrived, Kobel noticed the tail number: SAM 26000. He immediately recognized its significance. It is the same plane that flew President John F. Kennedy's body back to Washington after his assassination. Johnson took the oath of office on that flight. Later, President Richard Nixon flew on it for his historic visit to China.
"I was telling all our guys, 'Look at that plane. It is a huge piece of our nation's history,'" Kobel said.
Neither plane that came to Willard on that day in 1998 is in operation today.
Thanks to Kobel, we know the backup plane has been decommissioned and is on permanent display at Wright Air Force Base near Dayton, Ohio. It was used by seven presidents, from Nixon to George W. Bush.
The plane that got stuck in the mud is retired and on display at the Ronald Reagan Presidential Library and Museum in Simi Valley, Calif., northwest of Los Angeles.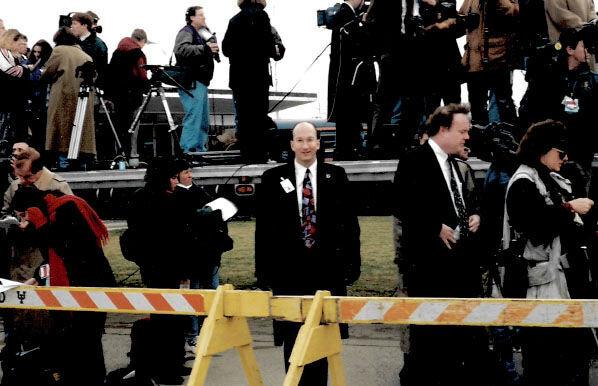 Good news
About a week after the incident, Kobel got a call from the White House, which wanted a list of people who had helped out. There were seven in the fire station, another seven in the airport garage, and some from the office staff, for a total of about 25 or so.
A few weeks later, Kobel received a certificate of appreciation from the wing commander along with a photo of Air Force One flying over Mount Rushmore. Sweet souvenir.
Mudgate had no adverse impact on Kobel's and Rector's careers.
Kobel was soon promoted to assistant chief at the airport, a job he held 15 years. He is now mostly retired and living in Urbana. He is a member of the Indianapolis Motor Speedway's Track Rescue Team.
He has seen plenty during a long career.
"In my time there, we've had a handful of visits from vice presidents and presidents," Kobel said. "Al Gore came to Champaign a few years before this particular day. A while back, Joe Biden was here when he was vice president, and Barack Obama was here when he was out of office."
Rector stayed at Willard until 2004, then worked for the local Fox affiliate.
Today, he owns the Rector Insurance Agency in Champaign.