Mahomet Christian Church
Asmussen | 'Living Flag' honors veterans, late pastor
Want to purchase today's print edition? Here's a map of single-copy locations.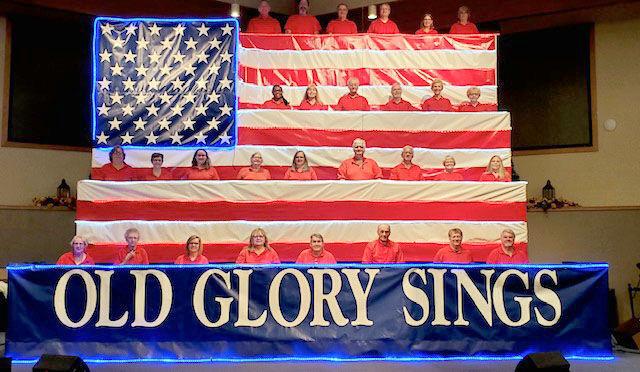 Whenever folks at Mahomet Christian Church saw David Johnson and asked "How are you?" the late pastor would use the same line: "Living the dream, serving the king, making the devil mad." Sometimes he said it without prompting.
How appropriate that the church's annual "Living Flag" program will be dedicated to founder Johnson, who passed away in February at age 69.
"He was beloved by everybody," said Cathy Menacher, who is in her first year running the elaborate production.
Paying tribute to upcoming Veterans Day, the church is again offering a patriotic program. It starts at 7 p.m. Friday at the church, 908 N. Lake of the Woods Road, Mahomet, and continues with performances at 2 p.m. and 7 p.m. Saturday and 5 p.m. Sunday.
The public is encouraged to attend the free event.
This will be the 17th production and the second after the start of the pandemic. The 2020 edition had to be called off.
"It is a patriotic musical to honor veterans and those currently serving," Menacher said.
The stage is impressive, with the 30 singers on a 16-by-24-foot flag built from scaffolding. It was put together lickety-split by a group of volunteers from the church.
The concept is similar to a "Living Christmas Tree" you might see during the holiday season.
In addition the music, there will be a speaker.
Portions of the songs for all five military branches — Army, Navy, Air Force, Marines and Coast Guard — will be performed.
Grand old idea
Mr. Johnson created the "Living Flag" event 18 years ago when he first arrived in Mahomet. He had similar productions at his previous church in Oklahoma.
"I had never heard of it before," Menacher said. "I think it is very unique."
There was discussion at Mahomet Christian about whether to continue the tradition.
"Because of his death, we were determined to carry on," Menacher said. "We needed to do it for him."
The program fits in well with the congregation, which Menacher describes as "very patriotic."
"We take this opportunity to honor our veterans," she said. "Not just veterans in the church, but community-wide. We would go country-wide if we could."
Menacher expects crowds of 300 to 400 for each performance, with room for many more. The program runs about 60-75 minutes.
"We have people who come from Indiana, southern Illinois, northern Illinois," she said. "It's for anybody and everybody."
This year, Mr. Johnson's family and friends will come from Tennessee.
Leading the way
The program is directed by Stephenie Graham, who has been involved in most of the previous productions. Menacher, recently retired after 30-plus years working at the University of Illinois, started out as a singer.
The singers range in age from their 60s to their 80s.
"We do have fun," Menacher said. "But we also have a very spiritual, moving, patriotic feeling."
The singers volunteer to perform.
Jeff Dyson, former youth minister and current senior pastor, will serve as emcee for Sunday's program.
The singers have been practicing since Aug. 28.
There is also a small crew that helps run the production.
Each program is followed with a cookie reception. The Toast of Champaign Sweet Adelines chorus will perform the national anthem before Friday's performance, while Lincoln's Challenge Academy will provide the color guard.
For more information about the "Living Flag," call the church at 217-586-3095 or visit its website at mahometchristian.org.