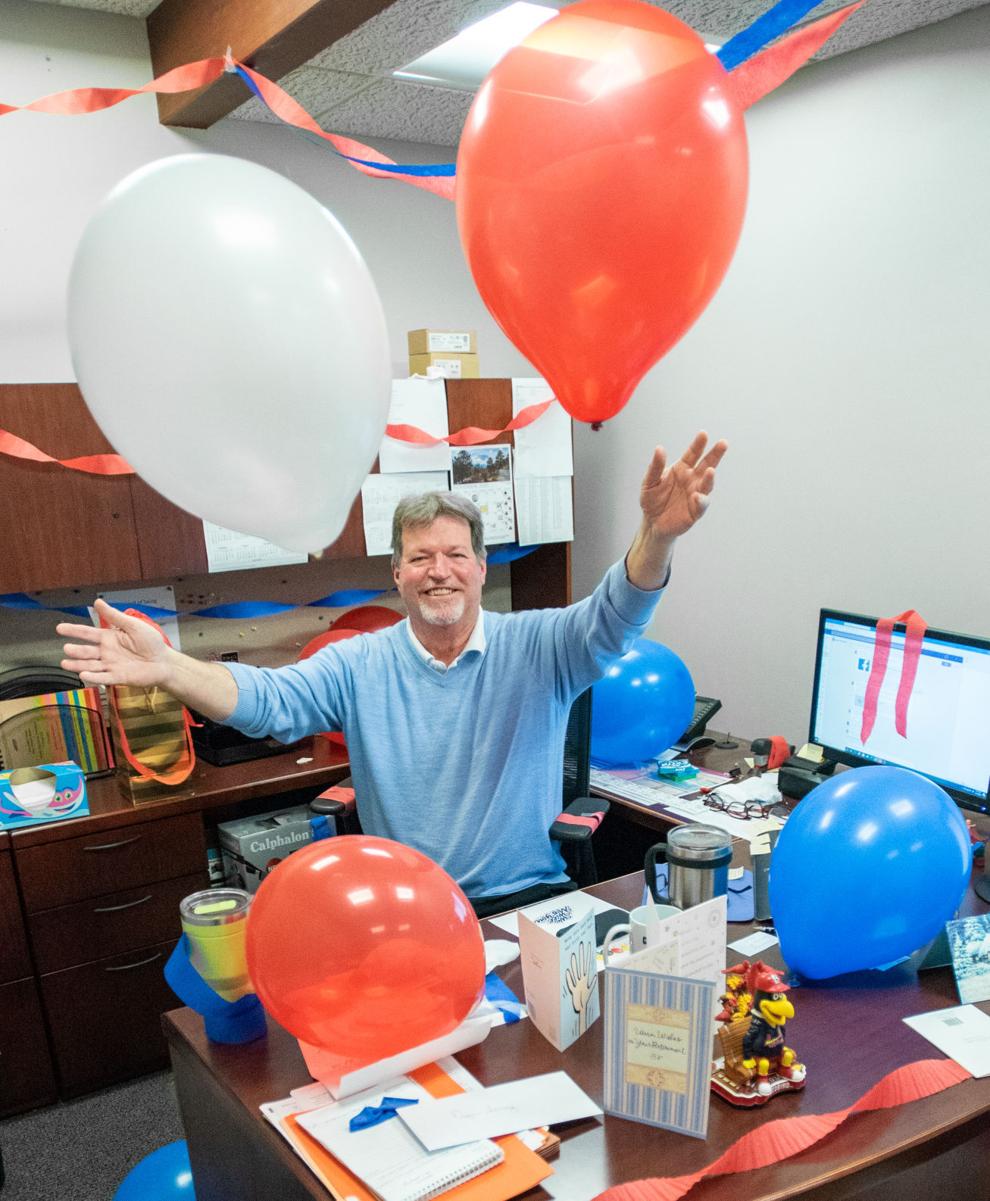 Chuck Wilson has seen a great deal of change in Champaign-Urbana in his 40 years with the Mass Transit District. Some good, some not so much.
"The town has changed so much. From what campus looked like in 1980 and what it is now is like night and day," Wilson said. "The tall buildings on Green Street. Now it's like a wind tunnel, so many apartment buildings."
For 35 of his four decades at MTD, Wilson drove a bus. The last five he's been behind a desk in an administrative role. Now he'll shift to a recliner — a man of leisure who spent his last day on the job Thursday.
When it came to knowing the streets, it helped that Wilson, 61, is a townie. A 1977 Centennial graduate, he started with MTD in 1980.
"Champaign was so easy for me since I spent so much time there. I also knew the main streets in Urbana," he said.
When he started, MTD had 10 routes. That has increased to 20. It cost 30 cents to ride the bus back then. It jumped to $1 several years ago and has stayed there, although the fare is free during the pandemic. Payment used to be in cash. Now many riders get passes — some on their cell phone. It costs $84 for a year's pass.
"This year and in the last few years, Champaign-Urbana is just getting to be kind of a mean town. Not just in the buses but aggressive drivers," he said. "We're just kind of turning into more of like a big city than what we used to be in the '80s. One of our buses even got hit with gunfire over the summer. Our world is getting meaner."
Still, he said, there are many nice people who ride the bus, and riding is safe.
One of the hazards of bus driving is having to navigate the streets on snow and ice.
"Driving a bus on snow and ice," he said, "is like driving an elephant on ice skates."
He proudly says he has had no preventable accidents as a bus driver.
Wilson said he intends to "take it easy" in retirement.
"I'm looking forward to not having to get up early in the morning and scrape the snow and ice off my vehicle and hope it starts," he said.
Wilson and wife Mary have four sons, one of whom is an MTD driver.
####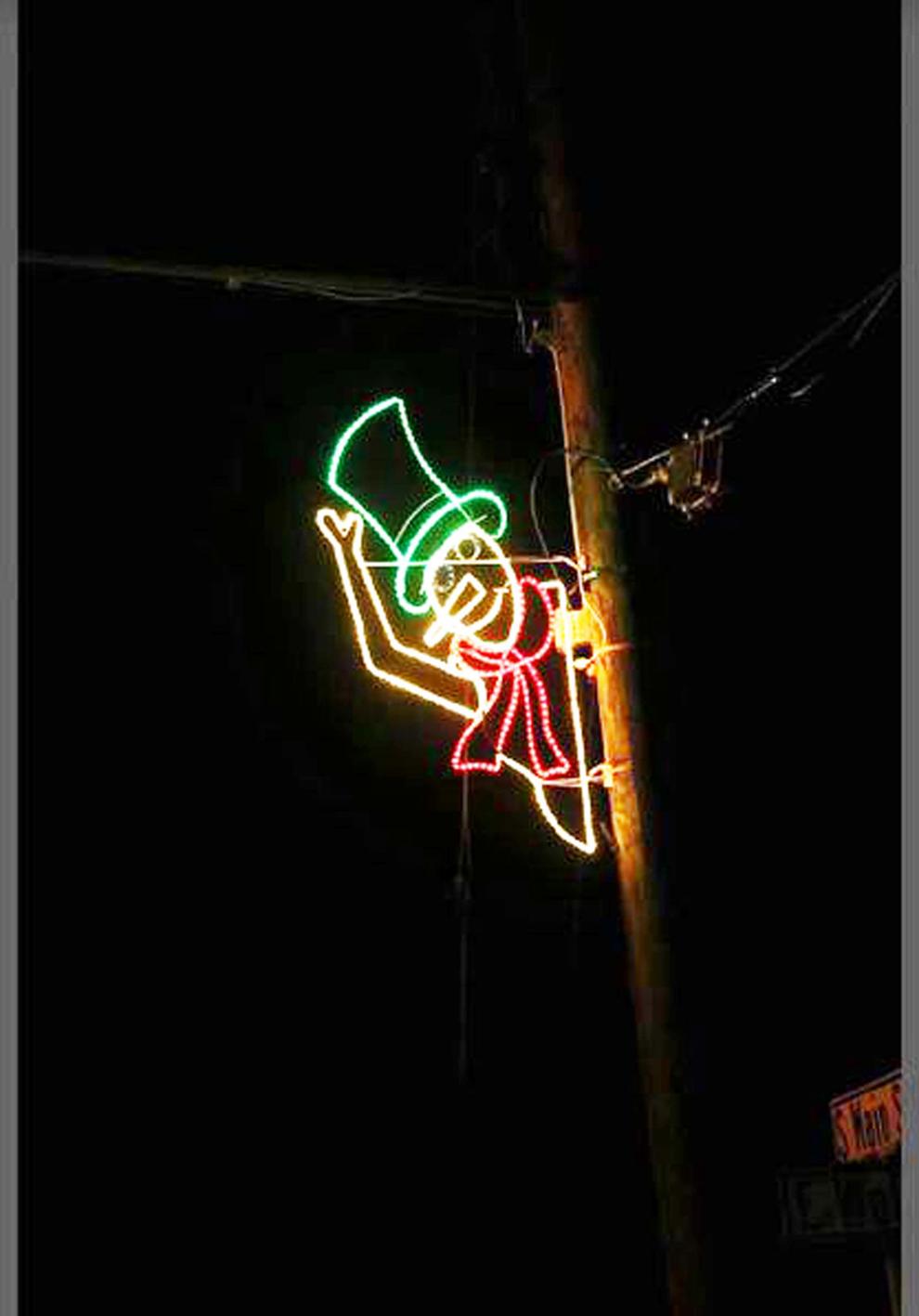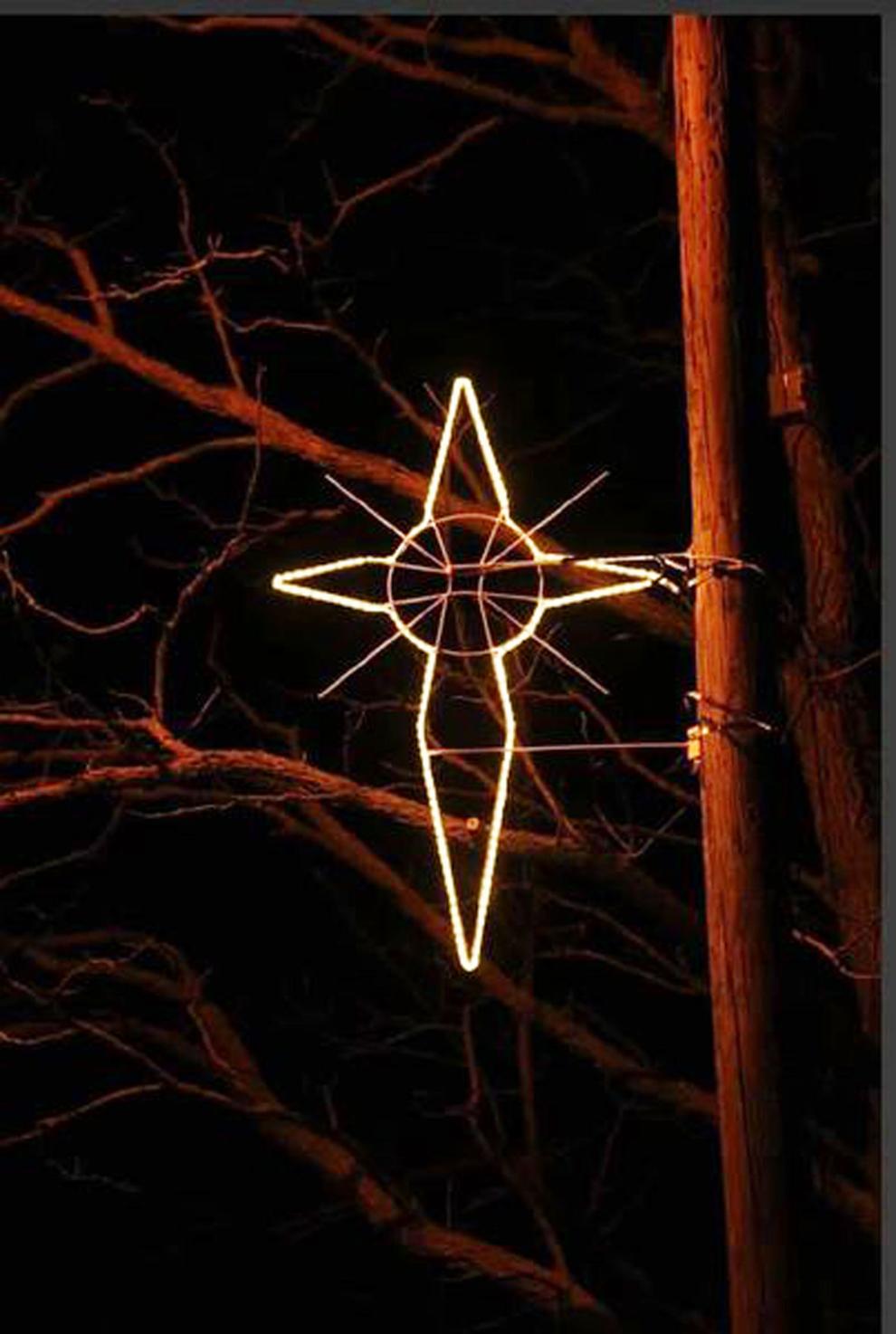 Everyone entering Homer on one of its four major streets gets a wave from Frosty the Snowman these days. Nativity stars are also located on poles near every church — the work of the village's maintenance staff.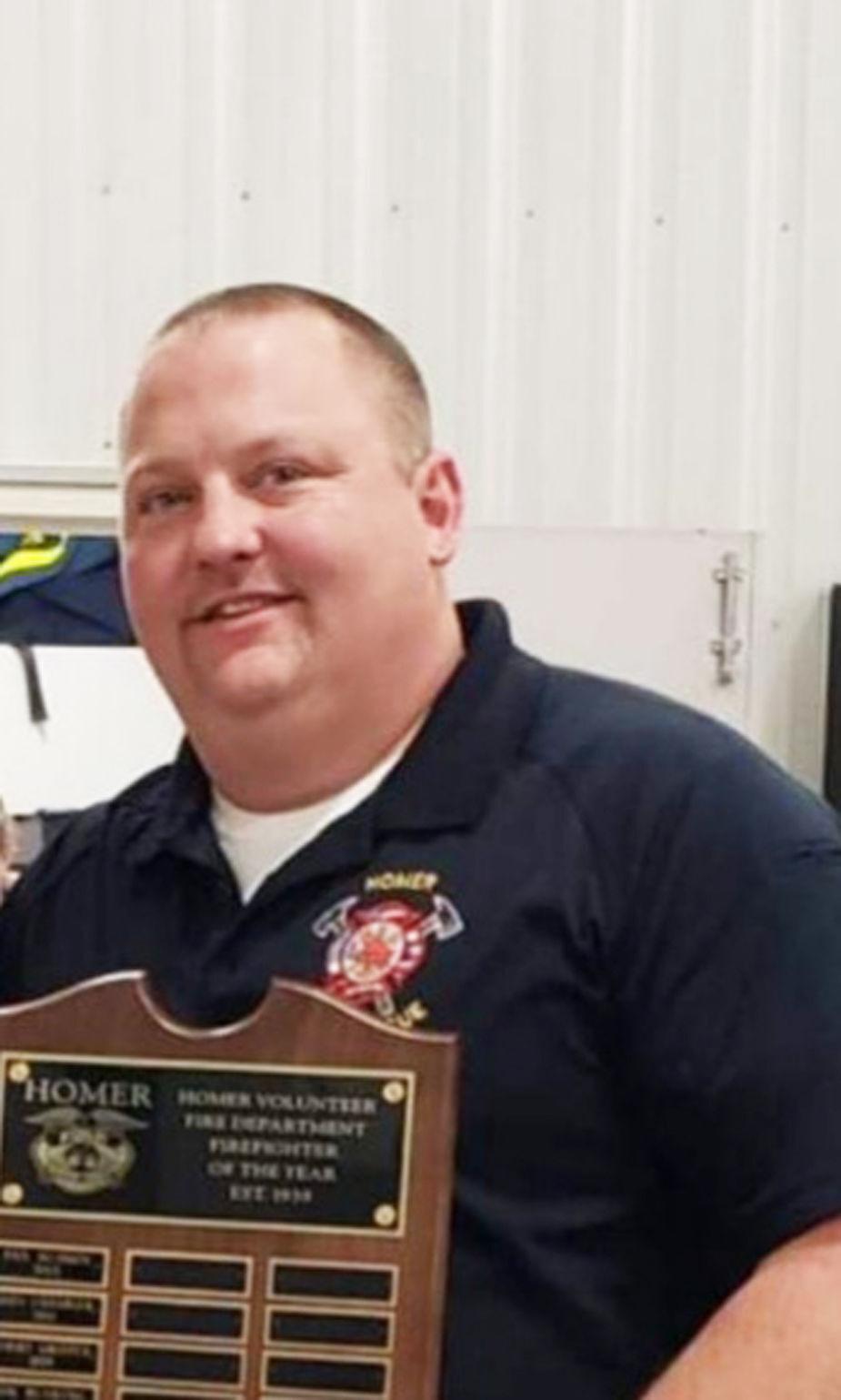 Ryan Byerley and co-worker Dale Katterhenry saved the village thousands of dollars by making these and other Christmas decorations. Elves, Santa and Christmas packages are also among the lights hung on utility poles.
Byerley said the village needed new decorations, and they didn't want them to look like about every other town's.
"Our goal was to do something unique that nobody else has," Byerley said. "Every little town looks the same."
Ed Shirley, the village's licensed water operator, taught the duo how to make the lights.
"He showed us how to lay them out on a table. We went and bought the materials by hand, welded them up and painted them, put (LED rope) lights on them and made brackets so we could hang them on a pole," Byerley said.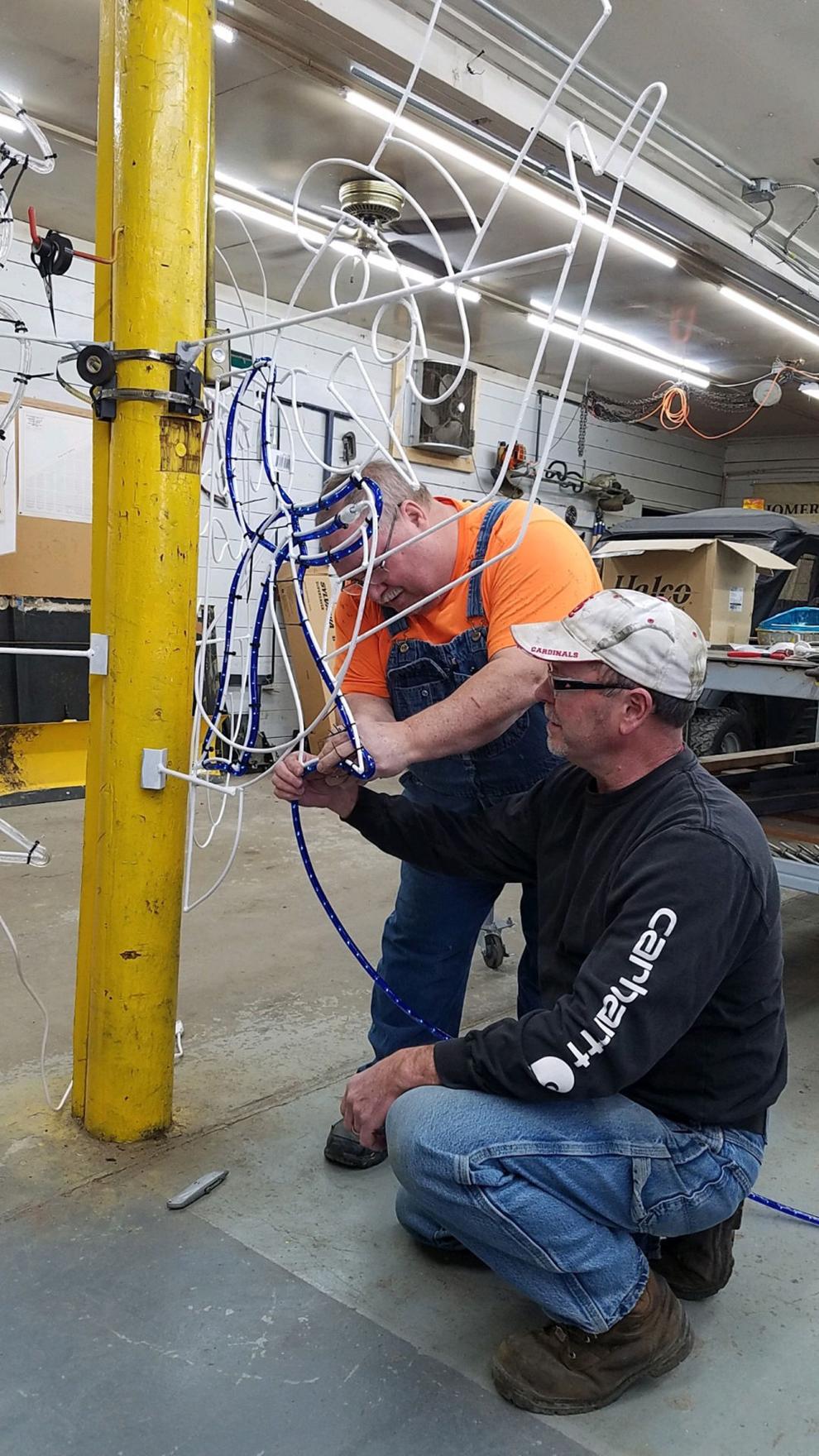 Homer Mayor Raymond Cunningham said the town's old lights were in such bad shape that they weren't put up last year.
He said the village board was in favor of the pair making the new decorations and appropriated the money.
Byerley estimated each new one cost about $200 — quite a savings compared to $800 from ones they would have purchased.
So far 19 of them have been erected, and they plan to make more. It takes about three hours to make one — Byerley and Katterhenry working on the decorations when the weather isn't fit to work outdoors or when they have time to kill at the end of the day.
Byerley said they didn't make the lights for notoriety.
"We just did it for the betterment of the community."
###
Officers won't be able to get as up close and personal with children participating in the Shop with a Cop shopping spree this year, but they'll still be able to help.
The Danville Police Department will host the annual Clothes for Kids (Shop with a Cop) event at 9 a.m. Saturday, Dec. 5, at Kohl's.
Each child who has been selected through their school will be able to buy clothing items up to $100 that he or she needs.
Josh Long, school resource officer who is assigned to Mark Denman School, Danville, said officers won't be able to accompany the children when they shop. The youngsters will shop with a parent/guardian. Officers will still be on hand to answer questions and to meet and greet.
Between 45 and 55 children from Danville and other Vermilion County schools will participate. Funding comes through the police charitable organization.
Kohl's will provide items at a discount.
####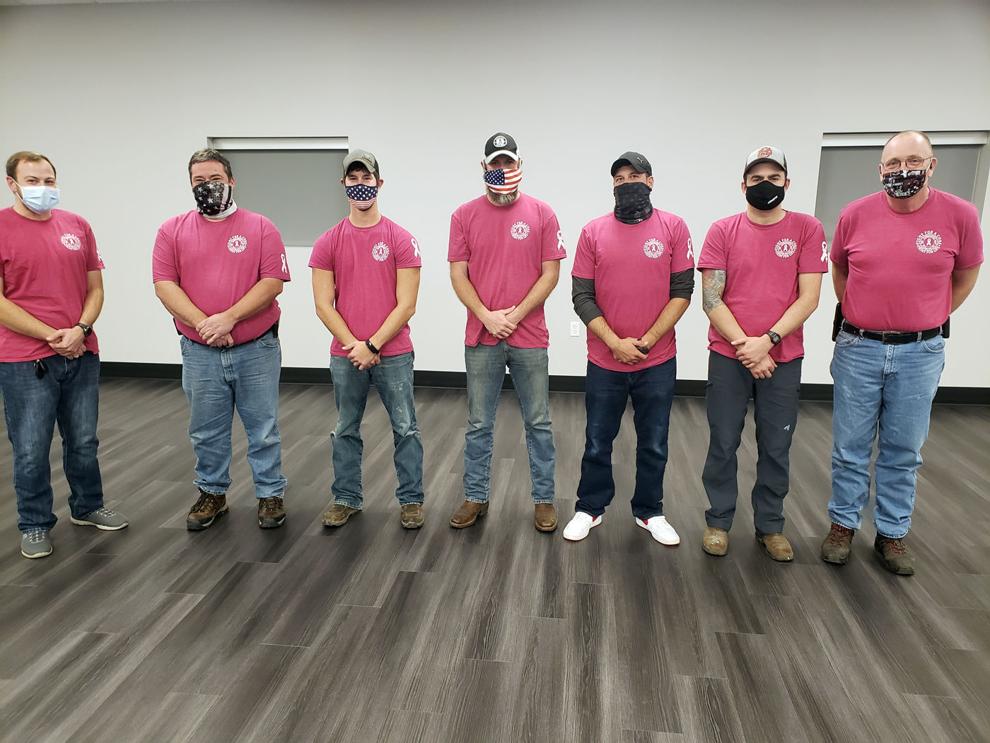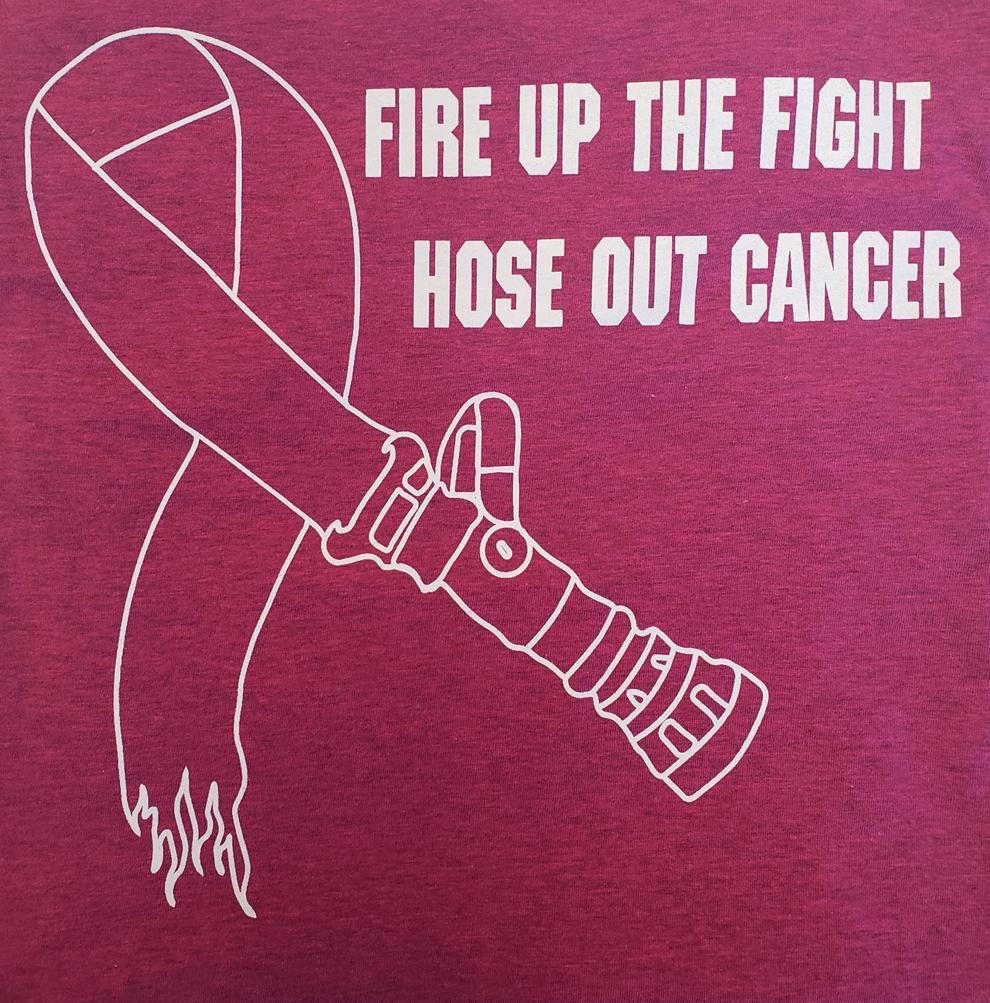 Sidney firefighters are holding their annual cancer awareness shirt sale.
This year's shirt front reads "FIGHT FOR A CURE, FIGHT FOR LIFE" encircling a Maltese cross. The left sleeve includes a white ribbon with the initials "EB" in memory of former chief Earl Bennett, who died last August.
"As of right now we are selling them online, but we do plan to be at the Shop at Home event sponsored by the Sidney Improvement Group," Lt. Grant Bennett said.
The link to order online can be found on the department's Facebook page. The department can also be contacted at 217-688-2617 or SidneyILFire@gmail.com
####
More casualties of the pandemic: Christmas activities.
In Fisher, the annual parade has been scrapped, but all is not lost. The town will hold a drive-thru Santa event from 10 a.m. to noon Saturday, Dec. 5, at the community center and a Deck Your House contest.
Youngsters can see Santa from the safety of their vehicle. Elves will collect wish lists and letters to Santa.
Donations to the Fisher Area Food bank will also be accepted.
The house-decorating contest judging will be held from 5 to 8 p.m. Three $100 prizes will be awarded.
People are encouraged to drive around Fisher and choose their favorite holiday display.
Entry is free. People must enter to win a prize by calling or texting Jason at 217-337-3481 or Laura at 217-840-1957 before Dec. 1
####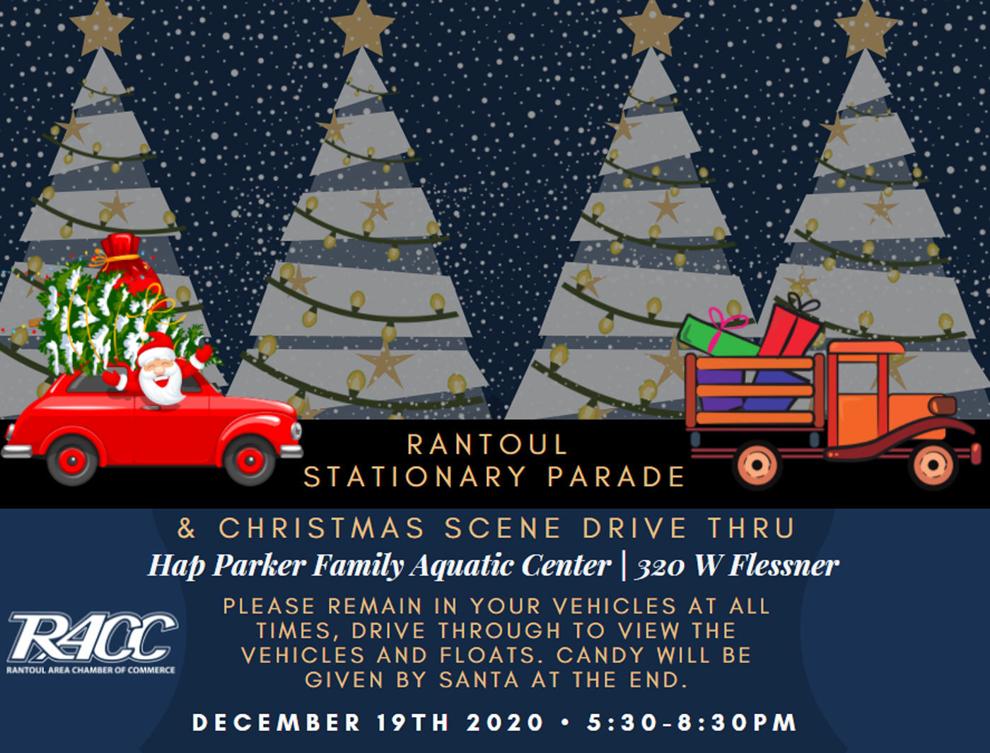 In Rantoul, the annual parade and Santa's Workshop will not be held. Instead, the community will set up a stationary parade and Christmas scene drive-thru from 5:30 to 8:30 p.m. Saturday, Dec. 19, for the public to drive through.
The chamber of commerce is seeking businesses or groups to attend and set up a Christmas display.
"This doesn't have to be a Lampoon-style light display or anything of the sort," Chamber Executive Director Amanda Vickery said. "It can be a few outdoor things borrowed from home in the back of a pickup truck. It can be the trunk of a car with a few lit-up things in the back. It can be a setting without a vehicle and a light display."
####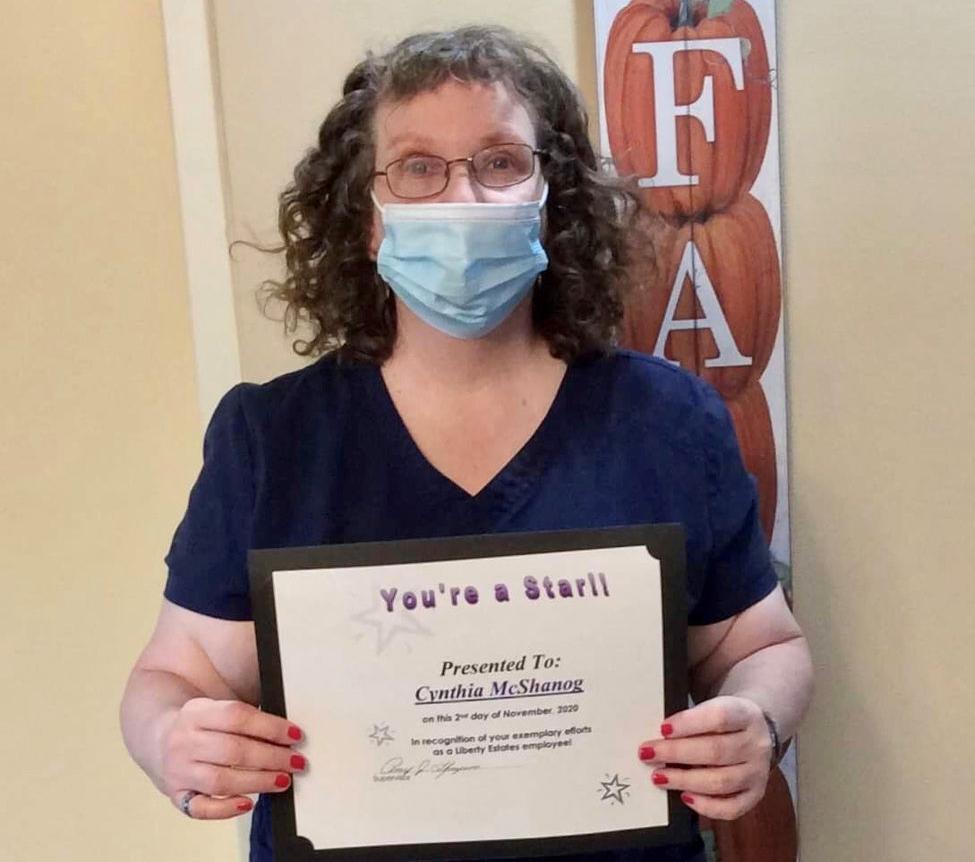 Cindy McShanog has been selected the Star of the Month recipient for October at Liberty Estates in Danville.
McShanog has worked in the housekeeping department at Liberty Estates for the past 12 years.
"Her dedication to her job and cheerful attitude are just a few of the reasons she was chosen," Amy Thompson, Estates manager, said. "We truly appreciate all that Cindy does and the ownership she takes in doing a great job at Liberty Estates," Amy Thompson, estates manager, said.
McShanog resides in Danville.
####$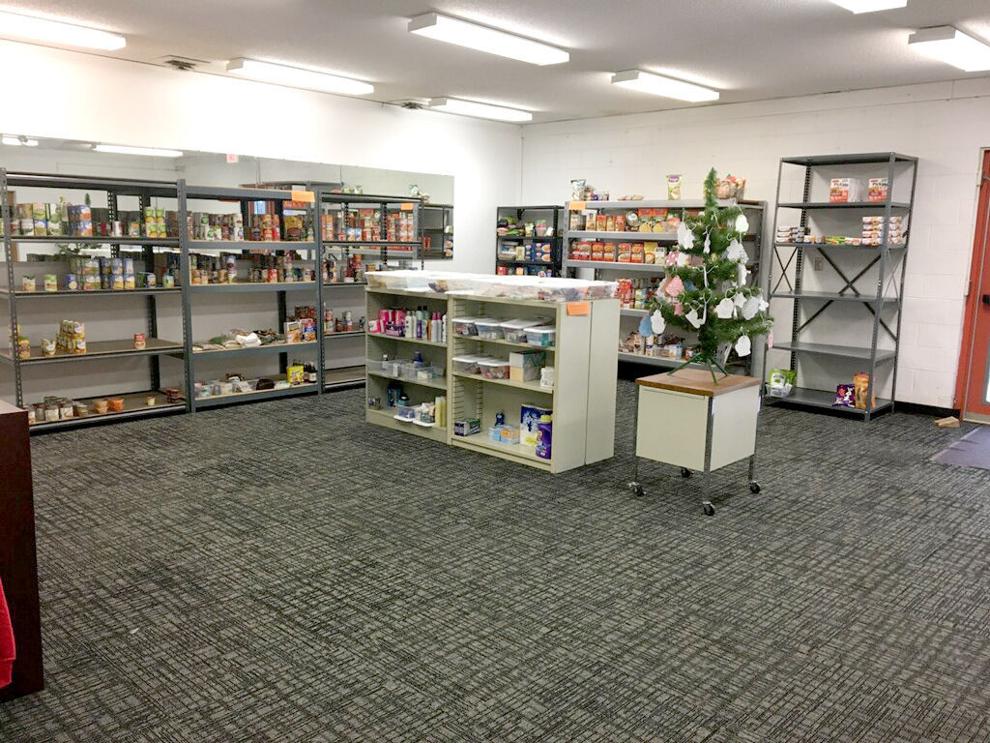 When Cindy Brumfield, a paraprofessional at Mahomet-Seymour High School's alternative school, had students coming to school in the morning hungry, she decided to do something about it.
It started small. She would put granola bars and other items in her desk to give to the students.
"Then it kind of snowballed," she said in an understatement. "I had no idea it would be as big as it is."
Now she oversees a full pantry called Mom's Pantry in what is the former weight room at M-S.
Non-perishable foods, bread and other bakery items, personal hygiene products and even clothing are available.
Anyone with a child in the M-S school district is eligible to get items. Many students take a bag or two of items home with them from school.
Brumfield also gives up part of her Sunday evenings to open the pantry from 5:30 to 7.
"There's a definite need. I don't mind at all," she said, adding that the image of Mahomet being strictly an affluent community is a misconception. "There's a lot of need in Mahomet."
About 20 families come to the pantry regularly on Sunday evenings.
When Brumfield started the pantry about a year and a half ago, she had no idea a pandemic would be on the calendar.
"Food right now actually is an issue for a lot of families," she said.
Pantry items come via donations of food/products or money. The M-S FFA officers recently held a drive-thru food drive. One of the soccer teams made a donation.
Brumfield is also giving out items needed to make a Thanksgiving dinner to about 20 families — about double the amount of last year.
She has set up a giving tree and asks families to answer four questions: What do you need? What do you want? What do you like to wear? What/who is your favorite book/author?
Tags are placed on the tree for community members to take and buy a gift to help make someone's holidays a little brighter.
Brumfield said she believes in giving back.
"Volunteering is kind of my thing," she said. "I think everyone should be involved. I think volunteering should be a graduation requirement for the kids."
###
St. Joseph-Ogden first quarter high honor roll
Freshmen
Alewelt, Edward
Allen, Logan
Armstrong, Aden
Baltzell, Owen
Beetz, Samantha
Burkhalter, Chloe
Divan, Rachel
Ericksen, Sadie
Frasca, Joseph
Frick, Addison
Getty, Grace
Haake, Logan
Harper, Chloe
Harris, Rachel
Hausman, Brody
Hueber, Annabelle
Jacob, Tanner
Jolley, Kya
Jones, Helene
Kibler, Tori
Lewis, Hayden
Lewis, Quinn
Lockhart, Taylyn
Martinie, Addisyn
Miller, Talan
Mock, Isaiah
Musselman, Rowan
Ochs, Caleb
Pruitt, Cole
Reed-Thompson, Macy
Roesch, Addison
Ross, Addison
Santiago, Daniel
Skelton, Lucas
Smith, Logan
Thurman, Drew
Thurman, Emma
Ward, Elissia
Wayland, Colin
Wells, Corbin
Williams, Hayden
Williams, Peyton
Sophomores
Atwood, McGwire
Baker, Kaytlyn
Baltzell, Olivia
Burch, Tyler
Carter, Maddux
Casanova, Yamilka
Chambers, Ariana
Cramer, Morgan
Cromwell, Aiden
Dahman, Zachary
Elsbernd, Emily
Frerichs, Joselyn
Greer, Kennedy
Guelfi, Andrew
Haley, Mikyla
Henkelman, Hayden
Hewkin, Maya
Hug, Taylor
Jeffries, Emily
Jones, Aliya
Jones, Peyton
Kern, Jacob
Ketchum, Hunter
Livesay, Collin
Maddock, Haleigh
McCorkle, Aidan
Meccoli, Kyle
Miller, Teagan
Pearman, Allegra
Pence, Ty
Robertson, Jack
Schaefer, Kirsten
Schmitz, Johanna
Setterdahl, Jack
Siegmund, Paige
Tapia, Trinity
Vander Logt, Payton
Voorhees, Taylor
Wagle, Alayna
Wagner, Mallory
Ward, Maggie
Juniors
Allen, Addison
Altenbaumer, Tyler
Anderson, Kailyn
Armstrong, Ella
Behrens, Abigail
Beyers, Andrew
Burkhalter, Mara
Burnett, Kennedi
Chahine, Angela
Clampitt, Braden
Conerty, Anastasia
Cummins, Deanna
Cunningham, Benjamin
Davis, Sidney
Dressen, Zander
Emmert, Jared
Fox, Hannah
Fulk, Mackenzie
Haake, Brennan
Hamer, Liam
Harper, Lauren
Ingram, Kailyn
Jacob, Payton
Kearney, Alison
Knap, Ava
Lewis, Jacey
Loghry, Wyatt
Martlage, Kelsey
McDade, Sophia
Miller, Coby
Miller, Conrad
Mock, Elijah
Morris, Jett
Palmer, Jessica
Parkinson, Emma
Rajlich, Hope
Schmitz, Grace
Sexton, Taryn
Shoviak, Alyssa
Stegall, Luke
Steinbach, Rebecca
Trame, Mackenzie
Uden, Regan
Wells, Taylor
Seniors
Brooks, Isabelle
Burnett, Crayton
Bytnar, David
Campbell, Taylor
Duckett, Kylie
Duckwitz, Makayla
Dwyer, Jacob
Eastin, Hanna
Edwards, Nadirah
Franzen, Dakota
Hamilton, Atleigh
Houston, Emmyrson
Hutcherson, Lukas
Ingram, Logan
Kellenberger, Cailer
Kofoot, Shelby
Maddock, Alyssa
Madsen, Tyson
Martlage, Sophia
Meeker, Garren
Naylor, Samantha
Painter, Alec
Patton, Erin
Roberts, Aidan
Robinson, Indira
Ronk, Mazie
Schmitz, Evan
Shonkwiler, Max
Smith, Tessa
Vallee, Payton
Walden, Nora
Wendt, Brayden
Wertz, Mikayla
Wolfersberger, Logan
St. Joseph-Ogden first quarter honor roll
Freshmen
Allen, Chloe
Allinger, Kaden
Bott, Mya
Brown, Kyler
Carter, Payton
Chahine, Maya
Harbourt, James
Hayes, Jayci
Jones, Holden
Lannert, Lauren
LeVeck, Jake
Maroon, Carson
McBride, Seth
McMahon, Shannon
Stevens, Madison
Sweet, Zoey
Waller, Braxton
Wilson, Spencer
Sophomores
Acton, Alyssa
Adams, Madison
Alwes, Canyon
Burch, Taylor
Carter, Payton
Chatterton, Gwen
Cook, Madelynn
Dow, Abigail
Finley, Leah
Flessner, Grace
Gadbury, Jessica
Harms, Hallie
Hinrichs, Mary
Immke, Shayne
Kelley, Cameran
Kelley, Jade
Lane, Aaron
Morgan, Blake
Myren, Courtney
Nemecz, Caleb
Newman, Jacob
Northen, Ava
Rydell, Emma
Ward, Emma
Wetzel, Jackson
Juniors
Anzelmo, Nicolas
Atwood, Madison
Bensyl, Alanna
Besson, Ella
Burnett, Allison
Eldridge, Ashley
Freeman, Carter
Fuqua, Zella
Gaines, Hailey
Gerdes, Avian
Hamilton, Alyssa
Huffman, Claire
Klotz, Olivia
Lannert, Ashlyn
Meyer, Ava
Miller, Ava
Place, Jackson
Poulter, Jonathan
Roesch, Griffin
Snyder, Anna
Vanliew, Ethan
Weinmann, Elijah
Seniors
Buss, Brady
Crippen, Raegan
Eads, Caleb
Evans, Britney
Frerichs, Alexandra
Froman, Emily
Getty, Isabella
Knott, Hayden
Lahners, Spencer
Lane, Ethan
Lilly, Matthew
Livesay, Aiden
Loman, Madigan
Moberg, Abigail
Umbarger, Hannah
Whitlock, Mitchell
Wilson, Rachel
Heritage first quarter honor roll
8th Grade— Klayton Junglas, Bailee Lubben, Hunter Montgomery, Brennan Struck, Gracyn Tate, Loran Tate, Mykayla Thomas, Olivia Wallace, Addison Weisman, Kashton White
Honors
8th Grade— Robert Holloman, Kamble Pearman, Kamryn Soard, Alexandria Tatman, Madisyn Wilson, Wyatt Young
High Honors
7th Grade— Eli Denmark-Collins, Chaylea Fisher, Anthony Happ, Isabelle Lawrence, Lukas Miller, Vivian Pondenis
Honors
7th Grade— Patrick Chapman, Tyler Ingerson, Faith Latham, Brenley Sands, Leigha Tatar, Rylan White
High Honors
6th Grade— Nathan Bensyl, Erika Bonilla, Addison Hopper, Breanna Ploense, Clayton Thomas
Honors
6th Grade— Lillie Bishop, James Dillon, Ryan James, Lillian Perkins, Clark Roland, Jayden Schrock, Coltyn Thompson, Caesyn Wasson, Kaden White
Dave Hinton is editor of The News-Gazette's Our County section. Reach him via email at dhinton@news-gazette.com or call 217-249-2404.