Executive Branch | How Champaign County's property-tax levy works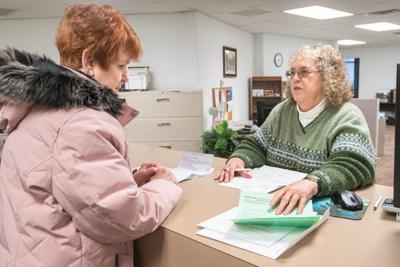 Kicking off today and running occasionally in Sunday's News-Gazette: Darlene Kloeppel, who in 2018 became Champaign County's first-ever elected county executive, explains how her corner of local government works.
'Oh my gosh, the county is raising my property taxes by 15 percent! AAARGH!'
I usually hear comments like this following the big, bold "truth in taxation notice" that the county publishes in the newspaper every fall. When you get your tax bill and do the calculation, it turns out that your county property taxes haven't gone up 15 percent after all. What's going on here?
Well, the law prescribes the exact language of the newspaper announcement about the tax-levy rate, which is not the specific increase for individual property owners. The levy is the total amount that the taxing district expects to collect in the next year. The rate increase is determined by comparing this amount to the total anticipated amount for the current year, only some of which may be an increase on your property's tax calculation.
The tax levy also may be increased by the addition of properties to the tax rolls through new construction or annexation. The expected tax collection will increase more in places where there is economic growth or housing prices are rising than in districts where there is little or no growth.
The levy may be decreased by removal of abandoned properties that are no longer paying taxes or property annexation out of the taxing district. (For the county, this would mean annexation into a municipality).
The county's tax cycle is a cooperative effort among several offices:
— First, township assessors complete a valuation of all properties within their townships. If you think you can show that your property's value is lower than your assessment, you can appeal to the county board of review.
— Next, the county assessor compiles all the township assessments and makes any reductions in value for reasons allowed by law, such as homestead or senior exemptions. If you qualify, you can apply for exemptions through the county assessor's office.
— Then, because Champaign County is subject to the "Truth in Taxation" law, the county board is required to publish the notice you see in the newspaper and hold a public hearing to give residents the opportunity for input before the levy is approved. Once the county board sets the levy, the county can only collect that amount, so it is important to correctly estimate all properties that can be included.
In Champaign County, the Property Tax Extension Limitation Law — more commonly known as "tax caps" — limits this amount further to either the increase in inflation or 5 percent, whichever is lower.
Properties fall in several taxing jurisdictions that collect property taxes — municipality, county, school district, special districts — and you will see several of the "truth in taxation notices" each year. The county clerk multiplies each property's value by the approved tax rates for each of the districts in which it lies.
Tax formulas for each district are different, based on laws and referenda passed by constituents. For example, one school district may have a different rate than another, or one business may be located within a city's limits while another lies outside those limits. Each district checks and confirms all this calculating, so they can more exactly project property-tax revenues for the next year's budget.
— Last, the county treasurer sends tax bills to property owners and receives payments. To simplify things for residents, the taxes owed for all of the different districts in the county are put on one bill, and the treasurer distributes the amounts collected for districts other than the county itself.
Property taxes are only one source of income for most local government budgets. Other revenue includes sales taxes, various fees and fines, grants and even donations.
For Champaign County's 2020 budget, the tax-levy rate is 7.82 percent, and property taxes account for about 30 percent of total revenue.
Darlene Kloeppel is Champaign County's first executive, elected in 2018. Have a topic you'd like her to tackle? She takes requests at DK@co.champaign.il.us.