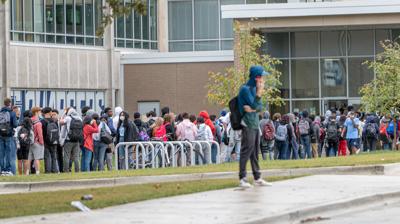 The security upgrades added this week at Centennial High School are unfortunate but necessary.
Some people have concerns or complaints about students being wanded as they walk into school, that it seems as if they're entering a courthouse. Better safe than sorry, I say.
All schools should have metal detectors at entrances — not only for the safety of the students, but also for the well-being of staff members. Things are just not the same in the community, so we can't act like they are.
We have to do something about it, and metal detectors are a step in the right direction.
We didn't have to worry about metal detectors when I was at Champaign Central because times were different. I grew up in a time where kids didn't carry guns around, and if they did, they for sure weren't bringing them into the schools.
We had more positive influences back then. I can say that with confidence.
Nowadays, there are a lot of people who talk about change but are part of the problem.
I hope the metal detectors work out for the best, but deep down in my heart, I still believe that remote learning would be the best route to take. That way you don't have to worry about your child's life being in danger when they leave the house in the morning.
The argument during the pandemic last school year was that kids weren't engaging as much online. But it seems as if they can't engage in person, either, with all of the violence we've experienced the first few weeks of classes.
If I was a parent of a high school kid right now, I would rather my child be online than in person, because it's an unsafe environment.
There have been multiple threats, including an arrest of a Centennial student who allegedly brought a gun to school.
At this point, you can't take any of that for a joke. It's serious.
I know some things that occur are out of school districts' control, but I trust that they'll figure out a solution to the violence.
I don't like that we have to go through these types of bumps in the road, but I still have faith.
Jay Simpson writes for The News-Gazette. His column appears Wednesdays, Fridays and Sundays. He can be reached at jsimpson@news-gazette.com.