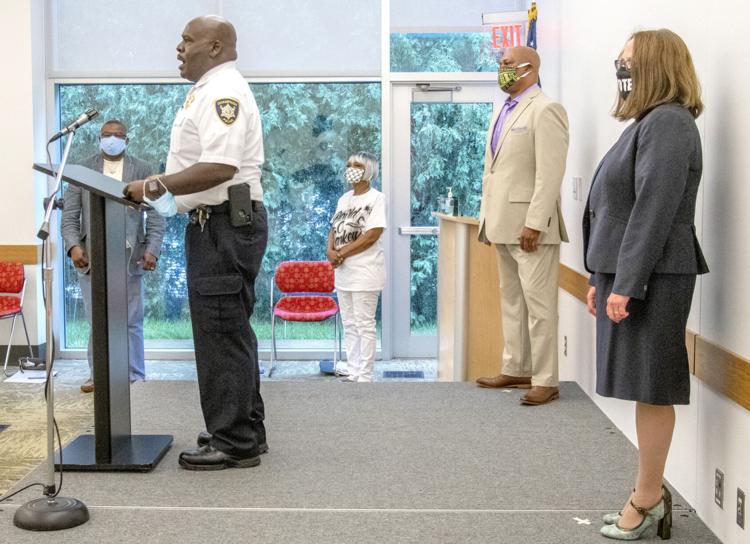 If I wanted a gun, I could have one by tomorrow morning — and I'm not talking about getting it from Field & Stream. You just have to know the right person and have about $200 — no license required.
The streets of C-U are flooded with guns, and there's no limit on whom they're sold to. I've seen children as young as 12 carrying fully loaded handguns.
I still remember the first time I saw a kid with a gun. While living in Rainbow Apartments in Urbana, a bunch of us were walking to Prairie Park when a friend of mine pulled a revolver out of his hoodie.
"Look what I got!"
We were all about 9 years old. We passed the gun around just to get a feel of it. I have no idea whatever happened to that gun, but I will never forget that experience.
I do not agree with kids carrying guns whatsoever, but I do understand that some are just products of their environment. Children are like sponges; they only do what they see and hear.
It's no secret Champaign-Urbana has a gun problem. Already in 2020, there have been close to 100 reports of gun incidents alone.
This isn't a new thing. As a 26-year-old who grew up here, I've witnessed it. Several of my close friends have been victims of gun violence, which resulted in death:
— Kiwane Carrington. I still remember to this day being on my way to a Central football game when my friend, Tyre Mullins, got the call from his mother that Kiwane had been shot and killed by a Champaign police officer.
— Kendall Adams. A good friend of mine, he was killed while sitting in his apartment in Champaign.
— James Coleman. I got to know to him because his mom and my mom are best friends. He was shot to death at Gramercy Park Apartments.
In each case, I attended the funeral. For many of us in the crowd, it was a mix of anger, confusion and sadness on those days.
Donte Lotts has been there, too. He's someone I got to know growing up — to this day, he works with kids in hopes of steering them straight.
I got a chance to catch up with Mr. Lotts this past weekend to get his view on things.
The first question I asked him: Where do you think kids are getting the guns?
"A few years back, Rural King had guns stolen, and then we had an increase in break-ins," he said. "Some also believe that the guns are being put in the streets on purpose by people higher up. In Chicago, kids can get guns and even bulletproof vests from the corner stores. That is everyday life for them; those kids are trying to survive."
My second question: What do you think needs to be done in order to stop what is going on?
"I think the First Followers Re-entry Program is a good start. It's held at Bethel AME Church at 401 East Park Street in Champaign," he said. "The program is run by Marlon Mitchell and James Kilgore. They do a lot with the community such as housing, helping them get back in school and helping them take the steps to get their records expunged."
Drop-in hours for the re-entry program are Tuesdays and Thursdays from 1 to 5 p.m.
"Other than that, it is going to take community involvement," he said. "We need our entire community to make changes. There is a lot of finger pointing at places like the church and absent fathers rather than focusing on what we can do personally to help."
What would his message be to a kid with a gun?
"To encourage them to place more value on their life, as well as others'," he said. "A gun comes with huge consequences like taking someone's life or maybe even their own life. A lot of kids don't feel loved at home or anywhere else, so their thought process may be different."
The last question I asked was if he felt the blame should be placed on kids, parents or the environment kids grow up in.
"I am going to blame the entire community. Most of the time, the kid is a product of their environment," Lotts said. "Some kids come from great homes and sometimes still make poor decisions. You don't know what is going on at home for that kid, so it is hard to point out just one person to blame. We often always point fingers and blame, but we need to figure out an answer. What are we going to do?"
Nowadays, in society's eyes, the youth are the most dangerous people in our community. I beg to differ. If people would actually get to know these kids, they would realize that they don't really want to live the life they're living, where they have to carry guns and look over their shoulders all day. It is simply all they know. That is all they have seen growing up, so to them that's the way life is supposed to be.
I believe it is up to people like myself and other community leaders to show them that there are other ways to live life and earn respect.
There's an old saying: "Give a man a fish and you feed him for a day; teach a man to fish and you feed him for a lifetime." To me, that means we need to lead with our actions, not our words. We have to get out in the community and show that we are here for them in order for them to gain trust and believe in themselves.
I can preach to a child all day, but until I actually show them what I'm talking about, whatever I say will go in one ear and out the other.
I'm raising two kids of my own — a 6-year-old and a 4-year-old — and I'm going to have to have that talk with them at some point.
My message: I will not always be able to protect them, so they'll have to think and react to some tough situations on their own. It is my job to be completely honest with them about the world we live in and teach them how to analyze and react in certain situations if needed.