Opinion: Jim Dey
Jim Dey | Ammons, just admitted to House leadership, is suddenly out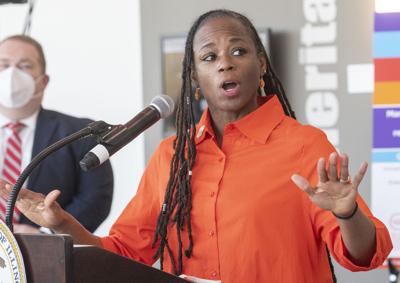 In late January, new Illinois House Speaker Emanuel "Chris" Welch introduced members of his House leadership team, including state Rep. Carol Ammons, D-Urbana, as chairwoman of the Democratic conference.
This past weekend, he accepted Ammons' shotgun resignation after she allegedly abused her position while presiding over a debate involving legislation concerning the Illinois Department of Children and Family Services.
It was an embarrassing moment for House Democrats because this kind of turnover in leadership positions is, if not unprecedented, extremely rare.
As a consequence, few Democrats are willing to discuss the matter, and news reports on the controversy have been brief.
Welch stunned the legislators' meeting in Springfield with his Saturday announcement.
"I am happy to announce that I have appointed Representative LaToya Greenwood, D-East St. Louis, as Majority Conference chairperson," Welch said in a statement. "Today, I accepted the resignation of Leader Carol Ammons, D-Urbana, from this position. I am grateful for the work she has done and will continue to do for the people of Illinois. I am eager to see the progress Leader Greenwood will make as she grows into this leadership role and the continued success of our Democratic caucus here in the statehouse."
Politico's Illinois Playbook newsletter reported that Welch's move, "which drew praise from Democratic moderates, came after an apparent power grab on the House floor."
Illinois Playbook reported that state Rep. Terra Costa Howard, D-Lombard, was presenting a bill on DCFS reporting issues — Senate Bill 1904 — when Ammons took over the gavel to preside.
Representatives of the speaker who wield the gavel during debate are expected to be scrupulously fair and neutral.
"Ammons opposed the DCFS bill and tapped Rep. Mary Flowers, a fellow Democrat critical of the measure, to question Costa Howard. Onlookers said Flowers was abusive and that Ammons allowed her to go on too long," Illinois Playbook reported. "Lawmakers said Ammons misused the podium and that the whole episode looked choreographed, although Flowers says it wasn't."
Ammons' loss of her position as chairwoman of the Democratic conference will be painful in several ways, including financial.
She was paid an additional $18,066 per year on top of her annual legislative salary of $69,464 and per diem expense payments of $151 per day when the legislature is in session.
State Sen. Chapin Rose, R-Mahomet, said a member of the leadership team who is ousted also loses influence.
"It hurts your ability to represent your constituents," he said.
A review of the video shows Costa Howard, the bill's sponsor, speaking on behalf of legislation that she said "protects children." Flowers, of Chicago, who also is a member of Welch's leadership team, took strong exception to that claim. She questioned Howard in a lengthy, aggressive and sometimes insulting manner.
"This is done for no other reason than to be malicious," Flowers said, describing the bill as "very disrespectful" to Black families.
"Black children are not for sale. You cannot use them to make money," Flowers said at another point in the debate. She was referring to what she claimed is a state practice of accepting federal aid money intended for children under DCFS guardianship.
Flowers' questions and statements continued at length. At one point, Costa Howard appealed to Ammons to direct Flowers to stop speaking so she could answer Flowers' questions.
When Ammons did so, Costa Howard thanked her.
The House ultimately passed the bill by an overwhelming, bipartisan 89-7 vote, with Ammons and Flowers voting no.
The video of the episode reveals nothing inherently inappropriate about Ammons' conduct. But the problem apparently was not what she did — passively preside over the exchange — but what she did not do — rein Flowers' conduct in when it ran off the rails.
This is not the first time Ammons' conduct has raised eyebrows. News reports indicate she engaged in an insulting exchange with fellow state Rep. Natalie Manley, D-Romeoville, that prompted Manley to end her participation in a Democratic caucus.
Last week, Ammons took the opportunity during a moment of silence on the House floor intended to honor slain Champaign police Officer Chris Oberheim to express her sorrow for the death of Darion Lafayette, the man who fatally shot Oberheim and was subsequently fatally shot by Officer Jeff Creel.
"This nation is actually grieving," she said. "And so, I pray that we can come together to address what is actually driving the violence and the murder that is taking place in our communities. We uphold these families, and we ask for solace for all of them and that there is some semblance of relief and pressure that is put on this issue so that we can address it all at once."
"We ask the body to take a moment of silence for the loss of life that has taken place in Champaign."
Local legislators usually do not criticize each other. But Rose said Ammons' comments prior to a moment of silence intended to honor Oberheim were "utterly disrespectful."
"It was so wrong," he said. "She needs to apologize."
Ammons' words came before authorities released details of what happened in the shooting that left Officer Oberheim and Mr. Lafayette dead and Creel wounded.
Investigators said Mr. Lafayette shot both officers before Creel shot and killed Lafayette. The officers were responding to a report of a domestic dispute involving Mr. Lafayette when the shooting occurred.
In a post-shooting news conference, Champaign Mayor Deb Feinen also expressed her sorrow over the dead and wounded.