Jim Dey | Cat-turned-federal rat out of the bag and on the prowl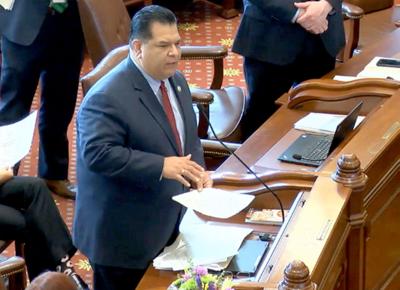 Last summer, then-state Sen. Martin Sandoval of Chicago, chairman of the powerful transportation committee, member of the Democratic leadership team and infrastructure power broker, was riding high.
At least, that's the way it looked from the outside. But even then, the edifice of power built around him was starting to crumble. He'd been on the take from red-light camera company SafeSpeed since 2016, and the feds were closing in on him.
Everything would fall apart — officially — in late September, when the FBI executed a series of high-profile search warrants, including at Sandoval's home and Senate offices.
But it was on July 31, at a meeting in a Burr Ridge restaurant, that Sandoval drove some nails into his coffin.
"Can I bring up something personal with you. ...You've been good to me politically. But I've learned there are some people who helped (SafeSpeed) who get a monthly, um ..." he said.
"Consulting fee, sales consulting fee," replied Sandoval's tablemate.
"When they have helped with the sighting of a camera. ... on a monthly basis, infinitum," Sandoval continued.
"One-hundred percent. They get a percentage of the revenue that is brought in by a specific community," Sandoval's companion said.
"Like I did in Oakbrook Terrace. ... So why don't I get that offer?" Sandoval asked.
The veteran Chicago politician may have thought he was talking to a friend who had "been good" to him. But the purported friend — identified by the government as CW-I (Cooperating Witness 1) and the news media as Burr Ridge businessman and SafeSpeed representative Omar Maani — was wearing a wire and recording their conversation for the FBI.
That became apparent Tuesday when Sandoval appeared in U.S. District Court in Chicago to plead guilty to bribery and income-tax evasion, criminal charges linked to Sandoval's well-paid role as the self-described "protector" of red-light-camera company SafeSpeed.
He faces a prison term of around 10 years, the exact amount to be determined after prosecutors evaluate the quality of his assistance in investigations that are expected to go far beyond the red-light-camera conspiracy and deep into the bowels of Chicago, Cook County and Springfield politics.
Exactly where it goes, the Sandoval plea agreement did not say. But just as Maani turned on Sandoval, Sandoval is now turning on his various co-conspirators in what ultimately will become an every-man-for-himself feeding frenzy.
"Sandoval also engaged in corrupt activities with other public officials and accepted money from other people in return for using his position as an Illinois State Senator to attempt to benefit those people and their business interests," the 27-page plea agreement states. "In total, Sandoval accepted over $250,000 in bribes as part of criminal activity that involved more than five participants."
A sheepish Sandoval later apologized to the "people of Illinois and, most importantly, to the constituents I've served for the past 17 years."
"I intend to fully cooperate with the government, and because of that, I can no longer provide any further comments," he told reporters.
The Chicago Tribune provided a more expansive explanation of the length and breadth of Sandoval's potentially illicit activities. It said the Senate veteran is "connected to Cicero politics, the Illinois Tollway, waste-disposal companies, video gaming and ComEd."
Sandoval's always had a well-deserved reputation as a shady character. He was considered by his Senate colleagues to be the most likely among them to be indicted. (State Sen. Tom Cullerton, D-Villa Park, indicted last year in connection with a ghost-payroll conspiracy, won that smarmy competition.)
But Sandoval is connected to all the wrong places, and that means he has a lot of information to trade for a reduction in his sentence.
Even though he's cooperating, Sandoval still faces a prison sentence ranging from 121 to 151 months. But that's not all.
The feds also have focused on his ill-gotten gains. His plea agreement calls for him to make $72,441 in restitution to the IRS and $13,384 to the Illinois Department of Revenue. Sandoval also agreed to pay the U.S. government $70,000 "as compensation for government funds that (Sandoval) received during the investigation of the case."
Authorities revealed they seized money from Sandoval in three separate instances, the amounts being $3,150, $18,120 and $9,720.
Because of his conviction, Sandoval will forfeit a lucrative legislative career. But he did beat taxpayers out of a month's pay. His Jan. 1 resignation requires him to be paid his salary for the entire month of January.
One of the ironies of the tax-evasion charges against Sandoval is that he was among the most prominent legislative advocates of a series of tax hikes.
He pushed for the 19-cents-per-gallon gas-tax increase as well as assorted fee increases to pay for a $45 billion infrastructure package. He also was a proponent of Gov. J.B. Pritzker's progressive income-tax amendment that is on the fall ballot.
Jim Dey, a member of The News-Gazette staff, can be reached at jdey@news-gazette.com or 217-351-5369.