Business shortly after noon Tuesday appeared slow at the City of Champaign 20 polling place, located at Grace Lutheran Church.
Six hours plus after the polling place opened, just 118 out of 966 registered voters had cast ballots in the area.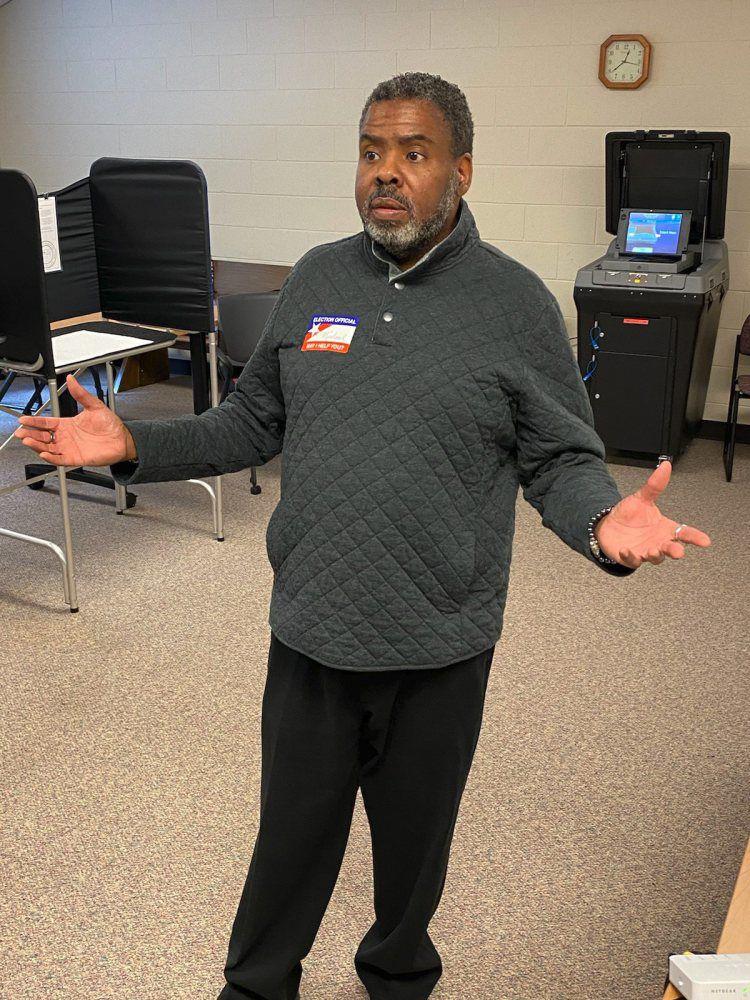 Election judge Michael Martin said there was a "steady flow" of voters, but fears about the coronavirus pandemic had "thrown everything off."
While the numbers appear lower than usual, there were voters who were determined to cast their ballots.
One couple — she was using a steerable knee scooter to get around because of recent ligament surgery and he was wearing blue rubber gloves — labored to get into the building.
After voting, Wally Lotz used hand sanitizer to ward off potential maladies, jovially announcing that he was "washing my hands of the whole process."
Asked whether she was concerned about the coronavirus, voter Kristina Miller said "yes and no."
Yes, because she spent part of Monday at the hospital with her mother for an unrelated illness. No, because as a University of Illinois employee, "I'm working from home."
Business at the polls may have been steady, but it still was slow — just how slow to be determined by the final numbers.
But it served as a metaphor for the lumbering pace of life locally in the aftermath of Gov. J.B. Pritzker's decision to call daily life as people know it to a halt out of an abundance of caution.
****
A drive down South Neil Street in Champaign revealed one restaurant after another with few vehicles, in any, in their parking lots. Whatever business being done was done in the drive-thru lanes. Bars, too, are closed.
Still, people have to eat and, apparently, drink.
Inside Harvest Market grocery store, employees of an out-of-town distributor were laying in extra cases of beer and non-alcoholic beverages to meet new demand — 500 cases rather than the usual 300 to 400.
One distributor employee joked that "people are afraid the world is coming to an end, so they want to have enough to drink."
If Tuesday was a good business day for taking care of grocery stores, today, the designated day for supplying bars and restaurants, will "be slow," he predicted.
Life inside Harvest Market appeared normal. But, owing to stepped-up activities to make customers feel comfortable, it's different.
The business has made hand sanitizers and gloves available to customers and employees alike and closed down its in-store restaurant and coffee shop, At the same time, it's changed some packaging, implemented new early-morning shopping hours for seniors (6 to 7 a.m.) and scheduled cleaning for "every 20 to 30 minutes" with hospital-grade disinfectant.
"We're wiping down everything," said Donna Wright, the store's operations manager. "We have upped the ante."
Just as in-store circumstances are different, so is Harvest Market's online shopping program for both pickup and delivery — it's increased by three times what it was before the pandemic.
****
Michaels' Catering is also in the food business, but a different kind. It's been creamed by a loss of business.
Co-owner Whitney Ackermann said roughly 60 catering events have been canceled, and a business with 25 full- and part-time employees has been reduced to "about four."
She said the only bright spot is that businesses whose employees can't go out for lunch are ordering "box lunches for the office so they can grab and go."
Ackermann said Michaels is focusing on how to meet different kinds of customer wants (more deliveries) and reviewing options for financial assistance through the government's Small Business Administration.
The obvious fact is that everyone is affected by the disruption of their daily routines — some more adversely than others but, nonetheless, all one way or another.
For example, members of a women's Alcoholics Anonymous group were scheduled to meet Tuesday at Grace Lutheran, But the gathering was canceled, apparently out of concern over the coronavirus.
"We are working to create a phone-in meeting. Let's stay connected," stated a notice posted on a church door.