Opinion: Jim Dey
Jim Dey | Divided Evanston no sure thing for Urbana admin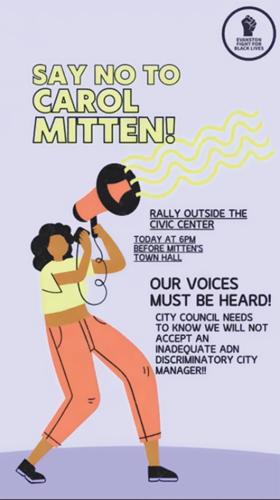 It's time once again to dive in to another round of quick takes on the people, places and events that were being talked about over the past week:
What's she thinking? Part II
Urbana's chief administrative officer Carol Mitten, the lone candidate for the city manager's post in Evanston, this week tried to sell herself to skeptical residents there.
Speaking Thursday at a town meeting before a crowd of "more than 60 virtual attendees and dozens more in person," Mitten said she would be a good fit in that hyper-liberal, university-based community, according to an account in The Daily Northwestern.
"I think truly my greatest strength is that I see the big picture. It's all a system, and I'm constantly evaluating what's in front of me in light of that system," Mitten said.
Although clearly fluent in speaking incomprehensible bureaucratese, Mitten was pressed on issues that don't lend themselves so easily to linguistic evasion.
One stemmed from Urbana's arrest of Aleyah Lewis in 2020 and allegations of police misconduct while taking Lewis into custody.
Lewis is the young woman in the company of her gun-toting boyfriend, who fired at least one shot into a residence in an Urbana neighborhood. The intoxicated Lewis resisted arrest and broke an officer's finger before she was finally restrained.
It was much ado about very little until community activists charged Lewis was a victim of racial injustice. Subsequent investigations showed officers acted appropriately under the circumstances.
That kind of race-based controversy is manna from heaven for Evanston lefties. Evanston Mayor Daniel Biss served as moderator of the discussion, and the Northwestern reported that it got unruly.
Trying to tamp down what the Northwestern called "interruptions from unruly attendees," Biss said the meeting could not continue "if we don't allow for questions and answers both."
The Chicago Tribune recently editorialized that community discord is making it impossible to hire a new city manager. The city already has conducted two failed searches, and Mitten is the only candidate to survive Biss' third search.
Mitten attempted to put her best foot forward and, according to the Northwestern, pretty much indicated she's an expert in almost everything related to city government. However, she complained about misinformation spread about her and the city on the website "Check CU."
The Evanston council is scheduled to vote Aug. 8 on Mitten's candidacy. Urbana Mayor Diane Marlin said Mitten has a "great job opportunity" but does not know if she'll stay in Urbana or accept the Evanston job.
Libertarian Jesse, we hardly knew ye
Now neither Jesse White is running for Illinois Secretary of State.
Jesse White, the longtime Democratic secretary of state, is definitely not running for re-election.
But another Jesse White, one who filed to run on the Libertarian Party ticket, has decided to pull out of the contest.
That will come as a relief to Democratic politicians, who feared voters might mistake the Libertarian White for the Democratic White and vote for Libertarian White.
After Democratic secretary candidate Alexi Giannoulias filed a challenge to Libertarian White's petitions, Libertarian White threw in the towel.
There must have been some monkey business with his petitions, as hard as it is to believe that could happen in Illinois.
'We're disappointed that Jesse is no longer going to be on the ballot," said outgoing Libertarian State Chair Steve Suess.
Now that Libertarian White is toast, Democratic Giannoulias faces Republican state Rep. Dan Brady of Bloomington.
Do you have what it takes to be a billionaire?
Readers may think so. All it takes is a couple billion dollars, give or take a farthing or two. But there's more to it than that.
It take a special person to be a multibillionaire because multibillionaires can be at four places at the same time.
How do we know this?
Chicago multibillionaire Ken Griffin has decided that Illinois has no future as a vibrant and growing state. So he's moving to Miami, Fla., a decision that requires him to liquidate his staff.
He's not only taking the hundreds of millions of dollars he paid in state taxes and the hundreds of million he gave in charitable donations, but he's also downsizing.
That requires Griffin to sell four of his Chicago Gold Coast condominiums. They can be had for a combined asking price of $54.5 million. Hence, the next question: Do you have what it takes to be a multi-multimillionaire and buy four Gold Coast condominiums?
Not on the road again
Kansas' head basketball coach Bill Self (who once led the Fighting Illini) and his legendary charm were home-bound during the June and July recruiting period.
What's up? KU is feeling the hot breath of the somnolent and blind bloodhounds from the NCAA, according to sports outlets.
CBS Sports said Self and assistant coach Kurtis Townsend were subject to "self-imposed sanctions from Kansas that signal the first cooperative effort by the program as it continues a years-long battle with the NCAA stemming from the FBI investigation into bribery and corruption in college basketball recruiting."
KU was among a number of schools implicated in a federal investigation involving criminal violations related to shady recruiting. The NCAA piggybacked on the federal investigation, serving KU with notice of violation in September 2019.
KU has been vigorously resisting charges that it was a participant along with shoe company representatives to offer illegal inducements to players. But it's apparently decided to play nicer by making a modest concession involving recruiting.
Self, one of the top coaches in the history of college basketball, is a charmer who can talk to anyone about anything. His recruiting marvels at Illinois left his successor, Bruce Weber, with a Final Four team.
Immensely likeable, Self has won two NCAA championship while at KU, and he'll be staying at KU no matter what the outcome of the NCAA investigation. His recent contract provides ironclad job security.
The game must go on
Neither rain nor protesters could stop the Republicans versus Democrats congressional baseball game played Thursday.
Republicans beat the Democrats 10-0, their second consecutive victory in the series that raises money for charity.
Rain in the fourth inning delayed the action, but it was climate protesters who attempted to scuttle the entire event.
Protesters outside locked arms and tried to block the entrances to Nationals Park.
The players were unimpressed by protesters.
"No one takes them seriously," said local Republican Rep. Rodney Davis, describing them as "idiots."
The point of the game is to raise money for the Girls Clubs of Greater Washington and the Capitol Police Memorial Fund. News report say organizers raised more than $1.5 million with about 17,000 tickets sold.
One lowlight came when U.S. Rep. Linda Sanchez, a member of the House Democratic leadership team, walked by the GOP dugout and made an obscene gesture, one captured on film, to Republicans.
Box scores were not available but Davis, who caught for the GOP, got at least one hit and one RBI.