Jim Dey | Meet the realists who dare to question Pritzker's financial forecast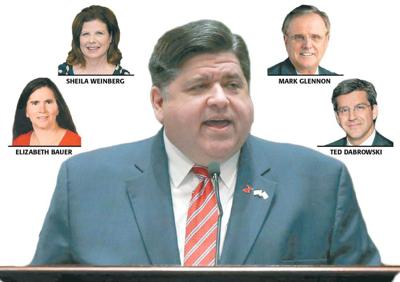 When Gov. J.B. Pritzker delivered his State of the State address in late January, he did what all governors do under those circumstances — brag about his accomplishments.
But he couldn't resist launching a rhetorical attack on those who "shout doom and gloom" about Illinois' financial standing.
"... we're wresting the public conversation in Illinois back from people concerned with one thing and one thing only — predicting total disaster, spending hundreds of millions of dollars promoting it, and then doing everything in their power to make it happen," he said. "I'm here to tell the carnival barkers, the doomsayers, the paid professional critics — the state of our state is growing stronger each day."
Who are these "carnival barkers" and "doomsayers" who dare question Pritzker's financial prophecies?
Readers, meet the governor's evil troika — Sheila Weinberg, founder and CEO of Truth in Accounting; Elizabeth Bauer, also known as "Jane the Actuary"; and Wirepoints financial analysts Mark Glennon and Ted Dabrowski.
They spend much of their time combing through financial reports and bond offerings to see what Illinois' real financial story is. It's their opinion that much of the state's political class isn't being close to being truthful about just how bad the state's financial standing is.
While their messages are essentially the same — Illinois is in deep financial trouble that is getting deeper — their rhetoric varies from incendiary to dispassionate.
"Illinois is a democratic republic that committed suicide. We are the 16th biggest economy in the world that inherited extraordinary assets, but we blew it," assert Glennon and Dabrowski.
Weinberg takes a different approach, turning the governor's rhetoric back at him.
Pritzker "should add Comptroller Susana Mendoza to his 'doomsayer' list. Her interim state financial report issued last January indicated Illinois' financial net position decreased $3.7 billion, dropping to $187.7 billion," she said.
Meanwhile, Bauer said the governor's rhetoric of "free money or its cousin, money that comes from other people," just "drives me batty."
They each have their own self-created forums.
Bauer writes her own blog as well as an online column for Forbes under the name "Jane the Actuary." A former corporate actuary, she's now a freelance consultant and writer.
Weinberg, a veteran accountant, started Truth in Accounting years ago because she felt "compelled to provide citizens with understandable, reliable and transparent information about the finances of government."
Dabrowski, an MBA/banker, and Glennon, a lawyer and venture capitalist, oversee Wirepoints, a news and financial analysis website.
Their numbers show Illinois' fiscal direction is clearly going down.
Pritzker has proposed tax increases and greater social spending as the solution to the state's woes, and he has a supermajority Democratic legislature walking in lockstep with him. As a consequence, Bauer, Weinberg, Dabrowski and Glennon routinely issue warnings that are most ignored by the state's elected elite — Democrats and Republicans.
Glennon and Dabrowski concede they have "no hope of changing policy in the near term." Weinberg said many people perceive her efforts as "tilting at windmills." But she takes satisfaction in small victories, like getting new accounting standards that require state and local governments to report "their pension and retiree health care liabilities on their balance sheet."
Bauer said she has a "small kernel of hope that somewhere along the way, the state will find its way to a reformist spirit on the issue."
As they see it, Illinois simply has too many financial obligations in the form of annual budget deficits, billions of dollars in unpaid bills and roughly $137 billion in pension underfunding. They assert that state officials have made the problem worse each passing year by continuing to do more of what they have irresponsibly done in the past.
"Our facts and numbers mostly come from public documents — places like the Census Bureau, IRS, audited financial statements and actuarial reports," said Glennon and Dabrowski.
They said it just takes "simple arithmetic" to understand the magnitude of Illinois' problems.
Estimating that "Illinois needs $224 billion to pay its outstanding bills," Weinberg said the numbers show the governor and Legislature are "continuing the bad practices that have allowed politicians to add billions of dollars to state debt while claiming a balanced budget."
She recalled how the Securities & Exchange Commission charged the state with fraud in 1993 for misleading bond investors about its financial pension problems. Now, in its bond offerings, the state acknowledges that its contributions to its pension systems are "less than the contributions necessary to fully fund" them.
As Pritzker's withering rhetoric indicates, the powers that be do not appreciate being told the emperor has no clothes. Each of the analysts has been subjected to criticism of their work.
But Glennon and Dabrowski contend that the attacks are general, not specific.
"We're almost never challenged on facts and numbers, which are the staple of our work," they said.
Bauer said she has confronted "a few cranks" on Twitter, while Weinberg said she gets praise from officials representing "cities and states" whose finances are sound and criticism from those in a "tough financial situation."
The bottom line, however, is that much of what they say isn't heard or understood by ordinary people. Joe Sixpack doesn't read state financial reports or reports about state financial reports.
Glennon and Dabrowski attribute much of the public's lack of concern to the failure of the news media to dig into state financial issues. They say reporters have "functioned as little more than stenographers for the politicians," attributing the bland reporting to "lack of any background in finance and sometimes the fear of being too alarming."
But Pritzker, too, makes it a point to demean those who do not follow the administration's financial line.
In his February budget address, in which he claimed that he had proposed another balanced budget, Pritzker described himself as an "irrepressible optimist" in his approach to state problems while issuing a warning about the "cynics" who offer a dissenting view.
"... I believe that the cynics had their years in power and that the people of Illinois suffered because of them. Being a cynic is easy. Cynicism, after all, demands only that you believe in the worst and do nothing to stop it from happening," the governor said.
But Pritzker's "carnival barkers" contend that being realistic isn't the same as being a cynic. Further, they contend that their efforts to warn the public about the state's dire financial standing is not just doing something, but something important.
For now, they'll have to live with that thought and just a little bit more.
"While we are not happy about Illinois' current financial situation, we are pleased to note that more and more people are paying attention to this important issue," Weinberg said.