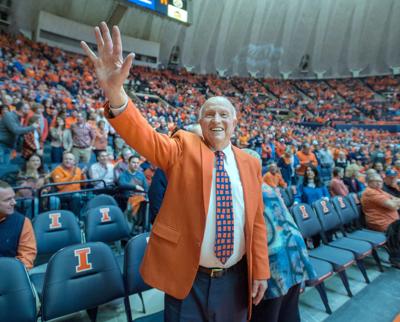 Most everyone has a story about gentleman Lou Henson, beloved for so many more reasons than just basketball. Email yours to Jim Rossow at jrossow@news-gazette and we'll include it in our upcoming special section devoted to the late, great Illinois coach and C-U ambassador.
***
The farm boy from Okay, Okla., did way better than OK in his long life because he learned two things early on — farming was not for him and basketball was.
When he died last weekend at 88 — the end of a yearslong struggle with a variety of serious health issues — coach Lou Henson left a professional body of work that few can match and loads of friends and well-wishers.
Those who knew him — or felt they did because of the years he and his teams spent in their living rooms — feel real loss because they felt real affection and/or respect for him.
It's not the emotional pain of his passing. Lord knows Coach — ever resilient and ever cheerful — hung on longer than most could have in his circumstances. Death is not only inevitable, it can be merciful.
The sorrow those who knew him feel is for the loss of the life Coach lived, and their part in it — the fun, the excitement, the disappointing losses, the thrilling wins, the feuds and fussing over all manner of issues that surrounded Illini basketball.
As the University of Illinois' longtime head men's basketball coach, he and "the guys" — as he called his ever-changing cast of players — were at the center of a long-running soap opera in which all Fighting Illini fans had a role, however small.
As the venerated former head basketball coach at the UI and New Mexico State, he and wife Mary were the local equivalent
of royalty in both Champaign-Urbana and Las Cruces, N.M.
Those who were around him are now revisiting those days.
They're talking about his Oklahoma drawl, which disguised a basketball sophistication that had few equals.
They're recalling his habit, when discussing hoops with friends at lunch, of drawing plays on paper napkins, using one after another.
He not only spoke the game but drew it as well, to both the interest and amusement of his audience.
They're recalling his observations about the game.
He was forever humble about the ability of coaches to dictate the outcome of games.
"Talent beats coaching almost every time," he said.
Coach acknowledged that his players didn't initially enjoy playing defense but pointed out that "eventually, they take pride in it."
He said the team that plays the best overall game doesn't always win because "good shooting makes up for a multitude of sins."
He was a basketball lifer. Playing and coaching created in him a passion that could not be sated. If health issues had not intervened, he'd still be coaching.
But not everyone views Coach just through a basketball lens, because he was so much more than a cardboard cutout. He was the consummate gentleman, friendly and welcoming to all.
When Coach was out in public, he was a people magnet. Everyone wanted to say hello, shake his hand or even give him some unsolicited advice.
"Who was that you were talking to?" News-Gazette sportswriter Loren Tate once asked him when they were out together.
"Just someone who wanted to tell me how to coach my team," Coach replied.
Coaches get that a lot — it goes with the territory — but not all do so with the equanimity, even kindness and patience, that he displayed.
He used his celebrity to boost worthy causes, teaming with former player Kendall Gill to raise money for the Cunningham Children's Home in Urbana.
In Las Cruces, he and Mary devoted time to boosting the local boys and girls club.
He was a tough, demanding coach — a quality some might find surprising given his public demeanor — in the ruthlessly competitive sport of major college
basketball.
But outside of a basketball arena, he was the kind of person who tried to make things better.
There are good reasons why he's a celebrated figure in Illinois and New Mexico.
Wins and losses explain part of it, but there was so much more that Coach brought to the table.