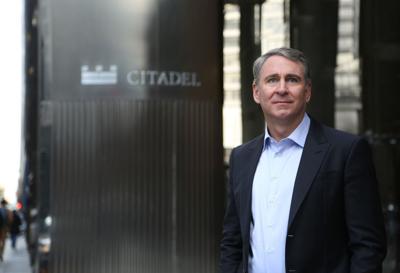 Everyone knows who J.B. Pritzker is: governor of Illinois, multibillionaire beneficiary of family fortune and big spender on behalf of a variety of political causes.
But who the heck is Ken Griffin?
Many people outside of Chicago have been asking that question lately because Griffin has been making some Pritzker-sized campaign contributions with the goal of defeating the Pritzker-backed progressive-income-tax amendment to the state constitution and Pritzker-backed judicial and legislative candidates.
Like Pritzker, Griffin is a multibillionaire. In fact, Griffin outscores Pritzker in the net worth category by a margin of $15 billion to a mere $3.4 billion and is described as the richest person in Illinois.
Unlike Pritzker, a liberal Democrat, Griffin is a conservative who generally backs Republicans.
Although they are polar opposites politically, Griffin emulates Pritzker by using his money to battle his counterpart.
So far, Griffin has contributed nearly $47 million to defeat Pritzker's progressive-income-tax amendment, while the governor has contributed $56.5 million toward getting it approved.
Griffin has also contributed
$2 million to the campaign to defeat Justice Thomas Kilbride's campaign for retention to the Illinois Supreme Court from the state's Third Judicial Circuit.
And he has also made substantial campaign donations to Republican legislative candidates in danger of being blown away by well-funded Democrats.
But the 51-year-old Florida native is better known for what he's given away than who he is.
Griffin oversees Citadel, a Chicago hedge fund that manages $34 billion in assets. Forbes magazine reports that Griffin first began trading in 1987 "from his Harvard dorm room."
"He put a satellite on the roof to get real-time stock quotes," the magazine states.
A math whiz, Griffin got his investment start after "finding what he believed were inefficiencies in the convertible bonds market, which allows company bonds to be converted into stock." Then 19, Griffin started his own hedge fund in 1987 with $265,000 invested by family and associates who included his dentist.
Five years ago, Griffin was involved in an ugly divorce that the Chicago newspapers closely followed. He eventually reached an undisclosed settlement with his now ex-wife, but not before she made a series of financial demands that included $1 million a month to cover her expenses.
They included "$300,000 for the use of a private plane, $160,000 for hotels and $2,000 in stationery costs."
Griffin is known for his purchases of art and real estate and has multiple homes that include those in Chicago, New York, London and Palm Beach in Florida, a state that has no income tax.
Griffin's vast wealth made him an easy target for Pritzker's "fair tax" campaign team.
Campaign manager Quentin Fulks, noting that Griffin would have to pay more in state in-
come tax if the amend-
ment is approved, contended that "it's no surprise (Griffin) is now doing everything he can to protect the special deal he gets under Illinois' current tax system."
Fulks was referring to the current flat-tax mandate that requires the same income-tax rate (currently 4.95 percent) be leveled on all taxpayers. Pritzker wants to replace the flat-tax mandate with a variety of rates levied on escalating categories of income.
Although Griffin is not talking publicly these days, he explained in a Chicago Tribune piece that Pritzker's progressive income tax is another in a series of tax increases that will not solve Illinois' long-standing problems of corruption, incompetence and reckless financial management.
"I'm willing to take on the governor on this issue," he wrote. "It is time for our elected officials to stop wasting money and start focusing on the real challenges we face, removing the darkness and corruption that has gripped our state and returning us to a place of opportunity. This is a fight to save Illinois."
Although tarred by the Pritzker forces as motivated solely by avarice, Griffin has donated hundreds of millions of dollars to philanthropic endeavors. They include education programs, hospitals, anti-violence efforts, libraries and food programs aimed at helping poor families.
A patron of the arts, Griffin spent $100 million this summer on "Boy and Dog in a Johnnypump" by Jean-Michel Basquiat and put the painting on display at the Art Institute of Chicago.
Between Pritzker and Griffin, the progressive-tax fight is shaping up as the most expensive constitutional amendment campaign ever in Illinois — well more than $100 million.
Other individuals and organizations also have made large contributions to both the pro- and anti- sides in the amendment fight.
But they all pale in comparison to the Pritzker/Griffin donations.