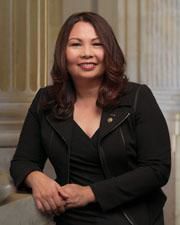 U.S. Sen. Tammy Duckworth was first elected to the Senate in 2016, and the Illinois Democrat is regarded as a strong candidate for re-election next year.
She faces no challenger in the March 2022 primary. At the same time, minority Republicans have shown few signs of political rebirth in Democratic Illinois.
So Duckworth not only is in the catbird's seat politically, but she's also feeling her oats in terms of enhancing her public presence. While low key in her first few years in the Senate, the 53-year-old has become far more outspoken in recent days.
Unfortunately, her forays into public debate have not without incident.
A couple weeks ago, Duckworth engaged in a public feud with a cable talk-show host — Fox News' Tucker Carlson — after she took exception to his criticism of Pentagon policies regarding women.
"(Expletive) Tucker Carlson," tweeted Duckworth. The four-letter word is not suitable for publication, but most readers will figure it out. Duckworth, a disabled veteran who was severely wounded in Iraq, followed her vulgarity with an insult.
"While (Carlson) was practicing his two-step, America's female warriors were hunting down Al Qaeda and proving the strength of America's women," she said, referring to his appearance on the television show "Dancing with the Stars."
Times have changed with respect to acceptance of public vulgarities, particularly by high-profile people. But even by the lower standards of our coarse society, it's not every day when a member of the U.S. Senate, an institution that emphasizes comity, hurls an obscenity and insults at, of all people, a lowly television personality.
(Of course, there are exceptions. Republican U.S. Sen. Joseph McCarthy of Wisconsin once punched out newspaper columnist Drew Pearson in a public bathroom. Democratic President Harry Truman reportedly said that was the only thing the controversial McCarthy ever did of which he approved.)
This past week, Duckworth doubled down on controversy when she announced that her anger with Democratic President Joe Biden had caused her to decide to refuse to vote for any future presidential nominees who are the wrong color — White, in her case.
"I'm not going to be voting for any nominee from the White House other than diversity nominees. It'll be a no on everyone until they figure this out," Duckworth said.
She cited just one exception to her new blanket anti-White rule.
"I will vote for LGBTQ. But anybody else, I'm not voting for," she said, referring to lesbian, gay, bisexual and transgendered individuals.
Duckworth, who was born in Thailand, was incensed because she said Biden has not appointed enough Asian Americans/Pacific Islanders to high positions in his new administration. Further, she said when she complained about it, a deputy White House chief of staff disputed her claim by citing Vice President Kamala Harris' South Asian ethnicity.
The vice president is widely mislabeled as African American; Harris' mother was born in India and her father in Jamaica.
Duckworth described the Harris reference as "incredibly insulting." She was joined in her threat of opposition to Biden's straight, White nominees by Hawaii U.S. Sen. Mazie Hirono.
However surprising and distasteful Duckworth's racial litmus test may be, she and Hirono got the attention of the White House. That's because the Senate is divided evenly between Democrats and Republicans — 50 each — and the president cannot afford any defections among fellow Democrats if his nominees are to be approved.
While Biden defended his record and his aides cited numerous examples of Asian Americans/Pacific Islanders who have been nominated to high positions in his administration, he quickly caved to the senators' threat.
"The White House will add a senior-level Asian American/Pacific Islander liaison, who will ensure the community's voice is further represented and heard," White House press secretary Jennifer Psaki announced.
Having won their point with the sledgehammer race-based threat, Duckworth and Hirono then abandoned it.
It's been decades since members of the U.S. Senate — principally Southern segregationists — so openly threatened to make decisions based solely on race.
But growing identity politics have created a new world, to the point where statements once considered an affront to the concept of equal rights for all generate little public comment or criticism.