Jim Dey
Jim Dey | State's battling billionaires continue to get down, dirty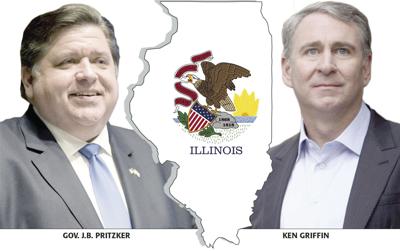 When billionaire elephants fight, smart ants run for the grandstand.
It's much more fun to watch a fight than be caught in the middle of one.
That's what happened last week when — once again — multibillionaire businessman Ken Griffin faced off against multibillionaire Gov. J.B. Pritzker. The pair launched verbal volleys that might foreshadow an acrimonious race for governor in 2022.
One thing is for sure. Pritzker's epidermis is much thicker than that of Griffin, who made it clear that he resents the personal insults the governor threw in his direction last month.
"He called me a liar," Griffin said last week. "It's all about politics for him. It's not about people."'
That's the least of political name-calling these divisive days. But Griffin, who runs a Chicago hedge fund and is used to more deferential treatment, isn't used to it.
Griffin had better get used to it if, as he pledged, he spends big money to lead the effort to defeat Pritzker's bid for a second term.
Money, however, isn't Griffin's problem — Republicans are. To be more specific, it's the lack of a credible GOP candidate for governor to challenge the Democratic incumbent.
So far, four GOP candidates have announced they are running, and all of them have yet to make the kind of splash typical of a winning campaign.
Former state Sen. Paul Schmipf, current state Sen. Darren Bailey, businessman Gary Rabine and newcomer Jesse Sullivan are all in the contest for their party's nomination. That contingent has party leaders praying for a knight in shining armor to get in the race — perhaps someone like veteran pol Kirk Dillard or even current U.S. Rep. Rodney Davis.
But Patrick Pfingsten, publisher of The Illinoize, reports that Davis has decided to run for re-election to the House from the new 15th district.
That political reality leaves Pritzker in the catbird's seat and the Republicans in a pickle.
Circumstances, of course, could change, because the primary election won't be held until June. But until they do, political junkies will have to be satisfied watching Pritzker and Griffin hiss at each other.
These two fat cats already have tangled on several occasions over the years, and it's clear they don't care for each other.
Griffin spent big money helping Republican Bruce Rauner get elected in 2014 only to watch Prizker run Rauner out of the governor's office in 2018.
Griffin donated roughly $35 million to Rauner's two races. But Pritzker pulled out all the stops, spending roughly $170 million of his own money to win in 2018.
In 2020, Griffin and Pritzker went to war again, this time over the governor's proposed progressive-income-tax amendment to the Illinois Constitution.
Griffin, who contributed $53 million, came out on top, even though Pritzker spent $58 million pushing the amendment.
The latest fight between the two stems from Griffin's unhappiness over Pritzker's response to the 2020 riots in Chicago. He charged that Pritzker, for political reasons, was slow to take strong action and stop the violence.
Pritzker, of course, denied it. But his administration also called Griffin a liar and charged that he cares little to nothing about the poor, a curious allegation in light of Griffin's substantial donations to a variety of charitable causes.
Whatever the circumstances, the two men are getting ready to rumble in the jungle of Illinois politics — Pritzker on one side and Griffin's candidate-to-be-named-later on the other.