Opinion: Jim Dey
Jim Dey | Supercharged moment at Normal auto plant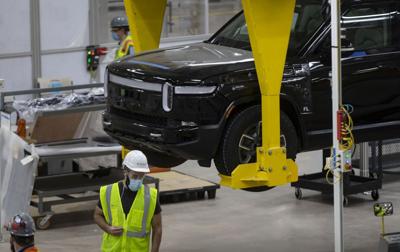 Diving back in to another round of quick takes on people and events that were being talked about this week:
An electric moment
History of sorts was made this week when first electric truck produced at the Rivian plant in Normal came off the assembly line.
The truck is blue, and the achievement is monumental in terms of its potential impact on the electric-vehicle industry nationwide as well as the economy of the McLean County area.
CEO R.J. Scaringe, a visionary who as a kid dreamed of building his own car company, tweeted, "Our team's collective efforts have made this moment possible. Can't wait to get these into the hands of our customers!"
Rivian was founded in 2009, eventually acquiring the shuttered Mitsubishi plant in Normal during former Gov. Bruce Rauner's tenure. The plant, which is its sole (for now) production facility, employs nearly 3,000.
Rauner was skeptical that the venture would ever amount to much. But Rivian now stands among a handful of electric-vehicle manufacturers, drawing significant investments from companies like Ford and Amazon.
Amazon's goal to have its van delivery fleet eventually be all-electric and all-Rivian.
The competition, however, will be brutal, just as it was when Henry Ford and others built their own car companies. Only three survived — GM, Ford and Chrysler.
That's not the only big news on the Rivian front. The company reportedly is planning an initial public offering before the end of the year. The price of a share of stock is unclear at this point but it is expected to be sky high.
News reports indicate that "inaugural models have 300-plus miles of range, go from zero to 60 mph in 3 seconds and start at $73,000 for the truck and $75,500 for the SUV, offset by a $7,500 federal tax credit for electric vehicles. Production for the SUV is expected to begin in the fall."
It would've been quite a trial
Former U.S. House Speaker Dennis Hastert reached an out-of-court settlement this week with an unnamed defendant who alleged that Hastert, then a high school wrestling coach, molested him when he was a young boy.
Terms of the settlement were not disclosed.
Hastert had paid the man $1.7 million as part of an earlier oral agreement. It was Hastert's withdrawal of large sums of money from a bank to make the required payments that led to a 2014 FBI inquiry into whether Hastert was being extorted.
One thing led to another, and it was eventually revealed that the unnamed defendant was one of several wrestling team members Hastert molested before he left teaching and coaching to enter politics.
The prominent Republican politician ultimately was sentenced to prison.
After the scandal became public, Hastert declined to make any further payments on the balance of the $3.5 million settlement. His victim subsequently filed a lawsuit to collect the remaining portion.
The settlement represents a classic case of each side having an interest in avoiding a public airing of their dispute.
Hastert's victim — dubbed John Doe in court filings — has never been named. But the judge in the case recently ruled that he could not remain anonymous if the dispute went to trial. At the same time, Hastert is loathe to attract more public attention for the behavior that destroyed his reputation.
News reports indicate the victim is now in his 60s and does not live in Illinois.
Once second in the line of succession for the presidency, the 79-year-old Hastert is now in ill health and lives a reclusive life.
They're in the money
Recent 2020 financial filings by members of Congress reveal that Illinois' two U.S. Senators are doing very well in their roles as public servants.
While far from the wealthiest member of the U.S. Senate, Dick Durbin is pretty well fixed. His filings revealed a slew of investment and retirements accounts that range in value from $50,000 to $100,000, $100,000 to $250,000, $250,000 to $500,000 and more than $1 million.
Members of Congress report the value of their holdings in ranges rather than specifics to avoid full disclosure.
Durbin estimated the value of his Leland Grove residence at $300,000 and his Chicago condominium at $300,000. He has a condo mortgage of $145,000.
Records show that he is a prolific investment trader, but not necessarily a good one. In 2020, he claimed the maximum $3,000 capital-gains loss after selling securities for $277,000 that he bought for $285,000.
U.S. Sen. Tammy Duckworth and her husband also are doing well. Her financial report shows their family owns dozens of stocks and mutual funds valued in the range of $1,000 to $15,000.
Duckworth also received a $383,000 royalty payment for a memoir she wrote titled "Every Day is a Gift."
They reported substantial liabilities, including a mortgage with a Boca Raton financial firm ranging in cost from $1 million to $5 million. It's a 30-year mortgage at 3 percent a year.
The GOP gets down
Local Republicans gathered Sept. 12 for a little fun and politics at Frasca Field in Urbana. There were candidates aplenty and lots of time to shake hands and talk.
Some observations from the gathering:
Who would have thought that Mike Madigan would be on hand to consort with Republicans? But there he was.
No, not the Mike Madigan — the former Democratic House Speaker currently sweating out a federal criminal investigation in connection with the long-running Consolidated Edison bribery scandal.
It was, as his name tag stated clearly, "The good Mike Madigan," owner of the local Hickory River restaurants. A former Urbana City Council member and unsuccessful GOP candidate for the Illinois Senate, Madigan was serving food to those present.
Speakers sought to make their positions clear on the issues, but one candidate who was not present, gubernatorial candidate Gary Rabine, did not score high on that scale.
Rabine's poster contains the slogan "Paving the way to stay."
It must mean something. But a candidate who has to explain his campaign slogan is probably better off rewriting it.
In a politically pointed charitable contribution, the GOP raised $410 for the Carle Auxiliary by raffling off a lovely Coach purse. Tickets for the drawing were $20 each or five tickets for $100.
Those who follow the news won't miss the reference to Democratic state Rep. Carol Ammons of Urbana.
She was suspected of shoplifting a Coach purse from the Carle Auxililary, although lawyers from the state appellate prosecutor's office decided not to file criminal charges because they said there was insufficient evidence to prove Ammons' guilt beyond a reasonable doubt.
The raffle winner was identified as Travis Turner, who was not present to accept his prize.
The cost of the purse was not disclosed, so it's unclear if the GOP made much on its $410 share of the 50/50 raffle's $820 in proceeds.
Two candidates people will hear more about who were present are lawyer Tom Devore and Clay County Circuit Judge Michael McHaney. They are two of the three candidates running for the 5th District Appellate Court.
Champaign County recently was moved from the 4th District Appellate Court to the 5th District by Democratic map drawers. Dems hope their new designs will guarantee victories in state Supreme Court Districts 2 and 3.
Devore, who lives near Greenville in Bond County, is the lawyer who drew widespread public attention after he filed a series of unsuccessful challenges to Gov. J.B. Pritzker's coronavirus mandates and lockdowns.
McHaney was the judge who heard some of that litigation initiated by Devore.
The third candidate in the appellate court race, Barry Vaughan of rural Hamilton County, did not attend the gathering.
He currently serves on the appellate court courtesy of an appointment.
Illinois Supreme Court Justice David Overstreet appointed Vaughan to fill the vacancy Overstreet created when he was elected last year to the Illinois Supreme Court.