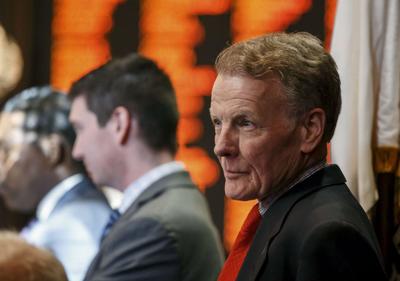 Live by Madigan, die by Madigan.
Illinois House Speaker Michael Madigan may be running for re-election in one tiny Chicago district, but references to the beleaguered political powerhouse are echoing throughout the state.
Many Democrats running in safe legislative districts are ignoring him. But others are profiting by denouncing the 78-year-od veteran politician. And at least one who tried to ignore Madigan has thrown in the towel on that tactic and accepted a heapin' help of campaign cash from the Democratic boss to help him stave off defeat.
But while Madigan may have problems with how he's perceived by the public at large, the insiders are showing they still know who's boss by showering multiple Madigan-controlled campaign committees with cash.
Remember, it's money that talks in politics, particularly in Illinois, and Madigan's cash pile speaks volumes about his continuing status as the straw who stirs the drink.
Perhaps the highest-profile race — one dear to Madigan's coal-black heart — is Illinois Supreme Court Justice Thomas Kilbride's campaign to be retained on the seven-member high court as a representative from the Third Judicial Circuit.
Quoted earlier this month as saying "we're not going to accept one penny — and I say this respectfully — (from) Speaker Madigan or any of his entities," Kilbride has reversed his stance. Records show Madigan dumped $550,000 into the high-spending effort to save Kilbride.
That prompted crowing from the anti-Kilbride side of the election fight.
"Kilbride said Oct. 2 he wasn't going to accept any Madigan money. Now he is," said former University of Illinois professor Jim Nowlan, leader of the anti-Kilbride effort. "Obviously, the $550,000 we thought he wasn't going to accept shows some concern on their side."
Kilbride's retention effort was already well funded by trial lawyers and labor unions, but Madigan doesn't want to leave any stone unturned in his effort to maintain his 4-3 Democratic court majority.
A campaign spokesman offered a different explanation, complaining that "wealthy individuals who want to own the Supreme Court are spending millions ... to smear Kilbride and mislead voters about his record."
Actually, the only real issue the anti-Kilbride campaign has raised is his close association with Madigan. Concluding that Madigan is politically toxic in the Third Circuit, which includes Peoria and the Quad Cities, they've pointed out the many millions Madigan spent to first elect Kilbride in 2000 and retain him in 2010. They've labeled Kilbride "Madigan's favorite judge."
Meanwhile, in another Supreme Court race in the Fifth Circuit in Southern Illinois, Democratic candidate Judy Cates simultaneously challenged her opponent, Republican David Overstreet, to a "shootout" and denounced Madigan.
"I have accepted zero dollars from Madigan and his organization. I will go on record to say that I think Mike Madigan should step down from his position because of the obvious corruption that surrounds him," said Cates, a state appeals court judge.
Overstreet, a colleague of Cates' on the appellate court, has criticized her as a liberal activist supported by Madigan. But the Cates-Overstreet battle really is a replay of the 2004 Supreme Court contest between trial lawyers who supported appellate Justice Gordon Maag and pro-business groups who supported the eventual winner, Lloyd Karmeier, who is now retiring from the high court. The winner of the Cates/Overstreet contest will replace him.
This is a new world for Madigan, who is used to fellow Democrats genuflecting in his presence. But as a savvy politician, he'll accept bouquets or brickbats to maintain his supermajorities in the Legislature.
That requires him to tolerate routine denunciations from legislators like state Rep. Terra Costa Howard, D-Lombard. Mailers to constituents in her competitive House district highlight her demands that Madigan resign as a consequence of being labeled a key co-conspirator in the long-running Commonwealth Edison bribery scandal.
Madigan has yet to be indicted and has professed his innocence of any hint of wrongdoing. But he's clearly a top-tier target in the federal investigation.
That's why a big portion of the millions Madigan is raising is going to pay his legal bills. The Chicago Tribune reported that Madigan spent roughly $600,000 on lawyers during the first six months of 2020.
The Tribune reported that Madigan's four campaign committees raised $4.3 million in July, August and September and that the four funds combined had nearly $20 million in the bank at the end of September.