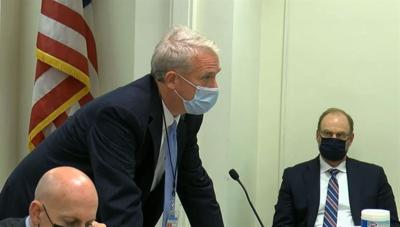 Include me out.
Illinois House Speaker Michael Madigan channeled malaprop king and late Hollywood executive Samuel Goldwyn when he rejected legislators' invitation to testify Tuesday about the Commonwealth Edison bribery scandal in which he allegedly played a central role.
But his ears must have been burning along with his already marginal reputation after ComEd executive David Glockner described how the utility giant provided Madigan friends and associates with no-show jobs for the expressed purpose of winning the speaker's political favor.
Glockner named a Who's Who of Madigan associates as hirelings for whom no work product could be identified. They were paid through a lobbying firm then overseen by former ComEd lobbyist Jay Doherty, the ousted head of the City Club of Chicago.
Glockner also described other no-work payments for Madigan associates that were funneled through lobbying firms overseen by, among others, close Madigan friend and ComEd lobbyist Michael McClain, former Madigan staffer Shaw Decremer and ex-state Rep. John Bradley, a Marion Democrat who was a member of the speaker's House leadership team.
While the three Democrats on the House investigating committee did their best to shield Madigan from a direct tie-in to the alleged nine-year bribery scheme, commentators were disgusted by what they heard.
Citing Madigan's three Democratic defenders, Chicago Sun-Times columnist Mark Brown said, "The real question is how long the rest of their Democratic colleagues will continue with the charade. Madigan needs to go."
Madigan, of course, isn't going anywhere. He's a tough guy who's hanging tough.
Indeed, in declining to testify, Madigan claimed to be pure as the driven snow.
"... I cannot provide information I do not have, and I cannot answer questions about issues of which I have no knowledge or conversations to which I was not a party. I have provided all the answers I can give," he wrote in a letter to the committee.
Some names that came out — Michael Zalewski, McClain, Doherty — have already been linked to the $1.3 million in bribes the utility paid.
But none of those named or unnamed — including ousted ComEd CEO Anne Pramaggiore and former ComEd executive and lobbyist John Hooker — will be testifying.
ComEd confessed its role in the conspiracy in July, agreeing to pay a $200 million fine. Nonetheless, Madigan stridently attacked the instigator of the House probe — Republican leader Jim Durkin.
He contends it is "a political stunt motivated by a transparent political agenda." That, of course, is true. The GOP is trying to score political points at Madigan's expense.
In fact, the probe is so unprincipled and deceitful, it's exactly what Madigan, one of whose nicknames is the "Velvet Hammer," would have done to Durkin if their positions were reversed.
Meanwhile, the ComEd snowball continues to roll down the hill.
Even as the legislative hearing got underway Tuesday afternoon, former ComEd executive Fidel Marquez pleaded guilty to bribery charges. The only person to be charged so far, Marquez is cooperating with federal investigators in exchange for a sentence of probation.
Marquez pleaded guilty to overseeing a $37,500 payment in July 2018 to "Company 1," "a substantial portion" of which was "intended" for Madigan associates.
Marquez's cooperation will put more pressure on other ComEd executives, particularly Pramaggiore, to work out a plea agreement with prosecutors.
In addition to the legal and legislative developments, WBEZ radio in Chicago reported that the Democratic committee chairman sought Madigan's help in securing employment.
Rep. Emanuel "Chris" Welch acknowledged seeking jobs for six people, including his wife and mother, with the Pritzker administration. Only one was hired.
Welch attributed his solicitation of Madigan's assistance to his lifelong fight for "diversity, equity and inclusion for Black people, especially Black women."
And, most especially, Welch's relatives.
ComEd's deferred-prosecution agreement requires it to cooperate with investigators. But it continues to pay a high price.
It's been hit with a series of civil lawsuits and widely excoriated in the public eye. The company's admissions before the committee will further damage its reputation.
It's unclear how far this politicized investigation will go with few witnesses agreeing to testify. Not, of course, that it matters much. With the election less than six weeks away, Republicans don't have to keep the story in the news for long.