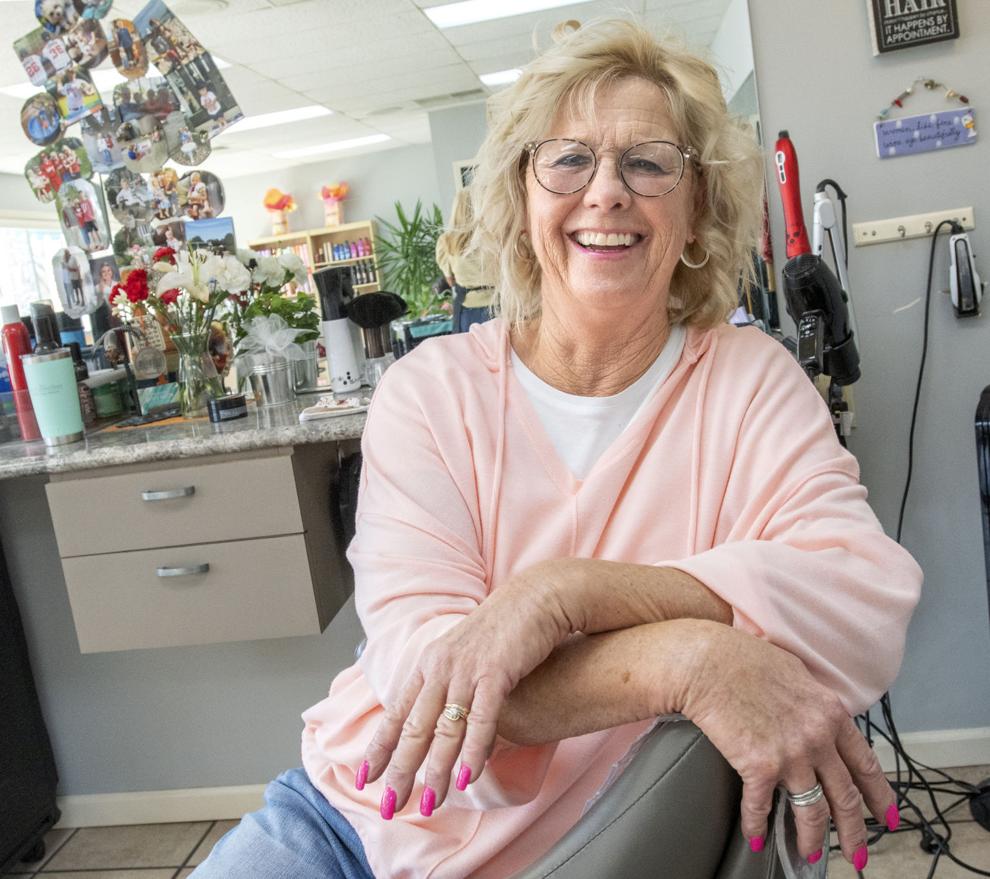 Jody Gordon is retiring at just the right time.
The popular hairstylist at Ruth's Salon on Champaign's West Church Street loves to mow her yard. It won't be long before it will be time to hop on the mower at the home she shares with husband Bob north of Champaign.
"I'd mow my whole neighborhood if I could," Gordon said. "We have 2 acres. I might mow every other day now."
The 63-year-old, who hung up her scissors Friday, has cut the hair and hobnobbed with several local celebrities. It all started in 1978 when she worked at Lando Barbershop on Sixth Street. Gordon was in her 20s, like many of the college students on campus. Some well-known people stopped by.
One was former Illinois football coach Mike White.
"He was awesome," Gordon said. "He was wonderful."
Another was White's predecessor, Gary Moeller.
"I was young," she said. "He just walked in, and I was cutting his hair and asked, 'What do you do?'"
When he told her he was head coach of the Illini football team, her face turned red. Time to brush up on Illini athletics, she thought.
Former Illini men's basketball coach Lon Kruger was also a customer.
"He had those eyebrows I wanted to attack," but he never asked her to do that.
Gordon said she received many cards from customers, one of whom was a UI student who said when he heard she was White's barber, that was good enough for him.
She remained at the barbershop for 20 years before going next door to Hair Benders, which she bought in 2000, but had to give up when the building was torn down to make way for an apartment high-rise.
Gordon moved in 2013 to her current position at Ruth's, owned by Ruth Deters, whose daughter is married to Gordon's son.
"It's been fabulous" working with Deters, Gordon said. "Now we have two grandkids and another one on the way in April. We get along great."
While she cut just men's hair for the first 10 years of her career, she branched out and began cutting and styling women's hair. Gordon said women's hair is a little more difficult.
"With men it's like, 'Do whatever makes it look good. Whatever you think,' " she said.
Gordon's customers can blame the pandemic for putting the notion of retirement in her head.
The long-time hairdresser said she began to get a taste of a more-relaxed lifestyle when she was off work for a while last year due to the stay-at-home order.
"I enjoyed being home and not having the stress about appointments. That kind of started me thinking about retirement," she said. "My legs and my feet, they're just tired."
Ten-hour days with few breaks will do that to a person.
Besides mowing the yard and other outdoor work, Gordon said she will enjoy spending more time with her family. (Her husband has been retired from UPS for 15 years.)
And they'll enjoy going to Sarasota, Fla., to watch son Tanner, a Champaign Central grad who pitches in the Atlanta Braves minor league system.
Mahomet chamber on the move
Mahomet Chamber of Commerce will be moving to new digs soon.
Chamber Director Walter Pierce said the chamber of commerce board voted this week to make the move. The chamber office will now be located at 401 W. Oak St., which until last fall had been the home of En Route Boutique.
Since December 2017, the chamber has called home the old library building at 512 E. Main St. that it shares with Mahomet Township.
Pierce said the soon-to-be home is along U.S. 150 on Mahomet's west side.
"It's a beautiful location ... a big old stone building with a lot of wood," Pierce said.
"There's a little more room. What we like ... there's an outdoor area grill-patio area and a covered porch, so we can host some events out there. We will also offer it for rental opportunities for the community."
He said the new location also has a fire pit and a putting green.
The chamber will rent the facility.
The move to the new office will take place April 1.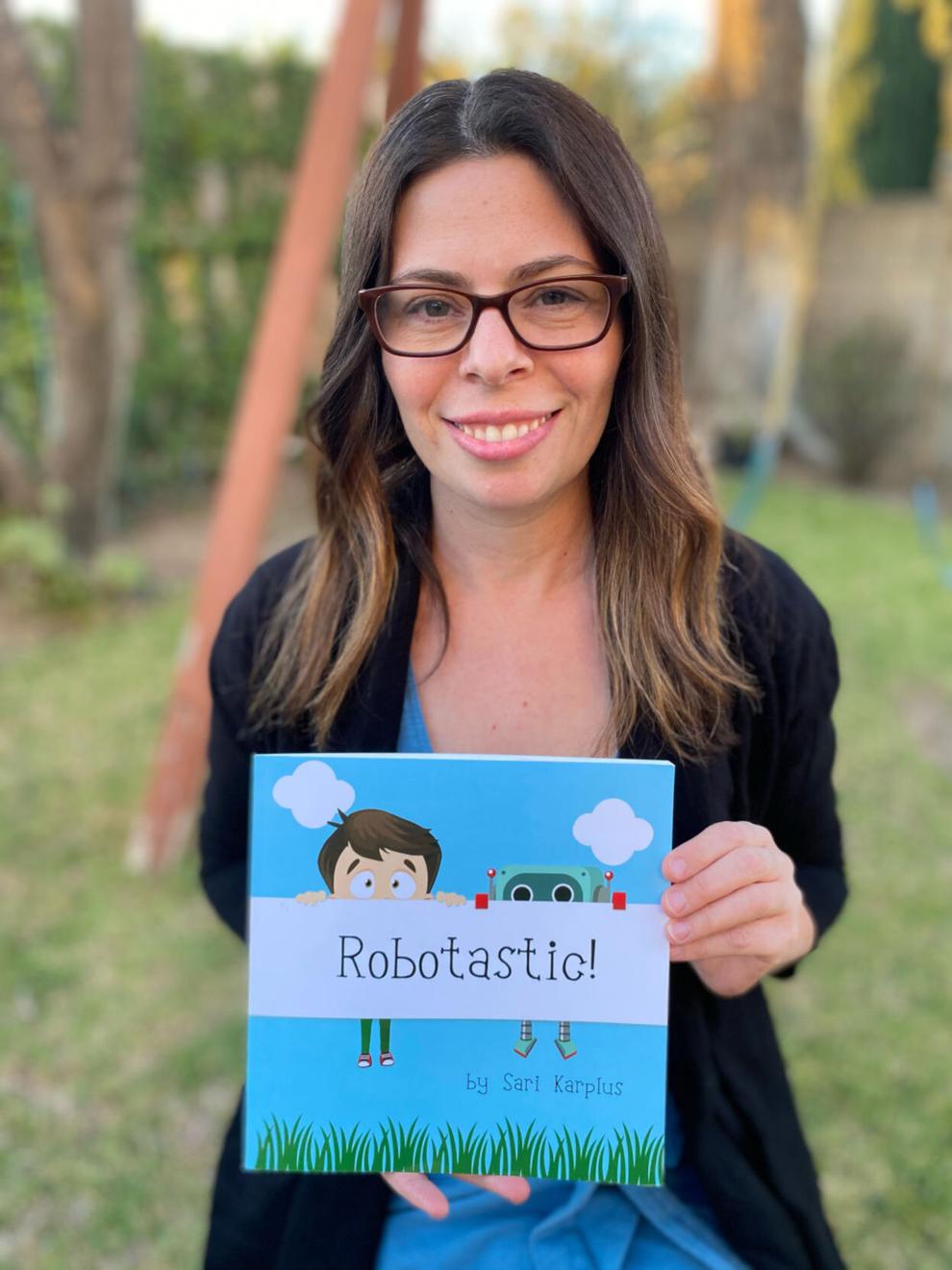 Champaign author makes a splash
A new book by Champaign native Sari Karplus debuted at No. 1 in its category on Amazon.
"Robotastic!" is a STEM picture book about robots and friendship. It was released in December on IngramSpark.
The story tells of a boy who, feeling isolated, decides to make his own friend — a robot.
Karplus said the book is targeted to 3- to 8-year-olds but has been a hit with readers of all ages.
"What I didn't expect is that the pandemic would make this extra relatable," Karplus said. "The book starts with a boy who is feeling alone and wants a friend, which seems to strike a chord with many young readers who've been stuck home for so long."
The author did a live reading on Facebook March 2 in honor of Dr. Seuss' birthday and National Read Across America Day.
Karplus said the tale started as an improvisational bedtime story that she told to her three young children.
Born and raised in Champaign-Urbana, Karplus resides in Southern California with her family. She has a background in comedy writing, directing and improv.
Visit robotasticbook.com to purchase books or to learn more. The book is also available for check out at Champaign Public Library.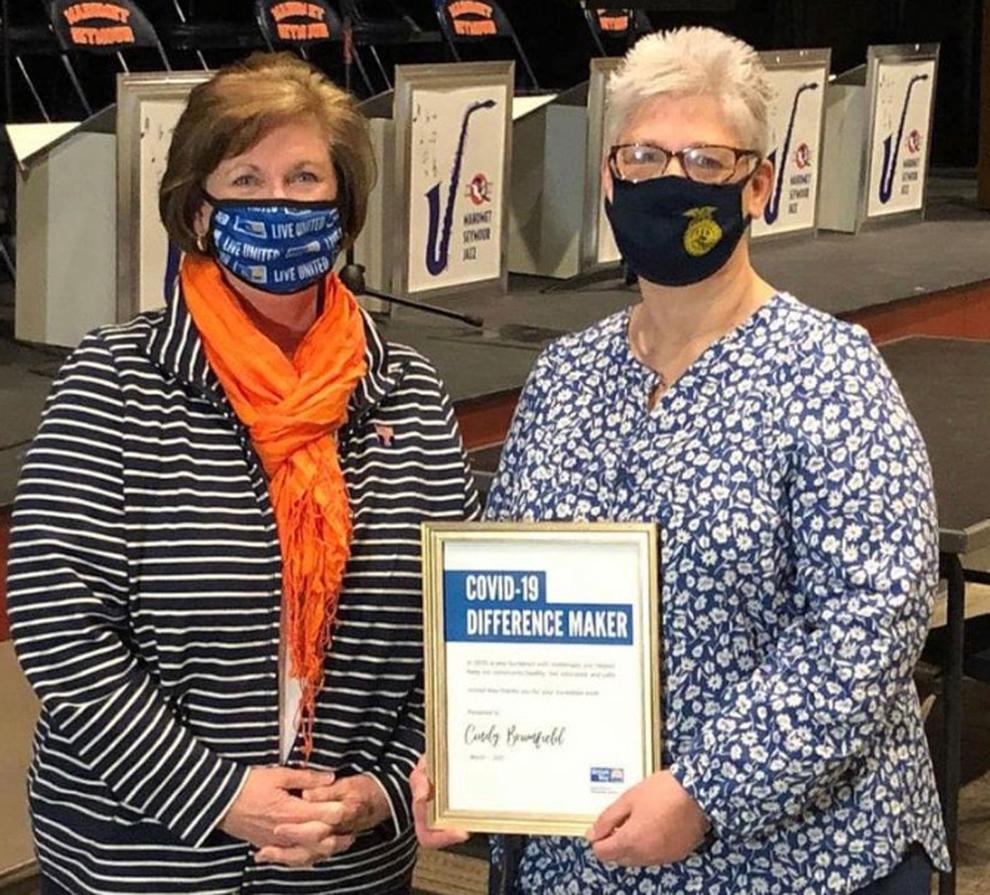 Brumfield honored for making a difference
Mahomet-Seymour High School's Cindy Brumfield was awarded the United Way COVID-19 Difference Makers Award.
Champaign County United Way CEO and President Sue Grey presented the award.
A paraprofessional at Mahomet-Seymour, Brumfield started a full food pantry at the school called Mom's Pantry in the school's former weight room.
It includes nonperishable foods, bread and other bakery items, personal-hygiene products and clothing.
She has also distributed Christmas gifts and face masks.
In a recent News-Gazette interview, Brumfield said she believes in volunteering and thinks everyone should get involved.
Tour of sports complex back on schedule
Tours of the under-construction Rantoul Family Sports Complex have been rescheduled to Sunday afternoon.
The tours are set for 2 p.m. and 3 p.m. However, the 2 p.m. tour is already filled, according to Village Administrator Scott Eisenhauer.
Reservations are required by calling 217-893-5731.
The tours will start in the southeast corner of the nearby Walmart parking lot. (Look for the white village van.) Each tour will last about 30 minutes.
The tours were rescheduled from Feb. 21 due to bad weather and snowy conditions.
Sunday's weather is forecast to be a great deal warmer than those mid-February conditions — a high in the mid-50s and sunny skies.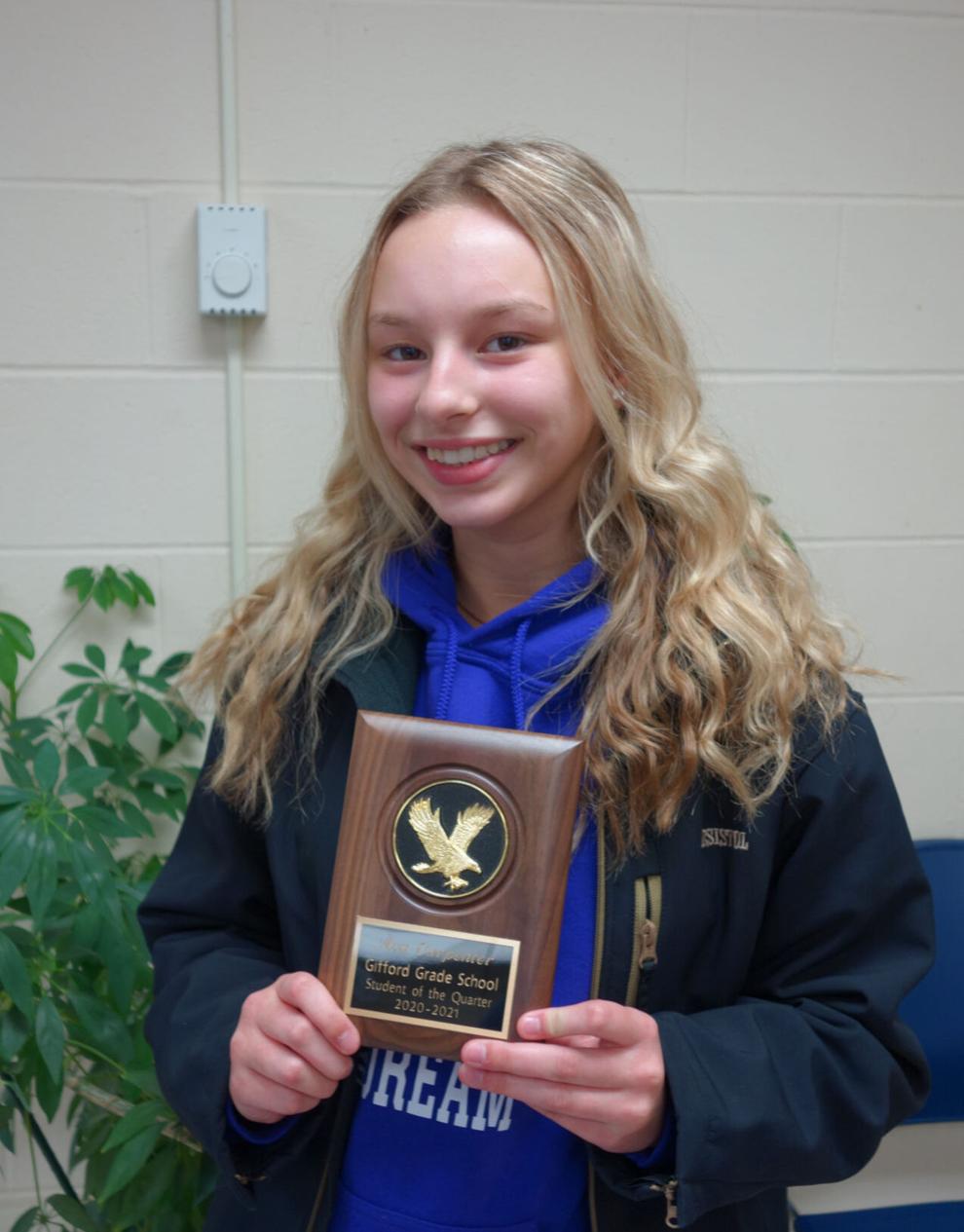 Hard-working Gifford student honored
Ava Carpenter, an eighth-grade student at Gifford Grade School, was selected as the Student of the Quarter.
She is a daughter of Nick and Christina Carpenter.
In nominating her, Carpenter's teachers said: "Ava always works hard and completes all assignments on time, even while we were doing remote learning. She is very polite and respectful and gets along with peers and teachers. She is a joy to have in the classroom."
Carpenter made the honor roll the first two quarters.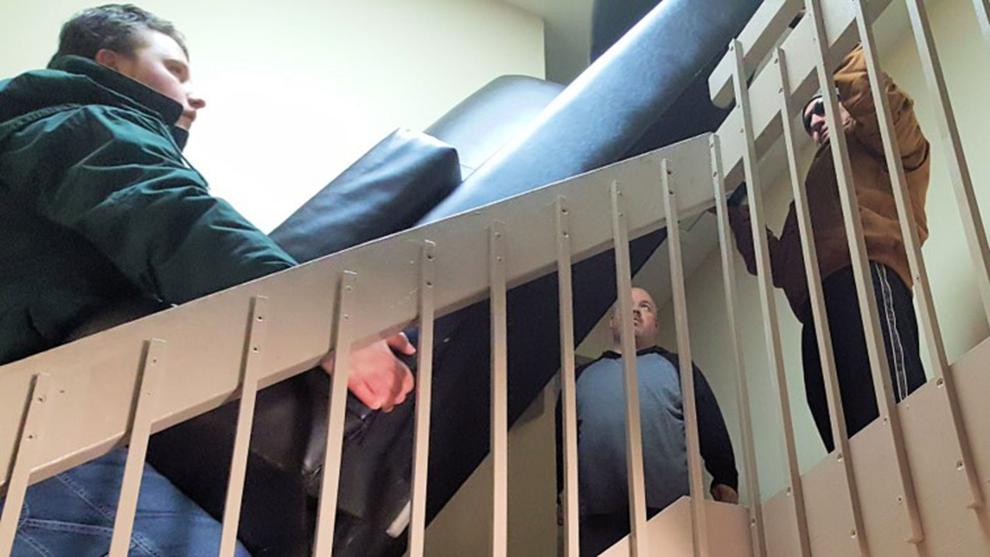 Danville ministry planning get-together
The Danville-based ministry Love In the Name of Christ isn't letting the pandemic get in the way of its annual banquet. Not again. It will host an un-banquet virtually Sunday, March 21.
"In years past we have tried to enjoy fellowship and a good meal in a nice venue," Executive Director Michael Rohall said. "Table hosts invited guests to help us get donors to the banquet."
There won't be any dressing up for this year's banquet.
The virtual un-banquet will feature testimonies from partner ministries, supporters, volunteers and neighbors whose lives are being transformed. Keynote speaker will be John Ligtenberg, Love Inc. national board member and longtime executive director of Love Inc. of the Black Hills.
This year's fundraising goal is $30,000.
Rohall said Love in the Name of Christ acts as a bridge between those in need and those with resources in the community. The Gap Ministries helps in areas such as providing diapers, prescriptions and bedding.
Love also runs a transformational ministry program.
"Basically we're empowering families to make the changes in their lives to get out of the cycles they're in," Rohall said, in the areas of faith, finances and life planning.
Last year Love provided COVID relief to 111 families with funding of more than $53,000.
The un-banquet will be available to view on Love in the Name of Christ's Facebook page.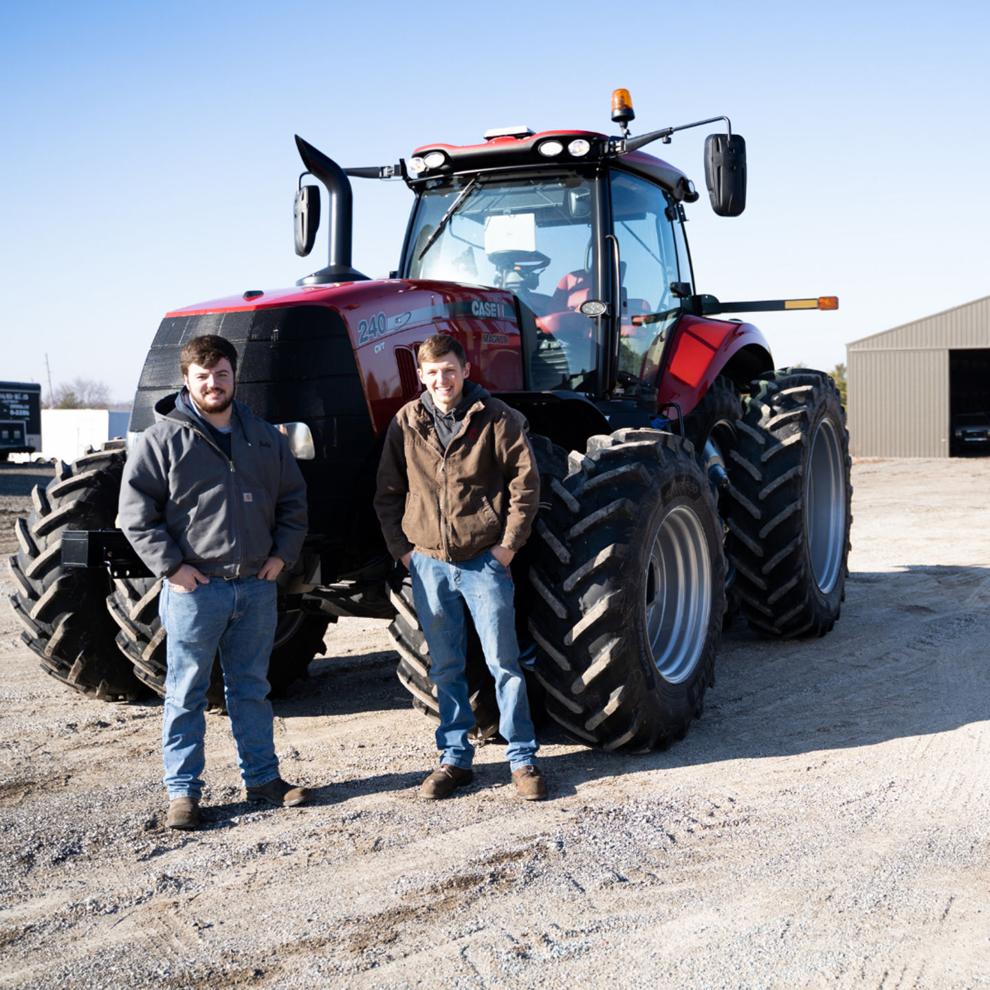 Parkland program a hands-on experience
Dylan Janssen and Justin Atkinson are two students studying in the Case New Holland Service Technician Program at Parkland College.
Birkey's Farm Store Inc. supports the program, which provides technical and academic education through Parkland and on-the-job experience at a Birkey's location.
The CNH service technician training leads students to an associate degree in applied science with a major in Industrial and Farm Equipment Technology in two years.
Janssen and Atkinson will graduate in May.
A Milford resident, Janssen said his favorite thing about the program has been working with the instructors.
"They are really personable, and it is school, but they don't act like it's school," he said.
Janssen will be working as a diesel technician at Birkey's in Hoopeston after graduation.
Atkinson said while his farm background isn't as deep as most of those in the program, "I have always loved working on things."
He said when his high school counselor sent an email about the program, he thought "it was pretty cool."
Atkinson, of Dunlap, said his favorite aspect of the program was the extensive number of hands-on projects they've done.
He will work as a diesel technician at Birkey's in Henry after graduation.
Birkey's is still accepting scholarship applications at birkeys.com/scholarships.